These 15 recipes are the best vegan recipes of 2018! If you're looking for easy vegan dinner recipes, this is the right post for you! All recipes are delicious, healthy, and perfect for the whole family!

If you've been following my blog for a while, you probably know that I love making savory recipes. I mean I post a sweet vegan recipe once in a while, but the majority of the recipes on my blog are quick vegan dinner recipes that everyone can make. Most of my recipes are ready in about half an hour.
And it's not surprising that the best vegan recipes on my blog in 2018 are all savory. I've got 15 delicious vegan dinner recipes for you and your family. So dinner is practically covered for the next two weeks if you give all of these recipes a try.
I've included reader feedback for each of the recipes to make the choice a bit easier for you. And I know it always helps to see that someone else made a recipe and it turned out great.
Thanks so much for all your amazing comments and remakes on Instagram! Your comments really make my day!
2018 was an amazing year with lots of good vegan recipes! I can't wait for more to come in 2019!!
The Best Vegan Recipes – The 15 Most Popular Recipes of 2018
I absolutely LOVE pasta and I love quick and easy meals! So this Asian style vegan one pot pasta with coconut milk and red curry paste is absolutely perfect. It's one of my favorite meals for weeknight dinners. Easy, healthy, and so incredibly delicious and creamy.
Reader Feedback: Liz: "Soooooo good!!!! Tasted great. Will be one of my go to recipes. It has flavor!!!"
This one pan Mexican quinoa with black beans and corn is super easy to make, packed with protein, and so comforting! It's the perfect dinner recipe for busy days! I love eating it with fresh parsley and avocado.
Reader Feedback: Shauna: "We are in a family dinner menu rut. Looking for new recipes, I made this tonight. We have never had quinoa before, but I really wanted to try some to see what it is like. This dish was very quick and easy. The flavor was good and spicy. This is definitely a must try recipe! Thanks!"
These vegan cauliflower hot wings with vegan aioli are the perfect comfort food! They're so tangy, spicy, and incredibly comforting. And they're also a lot healthier than chicken wings! We've made them so many times and they're always a real crowd-pleaser!
Reader Feedback: Cody: "I'm a total meat eater but I was just looking for recipes that are healthier and I tried this. I did alter a few things like the sauces I used and I used real ranch. But seriously…these are REALLY good I seriously couldn't not believe how good. The ones I made are better than Buffalo Wild Wings no joke. Also…my first time eating cauliflower. Crazy I know. But very well done. I'm going to make these A LOT!"
These vegan meatballs are the perfect comfort food. They're really easy to make, so delicious, and incredibly healthy! Serve them with spaghetti for a quick and easy dinner. I promise you that you will LOVE them. They're one of my all-time favorite recipes!
Reader Feedback: Natalia: "This recipe for vegan meatballs is amazing. It is very simple, and very tasty. I baked balls in the oven, and later put them into the sauce to reheat. Meatballs kept the shale, they did not fall apart."
These vegan gnocchi with a creamy cashew sauce, spinach, and tomatoes are the perfect weeknight meal. It's super easy to make and incredibly comforting! And it's ready in only 15 minutes! The cashews make the sauce incredibly creamy and rich.
Reader Feedback: Courtney: "Wow!! This was delicious! I dabble in vegan cooking for my husband's health issues. I decided to give this a try and am I ever glad I did. This is going to be a staple in our house and I can see using this over pasta with basil and cherry tomatoes as well as many other variations. Its a fantastic base sauce! Great recipe Sina, you absolutely nailed it!"
These potato fritters with red lentils are super easy to make and so delicious! They're best with spicy sriracha mayonnaise. The recipe for these fritters is of course 100 % vegan!
Reader Feedback: Bethany: "I made these for the second time tonight and they were great. My husband and I finished off the entire batch hah. I also love that they really are pretty quick. The lentils cook in the time that it takes to prep everything else so it makes it really easy and fast. Thanks for the recipe! It's a keeper for me!"
This Southwestern pasta salad with avocado, black beans, and lime dressing is one of my new favorites. It's not only super easy to make, but also healthy. It's a great addition to any BBQs and potlucks!
Reader Feedback: Laurel: "This was perfect! Great for vegans or non-vegans. We followed the recipe except for the agave bit in the dressing– we loved the tanginess without it. Some of us added hot sauce to it– excellent. Thank you!"
These vegan rice paper rolls with mango, mint, and avocado with an easy peanut dipping sauce are just perfect for hot summer days. Or actually any day of the year! I also love making them in the winter!
Reader Feedback: Ness: "These are awesome! I made these the other night and they were so good, I had to make them again the very next day! The mango is the best part, it gives these wraps the perfect sweetness to compliment all the savory. The peanut sauce is delicious. I love these! Thanks for the recipe! Will definitely make again."
This Thai pineapple fried rice is one of my favorite recipes for busy days! It's super easy to make, healthy, and so yummy. Plus, it's SO colorful! Eating this pineapple rice will be like taking a trip to Thailand!
Reader Feedback: Katherine: "Yummy, yummy, yummy! Made this last Sunday and my kids and hubby really loved it as well! Going into our weekly routine! Thanks for the recipe!"
These vegan cauliflower tacos with vegan yogurt garlic sauce are the perfect comfort food! They're super crispy, easy to make, and sooo delicious!!
Reader Feedback: Judy: "This is the second time I made these and they are outstanding. My meat eating hubby loves them. As long as I go easy on the hot sauce. This is my go-to cauliflower taco recipe, hands down. Thank you for sharing."
This easy vegan chickpea curry with potatoes, peas, and carrots is perfect for quick weeknight dinners! It's delicious, comforting, and packed with protein and nutrients. And it's ready in only 30 minutes!
Reader Feedback: Kathy: "My family loved this recipe! It's super yummy and so easy to make, perfect week night dinner! I used sweet potato instead, but it turned out great! Will definitely make this again."
These lemon spaghetti with spinach are the perfect recipe for busy weeknights! It's a one pot meal, super delicious, comforting, and 100 % vegan!
At first, I was a bit skeptical about one pot pasta, but I just love that the pasta is cooked in the pasta sauce. This gives the pasta dish a much deeper flavor! And you've got less dirty pots this way, which is also great.
Reader Feedback: "This is the first time I've ever rated a recipe, because my entire family of five (3 picky eaters aged 4, 4, and 7) LOVED this pasta! My kids are always very adamant about having their pasta completely plain, and they all had second servings of this pasta and went on about how they loved it. This recipe will be added to our regular rotation and I'm thrilled to have something new!"
I definitely got a thing for vegan one pot pasta or one pot meals in general! This vegan one pot pasta with spinach and tomatoes is super easy to make, incredibly healthy, packed with flavor, and SO delicious!!This vegan one pot pasta is actually a spin-off of my Asian style vegan one pot pasta, which became super popular on Pinterest.
Reader Feedback: Kate: "I was definitely thrown off by the idea of adding curry powder and red curry paste to rigatoni but wowwww this is good. Awesome recipe."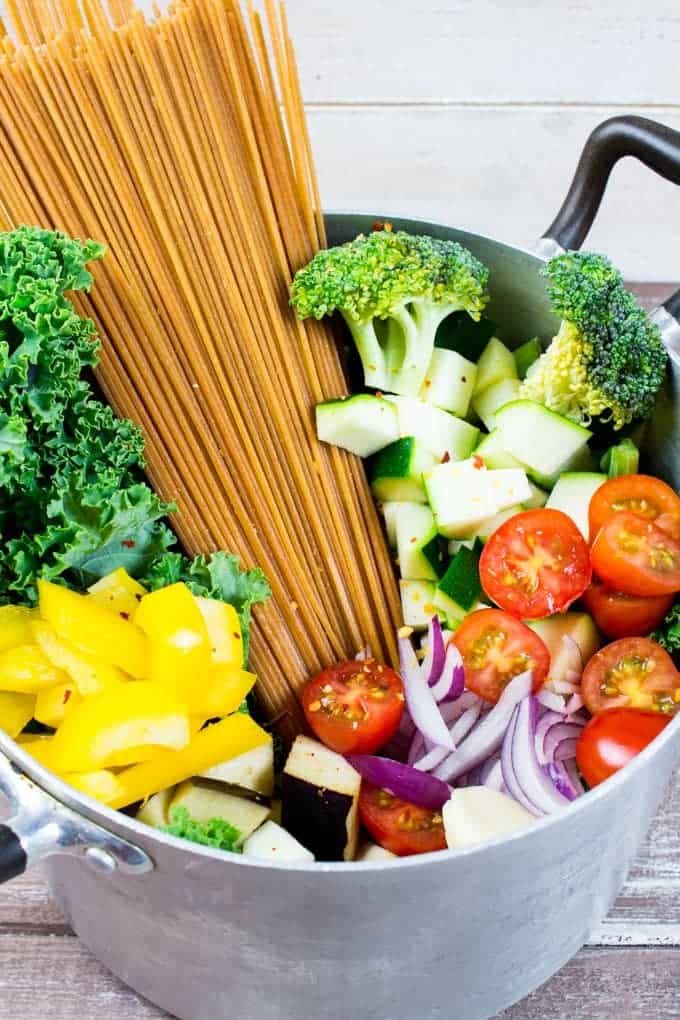 Have you ever tried vegan one pot spaghetti with vegetables? It's so delicious and easy to make! Just perfect for lazy days!
Reader Feedback: Crystal: "I made this after searching high and low for a healthy meal option. It was amazing and all 4 of my kiddos LOVED it. (That's a hard feat) It will be ut into our regular meal cycle!!"
This vegan roasted red pepper pasta is super easy to make and it's SO comforting! The sauce is packed with flavor and it's incredibly creamy. I love serving it with fettuccine and sprinkle it with fresh parsley and red pepper flakes. BIG yum!!
Reader Feedback: Liv: "Awesome recipe! Came together so quick and was delicious. Definitely going to become a go-to. I added a cup of fresh baby spinach the needed to be used at the very end when I was combining the pasta with the sauce. And it was a great addition."
I LOVE TO HEAR FROM YOU GUYS!
I hope you enjoy these vegan dinner recipes as much as I do! Do you also think that these are the best vegan recipes on my blog? Or do you have any other favorites?
Don't forget to pin or share this post so you have these recipes ready when you need them!
If you give any of these vegan dinner recipes a try, I'd love to know what you think about it. Just leave me a comment below. Your comments really make my day!
You like my recipes and roundups and want to see more? Then follow me on Facebook, Instagram, or Pinterest!
Sina – xx