The other day, I realized that I haven't posted a recipe with rice on the blog yet! I could hardly believe it because we actually have rice at least once or twice a week, so here's one of my all-time favorites: a super easy vegan chickpea curry with potatoes, carrots, and peas. I just can't believe I haven't shared this recipe with you yet!!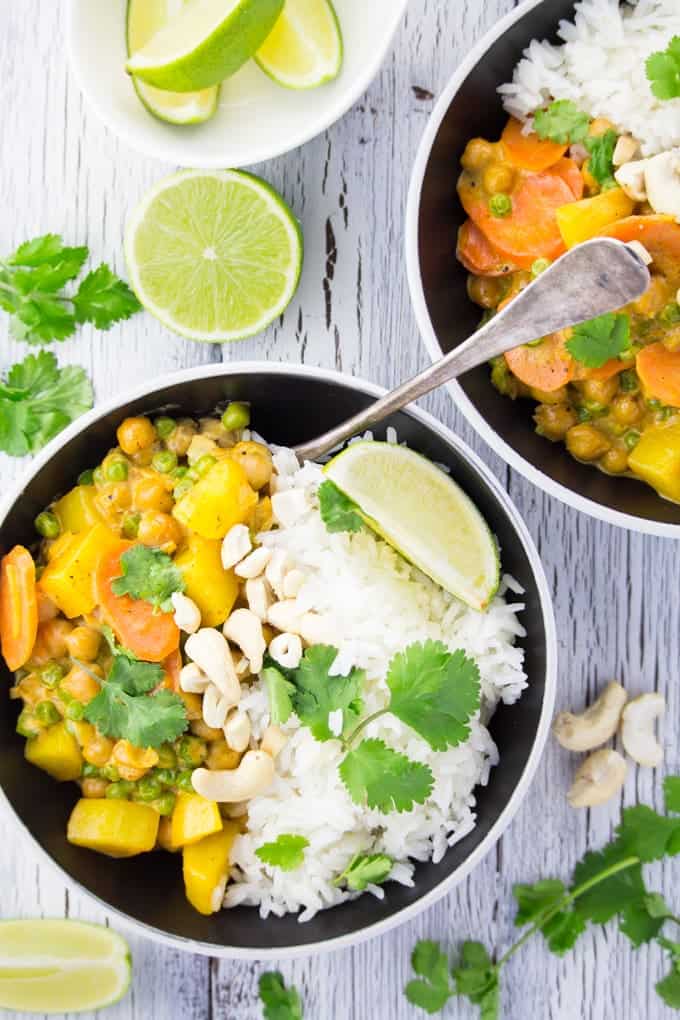 There's just something about rice and potatoes that I absolutely LOVE! Can't get enough carbs, right?
This vegan chickpea curry has been our "Thursday meal" for quite a while now. I usually don't make any meal plans for the week, but Flo and I both love curries and as we're usually pretty busy on Thursdays we want something quick, easy, and delicious after a long day. And over time, Thursday just became our curry day. Sometimes we leave out the potatoes if we want it to be even quicker, but mostly we stick with the recipe below. Top it off with some cashews and cilantro and you're good to go! It's sooo good and the ultimate comfort food for me!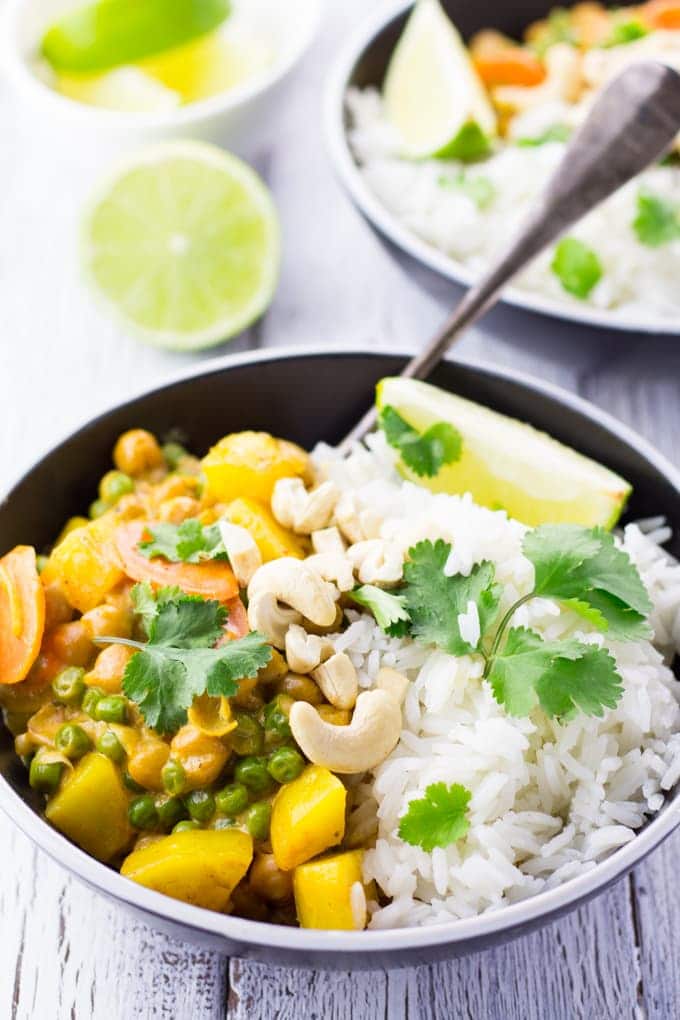 We spent two weeks in Thailand last September and I was literally in curry heaven!! However, it actually took me a while to enjoy these Thai curries. On our first or second day, we had dinner right at the beach (we absolutely fell in love with these little beach restaurants) and I ordered a vegan Thai curry and it was soooo spicy! I could hardly eat it and my lips were burning. Lesson learned!
So the next night, I asked them if they could make it a lot less spicy and the rest of our vacation I ended up with vegan curries that were seriously out of this world. My favorite was a Thai curry called massaman. It contains coconut milk, potatoes, roasted peanuts, tofu and lots of spices. As soon as I've figured out how to make it, I'll share it with you guys. Oh, and it's always important to let them know that you don't eat any animal products, so they can just leave out the fish sauce and sub it with soy sauce instead.
I hope you like this easy vegan chickpea curry as much as I do! It's loaded with protein (chickpeas and peas both are a great source of protein). So it's perfect for vegans and vegetarians.
Let me know if you give this veggie curry a try! As always, I love hearing from you guys!
Have a great weekend! xx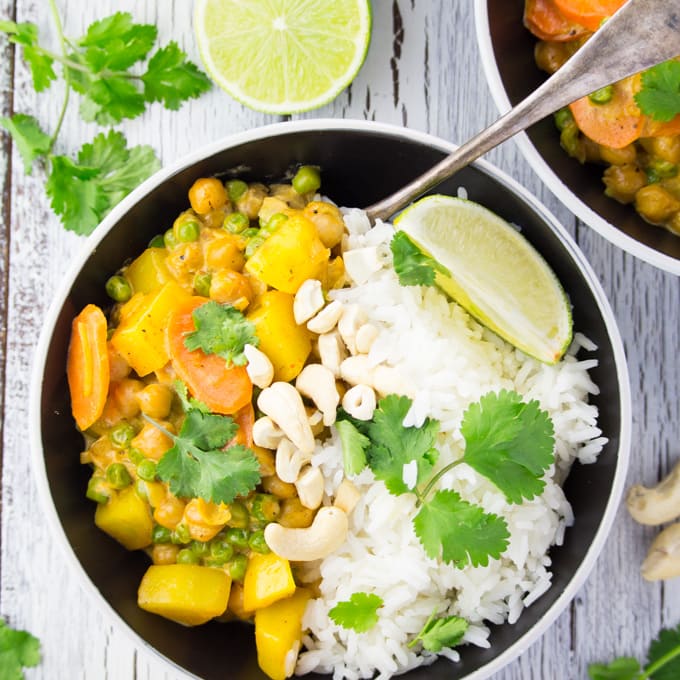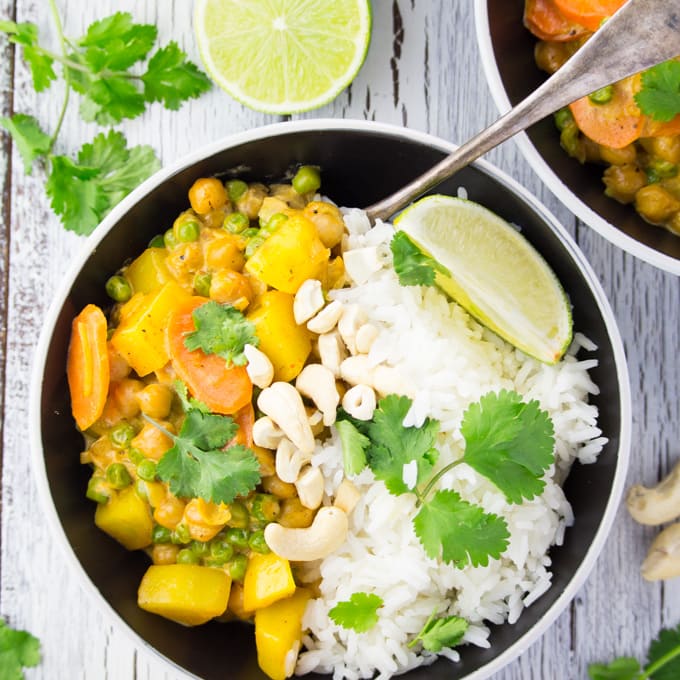 Easy Vegan Chickpea Curry with Potatoes
This easy vegan chickpea curry with potatoes, peas, and carrots is perfect for quick weeknight dinners! It's one of my all-time favorites! So yummy!
Ingredients
Jasmine rice

1

small onion, cut into stripes

2

small potatoes, cut into small pieces

1

large carrot, cut into slices

1

teaspoon

curry powder

1

teaspoon

red curry paste (optional)

adjust if the curry paste you're using is very spicy, mine was very mild

1

cup

full fat coconut milk

1/2

cup

vegetable broth

1 1/2

cups

cooked chickpeas

1

cup

frozen peas

salt

black pepper

cashews (optional)

fresh cilantro (optional)
Instructions
Cook the Jasmine rice according to the instructions on the package.

In a large pan, heat some oil and sauté the onion for 2-3 minutes. Then add the potatoes and cook for another 3 minutes. Stir in the red curry paste and the curry and cook for another minute.

Add the coconut milk, vegetable broth, carrot, chickpeas, and peas and cook for about 20 minutes.

Season with salt and pepper and serve with cashews and cilantro.
Nutrition Facts
Easy Vegan Chickpea Curry with Potatoes
Amount Per Serving
Calories 538
Calories from Fat 108
% Daily Value*
Total Fat 12g 18%
Sodium 444mg 19%
Potassium 793mg 23%
Total Carbohydrates 94g 31%
Protein 16g 32%
* Percent Daily Values are based on a 2000 calorie diet.