This quinoa soup with kale, potatoes, and carrots has been one of my favorite soups for a really long time. It's super easy to make, packed with nutrients, and so yummy! Besides, it's of course vegan and also gluten-free!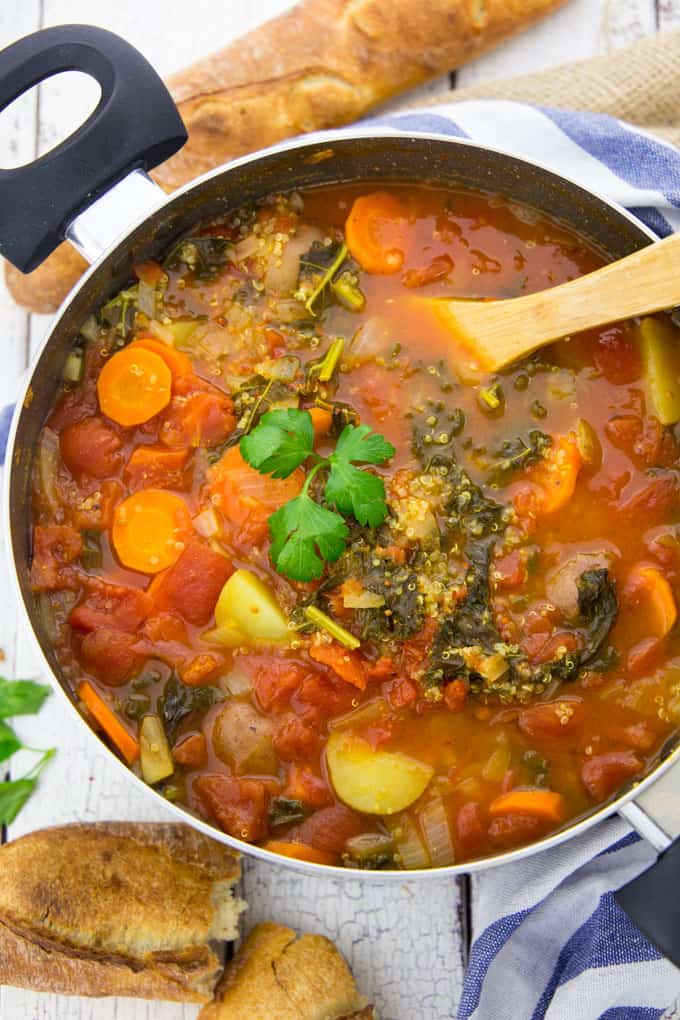 Is there anything better than a bowl of hot soup on a cold winter day? Not really I guess. Apart from maybe a cup of hot chocolate or even better chai latte with almond milk! Haha! I sure love my chai latte. But back to the quinoa soup. It has become one of our weekly staples. And with good reason! It's not only super easy to make but it's also a great source of essential vitamins and minerals. Sometimes I think that soups are not filling enough, but the addition of quinoa and potatoes make this soup a great choice even when you're super hungry! I got the original recipe from my mom, who has been making this easy quinoa soup for years. Over the years, I tweaked the recipe a bit and now it's definitely about time to post it on the blog!
If you're looking for comfort food that warms you up on cold days, this recipe is perfect for you! Thanks to the crazy winter weather here in Canada in the last weeks, we got a lot of these cold soup days! So stay tuned for a couple more vegan soup recipes!
What You Need For This Quinoa Soup
The ingredient list for this quinoa soup is pretty short. Nothing fancy or hard to find but a lot of fresh vegetables!
You need:
quinoa (big surprise!)
kale
carrots
potatoes
canned diced tomatoes
one large onion
salt and pepper
vegetable broth
fresh parsley (optional)
As always, you can find the full ingredient list and detailed recipe instructions at the end of this post. Unlike in my other recipes, I didn't add any spices to this quinoa soup. I absolutely love the pure taste of the veggies, the tomatoes, and the quinoa. But if you want, you can also season it with some Italian spices such as oregano, basil, or rosemary.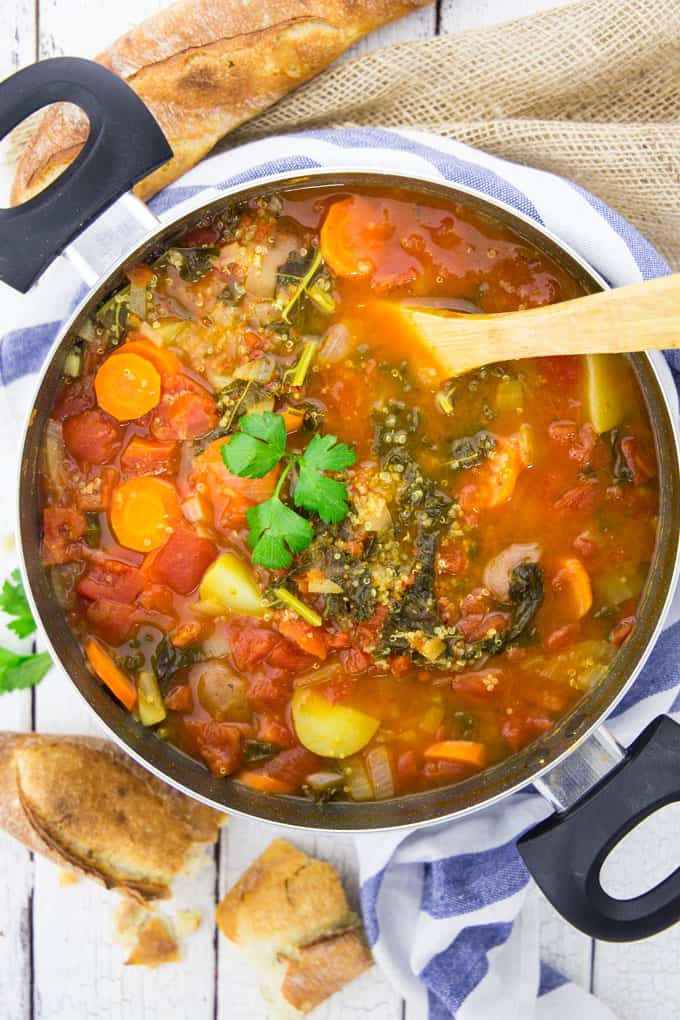 I think it's even better the next day because then the flavors are much stronger and deeper! So it's worth doubling the recipe and have left-overs. I also tried freezing the quinoa soup and it works pretty well.
I hope you like this recipe as much as we do!
Have a great week, everyone!
Sina – xx
Looking For More Vegan Soups?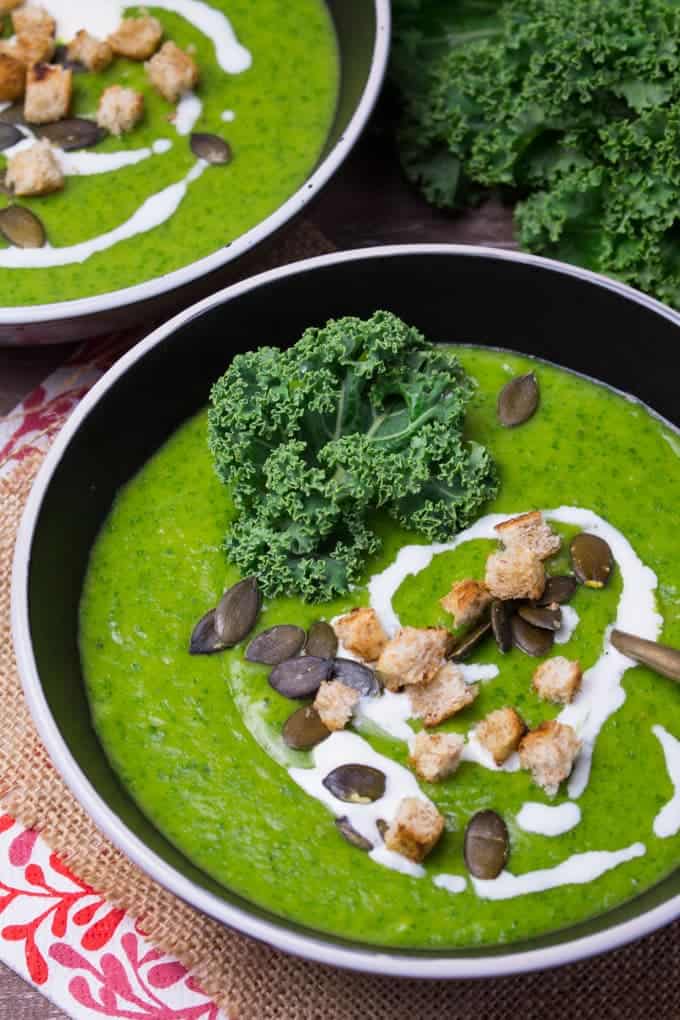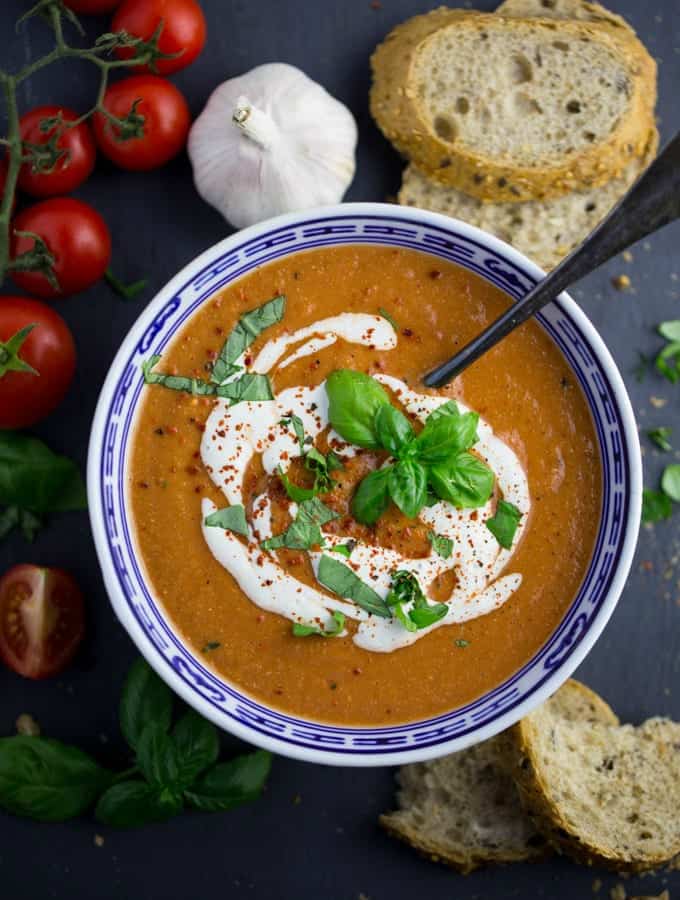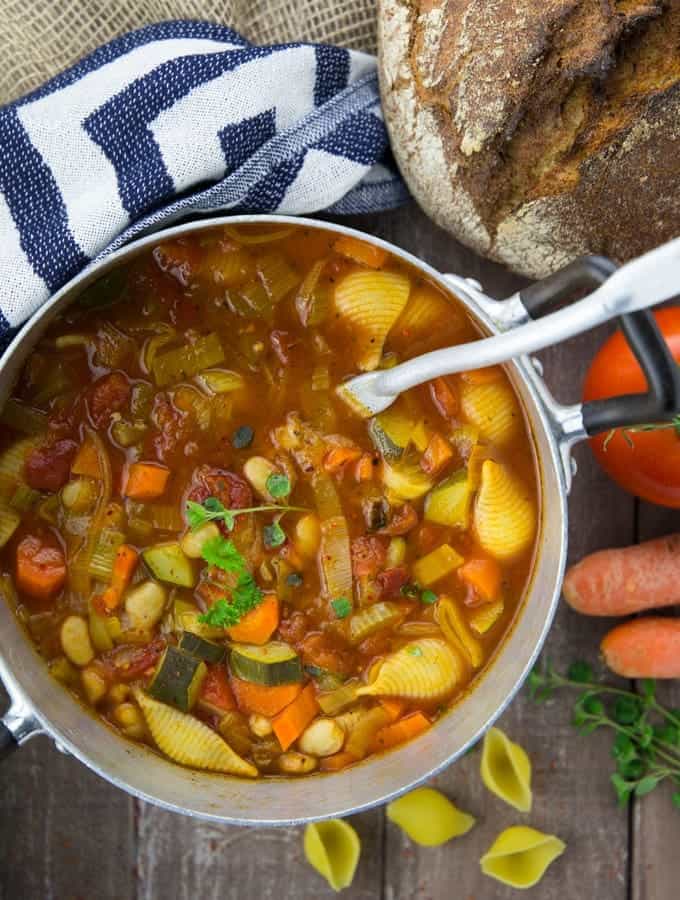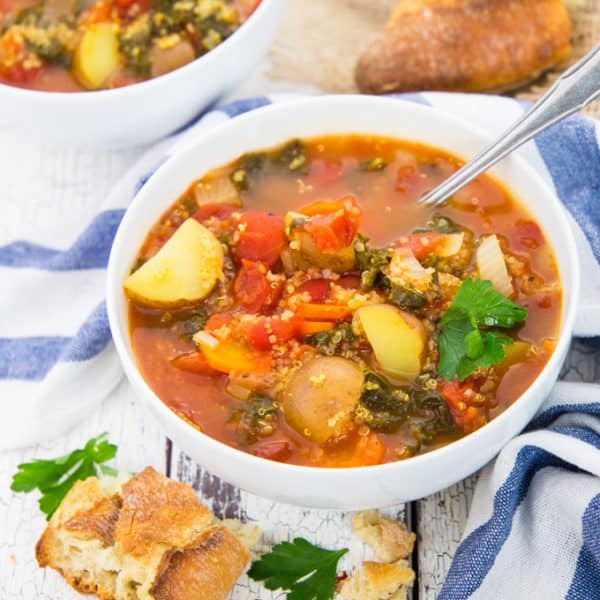 | | |
| --- | --- |
| | |
Heat some oil in a large pot and sauté the onion for about 3 minutes. For an oil-free version, you can also sauté the onions in water.

Add the remaining ingredients and cook for 20 minutes (with a closed lid).

Sprinkle with fresh chopped parsley and serve with whole-wheat baguette.