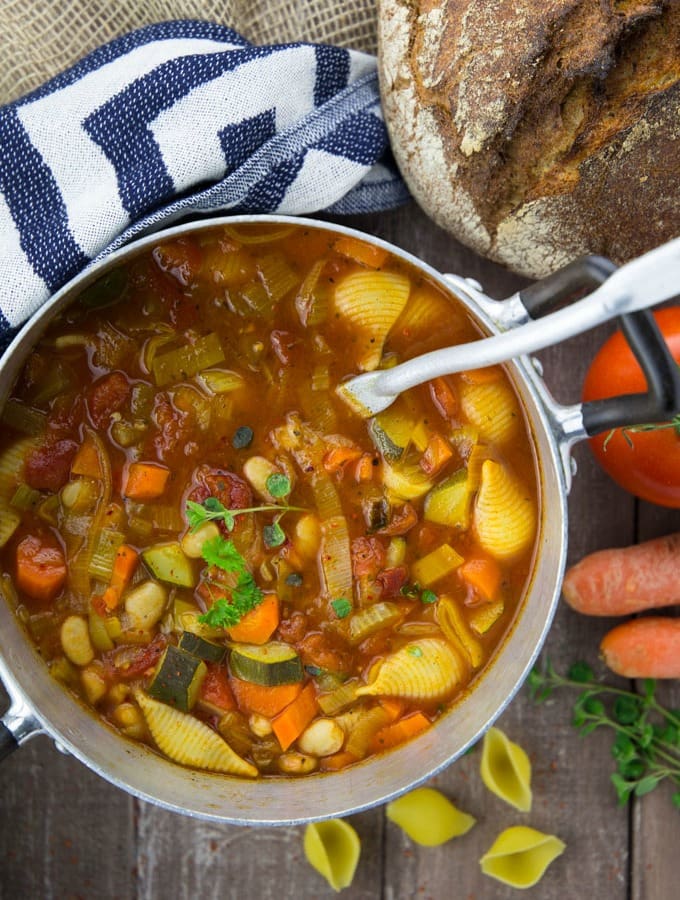 Phew! It was so cold outside today. And yesterday we even had some snow. It's maybe hard to believe, but I'm actually already in some kind of spring mood. I even bought some tulips for our kitchen and it looks so much like spring now. I mean it's February, so basically it's almost March and this means it's almost spriiiing!! So please go away, winter! I'm SO ready for spring. But there's one really good thing about winter: SOUP! Actually I wasn't the biggest fan of soup when I grew up, but now I can't get enough of it. There's nothing better than a hearty soup on cold days. My new favorite is this vegan minestrone soup with white beans and pasta shells. The recipe is super simple, delicious, and filling. Plus, it's so healthy with all these fresh veggies.
What You Need For This Vegan Minestrone Soup
As I already said, you'll need white beans. I usually use canned cannellini beans, because I'm too lazy to cook them myself. Especially during the week I just don't have enough time to do that. So canned beans and other legumes are a great alternative. Then you'll need some small pasta shapes, like small shells. You could also use macaroni instead. And then of course a ton of fresh veggies, which will make this vegan minestrone soup a super healthy weeknight dinner! I used carrots, leek, celery, and a zucchini. As always, you can find the full recipe in a separate recipe box beneath the text section. To make it easier for you guys it's even printable.
I used a special spice blend that helps you digest legumes much better to season this vegetable minestrone. It contains summer savory, sage brush, caraway seeds, and galangal. For my readers from Germany and Austria, it's the new spice blend "Wieder gut!" from Sonnentor. If you're a huge fan of legumes like me you should really give this a try. It's not only super yummy, but it really helps you digest beans and lentils much easier. If you can't get hold of this spice blend, you can also use herbs de Provence instead or any other Mediterranean spice blend that contains basil, oregano, rosemary etc. The vegan minestrone soup is best served with some fresh oregano and maybe some whole wheat bread.
I hope you like this vegan minestrone soup as much as I do. Let me know if you give it a try.
Sina – xx
Vegan Minestrone Soup
This vegan minestrone soup with white beans is perfect for cold winter days! It's super easy to make, incredibly healthy, and comforting!
Print
Pin
Rate
Ingredients
2

carrots, cut into medium-sized chunks

4

stalks of

celery, cut into rings

1

leek, cut into rings

1

onion, chopped

1

clove of garlic, minced

4

cups

vegetable broth

1

can

diced tomatoes (14,5 oz)

1

can

white beans (cannellini)

2

cups

small pasta shapes like small shells

2

teaspoons

dried herbs de Provence or any other Mediterranean spice blend (like thyme,basil, rosemary, and oregano)

salt, to taste

black pepper, to taste

1

teaspoon

fresh oregano
Instructions
Prepare the pasta according to the instructions on the package. Set aside.

Heat some oil in a large pot and sauté the onion for about 2 minutes. Then add the garlic for another minute.

After one more minute, add the leek and then the carrots, the celery, and the zucchini. Cook for about 2-3 minutes, then stir in one teaspoon of the Mediterranean spice blend. 

Add the vegetable broth. Add the diced tomatoes and stir well with a wooden spoon. 

Cook on low heat for about 10 minutes. Season with salt, pepper, fresh oregano, and the remaining spices.

Add the cooked pasta and the beans and allow to heat through.
Notes
I like to use small pasta shells for my vegan Minestrone soup. But you could also use ditalini, rotelle, rotini, or mini farfalle. 
For even more flavor, add freshly chopped basil and oregano just before serving. 
You can easily change up the veggies. If you want, you could also add green beans to your Minestrone. Or you could replace the white beans with chickpeas. Fennel or kale is also great for this soup depending on the season. 
For more protein, you could add smoked tofu or vegan sausages. 
Stored in an airtight container in the fridge, the soup will last up to 3 days. It will become a bit thicker as the pasta shells will soak up some of the liquid. 
Nutrition
Calories:
260
kcal
|
Carbohydrates:
51
g
|
Protein:
14
g
|
Fat:
1
g
|
Saturated Fat:
0.1
g
|
Polyunsaturated Fat:
0.3
g
|
Monounsaturated Fat:
0.1
g
|
Sodium:
1334
mg
|
Potassium:
789
mg
|
Fiber:
14
g
|
Sugar:
15
g
|
Vitamin A:
9600
IU
|
Vitamin C:
41.3
mg
|
Calcium:
250
mg
|
Iron:
4
mg
Rate the recipe!
If you like this recipe, please leave a good rating! This will help other readers.