It's soup time! If you're looking for delicious and filling vegan soup recipes, look no further. We've got you covered with 30 nourishing and tasty vegan soups of all kinds of flavors.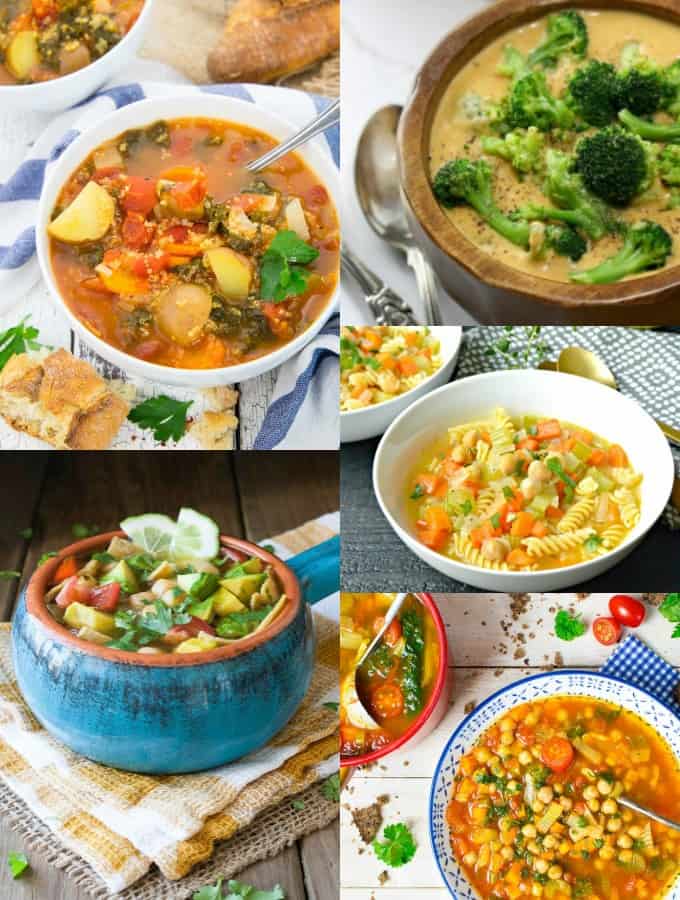 There's nothing better than homemade soup on cold fall and winter days, right? I mean it's super warming and sooo comforting!
I can't get enough of soup right now! It's just the perfect meal for the colder season. I got quite a lot of vegan soup recipes on the blog.
But to provide you with even more delicious vegan soups, I teamed up with some fellow food bloggers and compiled a huge list of vegan soup recipes for you!
We've got something for every taste and every occasion!
We've got:
vegan tomato soup
vegan minestrone
quinoa soup
vegan French onion soup
vegan potato soup
Italian and Mexican chickpea soup
lentil and pea soup
carrot soup
broccoli soup
and sooo much more!
All of these recipes are dairy-free, meat-free, and pretty easy to make. Many of them can also easily be made gluten-free or kid-friendly. Besides, it's possible to make most of them in an Instant Pot if you want to use one.
Many of these vegan soup recipes are perfect for quick weeknight meals or also as part of a meal for the Holidays.
Or just make a big batch and freeze it for later!
So let's get started with all of these delicious vegan soup recipes!
Just click on the title underneath each picture to see the recipe.
30 Hearty Vegan Soup Recipes For Cold Days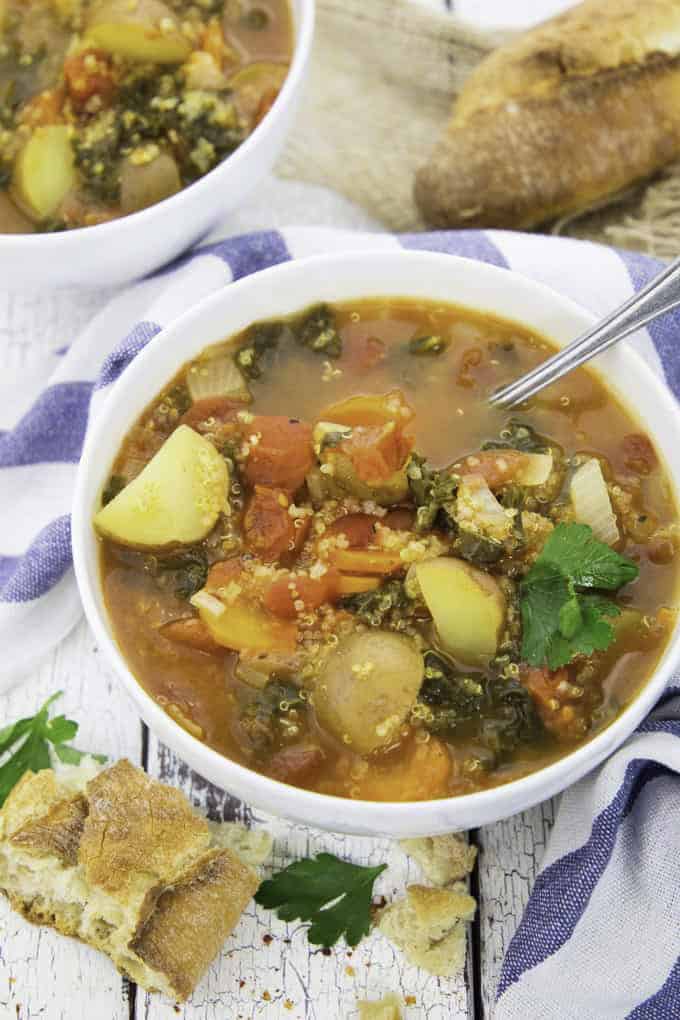 This quinoa soup with kale, potatoes, and carrots has been one of my favorite soups for a really long time. It's super easy to make, packed with nutrients, and so yummy! Besides, it's of course vegan and also gluten-free!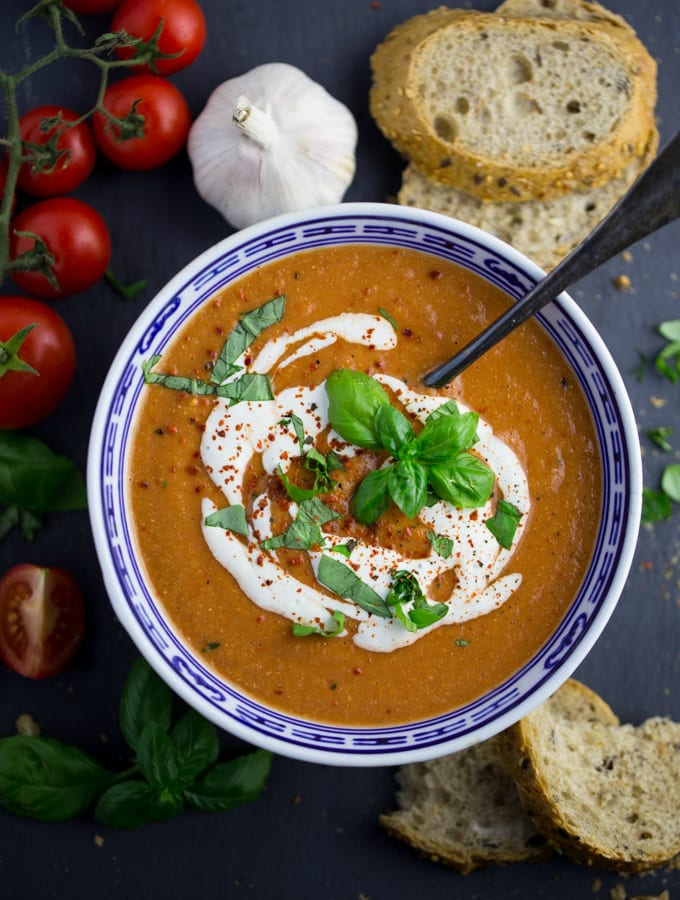 This vegan tomato basil soup with cashews is super easy to make, incredibly creamy, and so comforting! And the best thing is that it's ready in just 10 minutes. It's the perfect meal for lazy or busy days!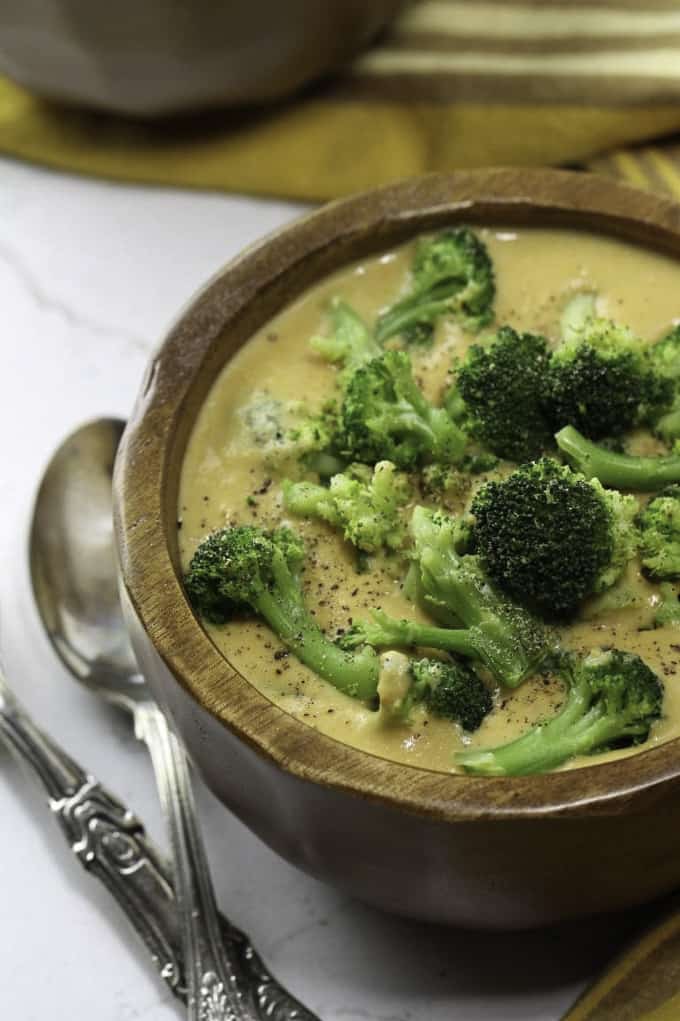 Doesn't this soup by Brandi from The Vegan 8 look super comforting? Even though this soup is vegan, it's super silky and smooth thanks to brown rice flour and cashew milk.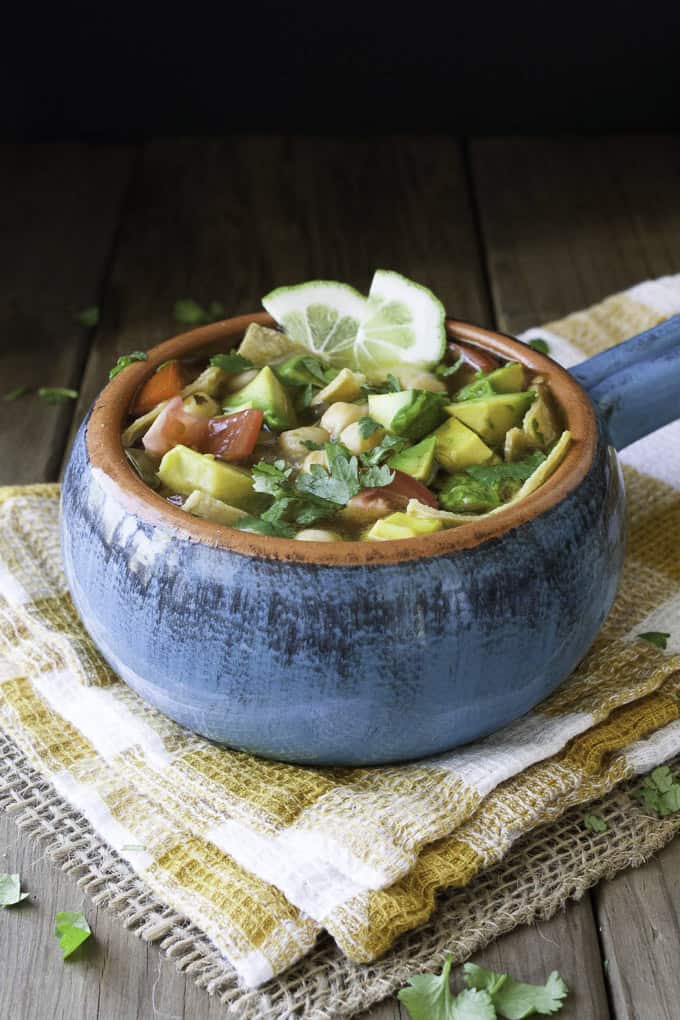 This vegan Mexican tequila lime soup with chickpeas by Sophia from Veggies Don't Bite is not only healthy but also packed with flavor! Sophia also added some ideas to make this soup kid-friendly.
This vegan minestrone soup with white beans is perfect for cold winter days! It's super easy to make, incredibly healthy, and comforting! Serve it with small pasta shells and fresh bread for a filling meal.
Potato Leek Soup is a french classic that is usually made with heavy cream. However, this vegan potato leek soup by Vanessa from Vegan Family Recipes is a healthier version with the same amount of creaminess. Vanessa also added cauliflower to her vegan potato soup.
This Italian vegan garbanzo bean soup is perfect for chilly fall days. It's super easy to make and packed with flavor and nutrients. I used carrots, fennel, celery, tomatoes, and spinach for this vegan chickpea soup. Serve it with lots of freshly chopped parsley and fresh bread.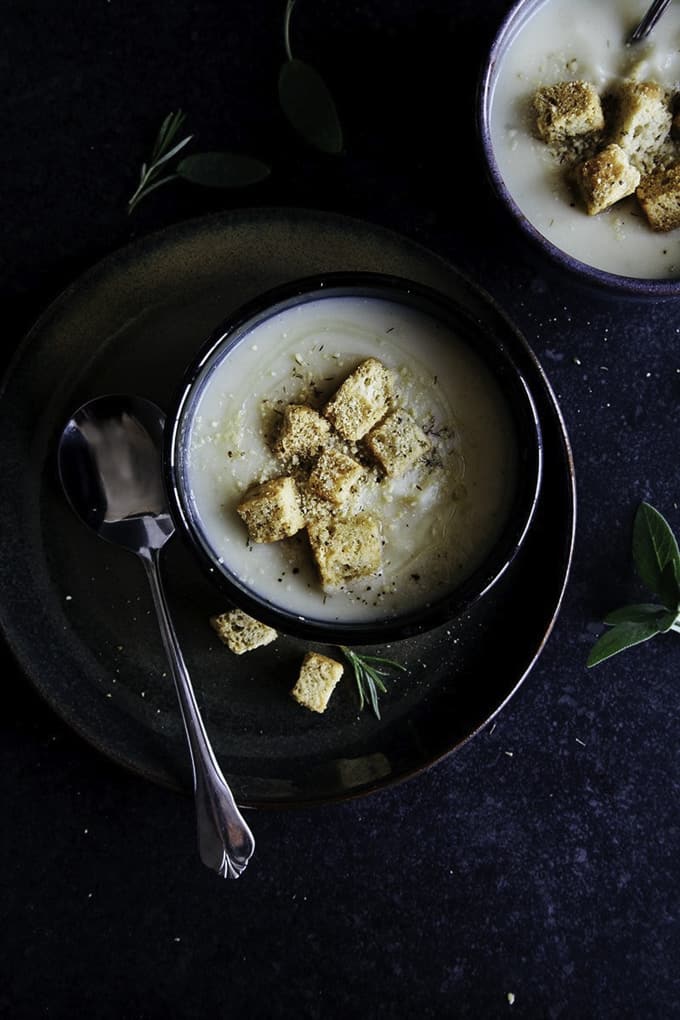 Parsnip and celeriac might seem a bit bland for a soup, but Aimee from Wallflower Kitchen roasted them with maple syrup for an amazing flavor!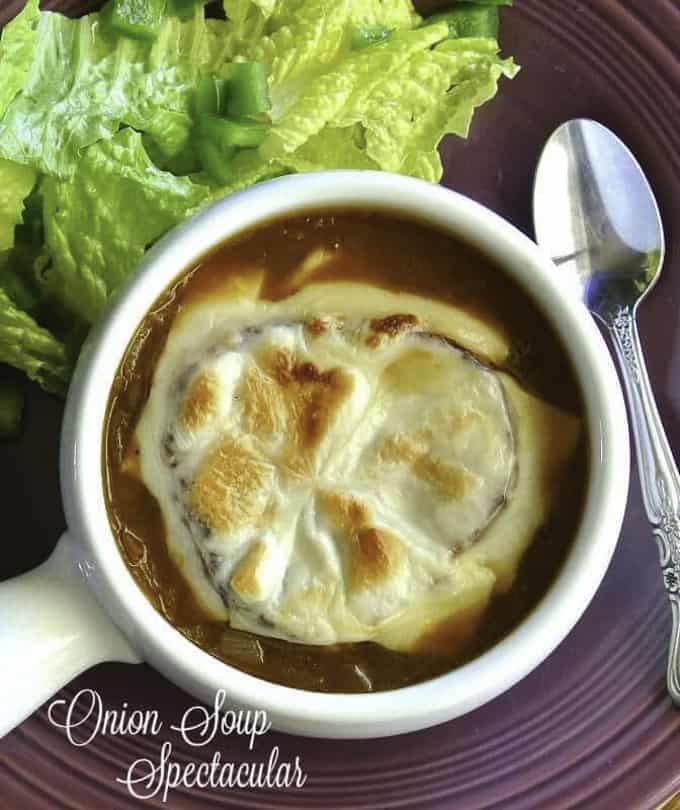 If you used to love French onion soup and you're looking for a vegan version, you just have to try vegan onion soup by Ginny from Vegan in The Freezer. The prep time of this recipe is only 10 minutes, the rest is cooking time. So it's amazing how little time is required for this delicious French soup!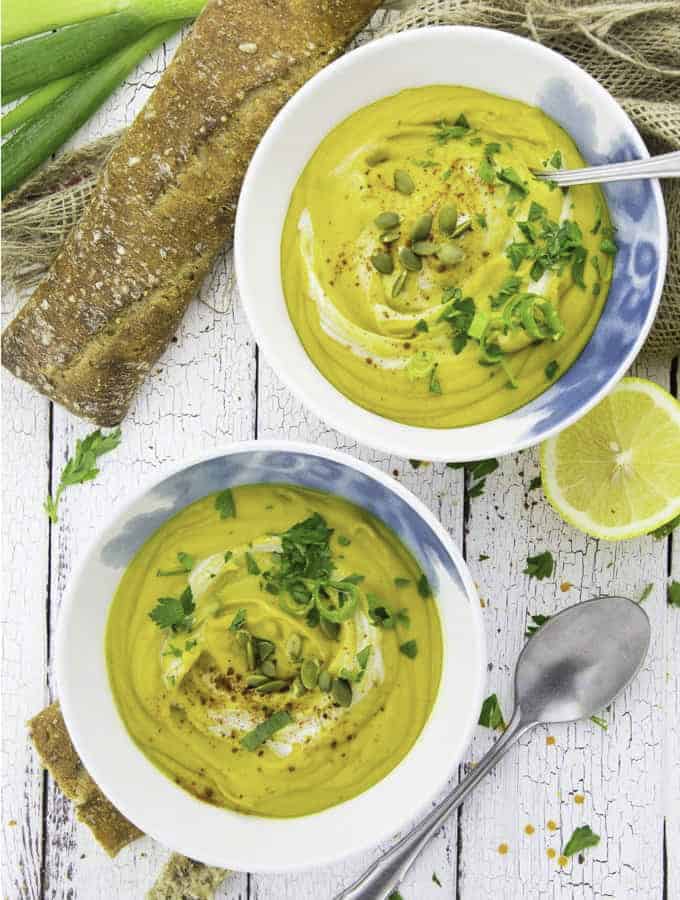 This vegan red lentil soup with coconut milk is one of my favorite vegan soup recipes. The recipe is super easy and it's packed with protein and vitamins. And it's sooo creamy and delicious!
This vegan miso udon noodle soup with carrots and spinach by Bianca from Elephantastic Vegan is perfect for the colder seasons! For a more authentic version, Bianca added Mock Abalone.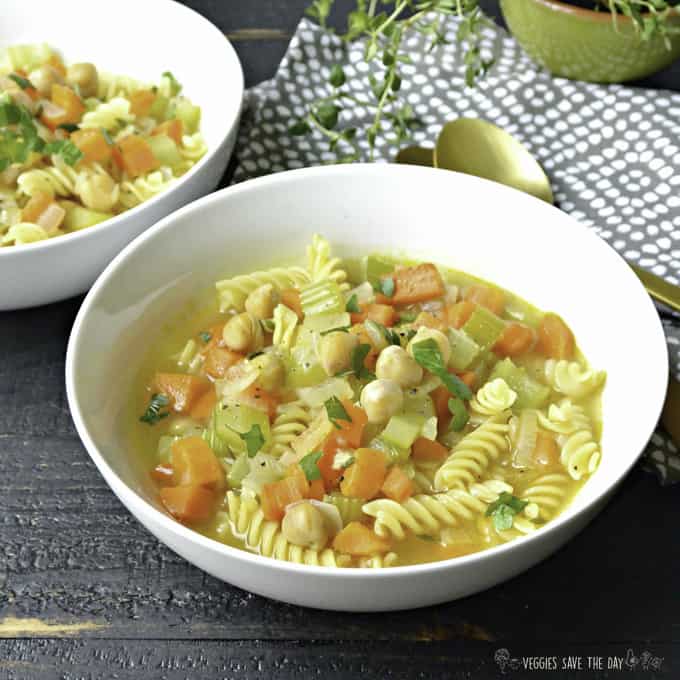 This easy vegan chickpea noodle soup by Amy from Veggies Save The Day is comforting, nourishing, and perfect when you have a cold. It's vegan and can easily be made gluten-free by using gluten-free pasta.
This healthy sweet potato soup by Dave from Hurry The Food Up is perfect for busy weeknight dinners. It's super easy to make: Just get all the ingredients ready, chop a few things and chuck them all into a big pot together. After cooking blend them into a creamy and delicious soup.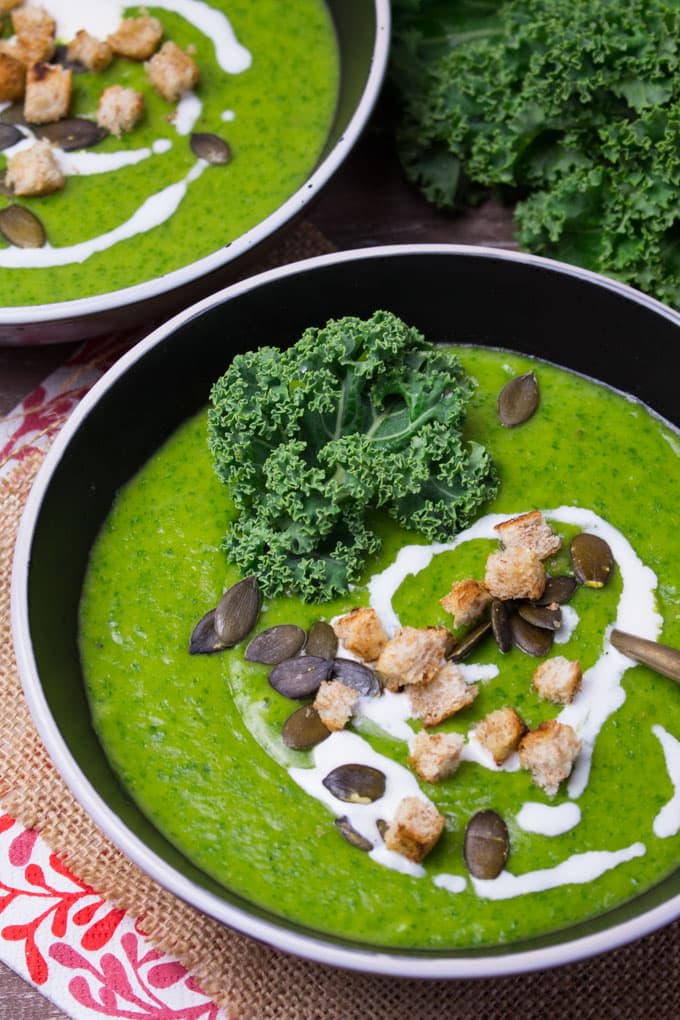 This vegan potato kale soup does not only look really fancy, but it's also super delicious and packed with nutrients! Just perfect for the Holidays! And I mean just look at this color! I topped it off with homemade croutons, pumpkin seeds, and soy cream.
This Greek lentil soup by Sophia from Veggies Don't Bite is packed with protein and iron. Serve it with fresh crusty bread for a delicious vegan dinner.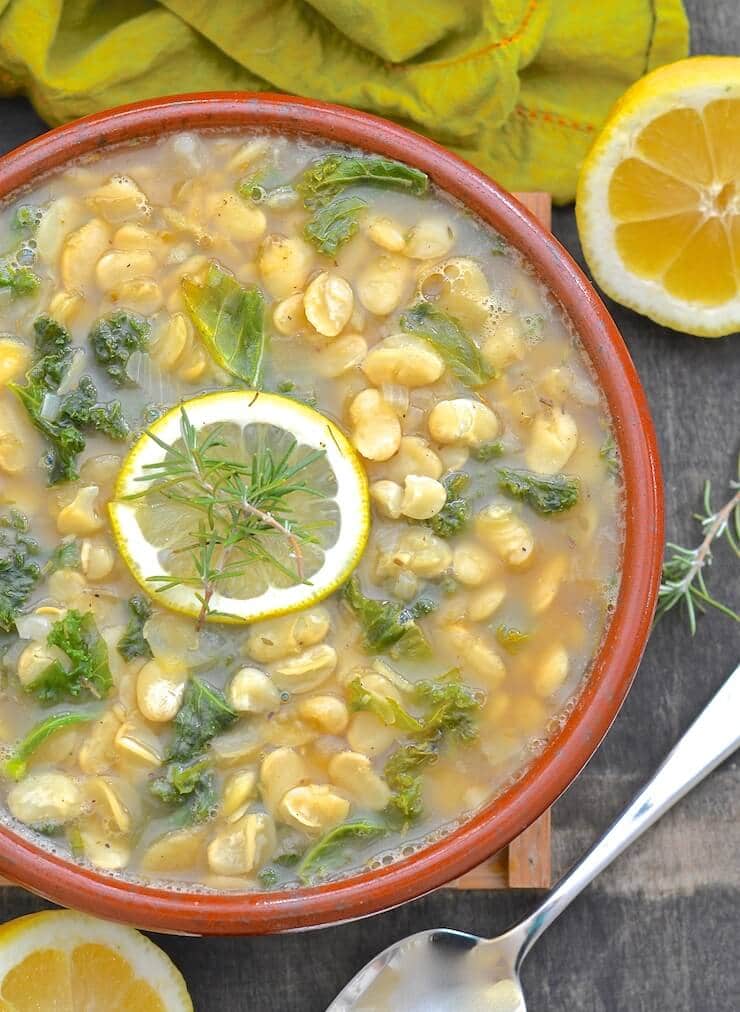 This lemon kale and white bean stew by Melanie from A Virtual Vegan is ready in under 30 minutes. It's full of lemony and garlicky flavor. And it's made with everyday ingredients!
This cozy and comforting red lentil and chickpea stew with orzo by Jenn from Veggie Inspired is an easy meal for any night of the week. Made in the slow cooker, you can prep dinner ahead of time and enjoy it whenever you are ready.
You need only a few ingredients to make this vegan cauliflower soup by Kelly from Tasting Page. It's super easy to make and very comforting. And it's gluten-free and paleo.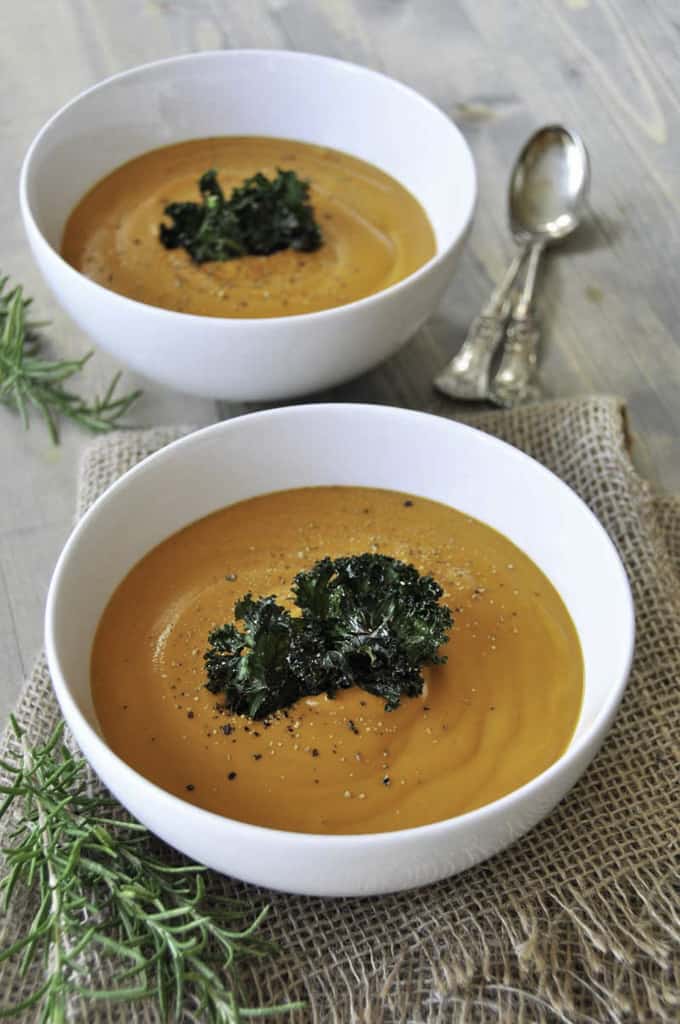 You need only five ingredients for this vegan roasted carrot soup with garlic and fresh rosemary by Linda from Veganosity. It really couldn't be any easier!
This vegan taco soup by Holly from My Plant-Based Family is perfect for guests. Holly served it with fresh guacamole. It's made with two types of beans and it's, therefore, packed with protein. And it's also pretty easy to make!
Can you believe that this broccoli soup by Florian from Contentedness Cooking only calls for two ingredients? However, you can add several additional toppings like avocado, parsley, and macadamia nuts. This soup is a great way to eat more veggies and greens!
This hot and sour miso soup by Letty from Letty's Kitchen is perfect for cold fall and winter nights. And also if you're having a cold. It's packed with flavor!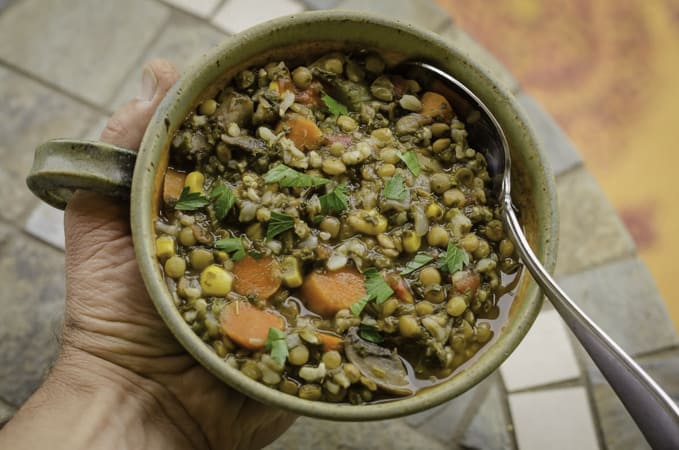 This vegan lentil soup with rice by Georgia and Gregory from Full of Beans is ready in no time! It got a very short prep time and about 40 minutes of cooking time.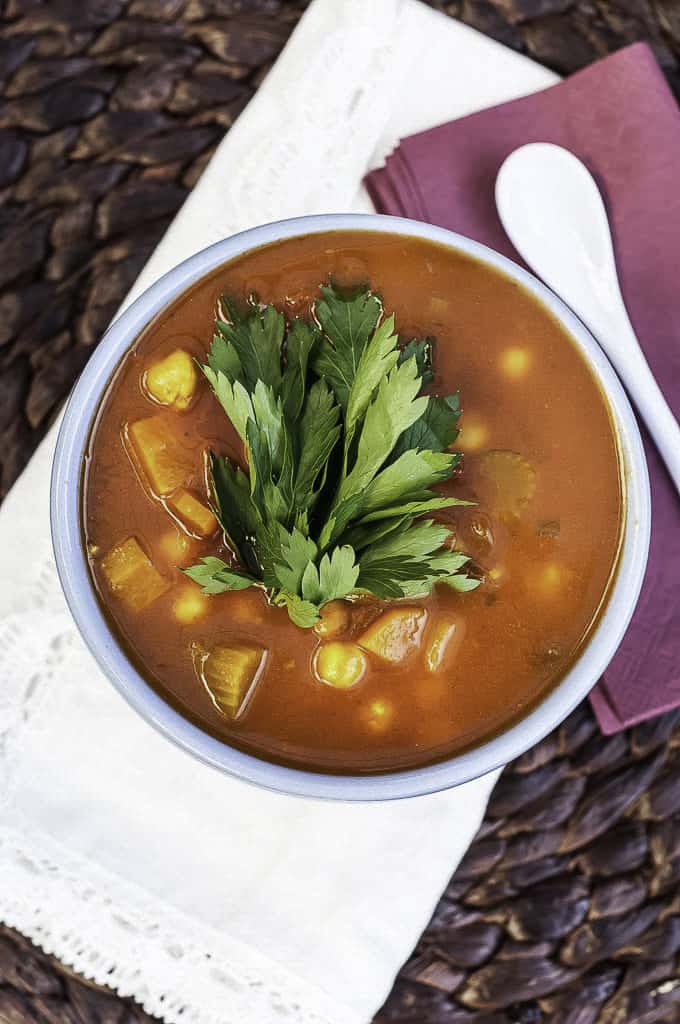 Harira soup is a traditional tomato based soup from Morocco and Algeria. Vanessa from Vegan Family Recipes adapted this soup to make a vegan version of it. It's not only kid-friendly, but also very easy to make.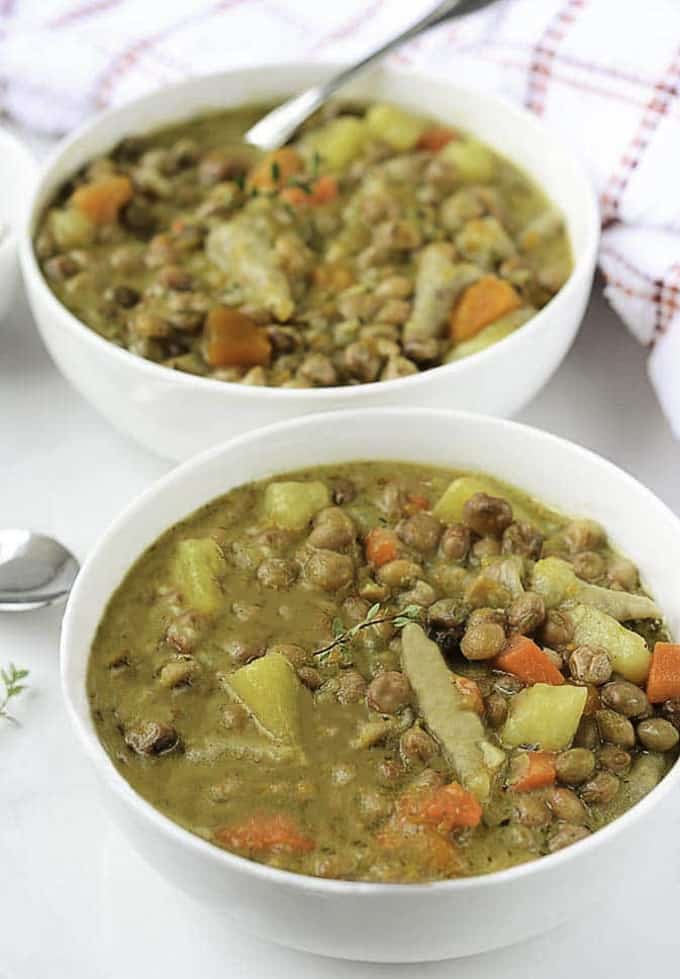 This easy Jamaican gungo peas soup by Michelle from Healthier Steps is super hearty and perfect for colder months. It's packed with gungo peas, yellow yam, carrot, and dumplings. So many delicious flavors are going on here!
This vegan spicy lemongrass noodle soup by Lisa from The Viet Vegan hits all the right spots when it comes to a flavorful soup. And just look at that marinated tofu! Yummy!
This 5 ingredient pumpkin curry soup by Alisa from Go Dairy Free is light and healthy while being delicious and comforting. And the secret ingredient is red curry paste.
This creamy mushroom soup with lentils and brown rice by Cadry from Cadry's Kitchen is perfect for cold winter days. Cadry also included instructions on how to make it in an Instant Pot.
This vegan broccoli soup by Becky from Glue and Glitter is super simple and delicious. And so much healthier than its cream-filled counterpart!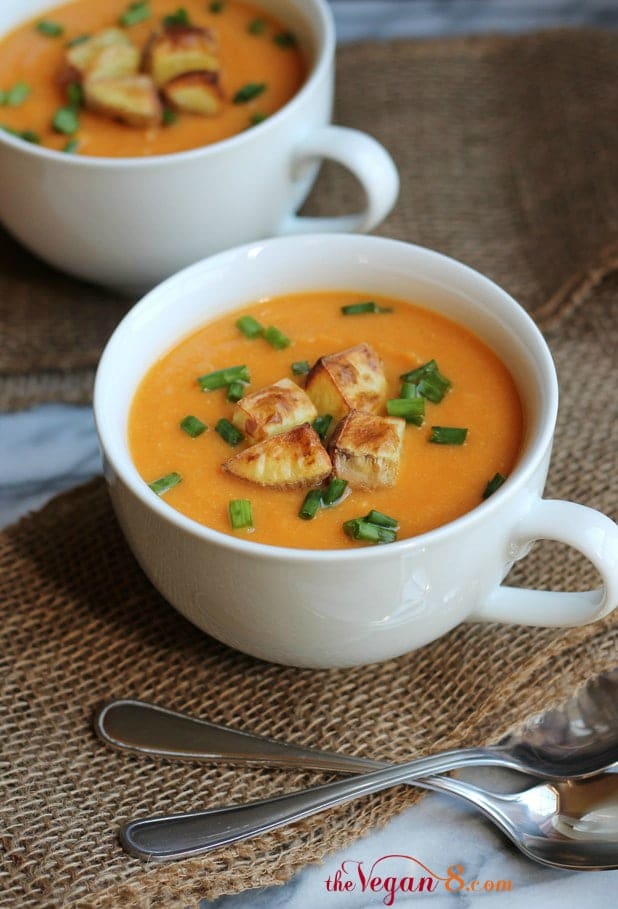 This creamy sweet potato soup by Brandi from The Vegan 8 is not only delicious but also super rich in nutrients. And it doesn't make you feel heavy like traditional potato soups.
I LOVE TO HEAR FROM YOU GUYS!
I hope you like this roundup of vegan soup recipes as much as I do. Don't forget to pin or share this post to always have these vegan soup recipes ready!
If you give any of these vegan soups a try, I'd love to know what you think about it. Just leave me a comment below. Your comments really make my day!
You like my recipes and roundups and want to see more? Then follow me on Facebook, Instagram, or Pinterest!
Sina – xx