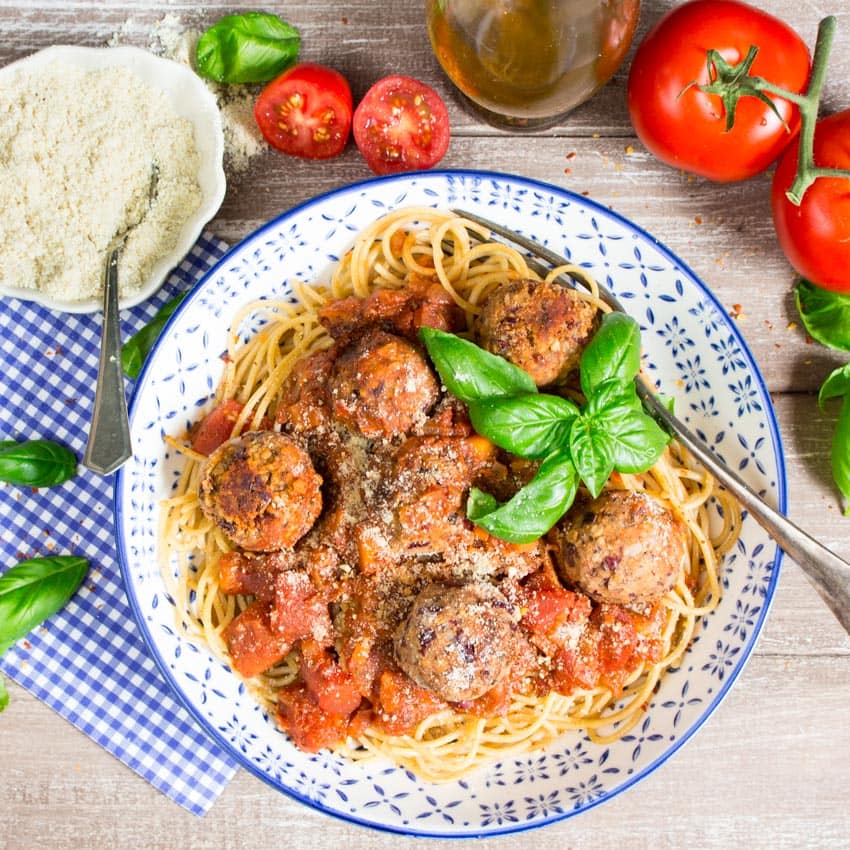 Last night, we had the most delicious vegan meatballs with spaghetti! When I think of spaghetti with meatballs, the first thing that comes to my mind is the meatball scene in the Disney's classic " Lady and the Tramp" when Tramp takes out his Lady for a romantic dinner. I used to love this movie when I was a kid. And I still remember how mad I got at the two Siamese cats for bringing Lady into trouble. Isn't it just awesome being a kid?!
So yesterday I made a vegan version of this classic American-Italian dinner: Vegan meatballs made from kidney beans and oats. They're super delicious, easy to make, and incredibly healthy!! I absolutely love pasta and I could eat it at least once or twice a week.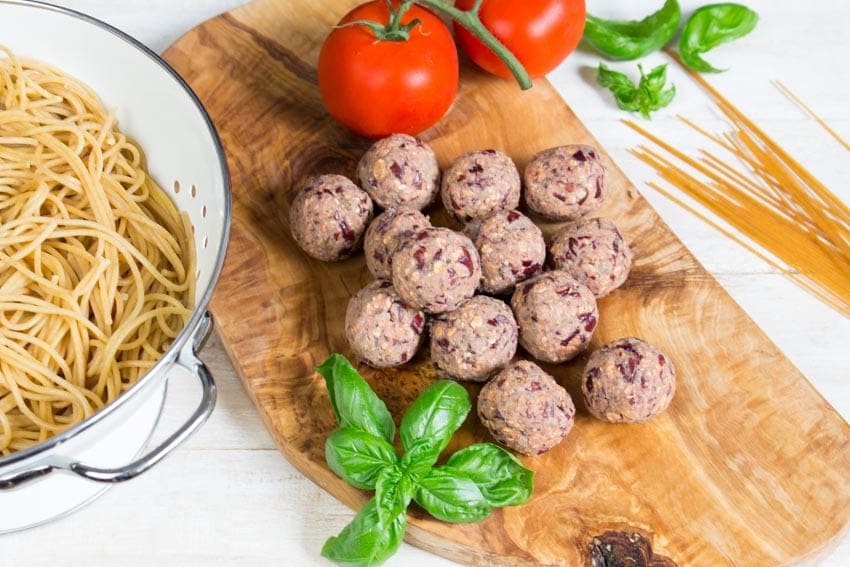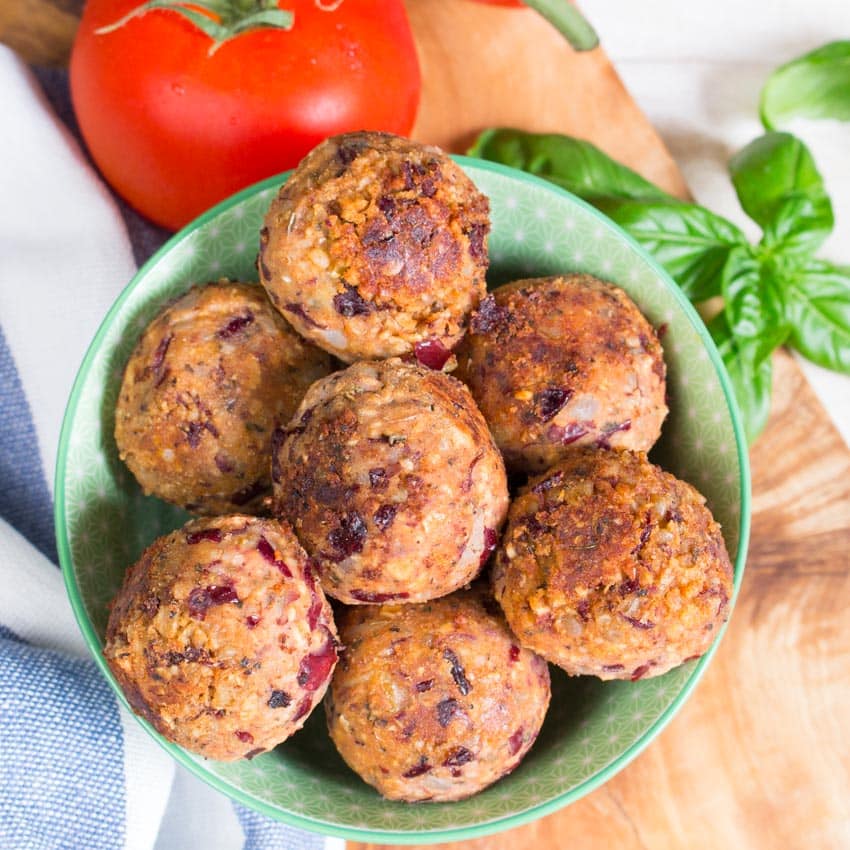 The vegan meatballs are also great just by themselves with a green salad and some dips such as guacamole or hummus. Or you could also use them to make wraps or a vegan meatball sandwich.
As I already said, the recipe couldn't be much easier. All you need is a can of kidney beans, sunflower seeds, rolled oats, garlic, half an onion, and some spices. Especially the sunflower seeds make the bean balls really healthy. They're a great source of vitamin E, magnesium, and selenium. For the marinara I used tomatoes, red wine, an onion, garlic, and a carrot.
But of course, you can get all creative and also use any other kind of veggies to make the marinara sauce even chunkier. Oh, and don't forget to top it all off with vegan cashew Parmesan. I really can't get enough of it and I'm using it on almost everything these days.
What's your favorite childhood movie? As always, I love hearing from you guys and hope you have an awesome week! :-) If you make these vegan meatballs with spaghetti, I would be so happy to hear how you liked them!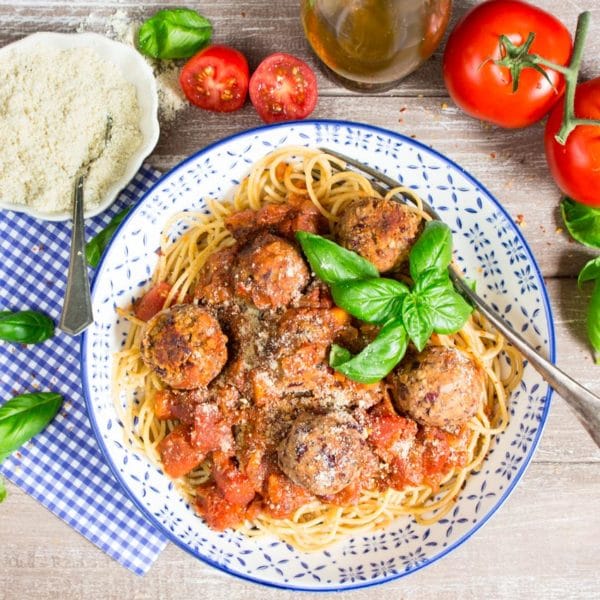 | | |
| --- | --- |
| | |
Cook the spaghetti according to the instructions on the package.

Rinse and drain the kidney beans. Put them in a medium bowl and mash them well with a fork. In a medium pan, heat some oil and sauté the onions for 3 minutes. Add the minced garlic and cook for another minute. Add the sautéd onion and garlic to the mashed beans together with the spices, tomato paste, soy sauce, and oats. Put the sunflower seeds in a food processor and pulse until a fine meal is achieved. Add to the bean mixture and combine well. Season with salt and pepper. Form about 12-14 balls.

Make the marinara sauce: In a medium pan, heat the olive oil over medium heat. Sauté the onions for 3 minutes, then add the garlic and the carrot. Cook for another 2-3 minutes. Stir in the tomato paste and cook for 2 minutes. Then deglaze with red wine and allow to evaporate. Add diced tomatoes and simmer for about 10 minutes. Season with oregano, salt, and pepper. Before serving add some fresh basil leaves.

In a medium pan, heat some olive oil over medium heat and gently roast the bean balls for about 4 minutes until they are golden. Alternatively, you can bake them at 350 °F for about 15 minutes.

Make the cashew Parmesan: Put the cashews, nutritional yeast, salt, and garlic powder in a food processor and pulse until a fine meal is achieved.

Serve the spaghetti with the marinara and vegan meatballs and sprinkle with Parmesan and fresh basil leaves.