This Thai pineapple fried rice recipe is one of my favorites for busy days! Super easy, healthy, and so yummy. Plus, it's SO colorful!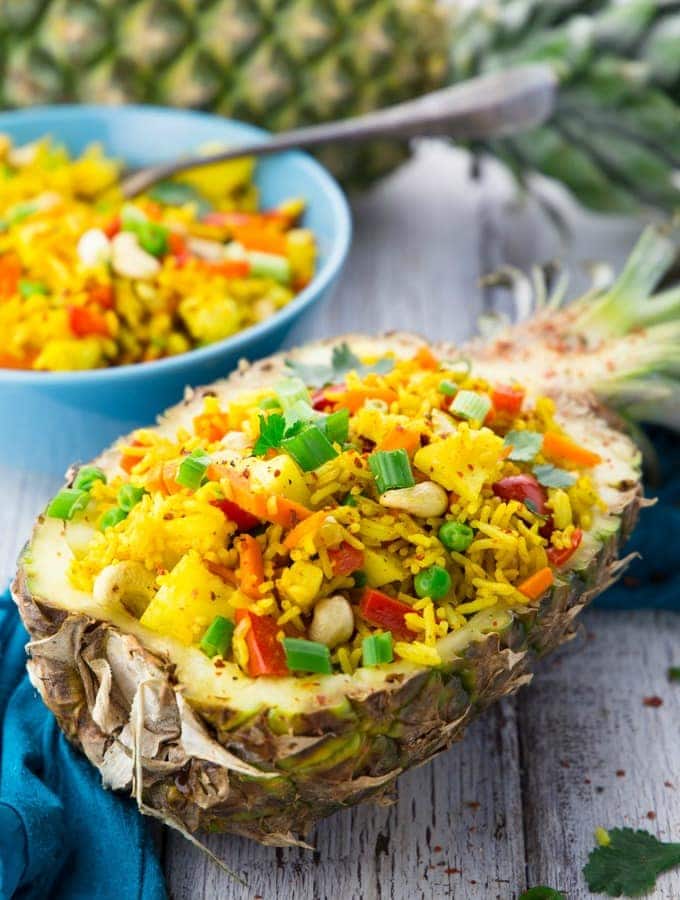 Okay, I think the travel bug got me again. This happens every couple of weeks! But given the weather right now this is totally no surprise to me. I mean where the heck did spring go?! It was super warm and sunny two weeks ago, but then all of a sudden winter came back and it was even snowing last week. Who wants snow in April?! Definitely not me!! So the other day, I was looking at some pictures we took during our vacation in Thailand 2 years ago and I'd absolutely love to go back! We had such an amazing time and this Thai pineapple fried rice recipe reminds me so much of these awesome sunny days at the beach.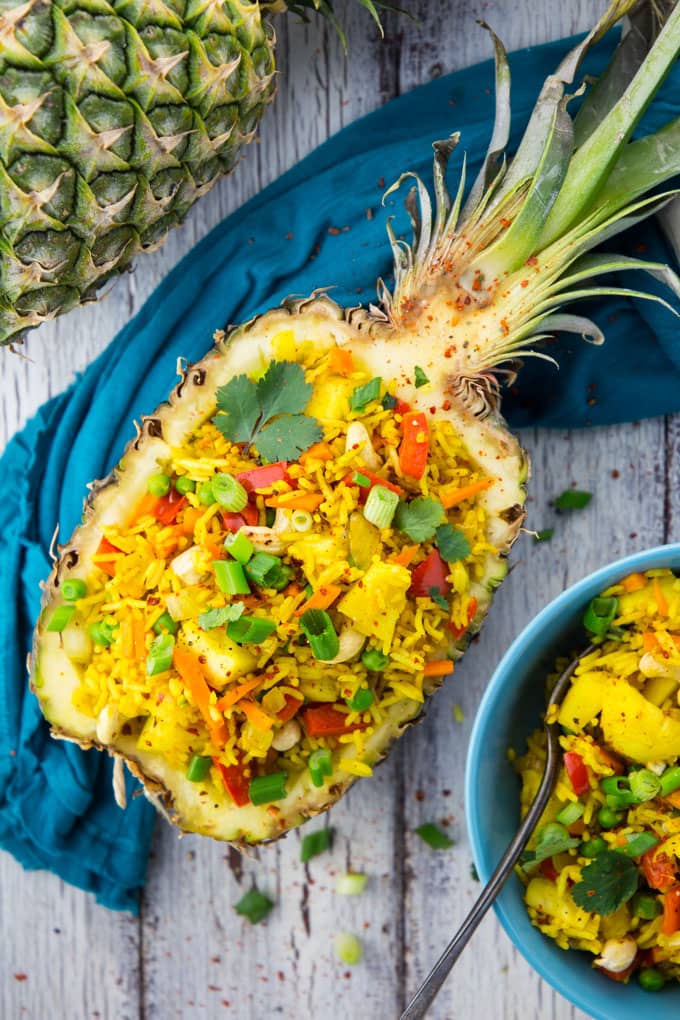 The Thai pineapple fried rice is super easy to make and it's ready in only 15 minutes. So I guess it's safe to say that it's perfect for busy weeknight dinners. As all the recipes on Vegan Heaven, it's of course 100 % vegan. Besides, it's also gluten-free.
I've to admit that during my first visit to Asia I kinda experienced a cultural shock. After backpacking 3 months through Australia, Flo and I stayed in Bangkok for 4 days. The cars, the smell, and all the noise was really driving me crazy at first! Like I had never experienced something like this before. But I still wanted to see more of Asia. So two years later we spent three weeks in Thailand and got to know more of the country. Since then I also got to see some parts of India, Sri Lanka, Indonesia, Singapore, and Malaysia. And I really fell in love with these Asian countries and their delicious food!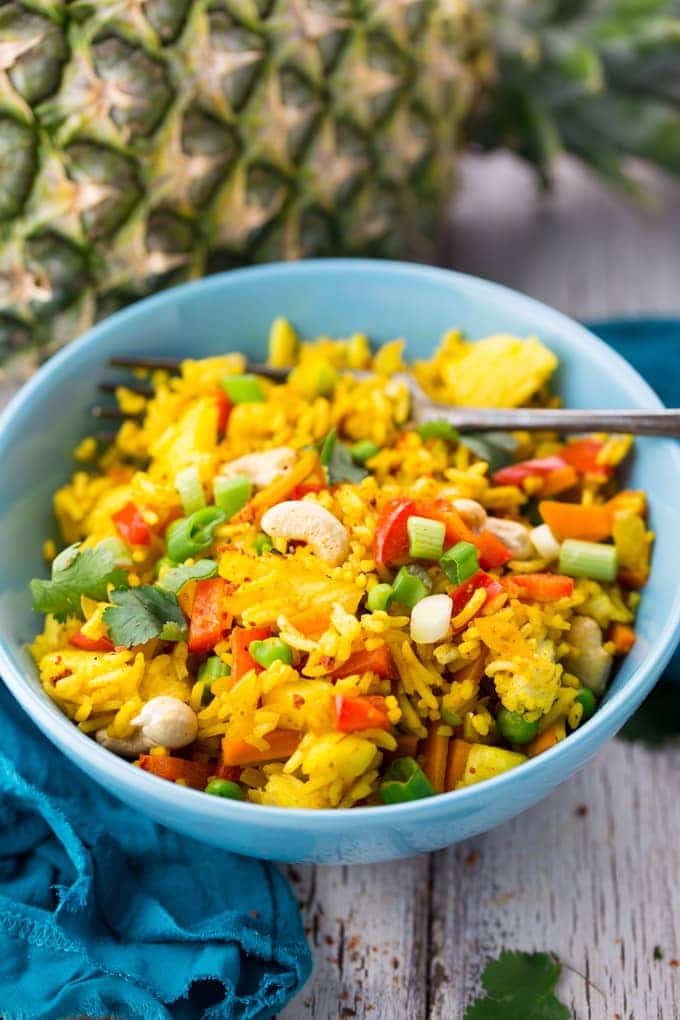 It's SO easy for vegans and vegetarians to find meat-free options. I mean they got tons of fresh fruits and vegetables. Just add some rice, coconut milk, and maybe some tofu or tempeh and you're good to go. So yummy! The only problem is that they often use fish sauce for seasoning, so just ask for soy sauce instead. Most of the time this should be no problem.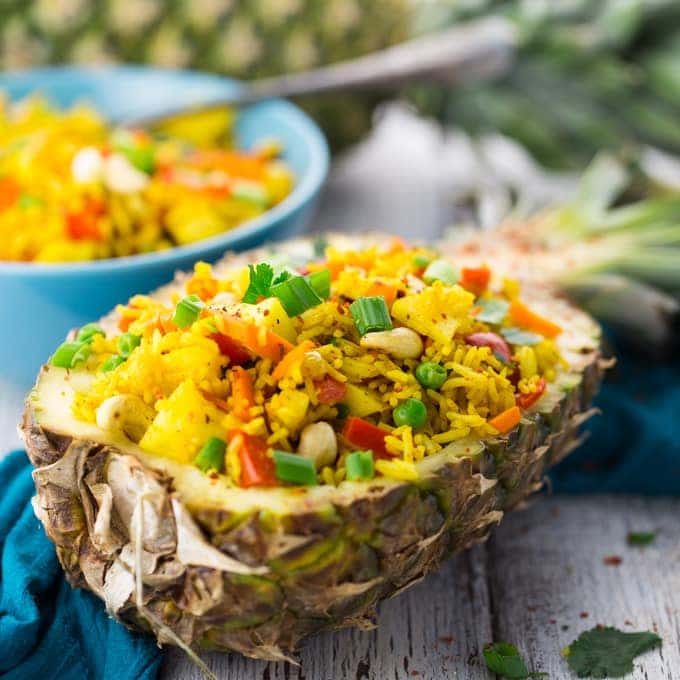 I found my own little "vegan heaven" in Bali. They have tons of vegan and vegetarian restaurants and so many smoothie bars. It's absolutely unbelievable! I really need to write and publish a separate article about the vegan food I had during my vacations to Asia. Look out for it in the next couple of weeks if you're interested.
But now back to the Thai fried pineapple rice recipe! We had this so many times during our time in Thailand. Usually right at the beach and not on plates, but in pineapple halves.
What You Need For This Thai Pineapple Fried Rice Recipe
I think this Thai fried pineapple rice is best when you use left-over rice from the day before. And of course this way the recipe also takes less time. Besides I also added carrots, red bell pepper, onion, garlic, peas, green onions, and some roasted cashews. And of course pineapple! I seasoned the Thai fried rice with curry powder and soy sauce. So it's all pretty easy. As always, you can find the full recipe for this vegan fried rice and the ingredient list in a separate, printable recipe box beneath the text section.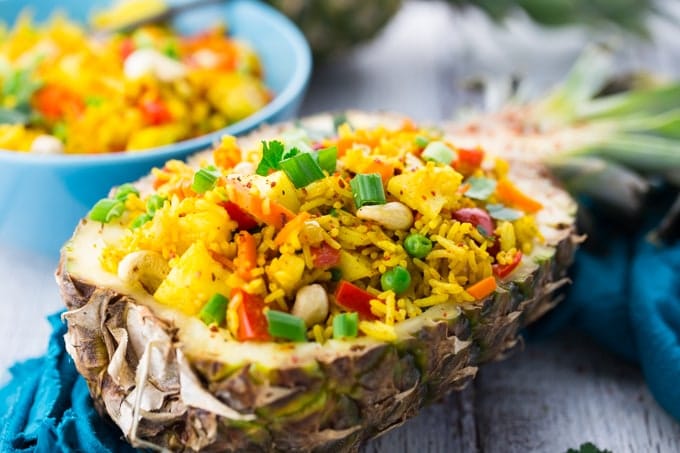 I hope you like this vegetarian pineapple fried rice as much as I do. Have a great start into the new week, everyone!
Talk to you soon!
Sina – xx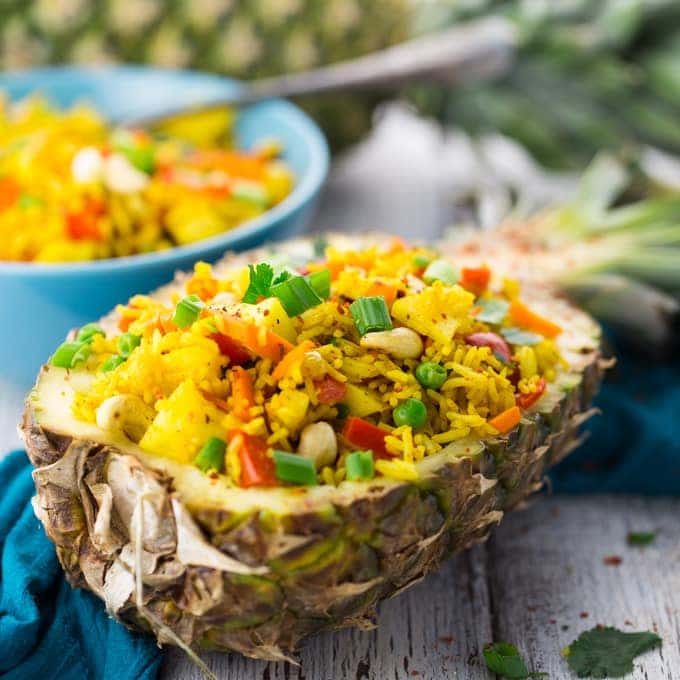 Thai Pineapple Fried Rice Recipe (Vegan)
This Thai pineapple fried rice recipe is one of my favorites for busy days! Super easy, healthy, and so yummy. Plus, it's SO colorful!
Ingredients
1

cup

Basmati rice

(equals 3 cups cooked rice)

1

onion, chopped

3

cloves of garlic, chopped

1

tablespoon

oil

2

carrots, cut into thin sticks

1/2

red bell pepper, cut into thin sticks

1/2

cup

frozen peas

1/2

cup

cashews

1

tablespoon

soy sauce

1

tablespoon

curry powder

1

cup

pineapple, cut into small pieces

2

green onions, cut into rings

salt, to taste

black pepper, to taste

red pepper flakes (optional)

fresh cilantro (optional)
Instructions
I like the Thai pineapple fried rice best with left-over rice from the day before. So cook the rice according to the instructions on the package and store it in an air-tight container in the fridge until you use it. Cook the frozen peas for about 7 minutes.

In a large pan, heat the oil and sauté the onion for about 3 minutes. Then add the garlic, the carrots, and the bell pepper. Cook for 3 minutes.

Then stir in the cooked rice and season with the curry powder and the soy sauce. Next, add the pineapple, the peas, the green onion, and the cashews. Season with salt, black pepper, and if using red pepper flakes. Stir until well combined. Serve with fresh cilantro. Enjoy!
Nutrition Facts
Thai Pineapple Fried Rice Recipe (Vegan)
Amount Per Serving
Calories 325
Calories from Fat 126
% Daily Value*
Total Fat 14g 22%
Sodium 354mg 15%
Potassium 385mg 11%
Total Carbohydrates 44g 15%
Protein 9g 18%
* Percent Daily Values are based on a 2000 calorie diet.