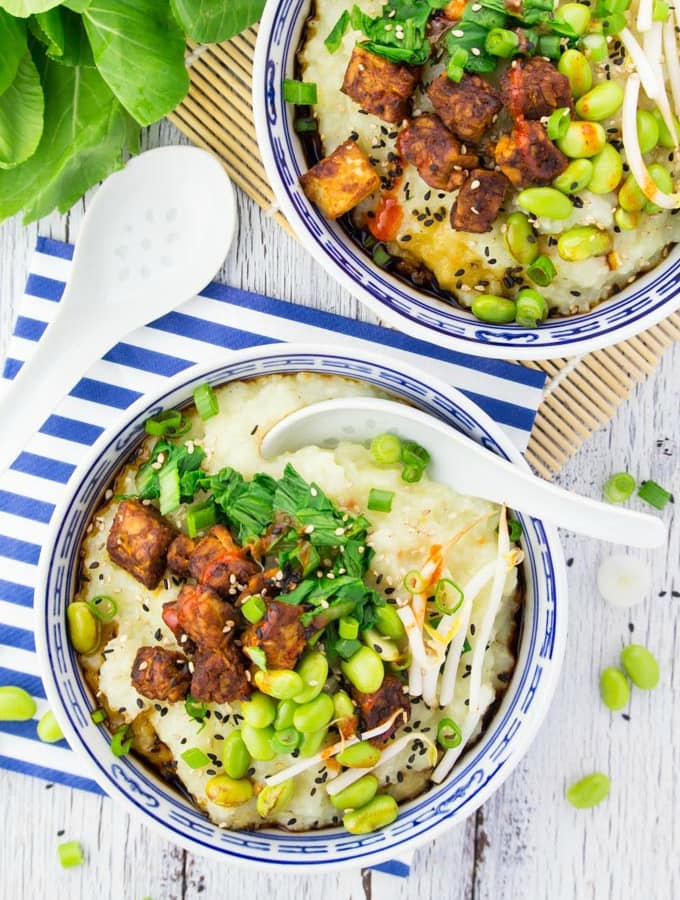 We just booked a trip to Bali (I'm so excited!!) and to celebrate it we made one of the most popular Asian dishes: Congee!! I just love the sound of its name. Haha!
But what is Congee?
Many of you are now probably wondering what I'm talking about and have never heard of such a thing. And you're right it's not on the menu of most Western Asian restaurants, but in China as well as in many other Asian countries it has been a staple breakfast dish for many centuries. Breakfast?! Yeah, congee is some kind of Asian savory rice porridge that is typically eaten for breakfast…
It's made with white rice that is boiled in a large amount of water until it becomes soft and creamy. You don't necessarily have to eat it for breakfast, it also makes a great and healthy dinner. And that's actually the way we usually eat it. I mean I really love savory breakfasts like scrambled tofu or even the hash brown tempeh casserole I made a couple of weeks ago, but congee is just a bit too much for me. But it's awesome for brunch or as I just said for dinner.
I've never heard of congee before our first trip to Thailand in late 2012. I actually came back from a three-month-long backpacking trip to Australia with Flo and we had a layover in Bangkok, where we spent 5 days. So in our hotel we had this huuuuge breakfast buffet with all these delicious Asian and Western dishes. There were tons of fresh fruit as well as pancakes, pastries, and many warm Asian dishes.
Boy, were we happy to be able to have such a great breakfast/brunch after our time in Australia. I mean don't get me wrong, this was the greatest time of our lives and it was such an awesome and unforgettable adventure, but food-wise is was a real disaster sometimes. It wasn't always easy to find vegan or at least vegetarian food and we spent most of our time either in hostels or on camping grounds so cooking wasn't too easy. Plus, I was a vegan newbie at that time and didn't have much experience…
But back to congee…So in the hotel we stayed they had this huge variety of Asian food. It was our first time in Asia, so we didn't really know that they'd eat warm and savory dishes for breakfast and we were actually a bit surprised. They offered fried rice, noodles, lots of different veggies, some meat, and of course also congee. I really like porridge and they told me it wasn't made with milk, so I thought great I'll just have some porridge along with all these fresh fruits. Well it wasn't good at all and something was seriously wrong with this porridge…It wasn't sweet at all and tasted awful with my watermelon and mango.
When we went back to the buffet and asked the waiter about it, he really laughed and explained to us that congee was a typical savory rice porridge and wasn't supposed to be sweet. He also showed us that they had lots of different toppings and condiments like green onion, tofu, sesame seeds, bamboo shoots, fried garlic, spicy pickles, and minced pork or beef to eat along with the rice porridge. He probably got home that night and told his family about this crazy European girl who ate congee with watermelon and mango. Haha!
Well from that day on, we knew how to eat congee and the next day I really wanted to give it another try, so I ate it with some tofu, sesame seeds, green onions, bamboo shoots, and some splashes of soy sauce and it was actually really good!! So on our next trip to Thailand last September I was totally prepared for this Asian comfort food! Haha!
How to cook congee
To prepare congee, rice is boiled in a large amount of water until it softens and becomes really thick and creamy. For me this took about one hour and I used one cup of rice and about 10 cups of vegetable broth. Of course you can also use water, but I like it much better with vegetable broth. I used long-grain rice, but I read that you could also make it with brown rice but then it takes considerably longer.
I added some photos of our last trip to Thailand. Oh, how I wish I could just hop on a plane and spend some days there!! I don't know if you guys are interested in these kind of pictures, so if not just scroll past them and you'll find the congee recipe beneath.
Have a great week!! xx
Congee (Rice Porridge)
Super easy and delicious recipe for congee (Asian rice porridge) with tempeh, edamame, and pak choi. Don't miss out on this healthy Asian comfort food!
Total Time
1
hour
10
minutes
Ingredients
Congee:
1/2

tablespoon

sesame oil

1

cup

white long-grain rice

2

cloves of garlic, minced

8-10

cups

vegetable broth
Toppings:
6

oz

tempeh, cut into cubes

1

teaspoon

paprika powder

1

tablespoon

soy sauce

1/2

cup

cooked edamame

3

green onions, cut into rings

2

small heads

pak choi, cut into slices

1

tablespoon

white sesame seeds

1

tablespoon

black sesame seeds

1

cup

bamboo shoots

soy sauce

sriracha sauce
Instructions
Heat the sesame oil in a medium pot and cook the rice and the garlic for 1-2 minutes. Then add the vegetable broth, bring to boil and turn down the heat to a simmer. Partially cover and continue to simmer for 1 to 1 1/2 hours. Stir occasionally with a wooden spoon. Towards the end stir more often to make it creamier. Add more vegetable broth or water if needed.

In the meantime, make the tempeh. Heat some more sesame oil in a pan, add the tempeh, the soy sauce, and the paprika powder and cook for 4 minutes or until crispy. Season with salt and pepper.

Then make the pak choi. Heat 1/2 a tablespoon of water in a medium pan with a lid and steam the pak choi for about 3 minutes. Season with a splash of soy sauce.

Serve the congee (warm) with the toppings and top it off with a little bit of soy sauce and sriracha.