These 50 vegan Asian recipes will definitely make you drool! They're packed with flavor and healthy and fresh ingredients! Take a culinary trip to Asia with us!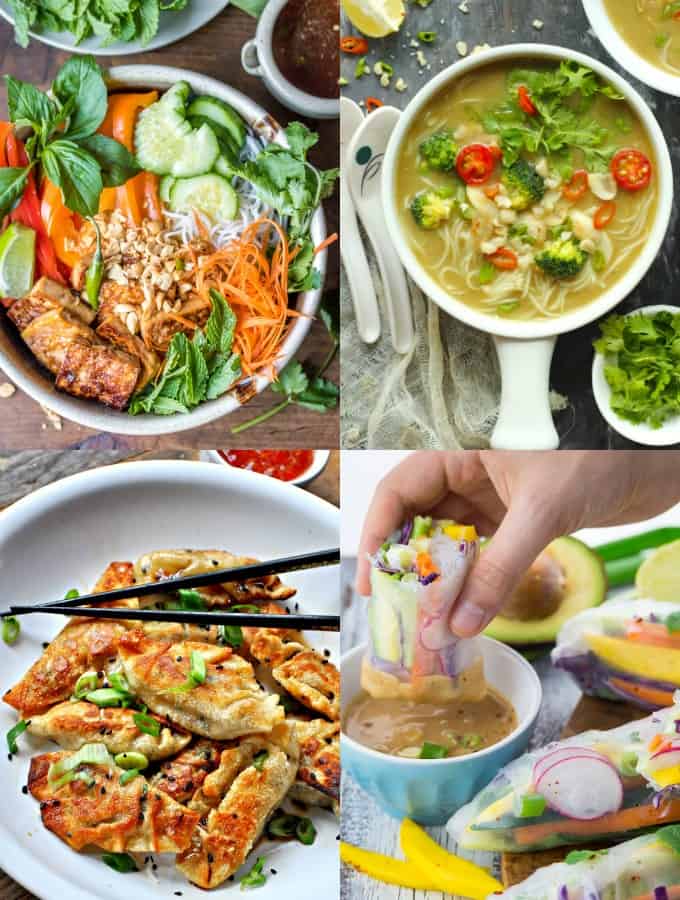 I've always liked Asian recipes! And as a vegan or vegetarian it's incredibly easy to eat at Asian restaurants. Many Asian dishes are traditionally plant-based as Asian diets often heavily rely on vegetables and grains. Soy and coconut milk also play a huge role in many Asian cuisines, which makes it so easy for vegans to enjoy Asian dishes.
During several trips to Thailand and Bali, I really fell in love with Asian food!! I tried so many vegan Asian recipes during our trips and even made some of them myself when I came home, like my pineapple-fried rice.
I've got a lot of Asian or Asian-inspired vegan recipes on my blog, but it's about time to publish a giant roundup of vegan Asian recipes. So as always, I teamed up with some fellow food bloggers to put together this amazing list of 50 vegan Asian recipes.
The roundup includes:
several vegan dumpling recipes
Asian soups: for example Thai green curry soup and miso udon noodle soup
several fried rice recipes
a few Asian noodle salads
vegan bibimbap
vegan pad thai
two amazing recipes for vegan summer rolls
General Tso's chickpeas and cauliflower
and sooo many noodle recipes (for example Singapore noodles or udon noodles)
Let's take a trip to Asia together!
50 Amazing Vegan Asian Recipes You Have To Try!!
Rice Paper Rolls with Mango and Mint
Vegan Thai Green Curry Soup by Hina from Fun Food Frolic
Super Easy Pineapple-Fried Rice
 Sesame Tofu Dumplings by Lauren from Rabbit and Wolves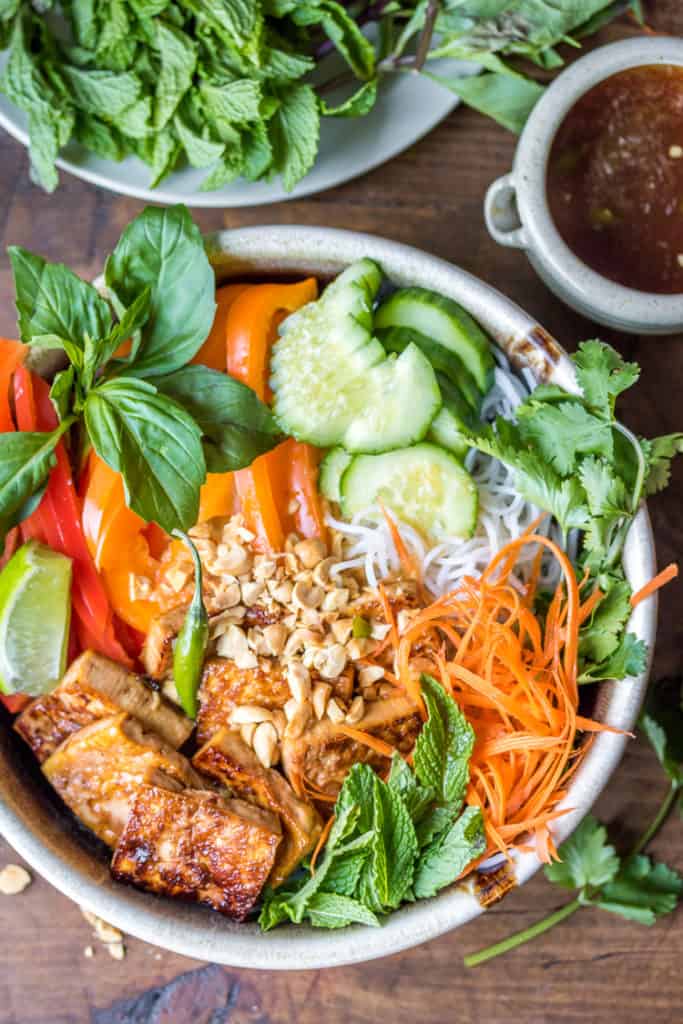 Vegan Bun Chay Vietnamese Noodle Salad by Anetta from The Wanderlust Kitchen
Spicy Tenderstem Peanut Noodle Stir Fry by Aimee from Wallflower Kitchen
Vegan Pad Thai by Alisa from Go Dairy Free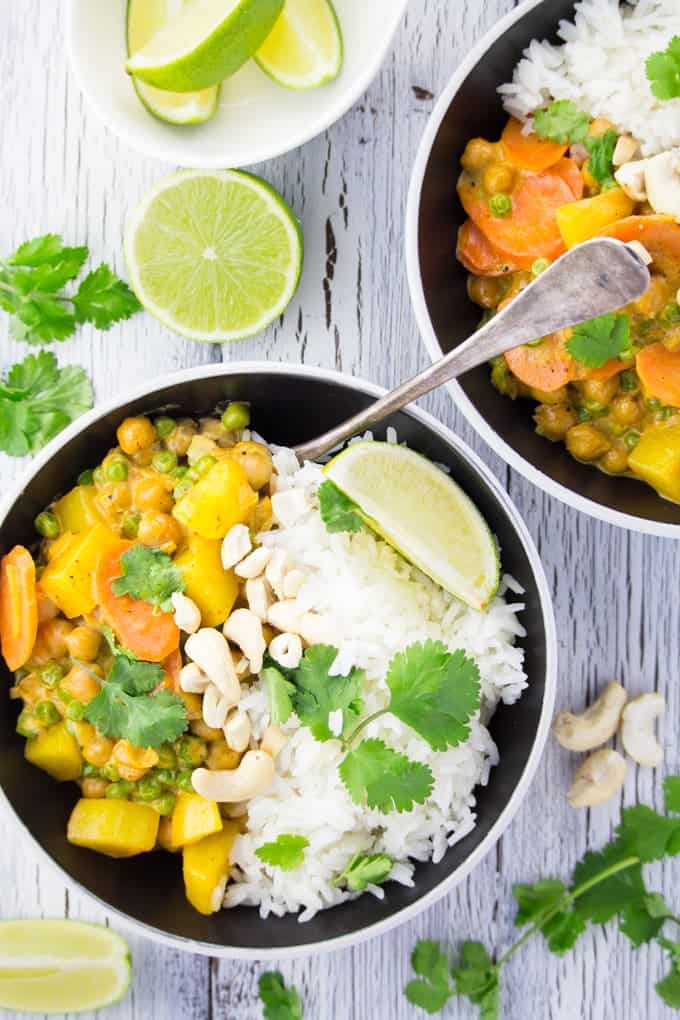 Easy Vegan Chickpea Curry with Potatoes
Easy Tofu Teriyaki Skewers by Steven from The Nut Free Vegan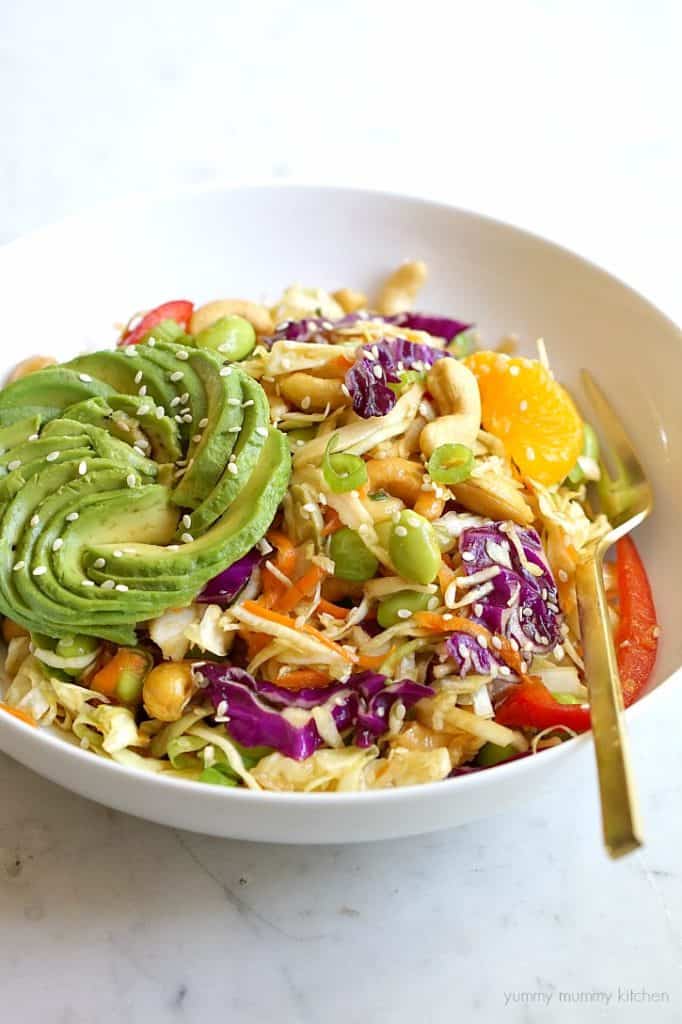 Asian Salad with Ginger Sesame Dressing by Yummy Mummy Kitchen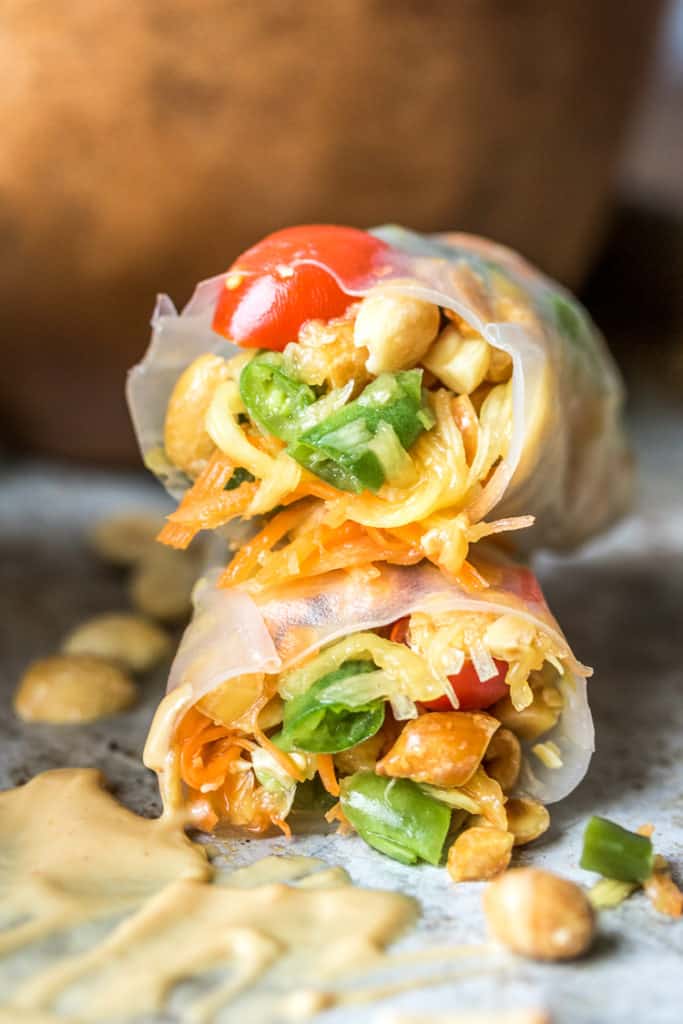 Papaya Salad Rolls by Anetta The Wanderlust Kitchen
Vegan Butter Chicken with Chickpeas and Cauliflower
Vegan Sweet and Sour Mock Chicken by Bianca from Elephantastic Vegan
 Thai Noodle Salad with Grilled Pineapple by Amber from Quite Good Food
General Tso's Chickpeas by Michelle from Healthier Steps
Sweet Sour Tofu by Dianne's Vegan Kitchen
Thai Peanut Veggie Sandwiches by Alisa from Go Dairy Free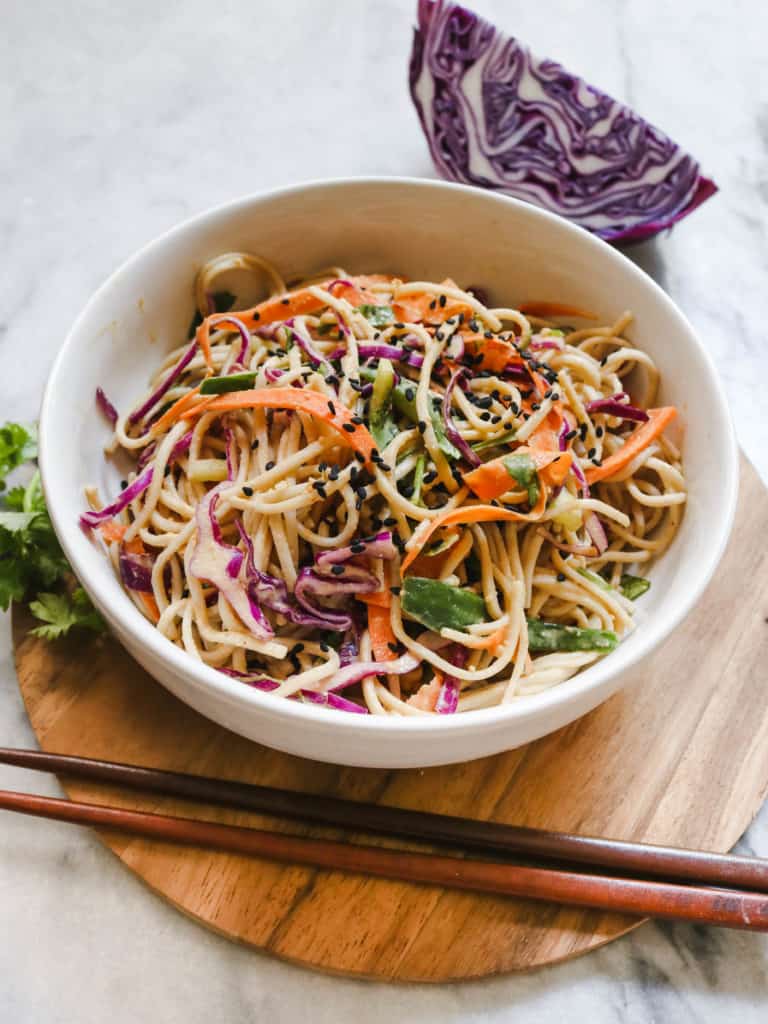 Soba Noodle Salad Peanut Sauce by Caitlin from From My Bowl
Congee with Tempeh and Pak Choi
Vegan Pad Thai Sweet Potato Noodles by Katie and Kate from Well Vegan
Spicy Szechuan Eggplant by Amber from Quite Good Food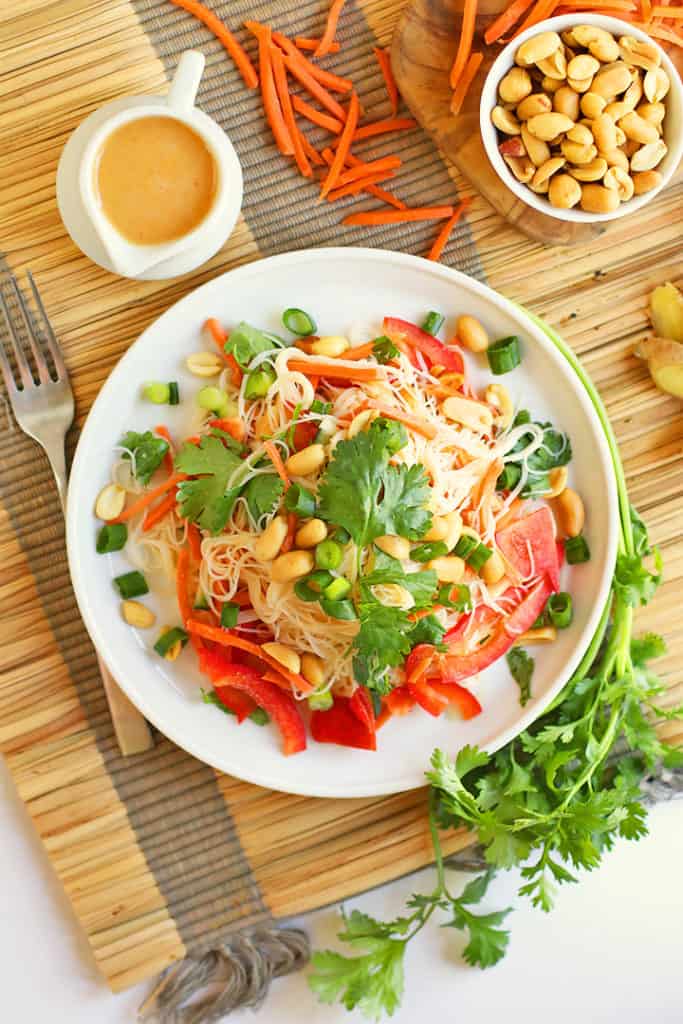 Asian Vermicelli Noodle Salad by Sarah from My Darling Vegan
Sesame Ginger Teriyaki Sauce by Brandi from The Vegan 8
The Easiest Vegan Pad Thai by Andrea from The Petite Cook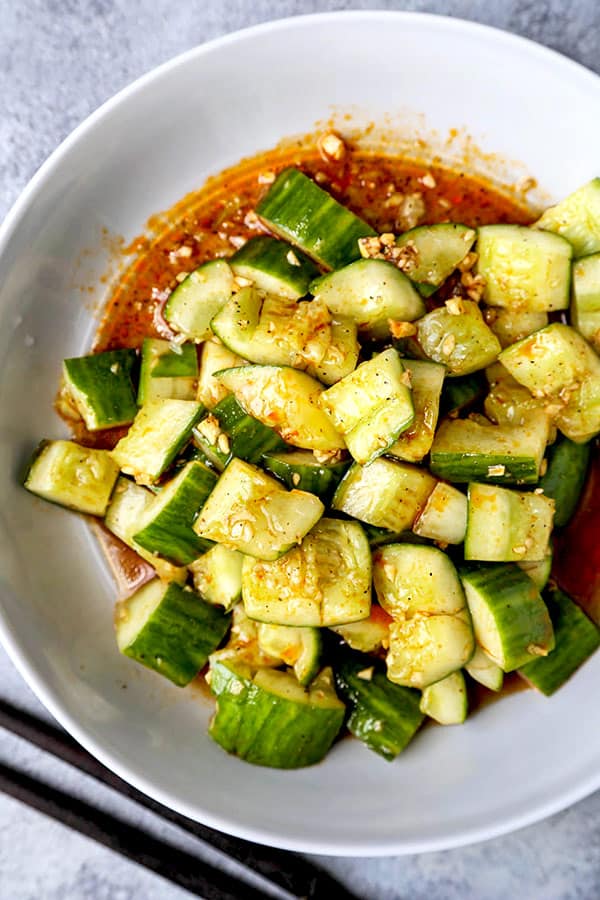 Smacked Cucumber with Chili Oil by Caroline from Pickled Plum
Stir Fried Thai Sorghum Bowl by Sharon from Sharon Palmer
Kimchee Ramen Noodle Soup by Karen from Soup Addict
Easy Vegan Pad Thai by Caitlin from Vegan Pad Thai
Vegan Sukiyaki – A Japanese Hot Pot by Sophia from Veggies Don't Bite
Yellow Curry with Chickpeas and Roasted by Yummy Mummy Kitchen
Miso Udon Noodle Soup by Bianca from Elephantastic Vegan
Vegan Jajangmyeon Korean Noodles Black Bean Sauce by Caroline from Pickled Plum
Sweet and Sour Chickpeas with Peppers and Broccoli by Richa from Vegan Richa
Vegan Sushi by Kari from Beautiful Ingredient
Spicy Vegan Orange Ground Chicken Bowl by Linda from Veganosity
Vegetable Singapore Noodles by Melissa from The Stingy Vegan
Vegan Ramen by Melissa from The Stingy Vegan
Spinach Mushroom Leek Long Life Noodles by Jenn from Peas and Crayons
Pineapple Stir Fry by Jenn from Veggie Inspired
Cabbage Stir Fry Tofu by Carolyn from Umami Girl
Vegan Banh Mi Char Siu Tofu by Carolyn from Umami Girl
Spicy Sichuan Vegan Potstickers by Anetta The Wanderlust Kitchen
Lemongrass Coconut Noodle Soup by Lauren from Lauren Caris Cooks
Vegan Thai Pineapple Fried Rice by Shannon from Yup It's Vegan
Thai Green Curry by Sarah from My Darling Vegan
Spicy Peanut Soba Noodles by The Green Life
Vegan Mapo Tofu by Caroline from Pickled Plum