I definitely got a thing for vegan one pot pasta or one pot meals in general! This vegan one pot pasta with spinach and tomatoes is super easy to make, incredibly healthy, packed with flavor, and SO delicious!! It's one of my favorite meals for busy weeknights.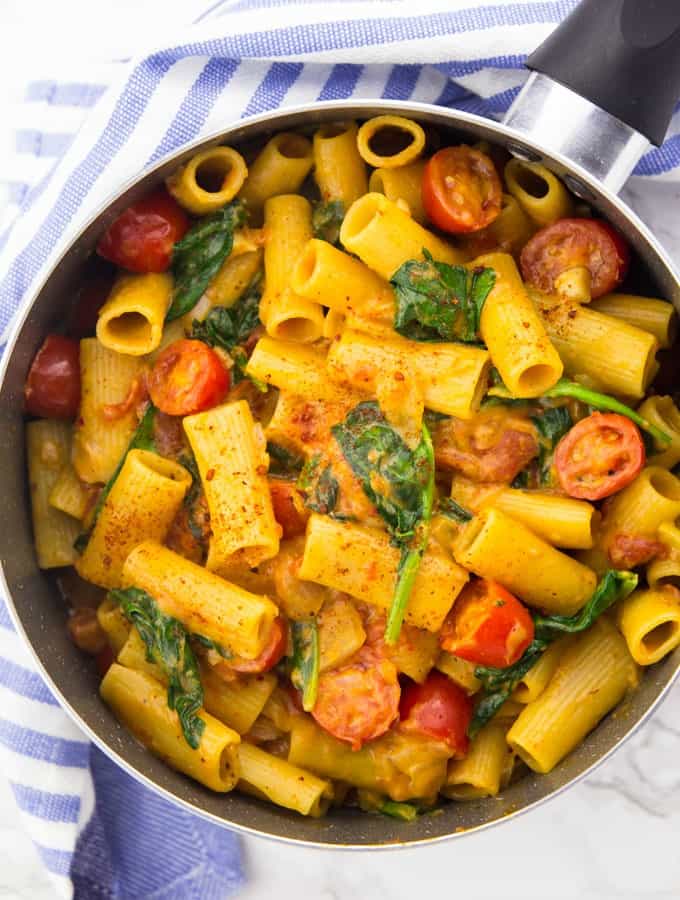 This vegan one pot pasta is actually a spin-off of my Asian style vegan one pot pasta, which became super popular on Pinterest. In just a couple of months, it became one of the most popular recipes on the blog. No wonder, it' soooo yummy! The secret ingredients to make it so creamy and flavorful are coconut milk and red curry paste. You actually don't have to add any water. This recipe just calls for diced tomatoes, coconut milk, and red curry paste. This might seem a bit weird at first, but I can promise you it really works and it's so delicious! I had so many people trying it and I got lots of lovely comments from you guys.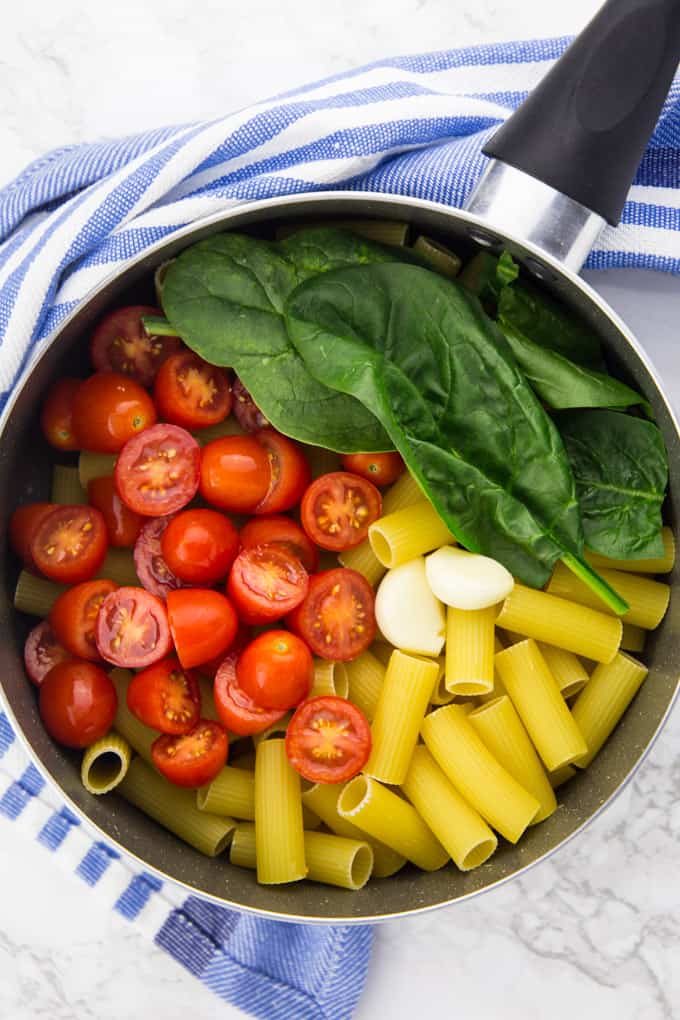 Here a just a few examples:
"This was amazing! I wouldn't add or change a thing, and I never give five stars but I would on this one. " (Cindy)
"This was by far the most impressive vegan recipe I've had. I'm kinda new to the vegan lifestyle. This dish was delicious! I did worry there wasn't enough liquid but it turned out just right! " (Amber)
"Just made this recipe and it turned out great! I loved how creamy and flavorful it was! I will definitely be making this again! " (Victoria)
Comments like these really make my days, you guys! Thank you!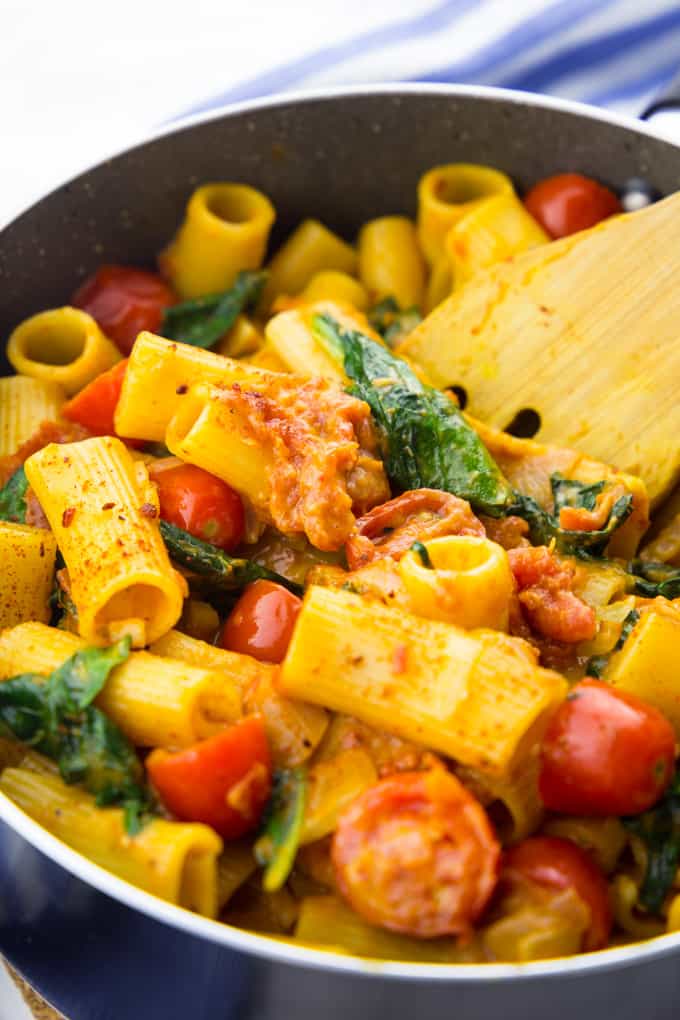 So because you all liked it so much I just had to come up with another version of this vegan one pot pasta. This time, I left out the peas and the zucchini and used spinach and cherry tomatoes instead. And instead of fussili, I used rigatoni. Pure comfort food!!
What You'll Need for This Vegan One Pot Pasta
one onion
two cloves of garlic
uncooked rigatoni
canned diced tomatoes
coconut milk
red curry paste
cherry tomatoes
spinach
salt and pepper
You first sauté the onion and then add the rest of the ingredients (including the uncooked pasta) at the same time. Sounds pretty easy, doesn't it? As always, you can find the full ingredient list and the recipe instructions in a separate recipe box at the end of the post.
I hope you enjoy this vegan one pot pasta as much as we do around here!
Sina – xx

| | |
| --- | --- |
| | |
Heat some oil in a large pot and sauté the onion for about 2-3 minutes. Then add the garlic and cook for one more minute.

Then add the remaining ingredients except for the fresh spinach and cherry tomatoes.

Cook for about 13 minutes, then add the cherry tomatoes and the spinach and cook for two more minutes. Season with salt and black pepper. Enjoy!