These vegan gnocchi with a creamy cashew sauce, spinach, and tomatoes are the perfect weeknight meal. It's super easy to make and incredibly comforting! And it's ready in only 15 minutes!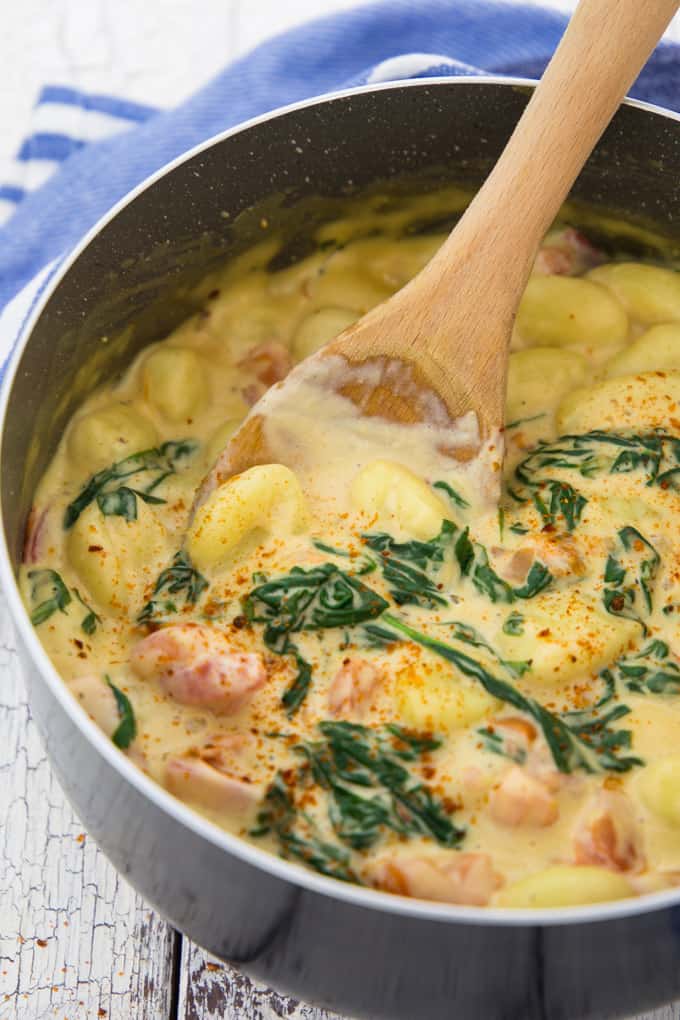 I hope you all had a good start into the new year! 2017 went by sooo fast! It's been a crazy year for us. We got married (what an amazing day!), moved to another city, made new friends, and went on so many amazing trips!
2017 started off really crappy for us as both of my grandparents passed away within only 3 weeks in January. In March, we then went on our honeymoon to New Zealand and our car got broken in and all our stuff was stolen. We were literally left with the clothes we had on, our cellphones, and my camera. They even took our toothbrushes and the rest of the stuff you carry around as a tourist. I was often talking about minimalism before but that wasn't what I meant. Haha!
But then things definitely turned around and the rest of 2017 was pretty good for us. So all in all, it was a year with many ups and downs! I'm curious what 2018 will bring and I'm looking forward to many more delicious recipes on the blog. Thanks so much for all your lovely comments and photos of Vegan Heaven remakes. They make my day!
I really enjoyed the holidays and all the delicious festive food we had. But now I'm totally ready for easier dishes! These vegan gnocchi with spinach is one of these dishes. I've made it so many times and it's always a winner!
What You Need For These Vegan Gnocchi with Spinach and Tomatoes
store-bought gnocchi
spinach
tomatoes
garlic
cashews (unsalted and not roasted)
nutritional yeast
miso
mustard
tapioca starch
unsweetened almond milk
salt and pepper
As always, you can find a detailed ingredient list and recipe instructions at the end of this post in a separate recipe box. You will need a good blender to make the vegan cheese sauce with cashews. If you don't have a high speed blender, soaking the cashews over night helps a lot. Otherwise you don't have to worry about soaking them. I use a vitamix and I never soak my cashews for vegan cheese sauces.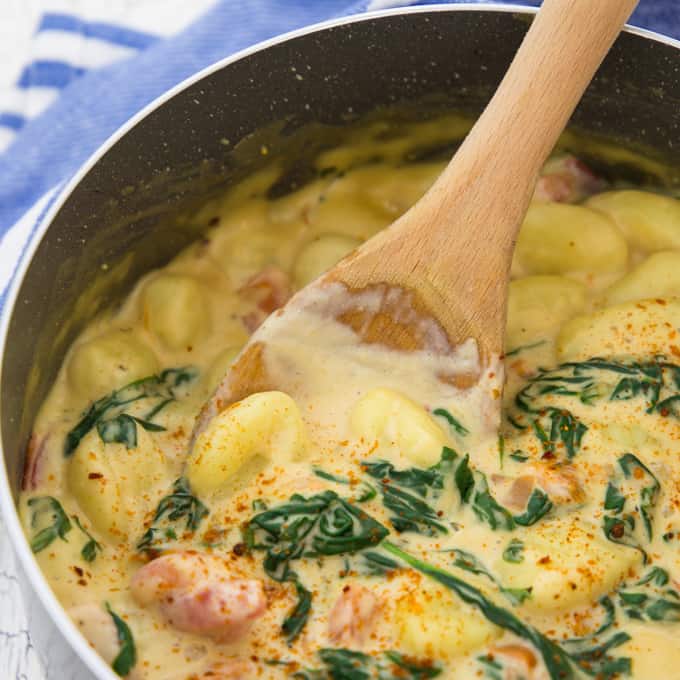 I hope you like these vegan gnocchi as much as we do around here!
Have a great week, everyone!
Sina – xx
More Easy Vegan Weeknight Meals For You:
Broccoli Pesto with Pasta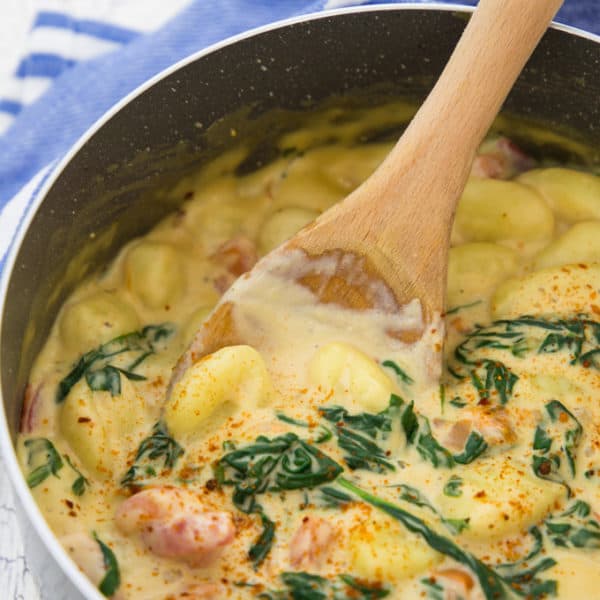 Prepare the gnocchi according to the instructions on the package. Place the spinach in a colander and drain the gnocchi over it (this is an easy trick to wilt fresh spinach).

Make the sauce: place all ingredients in a high speed blender and process until smooth.

Pour the sauce into a large pot and heat until it thickens up. Add the gnocchi, the spinach, and the diced tomatoes. Cook for another minute.
Nutrition Facts
Vegan Gnocchi with Spinach and Tomatoes
Amount Per Serving
Calories 545
Calories from Fat 135
% Daily Value*
Total Fat 15g 23%
Cholesterol 54mg 18%
Sodium 1008mg 42%
Potassium 25mg 1%
Total Carbohydrates 84g 28%
Protein 18g 36%
* Percent Daily Values are based on a 2000 calorie diet.