This broccoli pesto with pasta and cherry tomatoes is one of my favorite weeknight meals! It's super easy to make, incredibly delicious, and packed with nutrients. Perfect for pasta lovers!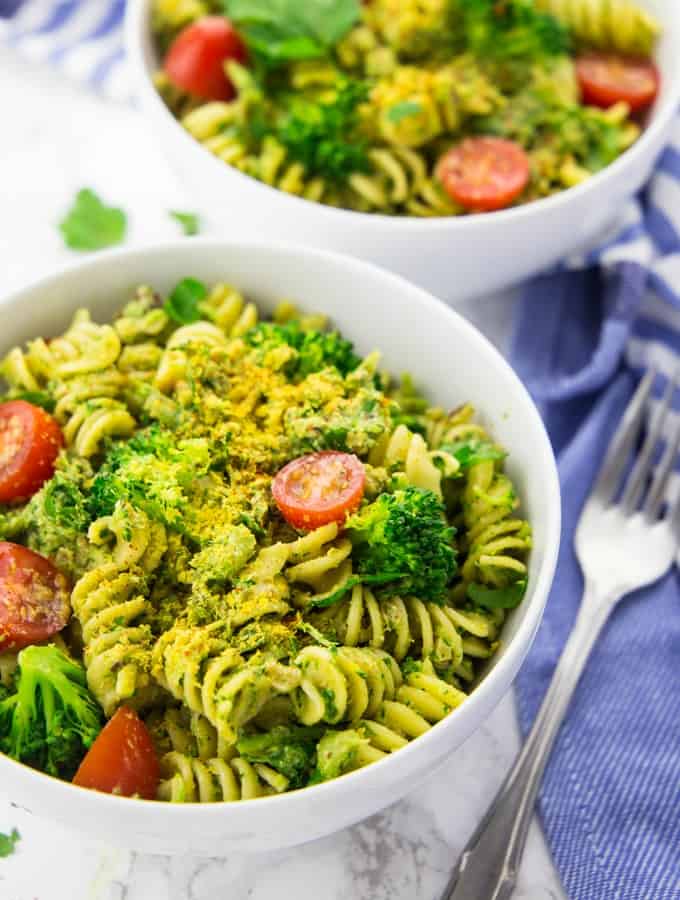 If you've been following my blog for a while, you probably know that I'm a huge pasta fan. I could eat it every day. And sometimes I really do eat it every day. Haha! It's just so comforting and if you use whole wheat pasta and pair it with a healthy sauce, you got a super nutritious meal in a very short time. I rarely buy store-bought pesto anymore. However, I had some really good store-bought vegan pestos over the last couple of years. But usually I make my own pesto using fresh herbs and nuts. If you have a good food processor or blender, it's super easy to make your own!
What You'll Need for This Broccoli Pesto
The ingredient list for my vegan broccoli pesto is pretty short. You need:
cooked broccoli
walnuts
nutritional yeast
garlic
olive oil
parsley
salt and pepper
So as you see, this pesto is packed with good and healthy ingredients! As always, you can find the full ingredient list and recipe instructions in a separate recipe box at the end of this post.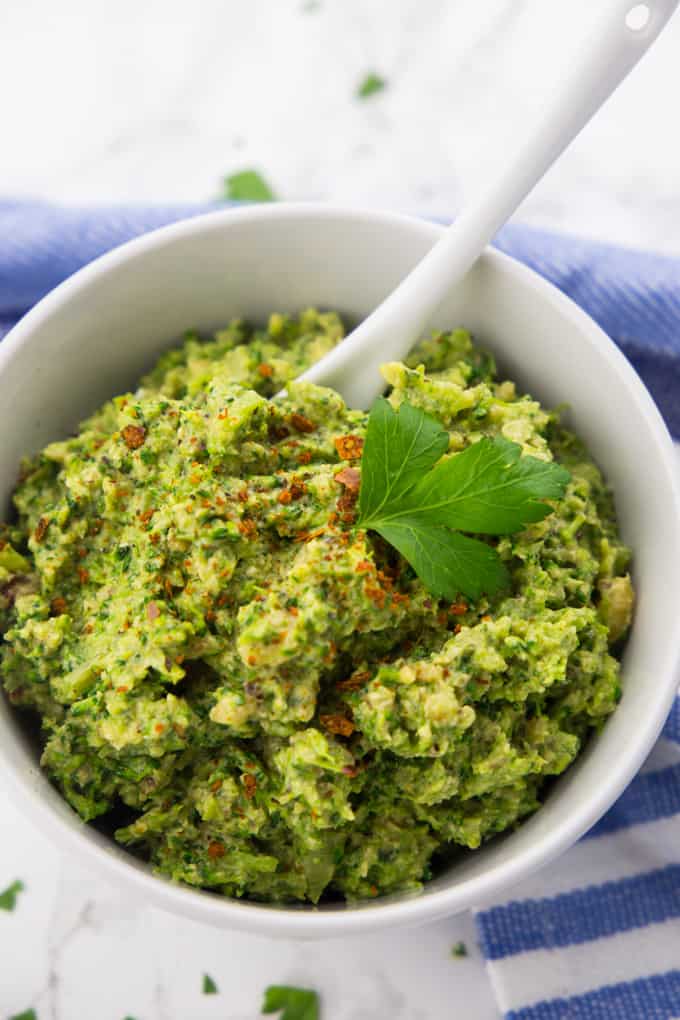 Health Benefits of Broccoli
I know a lot of people who would probably describe broccoli as one of their least favorite foods. Definitely not me! I've always loved it – even as a kid. And it's a real superfood!
Broccoli got so many health benefits. It's a very good source of protein and fibre and it contains iron, calcium as well as vitamin A, C, E, and K. It's also said to be able to help prevent many types of cancer, lower cholesterol, and detoxify the body. And it's also good for your digestive system and skin. Broccoli helps to remove free radicals and toxins from the body. So what is there not to love about broccoli, right?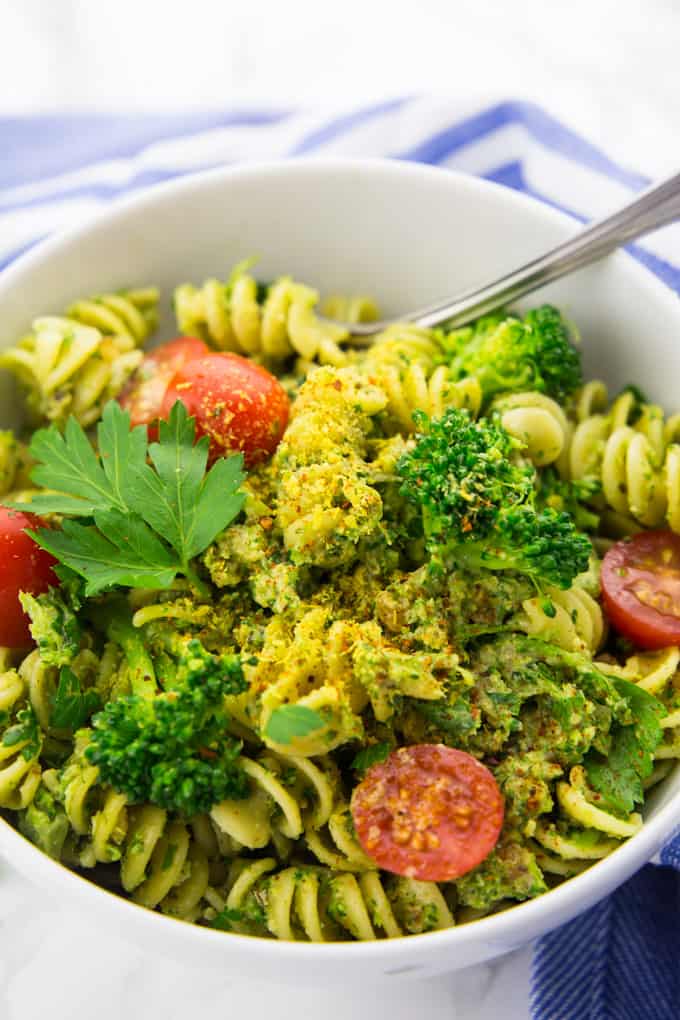 And as you pair the broccoli with walnuts for the broccoli pesto, you get even more nutrients!
I hope you like this broccoli pesto as much as I do. Have a great week, everyone!
Sina – xx
More Vegan Pasta Recipes You Might Like:
Creamy Vegan One Pot Pasta with Coconut Milk and Red Curry Paste
Vegan Roasted Red Pepper Pasta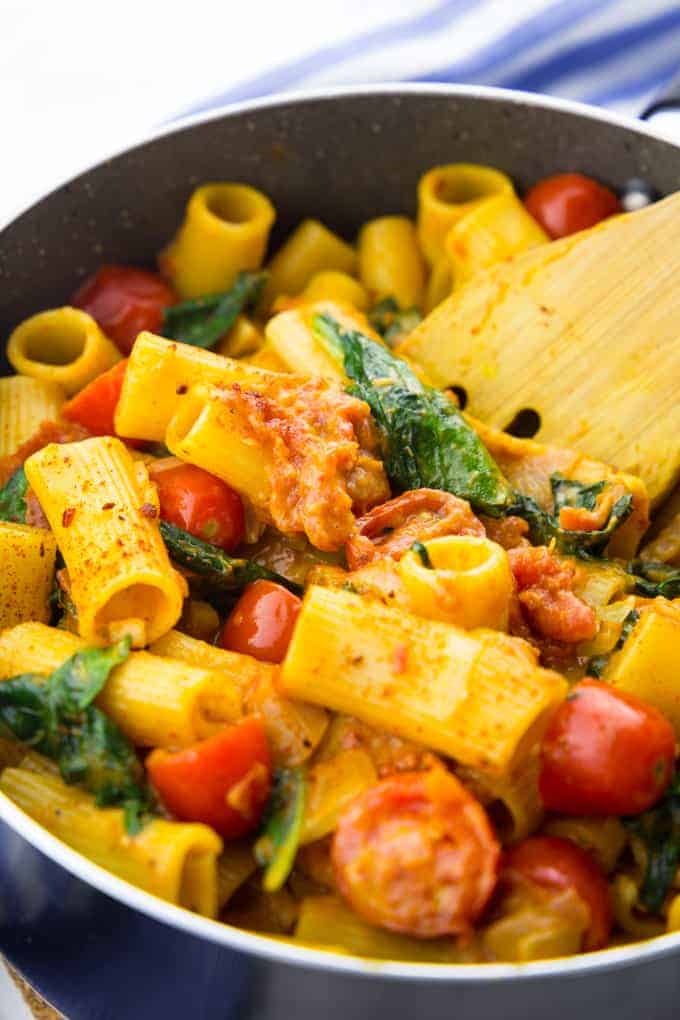 Vegan One Pot Pasta with Spinach and Tomatoes
Spaghetti with Vegan Meatballs (aka Beanballs)

| | |
| --- | --- |
| | |
To make the pesto, combine all ingredients in the bowl of a food processor. Season with salt and pepper. Store in an airtight container in the refrigerator for up to 1 week.

Serve with whole wheat pasta and cherry tomatoes. I also like to add some more cooked broccoli.