These vegan buffalo cauliflower  wings with vegan aioli are the perfect comfort food! It's almost a bit creepy how close they are to the real thing! They're so tangy, spicy, and incredibly comforting. And they're also a lot healthier than chicken wings! Oh, and they're just in time for football season!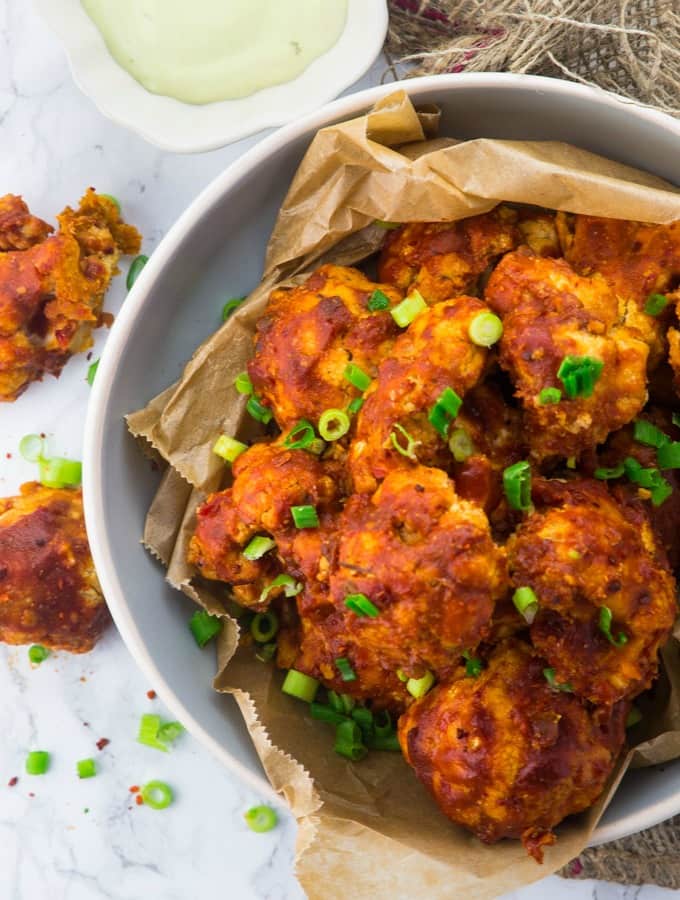 I've wanted to try vegan cauliflower wings for sooo long. But somehow I never got around to actually making them. There are just waaay too many vegan things to try. And some people say vegan food is boring and restrictive. Well, not really! On the contrary, I'm always amazed what you can do with food. Like making vegan jackfruit pulled pork or vegan cheese sauce with cashews. I didn't really like cooking before I became vegan or at least I wasn't really into it. But when I became vegan, I was so eager to try all these new things and I absolutely fell in love with cooking and food! It's one of my greatest passions.
But back to the cauliflower hot wings!
Cauliflower Hot Wings – What You'll Need
You don't need any fancy ingredients to make these vegan cauliflower wings. Just very basic ingredients you'll likely find in any regular grocery store.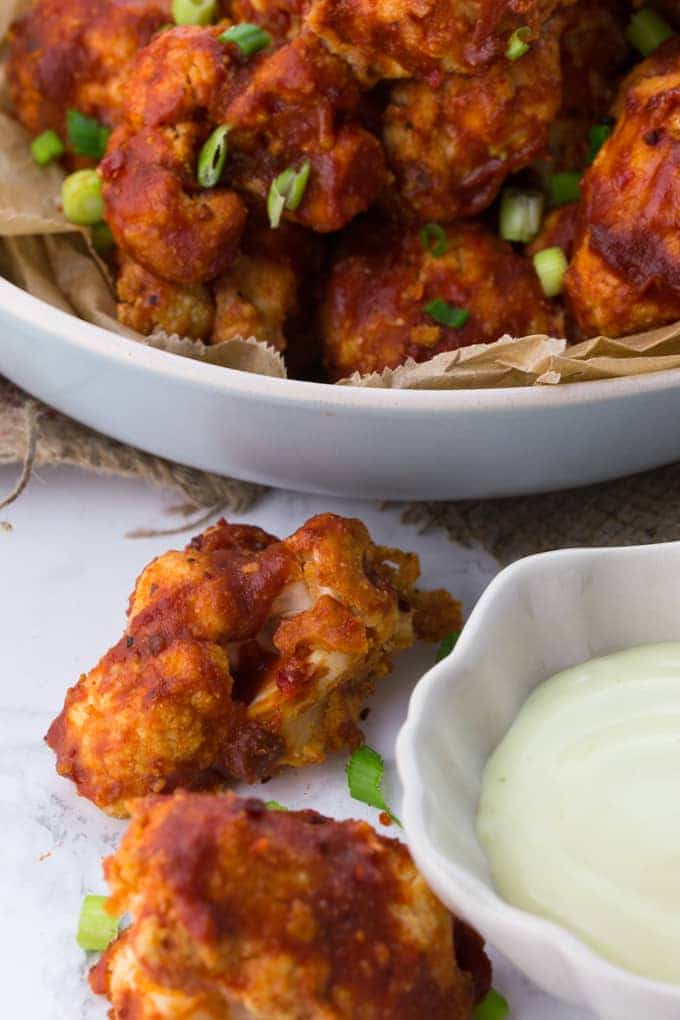 You'll need:
1 head if cauliflower
chickpea flour or regular all-purpose flour
unsweetened plant-based milk (almond or soy)
garlic powder
paprika powder
spicy BBQ sauce
panko breadcrumbs (omit for a gluten-free version)
salt and pepper
sriracha sauce (optional)
As always, you can find the full ingredient list and detailed instructions in a separate recipe box underneath the text section. Just scroll down a bit.
We ate the vegan cauliflower hot wings with vegan aioli, which I absolutely love. We used a store-bought vegan aioli (from Byodo). But if you can't get hold of it, you can also make it yourself by blending vegan mayonnaise with garlic. Or enjoy these vegan chicken wings with ranch sauce. I also love eating them in pitas with lettuce, tomatoes, and avocado. So yummy!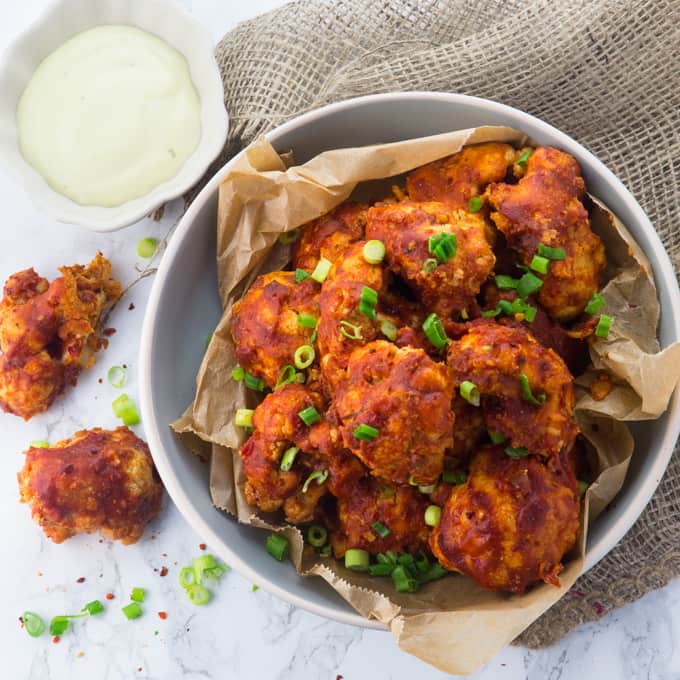 I used chickpea flour, which makes the cauliflower wings gluten-free. But you could also use all-purpose flour if that's easier for you.
I hope you like this recipe for cauliflower hot wings as much as we do around here! They're a real crowd pleaser!
Have a great Sunday, everyone!
Sina – xx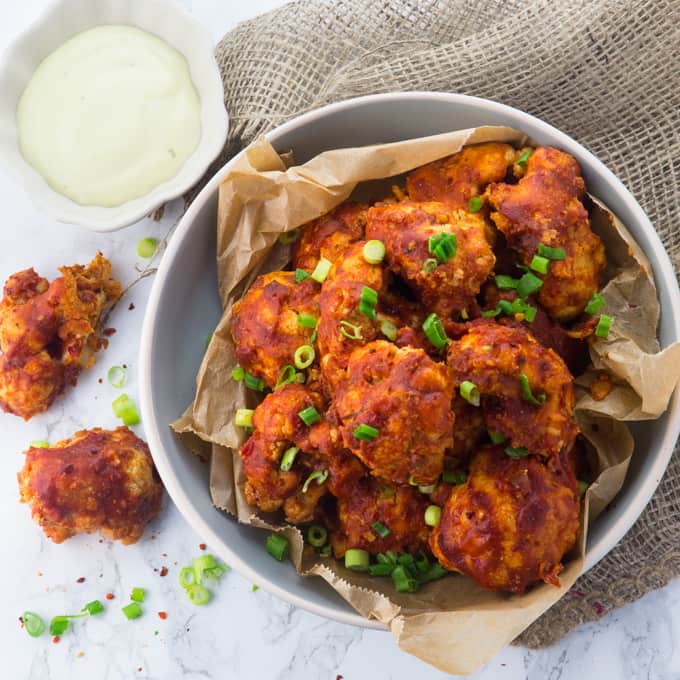 Cauliflower Hot Wings with Vegan Aioli
These vegan cauliflower hot wings are the perfect comfort food. They're so tangy, spicy, and incredibly delicious! It's almost a bit creepy how close they are to the real thing!
Total Time
1
hour
50
minutes
Ingredients
1

head of

cauliflower

3/4

cup

chickpea flour

(or all-purpose flour if you don't need them to be gluten-free)

3/4

cup

unsweetened almond or soy milk

1/4

cup

water

2

teaspoons

garlic powder

1 1/2

teaspoons

paprika powder

salt

black pepper

3/4

cup

panko breadcrumbs

(omit for a gluten-free version)

1

cup

spicy BBQ sauce

1

teaspoon

sriracha sauce (optional)

2

green onions, cut into rings
Instructions
Heat the oven to 350 °F.

In a large bowl, combine the chickpea flour, the plant-based milk, the water, the garlic power, the paprika powder, the salt, and the black pepper.

Cut the cauliflower into bite-sized florets. Dip the florets into the batter, so they're completely coated. Roll them in the panko breadcrumbs (omit this step for a gluten-free version). Line a baking sheet with parchment paper and lay the cauliflower florets on the baking sheet. Don't put them on top of each other. Bake for 25 minutes.

Remove them from the oven and dip them in the spicy BBQ sauce. Coat evenly. Put them back on the baking sheet. If you want them to be even spicier drizzle a bit of sriracha sauce on top. Bake for another 25 minutes.

Sprinkle with the green onions and serve with vegan aioli or vegan ranch sauce. Enjoy!
Nutrition Facts
Cauliflower Hot Wings with Vegan Aioli
Amount Per Serving
Calories 245
Calories from Fat 18
% Daily Value*
Total Fat 2g 3%
Sodium 878mg 37%
Potassium 504mg 14%
Total Carbohydrates 46g 15%
Protein 9g 18%
* Percent Daily Values are based on a 2000 calorie diet.