These 20 stunning vegan cauliflower recipes will definitely change the way you look at cauliflower! You can make so many creative recipes with it! It's kind of like a magic vegetable. Haha! No, I'm exaggerating, but you get the idea.
Who would have thought that you could make cauliflower wings, cauliflower pizza, or cauliflower ricotta? All of these recipes are super healthy and so incredibly delicious! This month, I teamed up with some blogger friends to provide you with this collection of 20 game-changing vegan cauliflower recipes! SO YUMMY!!!
Cauliflower is extremely healthy and packed with nutrients. While it's very low in calories, it's a significant source of vitamins. It actually contains almost every vitamin and mineral you need. Besides, it's also quite high in fiber and antioxidants, which is good for your overall health. So eat more cauliflower, guys! It's AMAZING!!
In this roundup, we got something for every taste. We got:
cauliflower wings in different flavors (BBQ, General Tso's, Buffalo, and Thai Peanut)
amazing vegan pasta dishes in which cauliflower is the star (stuffed shells with cauliflower ricotta, cauliflower "scampi" with white wine sauce, and cauliflower alfredo)
vegan cauliflower crust pizza
cauliflower tacos
vegan cauliflower rice
and even cauliflower sushi!
So let's get ready for cauliflower delishesness!!
Click on the title beneath each picture to see the actual recipe.
20 Game-Changing Vegan Cauliflower Recipes
Vegan Stuffed Shells with Cauliflower Ricotta by Sophia from Veggies Don't Bite
Teriyaki Cauliflower Tacos by Lauren from Lauren Caris Cooks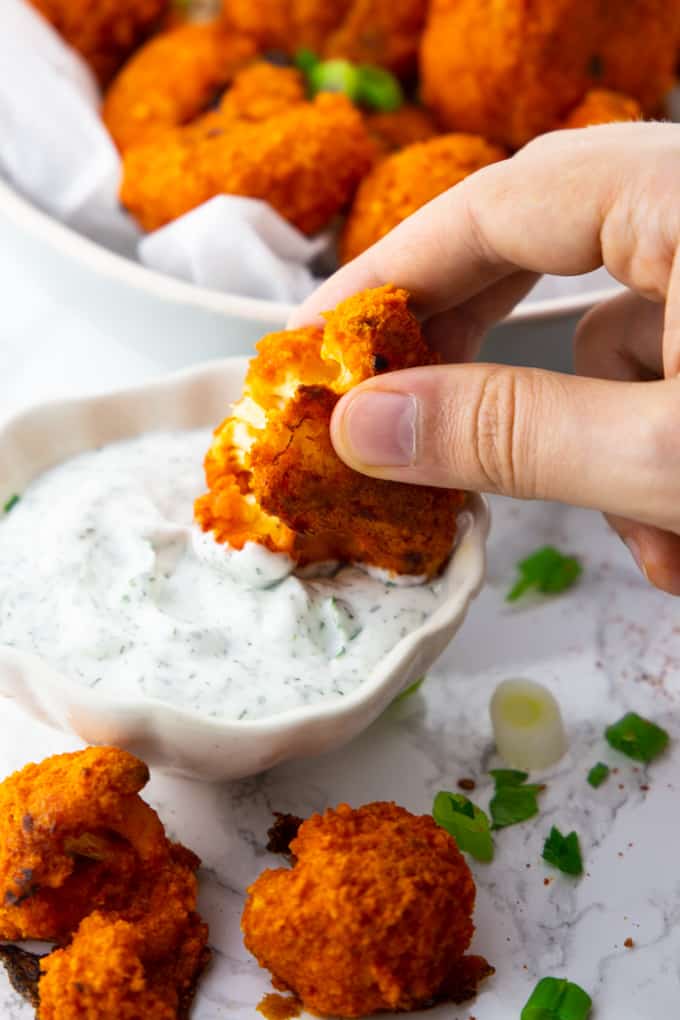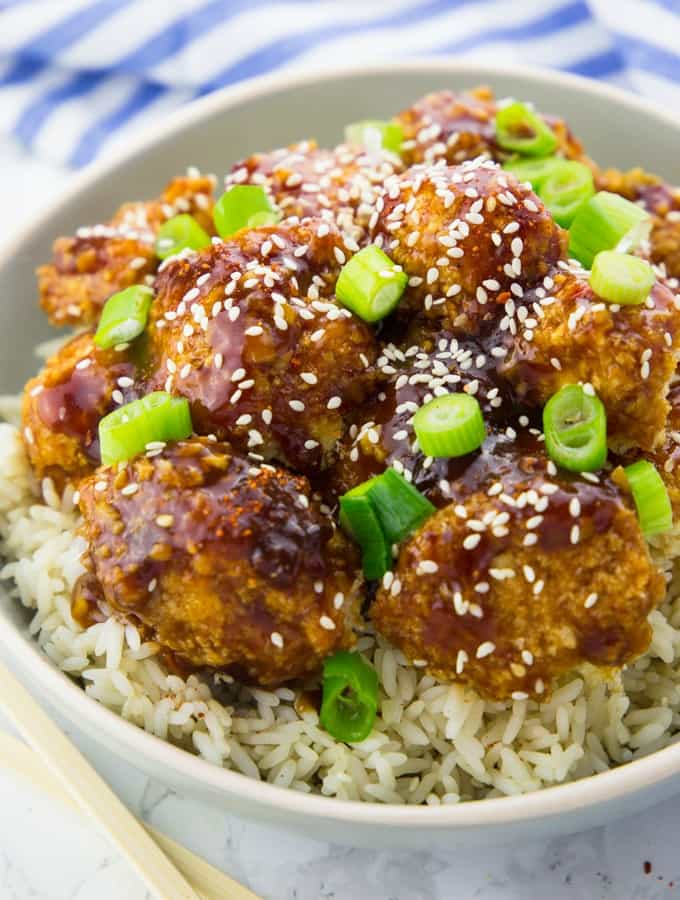 Cauliflower Pizza Crust by Anna from Anna Banana
Cauliflower Parmesan by Cara from Fork & Beans
Baked Vegan Buffalo Cauliflower Dip by Sophia from Veggies Don't Bite
Buffalo Cauliflower Tacos by Stacey Homemaker
Cauliflower Scampi Garlic with White Wine Sauce by Jenn from Veggie Inspired
Vegan Buffalo Cauliflower Tacos by Anjali from Vegetarian Gastronomy
Orange Cauliflower by Jenn from Veggie Inspired
Skinny Cauliflower Alfredo by Melanie from A Virtual Vegan
Mini Cauliflower Pizza by Evi from Green Evi
Mexican Fiesta Cauliflower Rice by Florian from Contentedness Cooking
Vegan Cauliflower Pizza Crust by Kathy from Healthy Happy Life
Tandoori Cauliflower Wrap by Bianca from Elephantastic Vegan
Raw Cauliflower Turmeric Sushi by Josh and Katie from Delightful Vegans
Thai Peanut Cauliflower Wings by Shannon from Yup It's Vegan
Veganized Cauliflower Cheese by Nico from Yum Some
Mexican Cauliflower Rice from Beautiful Ingredient