If you're looking for vegan lunch ideas for work or school, you will LOVE this roundup of 40 amazing vegan lunch recipes! So many delicious vegan sandwiches, salads, wraps, and more in just one place!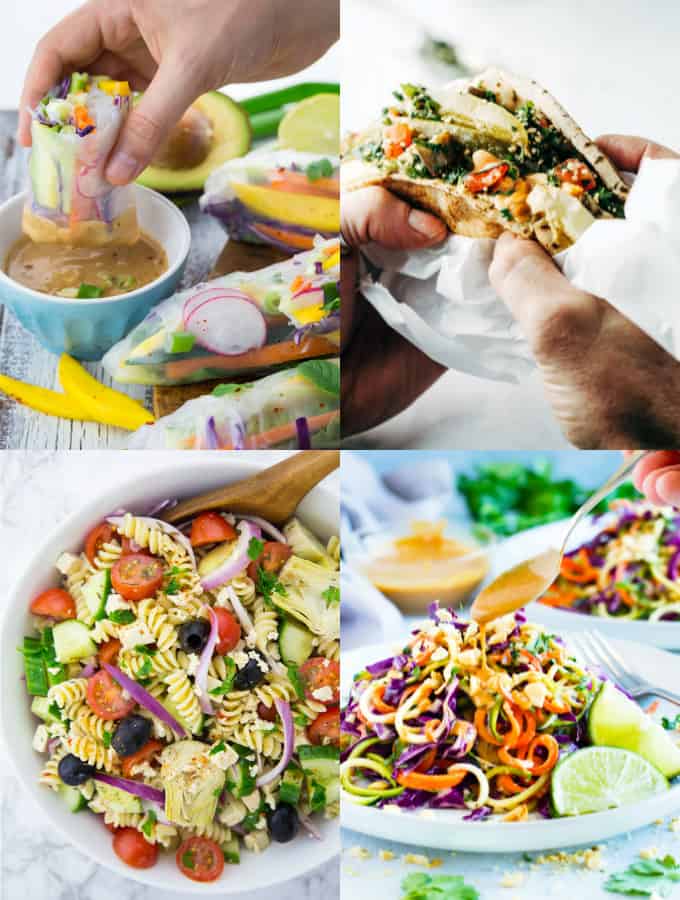 I recently had some people asking me if I couldn't put together a roundup of easy vegan lunch ideas and here it is! It's true. While it's easy to find delicious vegan dinner recipes, vegan lunch is often kind of the same and it can even be a bit boring. But it doesn't have to be like that!
There are so many delicious vegan lunch ideas that are super easy to make and that are perfect for school or work!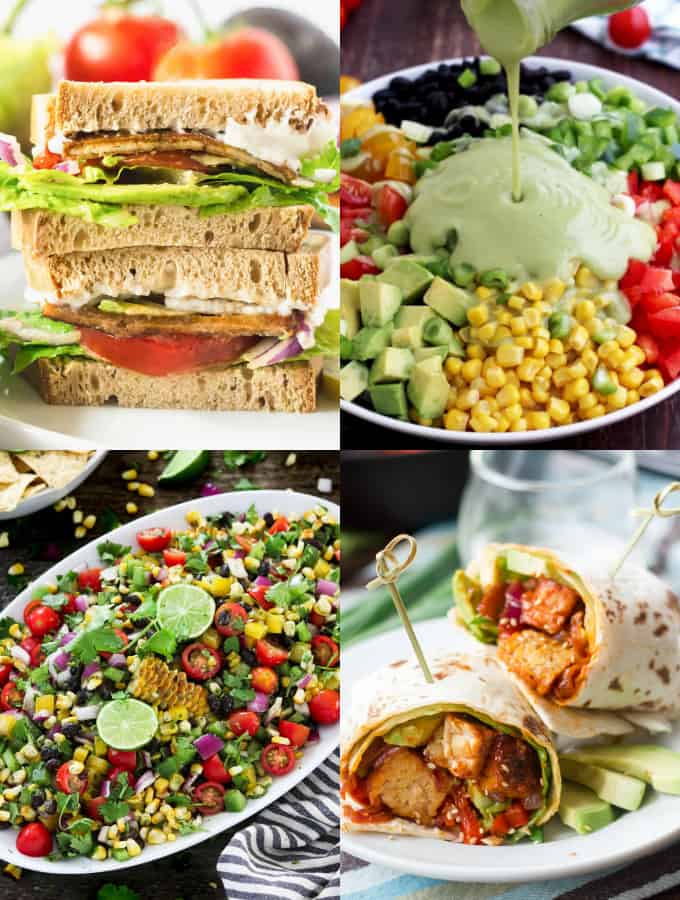 What to pack for vegan lunch? Some simple vegan lunch ideas:
Some of my favorite vegan lunch recipes are:
vegan sandwiches (how does a tempeh reuben sandwich or a vegan BLT sandwich sound?)
summer rolls (they're packed with fresh veggies and don't forget a delicious dipping sauce – my favorite is a peanut sauce!)
wraps and pitas filled with greens and protein like tofu or beans (could you say no to Korean barbecue tempeh wrap? I definitely can't!)
vegan pasta salads (my favorites are my Greek pasta salad and my Southwestern pasta salad)
quinoa salads with veggies and beans
vegan fritters
Often you can just double a recipe and bring it to work for several days if you're short on time.
This roundup also includes some meal prep recipes that provide you with vegan lunch for the week. You will also find some great vegan lunches for kids.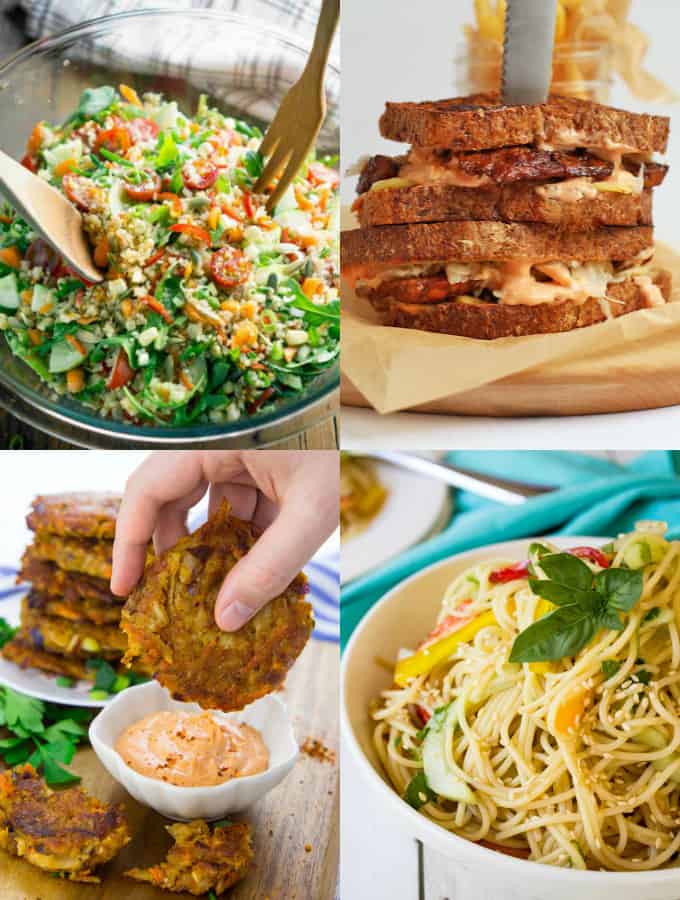 If you're looking for a vegan lunch with protein, you might also like my vegan protein roundup. Or what about vegan soups? Especially in the colder months, they make an awesome and filling lunch as well!
So let's get started with these delicious vegan lunch ideas!
As always, just click on the link underneath each photo for the recipe. 
40 Easy Vegan Lunch Ideas
Rice Paper Rolls with Mango and Mint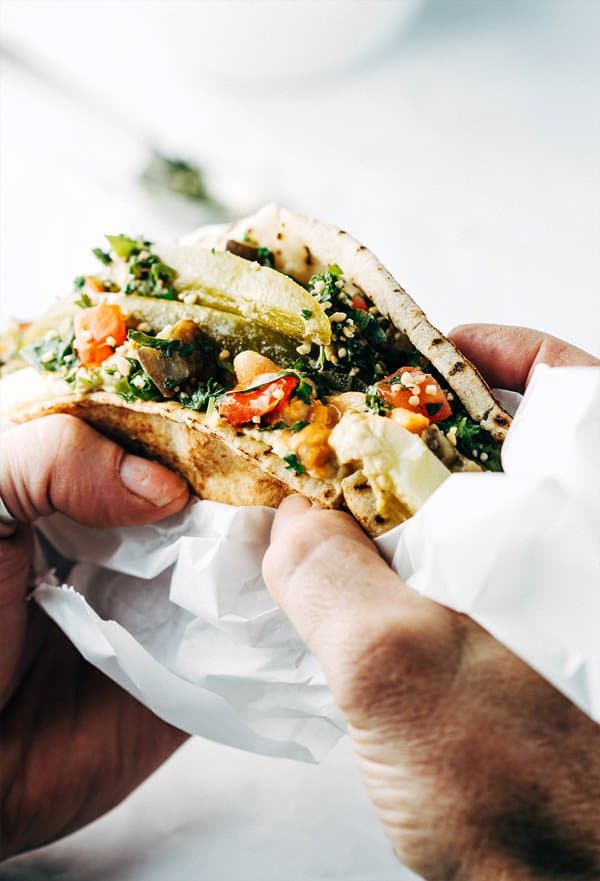 Sabich Sandwich With A Twist by Amanda from My Goodness Kitchen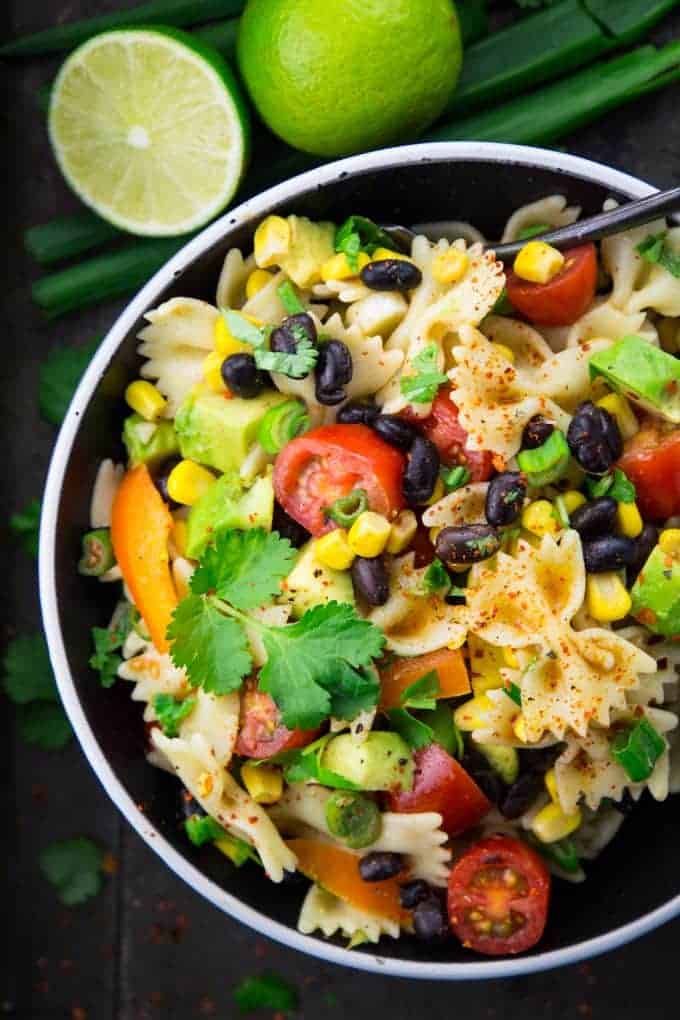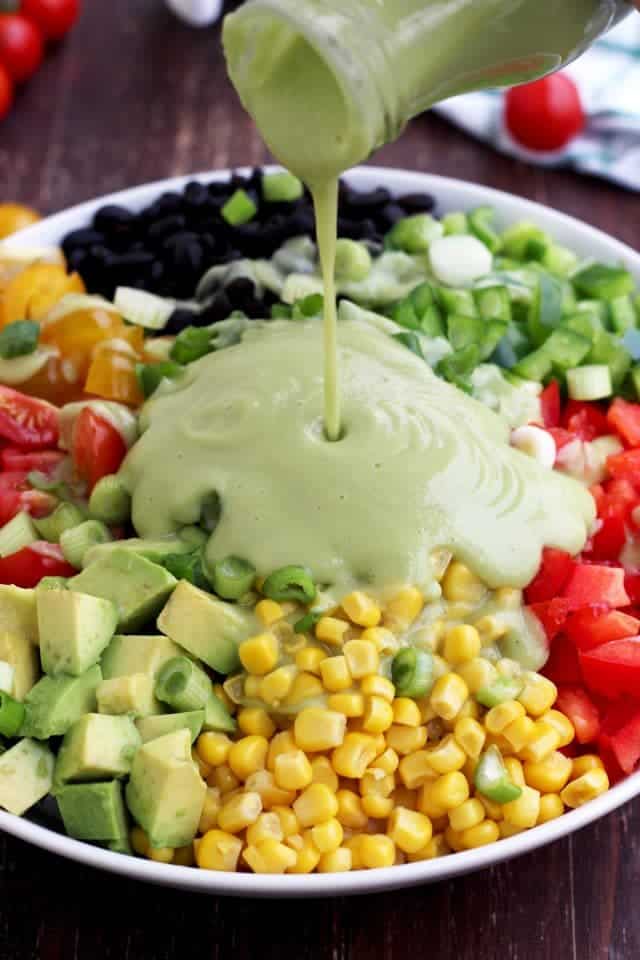 Vegan Mexican Chopped Salad by Elena from Happy Kitchen Rocks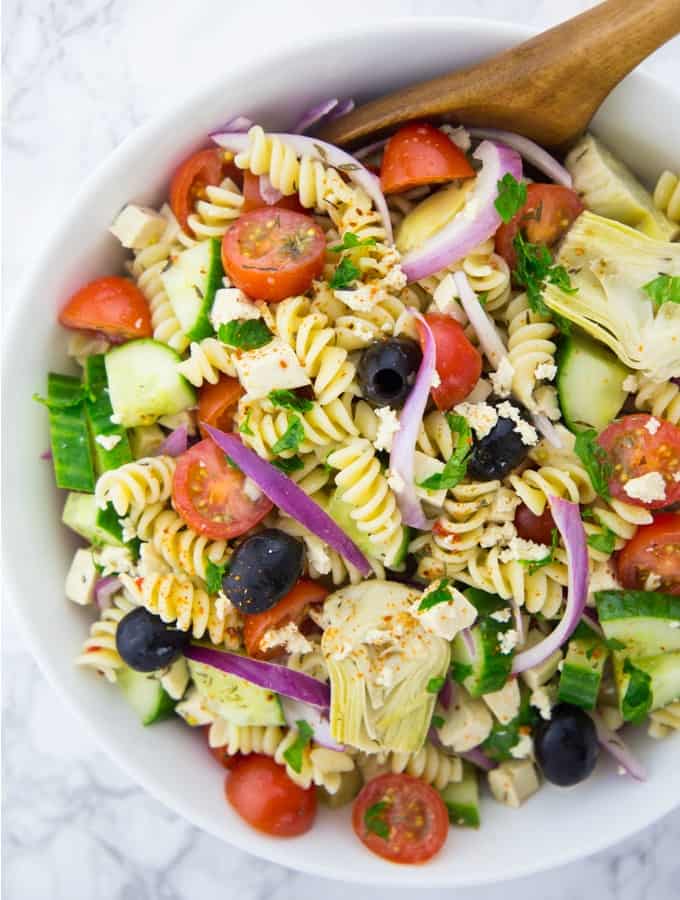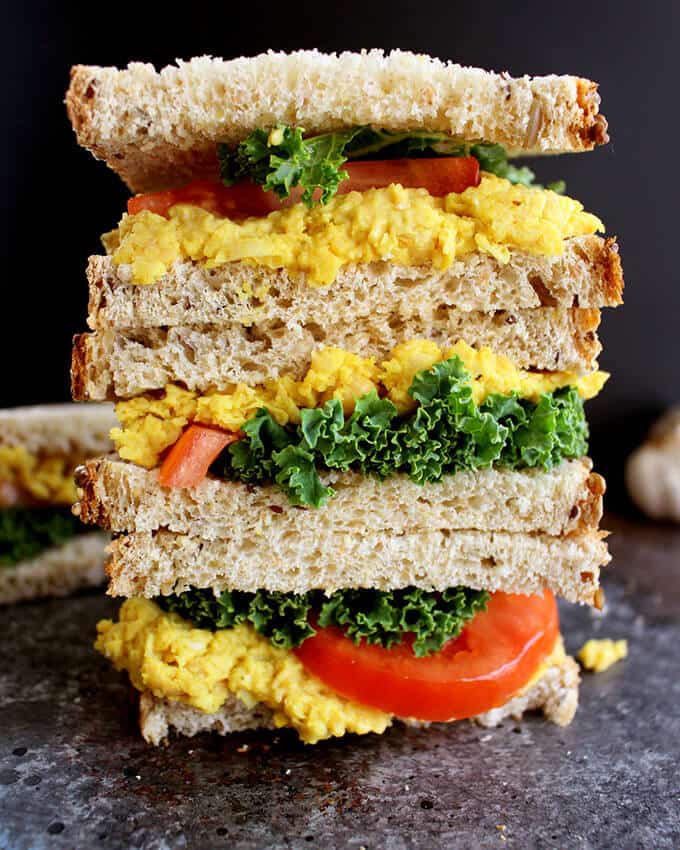 Easy Vegan Turmeric Chickpea Salad Sandwich by Karissa from Karissa's Vegan Kitchen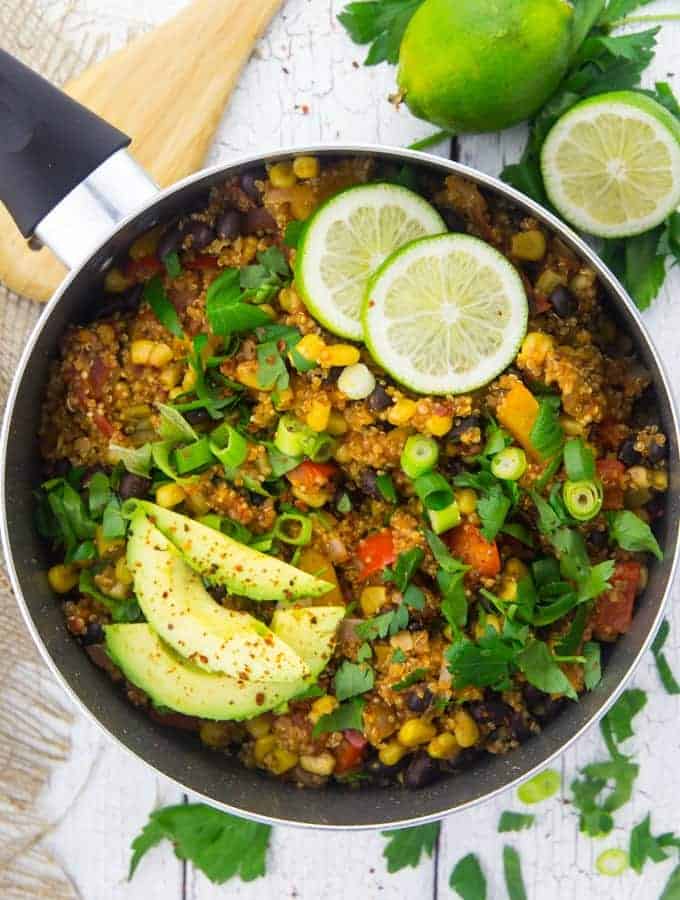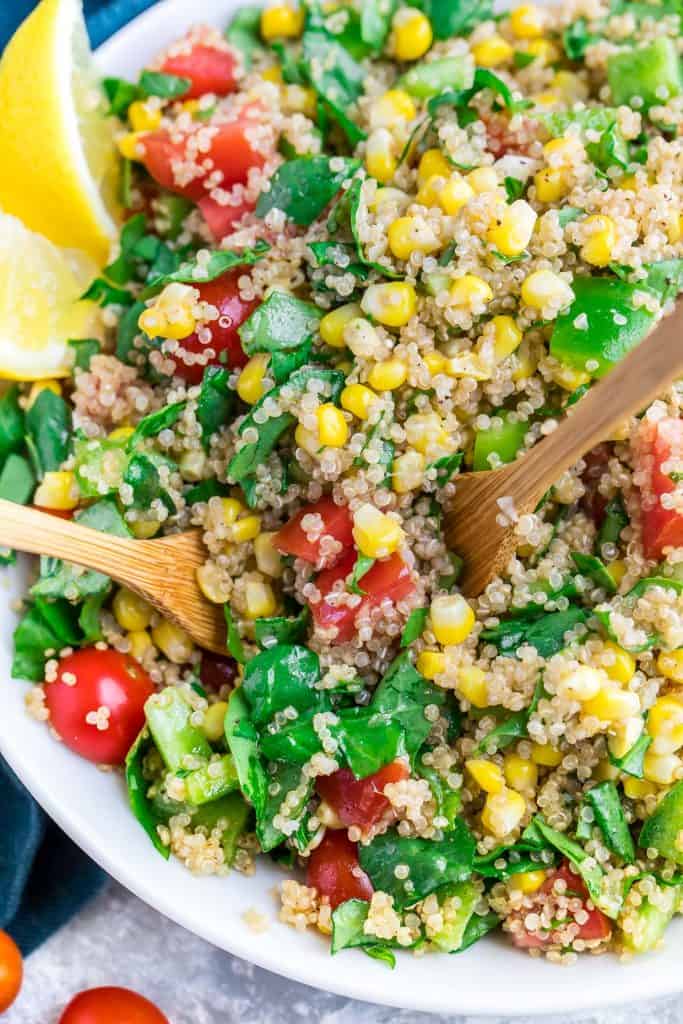 Garden Veggie Quinoa Salad by Jenn from Peas and Crayons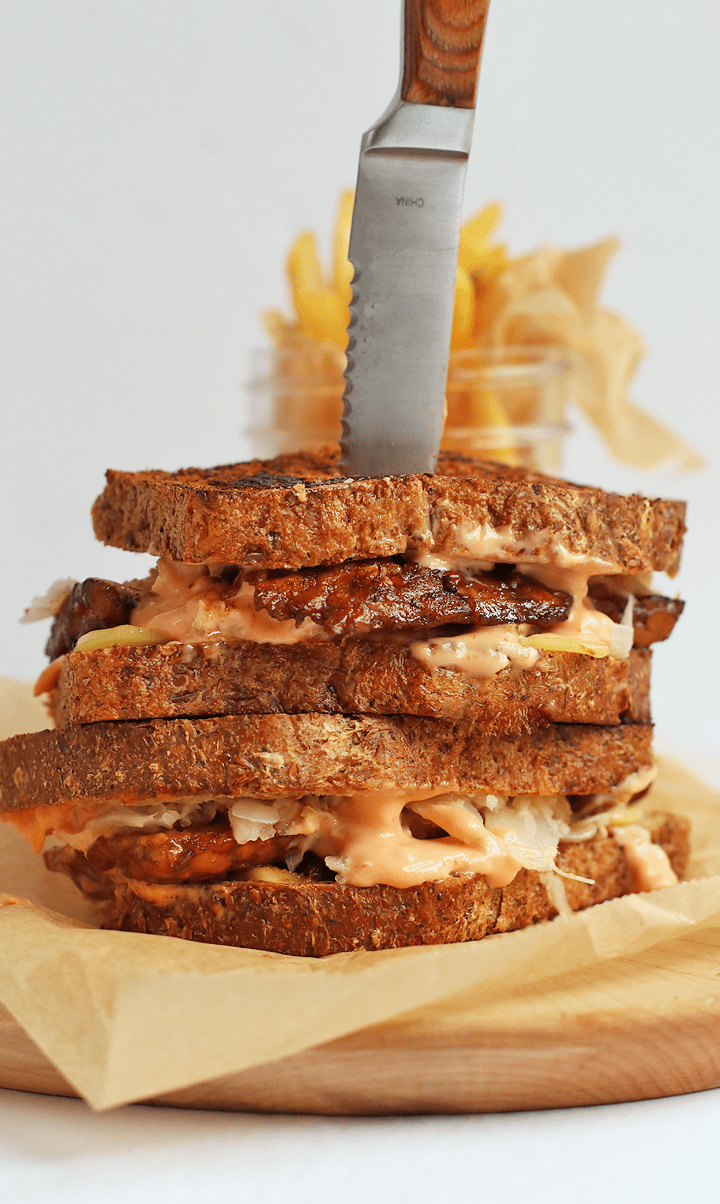 Vegan Tempeh Reuben by Sarah from My Darling Vegan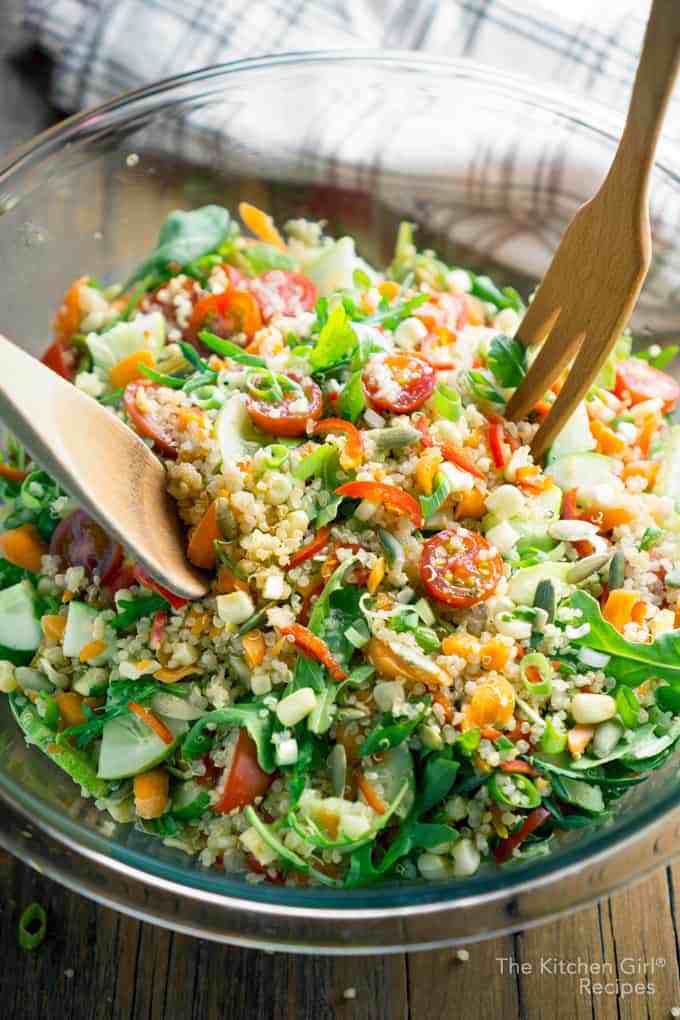 Meal Prep Veggie Quinoa Chopped Salad by Traci The Kitchen Girl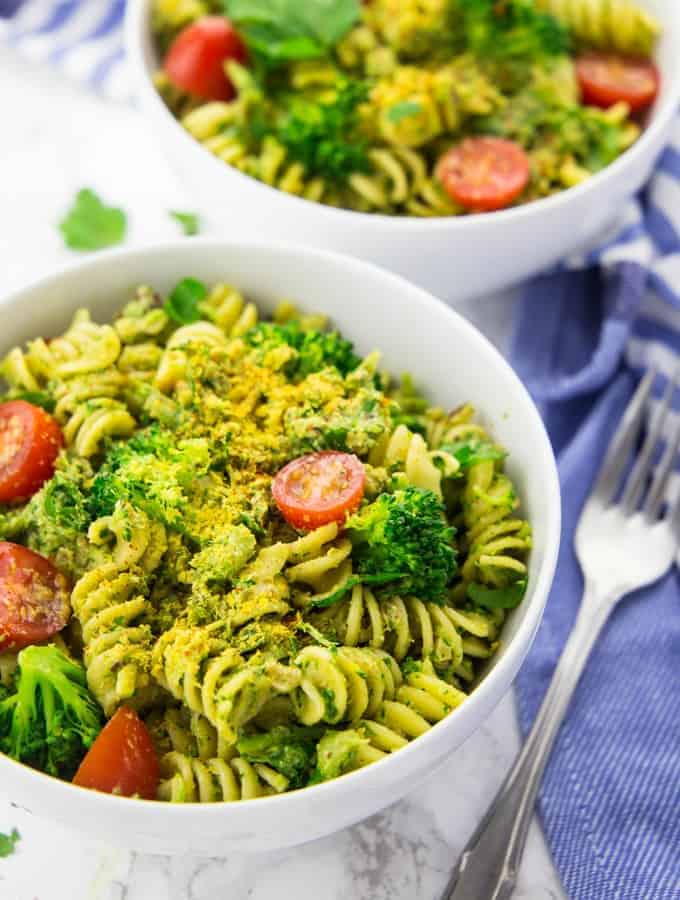 Broccoli Pesto with Pasta and Cherry Tomatoes
Thai Zucchini Noodle Salad with Cabbage by London from Evolving Table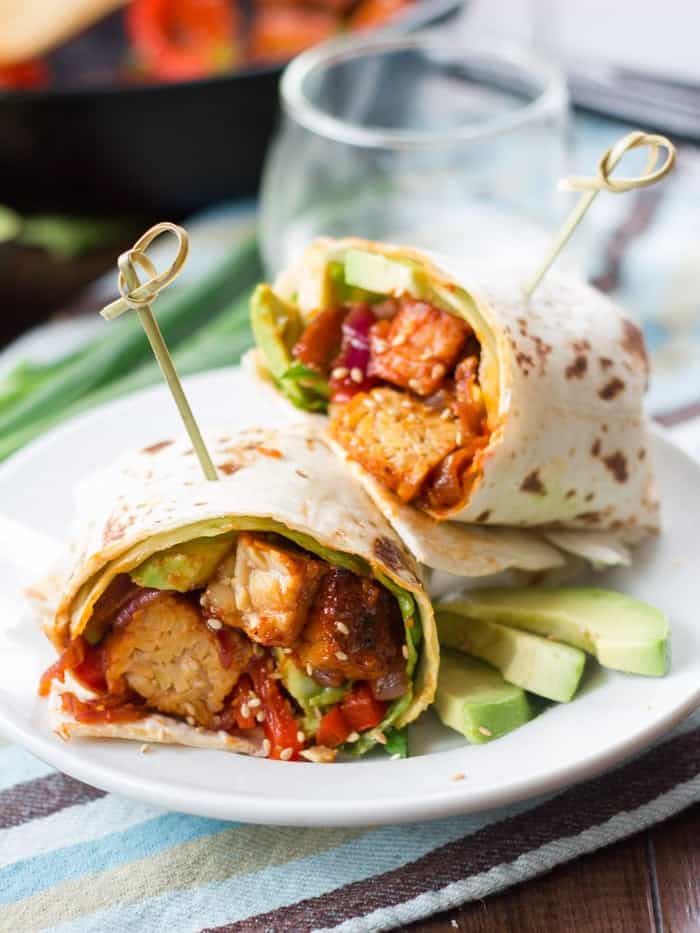 Korean Barbecue Tempeh Wraps by Alissa from Connoisseurus Veg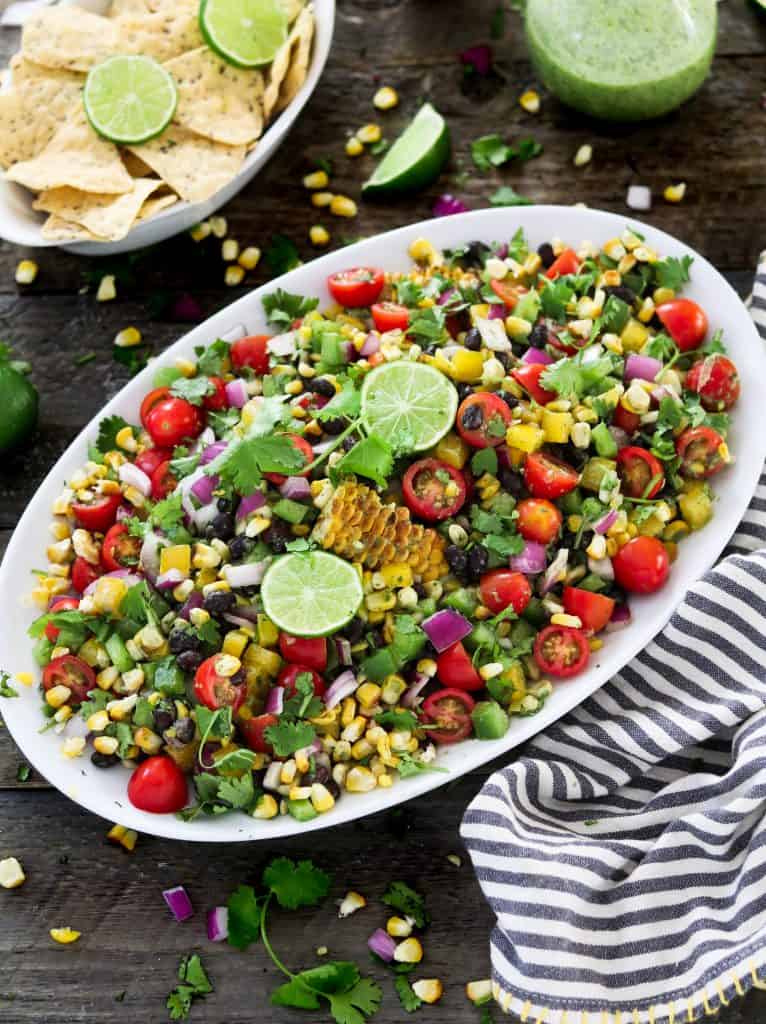 Grilled Corn Salad by Melissa from Vegan Huggs
Summer Corn and Quinoa Veggie Salad by Tim and Brie from Toaster Oven Love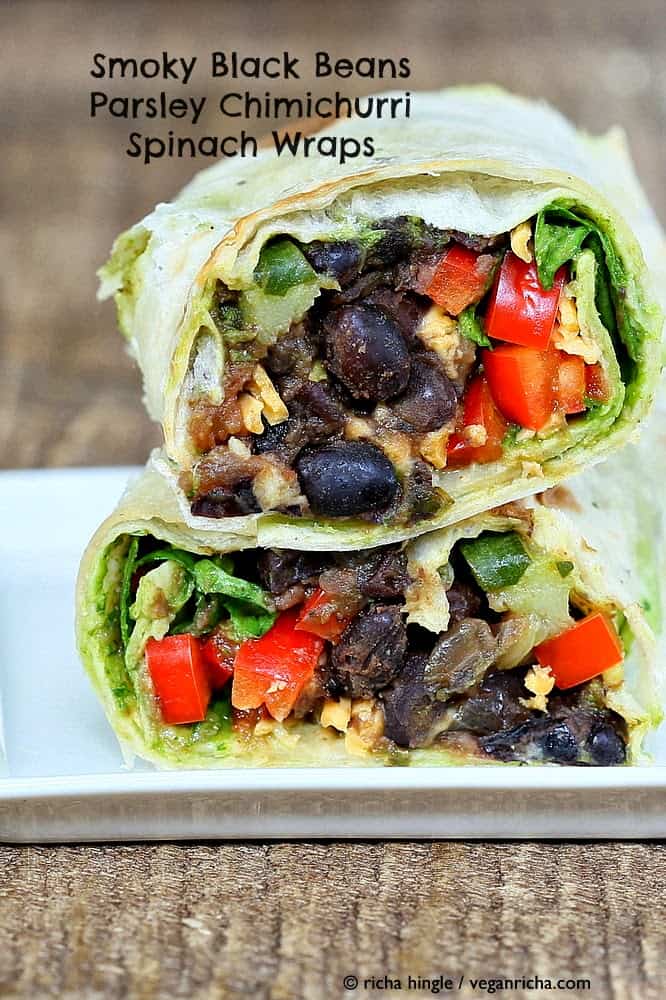 Smoky Black Bean Wraps with Parsley Chimichurri by Richa from Vegan Richa
Vegan Tuna Sandwich with Chickpeas
 Vegan Salad Spring Rolls by Shannon from Pass Me Some Tasty
Gorgeously Simple Sweet Potato Toast Recipe by Amanda from My Goodness Kitchen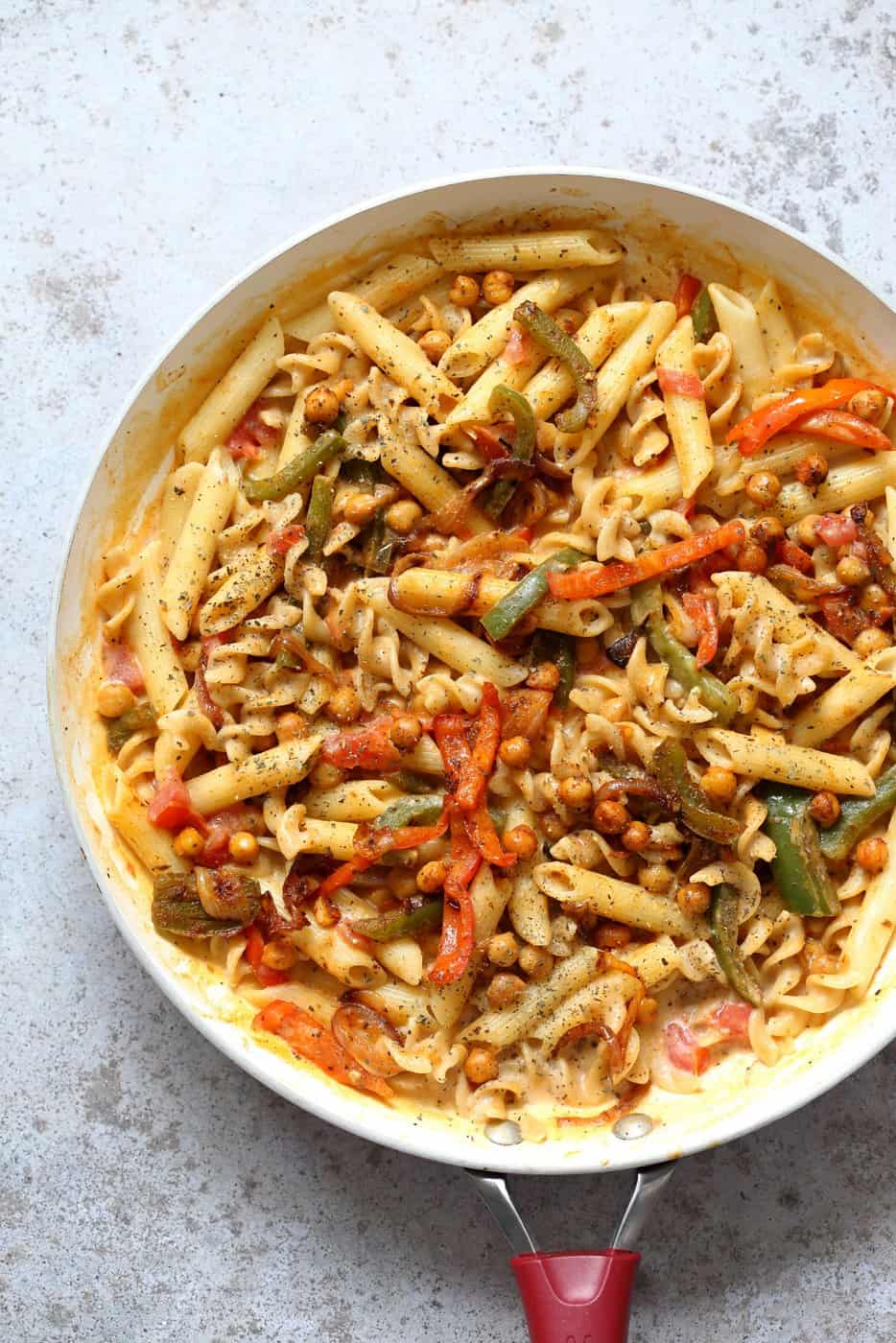 Vegan Fajita Pasta with Chickpeas by Richa from Vegan Richa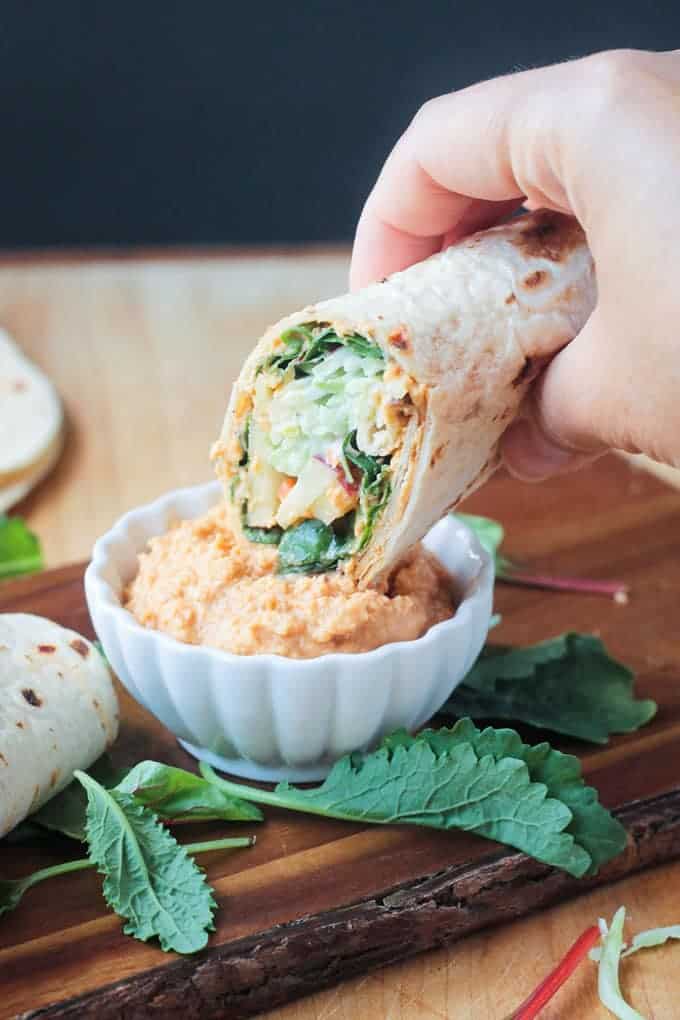 Broccoli Slaw Veggie Wrap with Spicy Hummus by Jenn from Veggie Inspired
Southwest Potato Vegan Meal Prep Bowls by Natasha from Salt and Lavender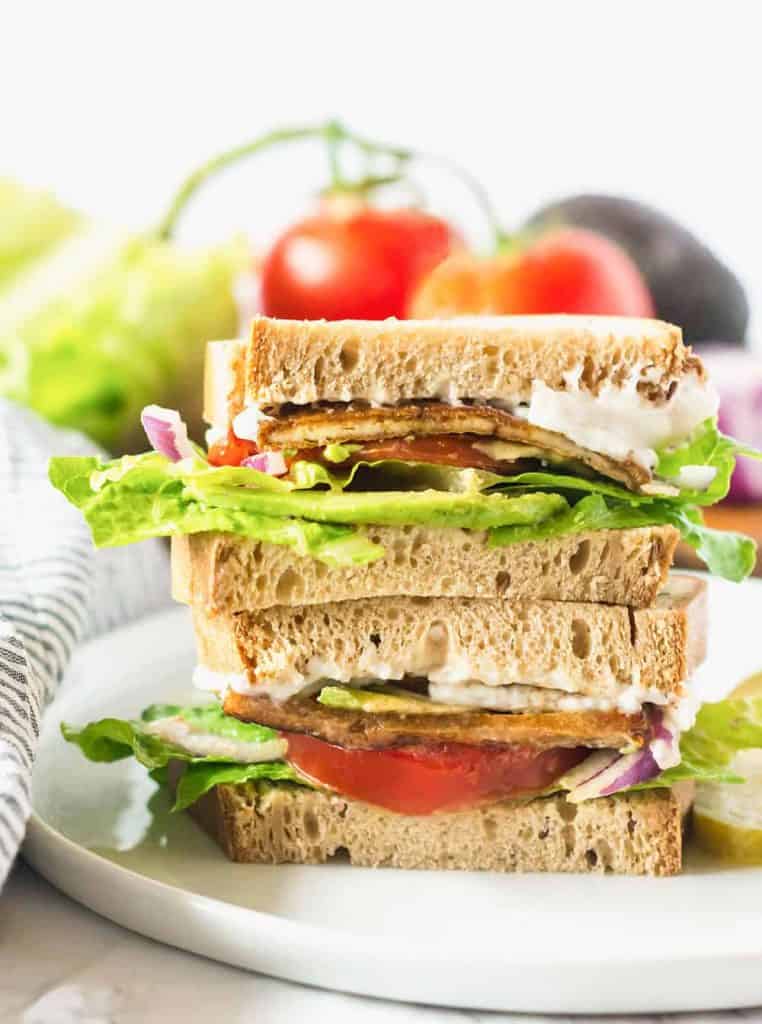 Vegan BLT Sandwich by Michelle from Healthier Steps
Gluten-Free Sesame Noodles with Vegetables by Michelle from My Gluten-Free Kitchen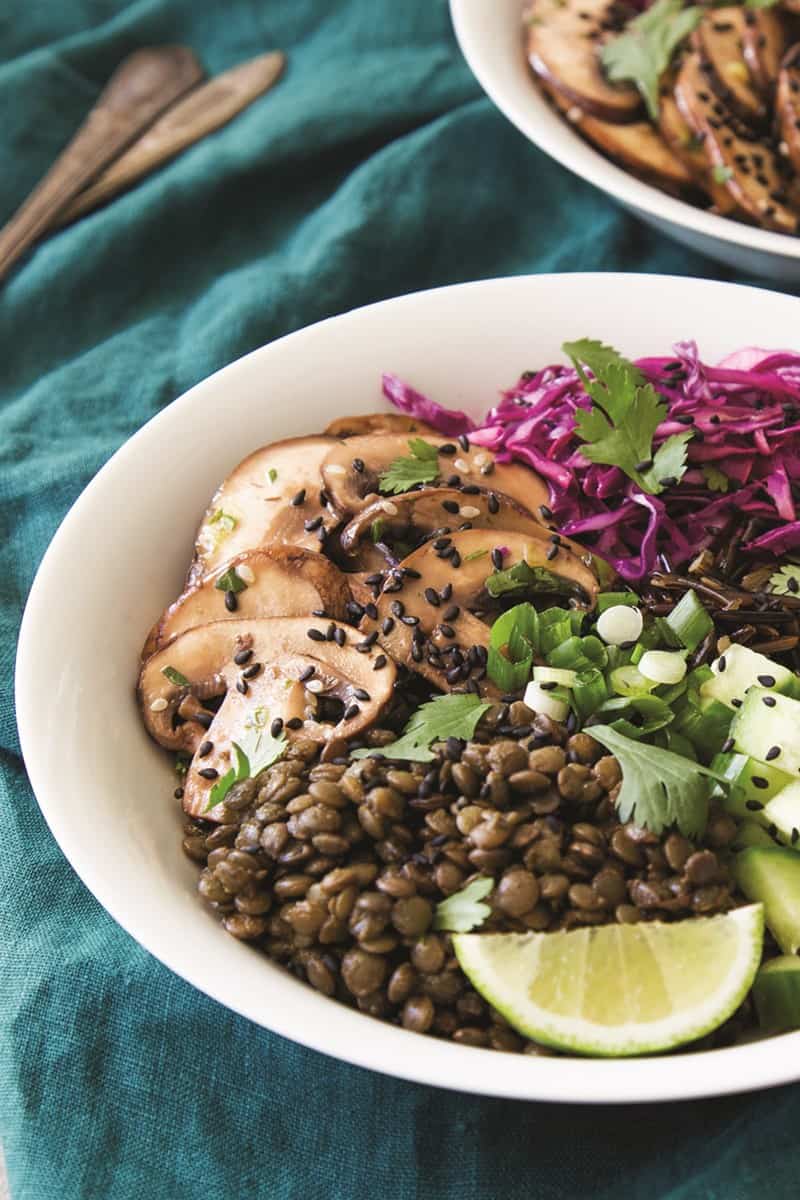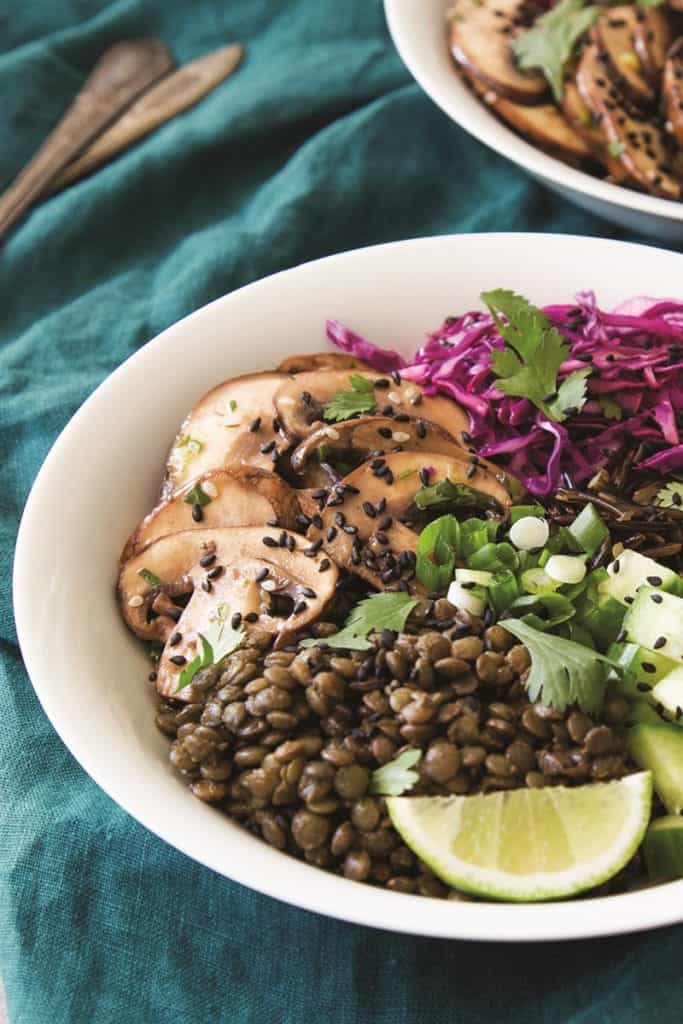 Marinated Mushroom Bowls by Alisa from Go Dairy Free
Vegan Chicken Salad with Pickles by Sarah from Fried Dandelions
TTLA Sandwich by Stacey from Stacey Homemaker
Thai Pasta Salad by Kathy from Beyond The Chicken Coop
Spicy Avocado Cauliflower Toasts by Tim and Brie from Toaster Oven Love
Mushroom Spinach Tofu Wrap by Bianca from Elephantastic Vegan
Asian Quinoa Edamame Salad by Elysia from Haute and Healthy Living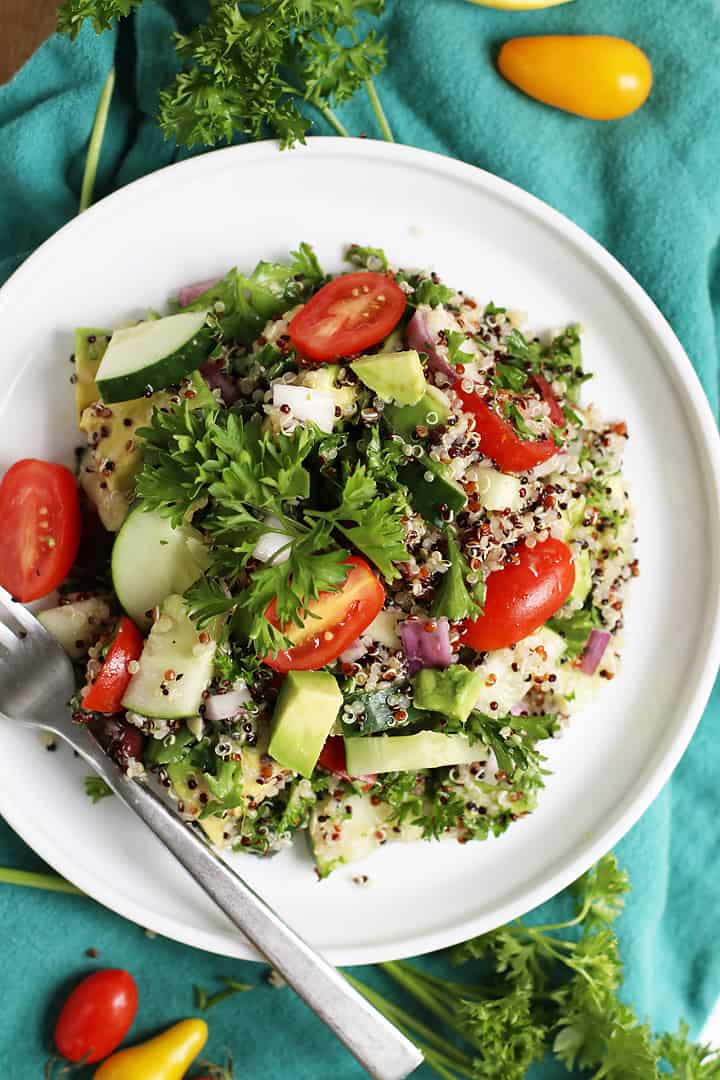 Mediterranean Quinoa Salad by Sarah from My Darling Vegan
Vegan Mushroom Pecan Burgers by Ginny from Vegan In The Freezer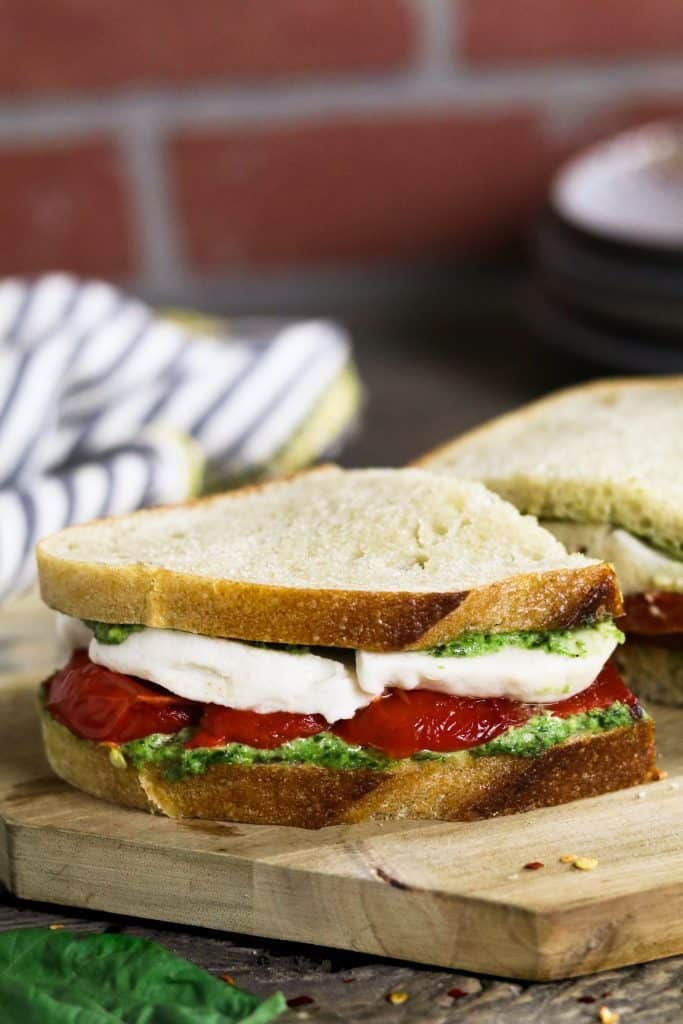 Roasted Red Pepper Sandwich with Vegan Mozzarella by Melissa from Vegan Huggs
Rosemary Chickpea Salad Sandwich by Jackie from Vegan Jack Attack
Grilled Eggplant Wraps with Spicy Tahini Slaw by Dianne from Dianne's Vegan Kitchen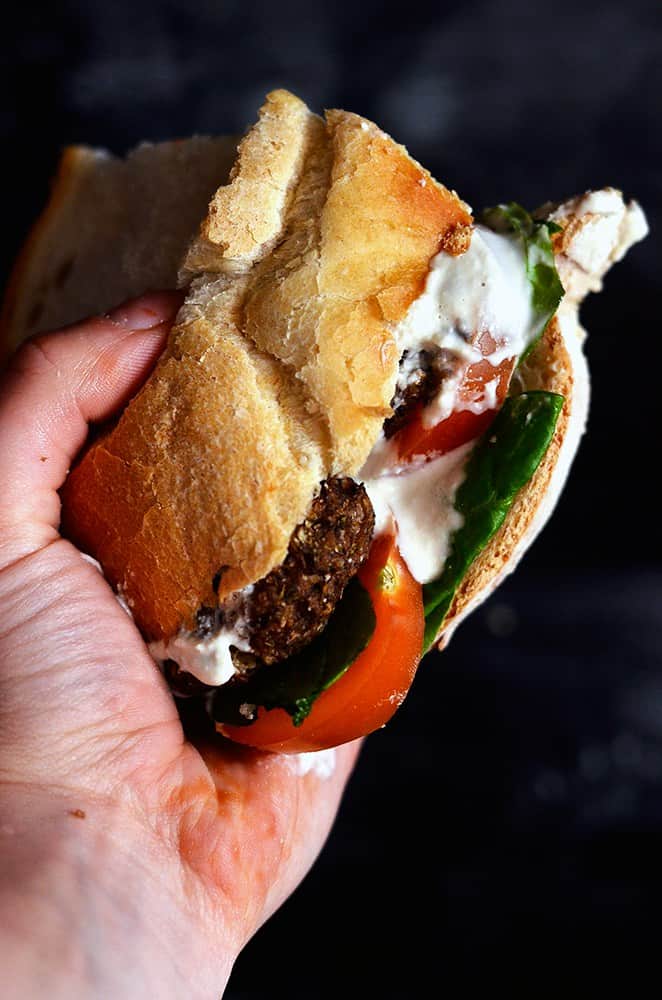 Mushroom Meatball & Garlic Cream Sandwich by Rosie from The Hungry Herbivores