These vegan crab cakes are super delicious and very easy to make. They make such a great vegan fish alternative!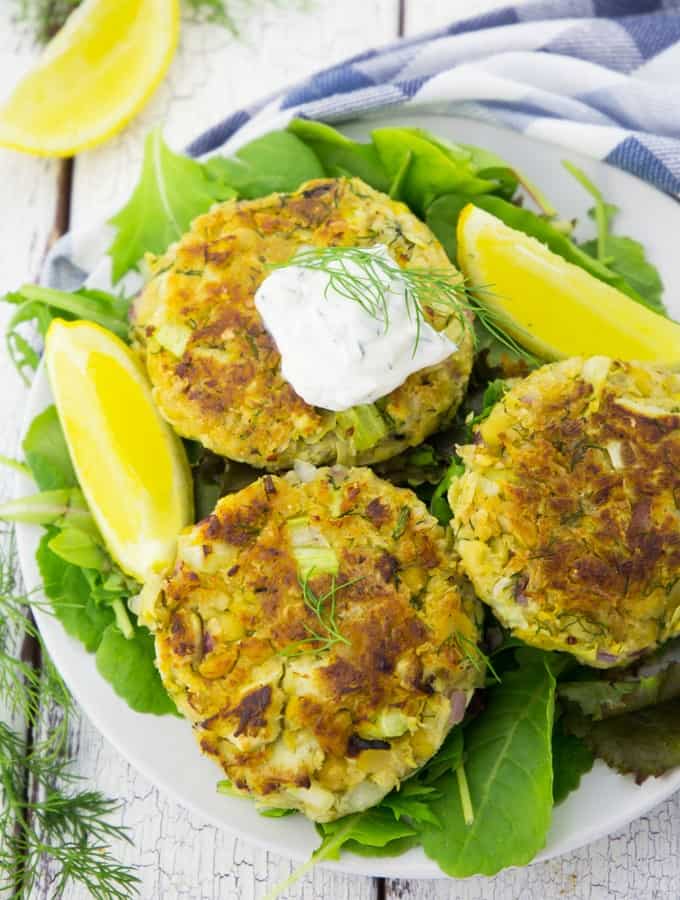 If you used to like fish and crab cakes, you will love these vegan crab cakes with chickpeas and artichokes. I served them with homemade vegan remoulade sauce with lots of fresh dill and lemon juice. We enjoyed them with a green salad but they're also great with a potato salad or even on a sandwich. So yummy!
Will A Vegan Eat Fish?
It might seem surprising to some people but I've heard this question so many times. Some people also ask "can vegans eat fish?" to which I usually answer "sure, we can, but we decide not to". Vegans avoid all kinds of animal-derived foods as well as byproducts. So vegans don't eat fish, seafood, meats, dairy, and eggs. But fortunately for those who used to like fish, there are some great vegan fish alternatives or you can make your own vegan fish at home.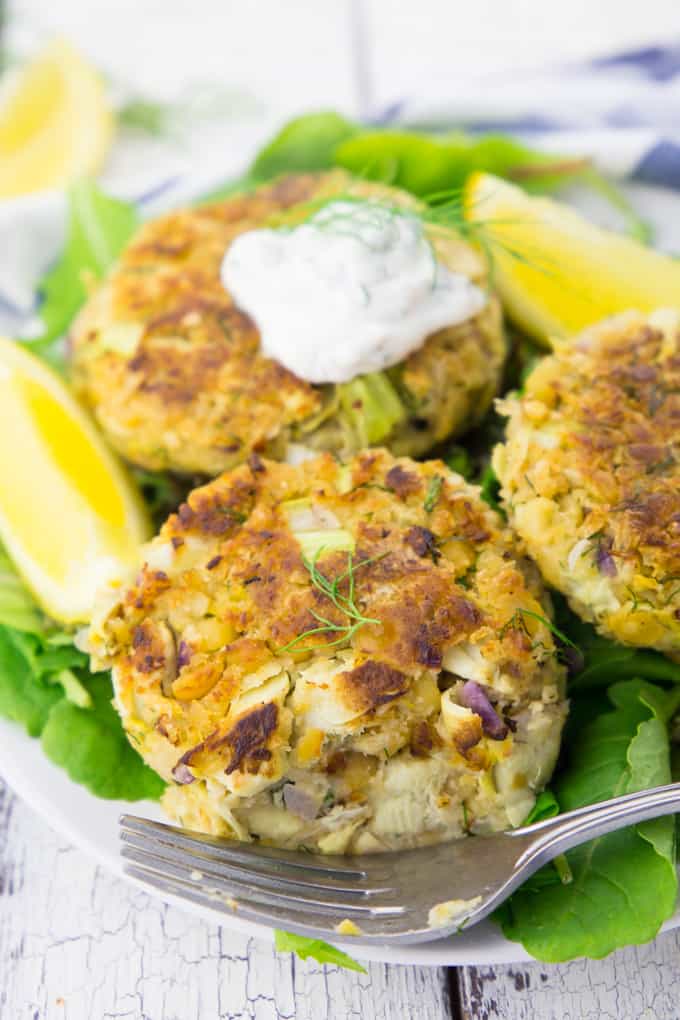 How to Make Vegan Fish
The hardest part about making vegan fish is achieving the "fish-like" taste. You can, however, get your vegan fish to taste like the ocean by adding seaweed. For example wakame flakes really do the trick. I usually add them to my vegan tuna salad that is made of mashed chickpeas. It's one of my favorite salads to put on a sandwich. Of course nobody would think it's a real tuna salad (the texture is obviously different) but so many people already told me that it really does taste like fish.
You could even wrap firm tofu in seaweed sheets (such as nori) and coat it with breadcrumbs for some sort of vegan fish and chips. Or you could use oyster mushrooms instead of scallops or what about carrot lox? Sounds crazy, but this really is a thing!
So my two top tips to make vegan fish are:
Add "fish-like" taste by using seaweed (either flakes or seaweed sheets)
Use seasonings and sauces that are usually used for seafood dishes (dill and lemon are always great for vegan fish!)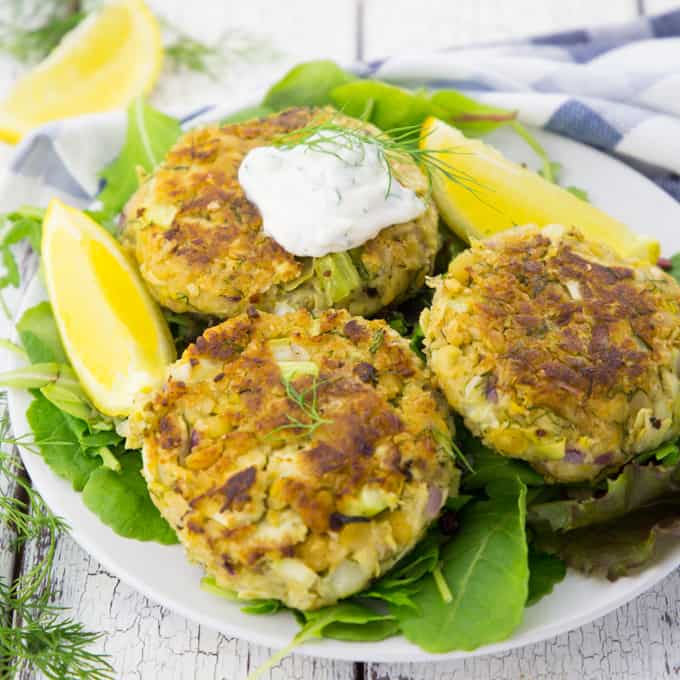 What You Need for This Vegan Crab Cake Recipe
You can find all of the ingredients for these vegan crab cakes in any regular supermarket.
You need:
cooked chickpeas (either canned or you can cook them yourself. I usually use my Instant Pot to cook them)
canned artichoke hearts
fresh lemon juice
one red onion
Dijon mustard
fresh parsley
fresh dill
panko bread crumbs
garlic
vegan Worcestershire sauce
fish seasoning
vegan mayonnaise
celery
salt and pepper
As always, you can find the full ingredient list and the recipe instructions in a separate, printable recipe box at the end of this post.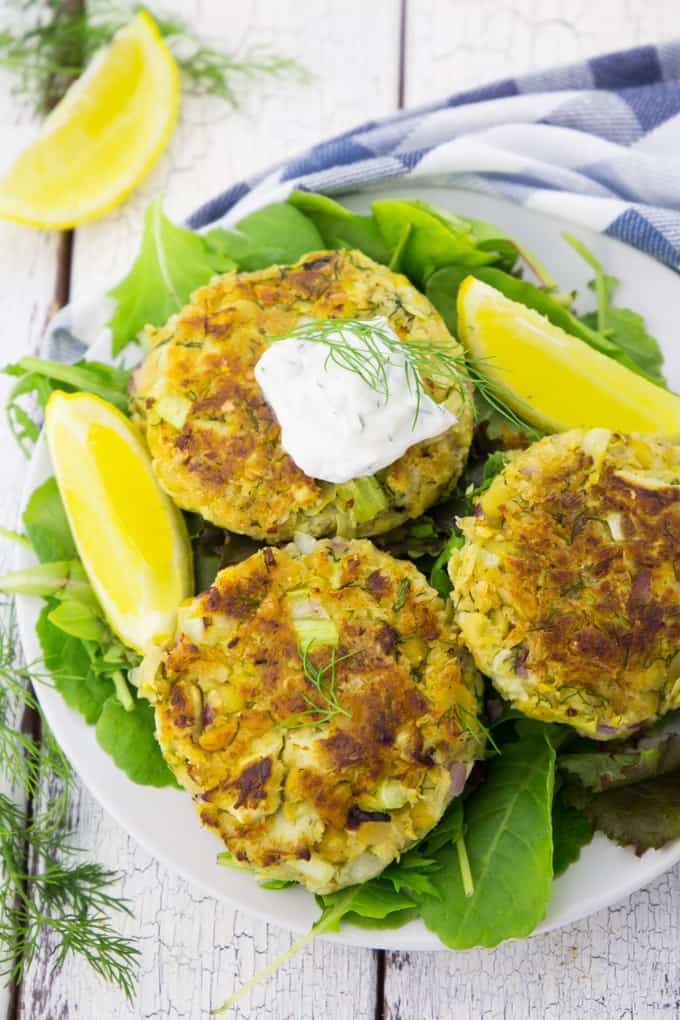 How to Make Vegan Crab Cakes
You can use different vegetables and legumes to make vegan crab cakes.
The most popular bases for vegan crab cakes are:
artichokes
hearts of palm
chickpeas
jackfruit
I decided to use a base of chickpeas and artichokes for my vegan fish cakes. I also tried vegan crab cakes with hearts of palms, but I preferred the vegan crab cakes with artichokes. The artichokes make an amazing texture! Simply mash the chickpeas in a large bowl and then add the chopped artichoke hearts with chopped onion, garlic, celery, and the spices.
To make the vegan fish cakes hold together, I added panko bread crumbs. Just combine everything with a wooden spoon and form about six to eight crab cakes. Heat some oil in a large pan and cook them on each side on medium heat for about 2-3 minutes or until they're brown. I served them on a bed of green salad with vegan remoulade and lemon slices. So yummy!
I hope you like these vegan crab cakes as much as we do! As always, I love seeing your Vegan Heaven creations on Instagram and Facebook.
Sina – xx
| | |
| --- | --- |
| | |
In a pan, heat some oil and sauté the chopped onion for 2 minutes. Then add the garlic and cook for another minute. Set aside.

Mash the chickpeas in a large bowl with a fork. Leave them partially intact for more texture. Add the remaining ingredients (including the cooked onion and the garlic) and season with salt and pepper.

Form eight vegan crab cakes.

Heat some oil in a large pan and cook them on each side on medium heat for about 2-3 minutes or until they're brown.

I served them on a bed of green salad with vegan remoulade and lemon slices. For the remoulade I whisked together vegan mayonnaise with chopped dill, fresh lemon juice and seasoned it with salt and pepper.
Nutrition Facts
Vegan Crab Cakes
Amount Per Serving
Calories 138
Calories from Fat 18
% Daily Value*
Total Fat 2g 3%
Sodium 637mg 27%
Potassium 237mg 7%
Total Carbohydrates 26g 9%
Protein 7g 14%
* Percent Daily Values are based on a 2000 calorie diet.