This vegan tuna sandwich with chickpeas is one of my all-time favorite vegan sandwiches! It's ready in no time and it's so incredibly yummy! And with the help of dried seaweed it tastes so much like the real thing!
I used to love tuna salad and tuna sandwiches! Before I became vegan I was a huge fan of tuna salad with mayonnaise. So when I heard of vegan tuna salad with chickpeas a couple of years ago, I just had to try it. It's kind of like jackfruit pulled pork. You just have to give it a try as a newly vegan. And boy, was I amazed! It really was amazing. It took me some while to figure out some twists that made it perfect for me. So today I got my favorite recipe for vegan tuna salad for you. It's incredibly easy and you don't need many ingredients to make it. And it's packed with protein!
Vegan Tuna Salad Sandwich – What You'll Need
1 can chickpeas
dried Wakame seaweed
vegan mayonnaise
soy sauce
lemon juice
celery
dill (frozen or fresh)
salt
pepper
As always, you can find the full recipe in a separate recipe box beneath the text section.
I usually buy the dried Wakame seaweed in Asian supermarkets. I think one package is like 2 dollars or sometimes even less. So not expensive at all. And it will last for like ever because you don't need much for the vegan tuna salad. Just crumble the seaweed with your hands and soak it in water in a shallow bowl for about 5 minutes. It will quickly soak up the water and look like actual seaweed again. It gives the vegan tuna salad recipe it's fishy or ocean-like taste. I used store-bought vegan mayonnaise, but you can also make it yourself at home if you can't get hold of it.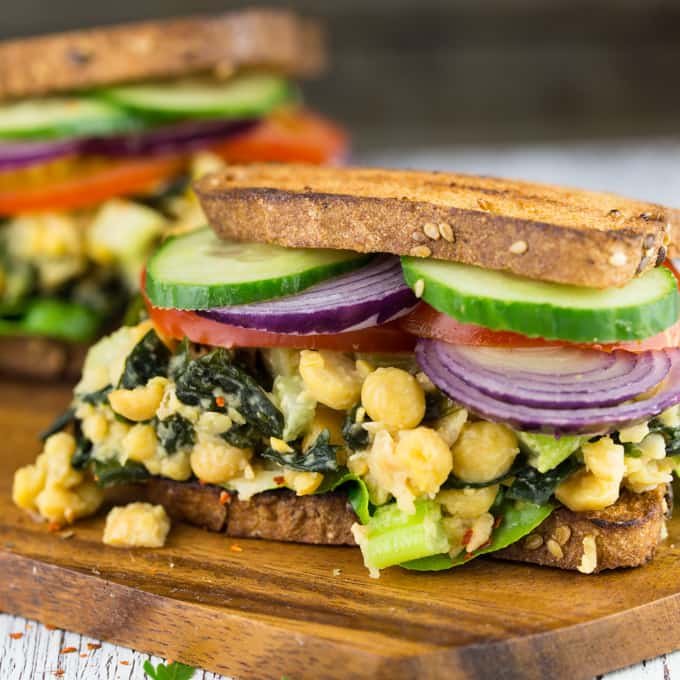 I hope you guys like this vegan tuna sandwich as much as I do! Let me know if you give it a try. As always, I love hearing from you and seeing your Vegan Heaven creations on Instagram. If you're looking for more vegan sandwich recipes, you might like my  tofu and kale pesto sandwich.
Have an awesome weekend, everyone!
Sina – xx

For the vegan tuna salad:
| | |
| --- | --- |
| For the vegan tuna salad: | |
Crumble the dried seaweed with your hands and let it soak in a shallow bowl of water for about 5 minutes (1/2 cup of water should be fine). Drain and press the water out with your hands.

Mash the chickpeas with a fork until they have a flaky texture. Stir in the celery, mayonnaise, dill, seaweed, lemon juice, and soy sauce. Season with salt and pepper.

Serve on whole wheat bread together with lettuce, tomatoes, cucumber, and red onions.