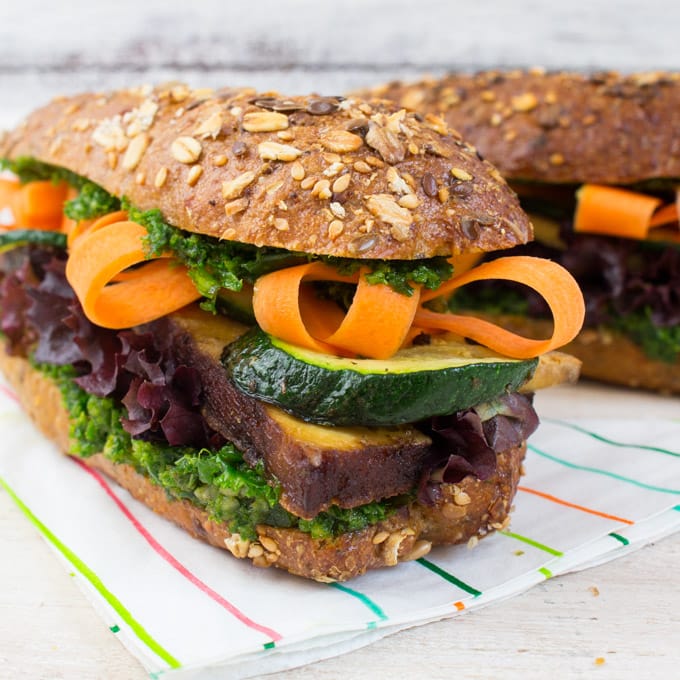 I've always been a huge fan of sandwiches! Yesterday, we had this vegan tofu and kale pesto sandwich with grilled zucchini, carrots, and lettuce, which was not only super delicious but also pretty easy to make. I just couldn't wait to share this recipe with you!
When I first tried tofu more than ten years ago, I wasn't exactly keen on it. I somehow didn't like it's structure and most of all its plain taste. It wasn't until years later, that I tried it again. I marinated it with lots of spices, garlic, and soy sauce and let it sit for a couple of hours.
And man was it good! Crispy, savory, packed with flavor, and just so easy!
How could I've had not known that any sooner?
For the kale pesto, I used walnuts, garlic, olive oil, and nutritional yeast. And kale of course. Just put all ingredients into a food processor or blender and process until smooth. It's also great with pasta and veggies or on pizza. We have pesto almost every week because it makes such an easy dinner and is just so delicious.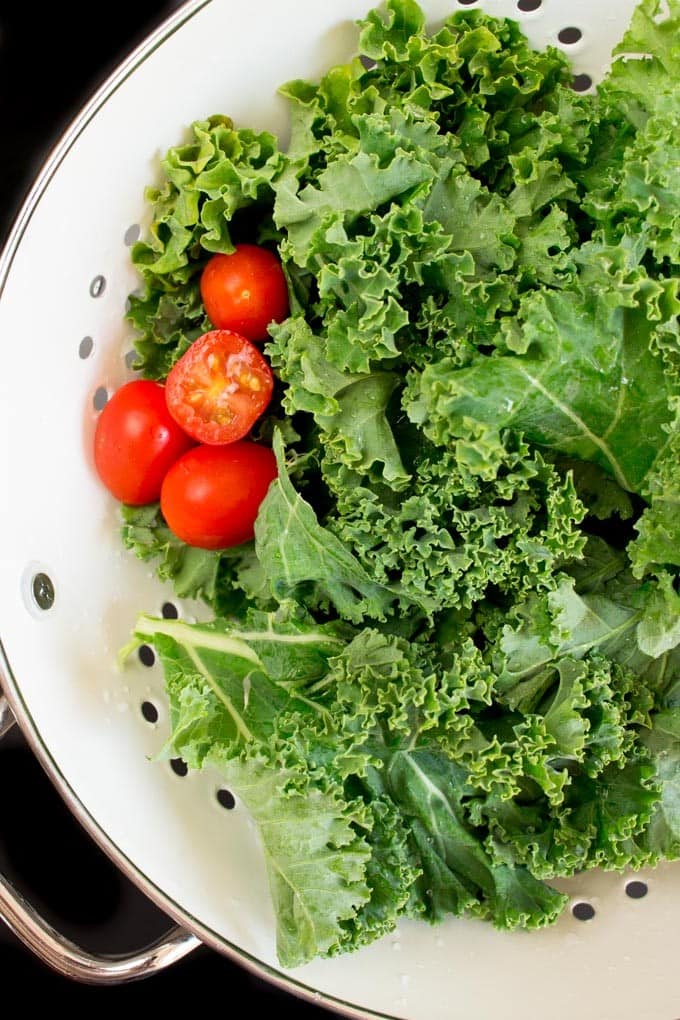 If you don't use the pesto all at once, transfer it to an airtight container, drizzle a little olive over the top, and keep it in the refrigerator.
I used smoked tofu for the sandwich, which is already pretty flavorful on its own. If you want you can add some soy sauce when you stir-fry it. If you don't want to use smoked tofu or can't find it, you can of course also use regular tofu and marinate it. I usually use a mixture that consists of paprika powder, minced garlic, BBQ sauce, soy sauce, salt, pepper, and liquid smoke. But you can get pretty creative with the marinate. It's also great with curry powder!
I hope everyone had a great weekend! I can't believe how fast it was over. I could swear time goes by much quicker on the weekends! Haha!
Have a great start into the new week!
Tofu and Kale Pesto Sandwich
This vegan tofu and kale pesto sandwich with carrots, grilled zucchini, and lettuce is perfect for a quick and healthy lunch!
Print
Pin
Rate
Ingredients
For the vegan kale pesto:
3

handfulls

kale

1/2

cup

walnuts

1

clove of garlic

3

tablespoons

nutritional yeast

5-6

tablespoons

olive oil

1/2

teaspoon

Italian spice mixture (oregano, basil, rosemary, thyme, and sage)

salt

black pepper
For the sandwiches:
7

oz

smoked tofu

Alternatively you can also use marinated regular tofu

1

small

zucchini, cut into slices

1

carrot, spiralized

lettuce

2

whole wheat buns
Instructions
First make the kale pesto: Put all ingredients into a blender of food processor and blend until smooth.

Cut the tofu into thin stripes. In a medium pan, heat some olive oil and stir-fry the tofu for about 2-3 minutes on each side until it is brown and crispy. If you want you can also add about half a teaspoon of soy sauce. Once the tofu is done, put it aside.

Heat some more olive oil and cook the zucchini slices for another 3 minutes. Season with salt, pepper, and Italian spices (such as oregano, basil, rosemary, thyme).

Cut the sandwiches in half and generously coat both sides with kale pesto. Add the lettuce, the tofu, the carrots, and the grilled zucchini.
Rate the recipe!
If you like this recipe, please leave a good rating! This will help other readers.