Are you looking for vegan dinner recipes? Vegan recipes don't have to be complicated and time-consuming! I absolutely LOVE spending time in the kitchen, but often we just don't have enough time to cook extravagant meals. These 35 vegan dinner recipes are perfect after a long day at work or school!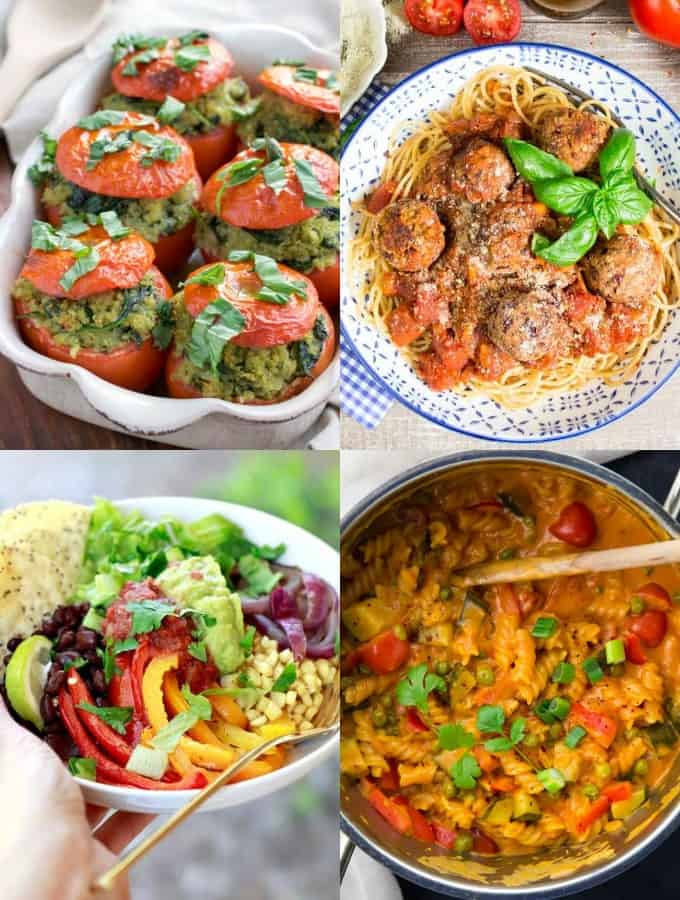 Especially during the week, I need easy vegan recipes that are still healthy.  And of course delicious! So this roundup is all about easy vegan dinner recipes for weeknights! 
I teamed up with some fellow food bloggers and compiled a list of 35 easy vegan dinners that are super easy to make!
We've got something for every taste! Here are some examples:
vegan pasta dishes (some of the recipes are one pot meals to make it even easier for you)
vegan rice dishes
burritos & quesadillas
several easy & creamy curries
vegan meatballs
vegan pizza
a couple of vegan slow cooker meals
and some comforting vegan soups
Almost all of these vegan dinner recipes come together in 30 minutes or less! Most of them are super healthy and packed with nutrients.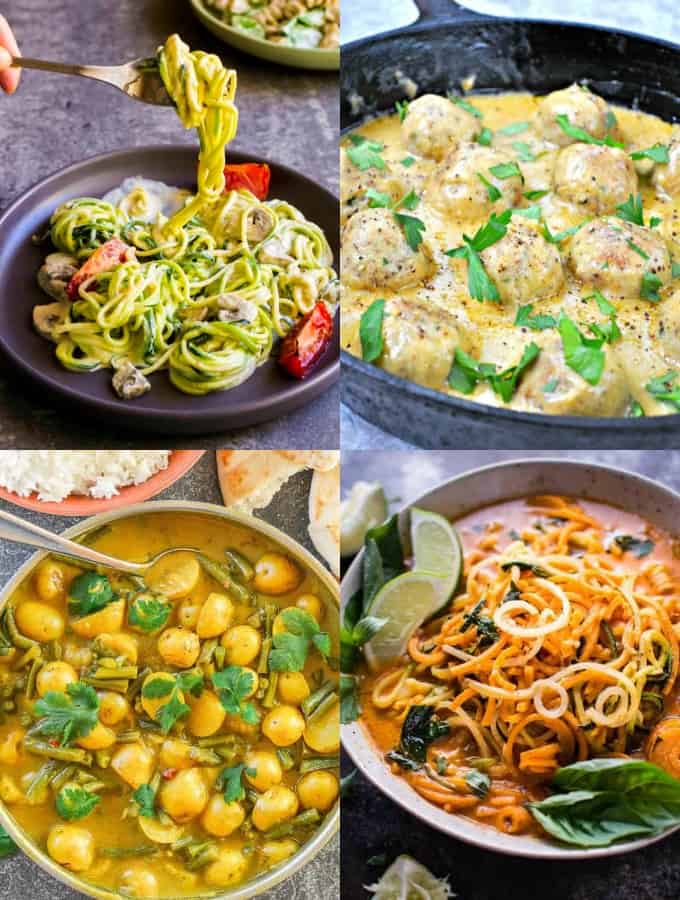 This vegan dinner roundup includes:
many vegan dinner recipes that are rich in protein (for example vegan Swedish meatballs, quinoa burrito bowl, and tomato and white bean salad)
gluten-free vegan dinner recipes (how do quinoa stuffed tomatoes, pineapple fried rice, and green Thai curry sound?)
vegan low-carb recipes (for example vegan Alfredo pasta with zoodles)
easy vegan dinner recipes that are super kid-friendly (for example one pot pasta, vegan meatballs, and vegan mac and cheese)
All of these recipes are great after a long day at work! And don't they all look amazing? Big YUM!!
So let's get started…
Click on the heading of each meal to see the recipe.
35 Easy Vegan Dinner Recipes for Weeknights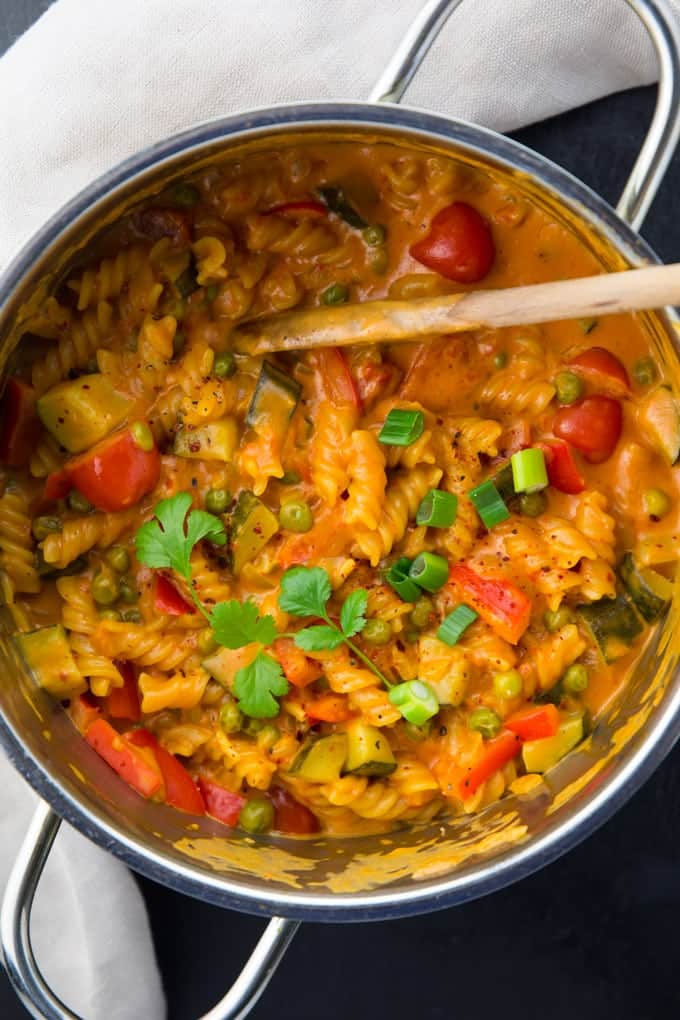 This Asian style vegan one pot pasta is the perfect meal for busy weeknights. It's super creamy, delicious, healthy, and insanely easy to make!
For the sauce I used a combination of red curry paste and coconut milk. So it's a unique mixture of Thai curry and pasta! And because it's a one pot meal, you don't even a lot of dishes to clean up.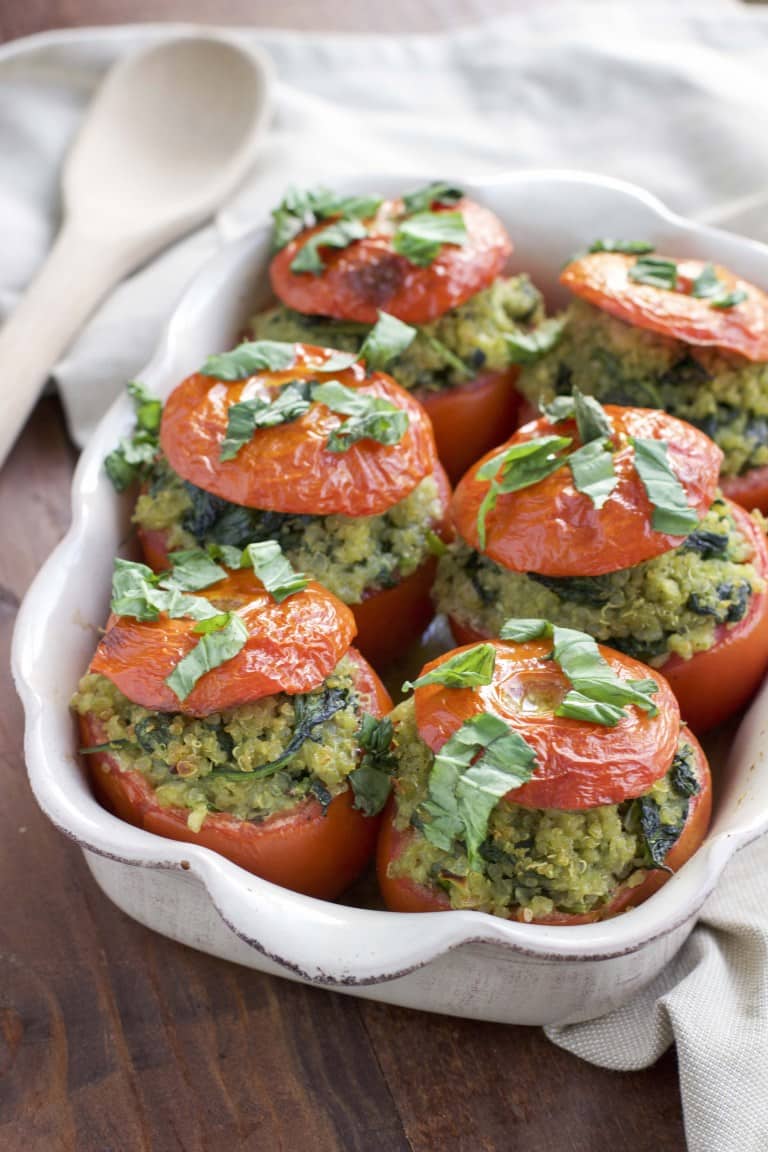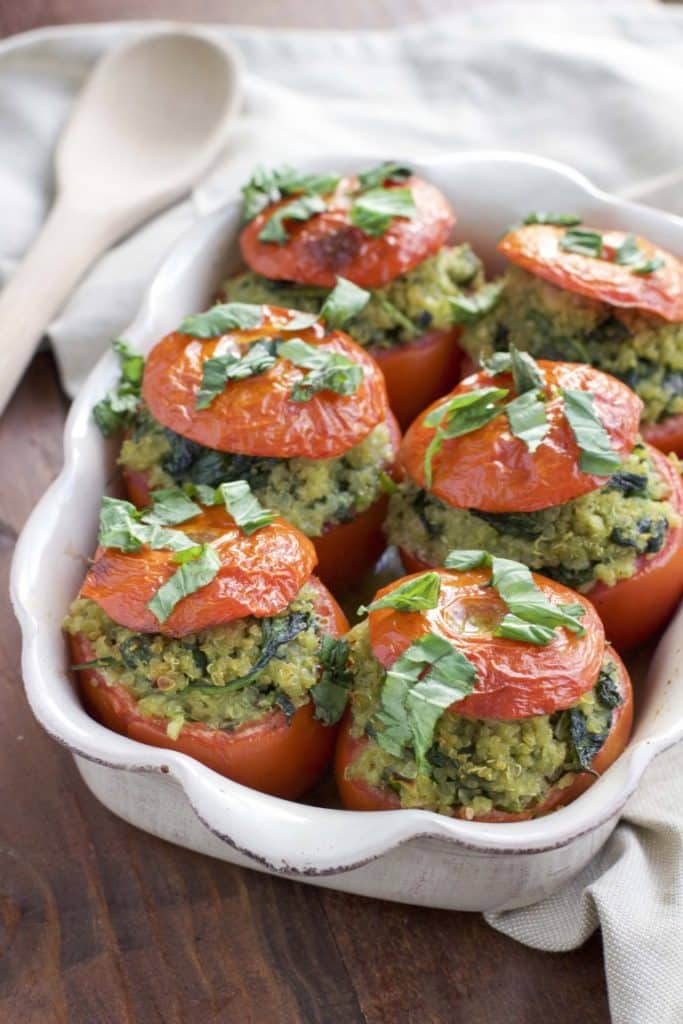 These roasted stuffed tomatoes by Stacey from Stacey Homemaker are not only super delicious but also incredibly popular on Pinterest. Stacey used a mixture of pesto quinoa and fresh spinach to fill them. Healthy eating can be so easy and delicious!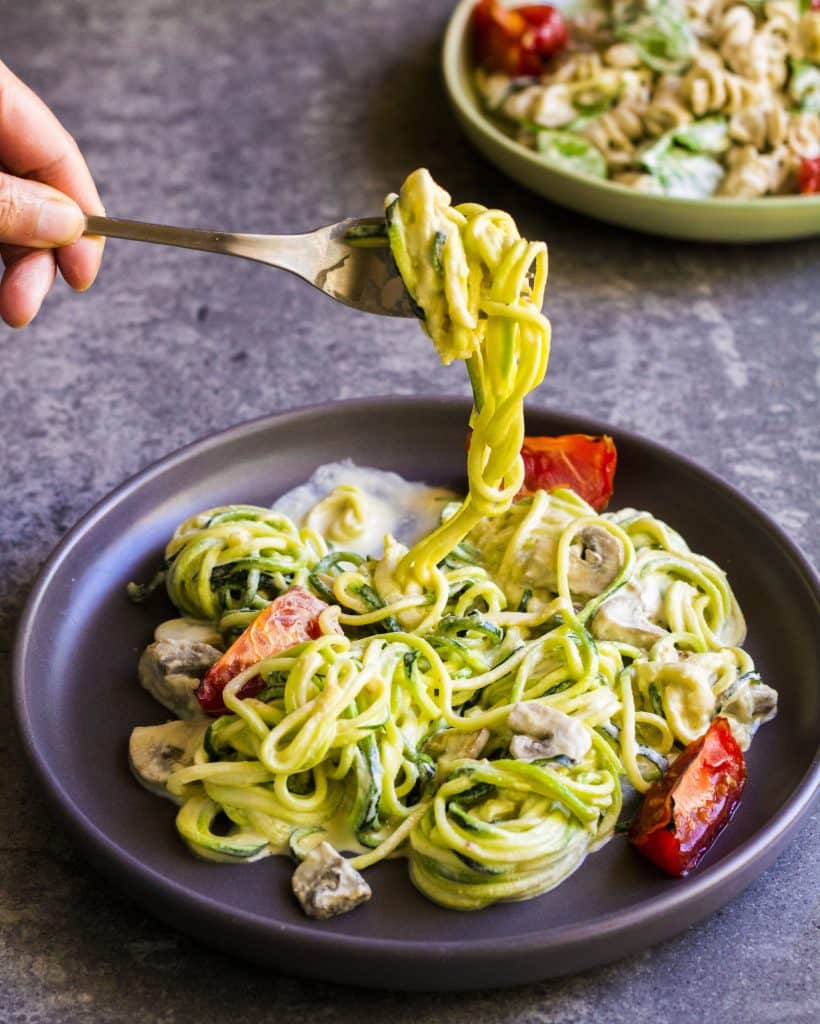 Unlike other Alfredo pasta recipes, this vegan Alfredo pasta by Anthea from Rainbow Nourishments is not full of calories and fats. On the opposite, it's made with zucchini noodles and cashews. You won't believe how creamy it is.
Perfect for a light and healthy dinner after a busy workday!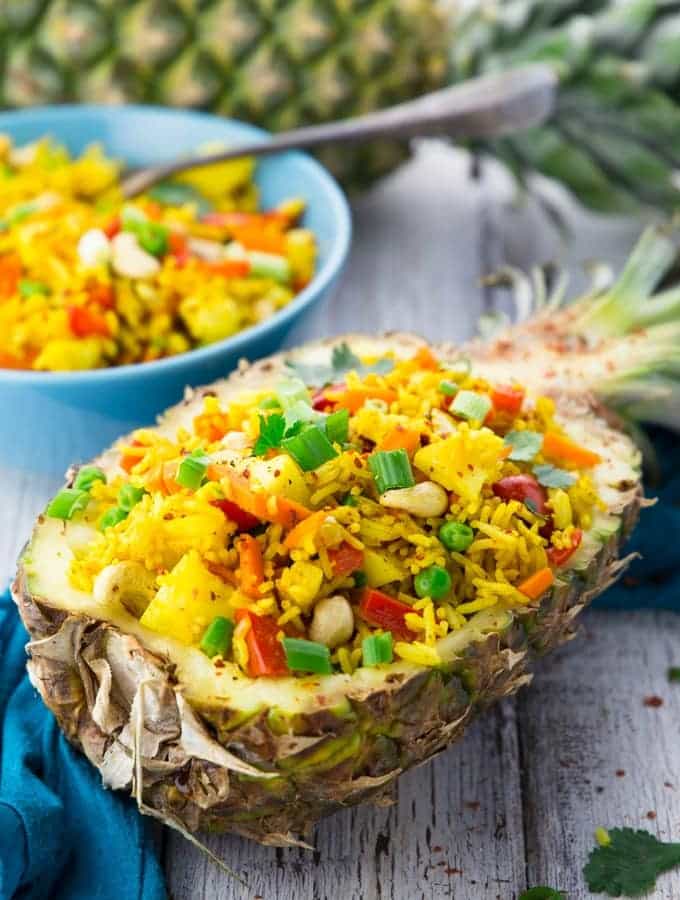 This Thai pineapple fried rice is one of my favorite recipes for busy days! It's super easy to make, healthy, and so yummy. Plus, it's SO colorful! Eating this pineapple rice will be like taking a trip to Thailand!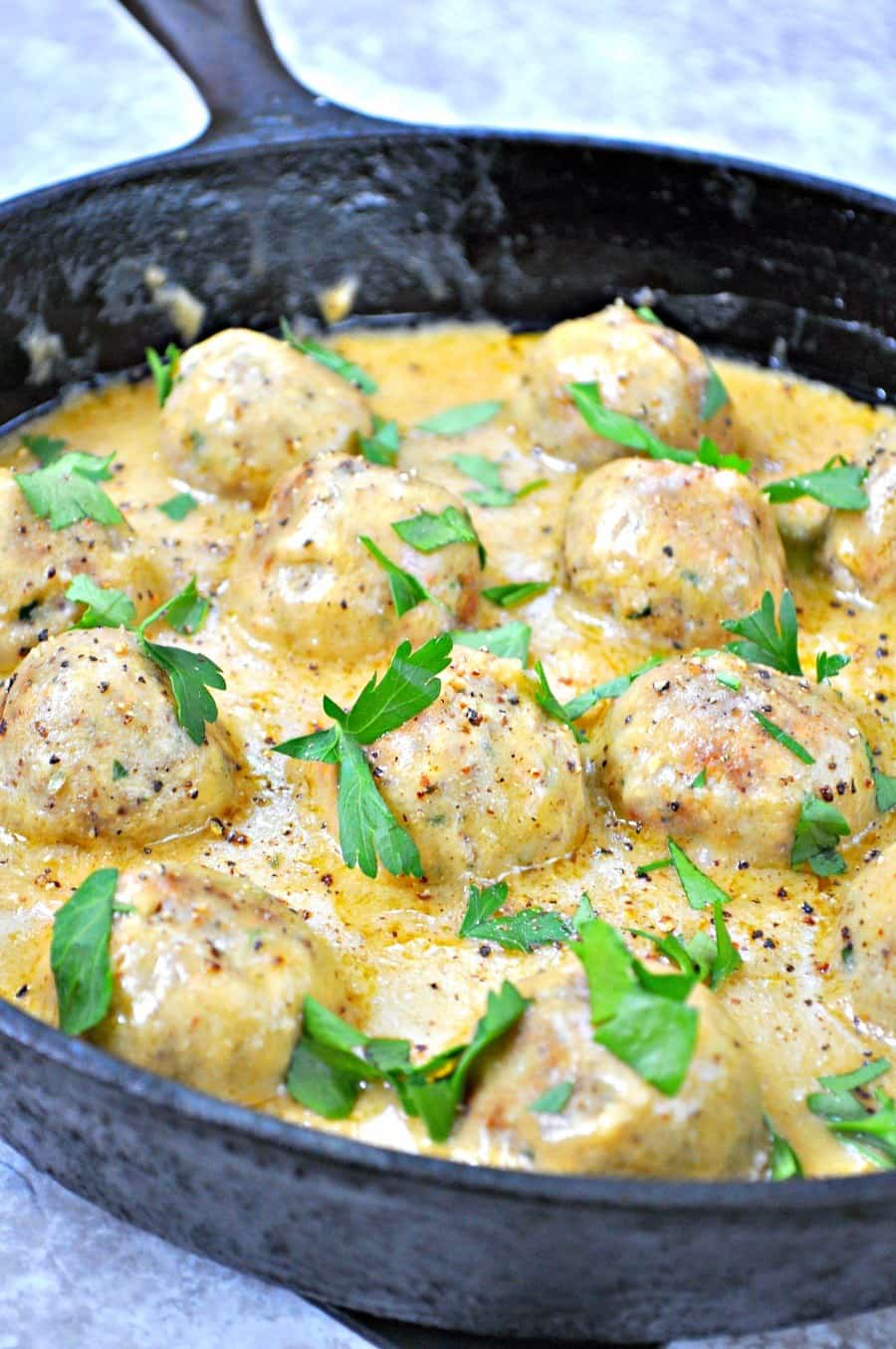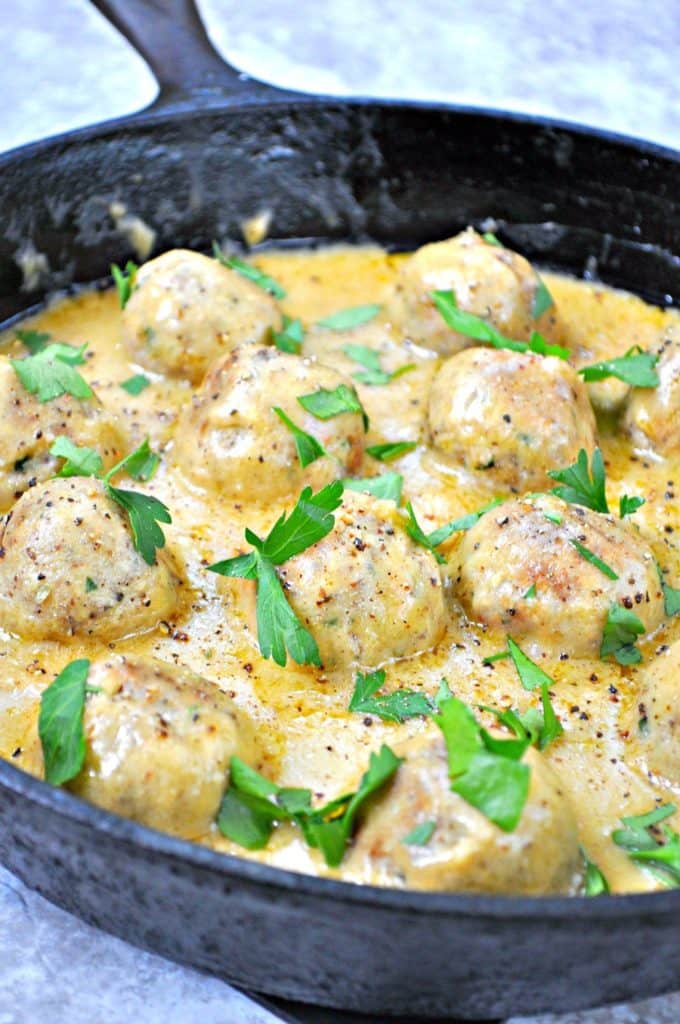 You used to love the meatballs at IKEA? Then this recipe for vegan Swedish meatballs by Lauren from Rabbit and Wolves is perfect for you! The vegan meatballs are made of tempeh, breadcrumbs and lots of spices!
Herbivores and omnivores alike will love this vegan version of Swedish meatballs!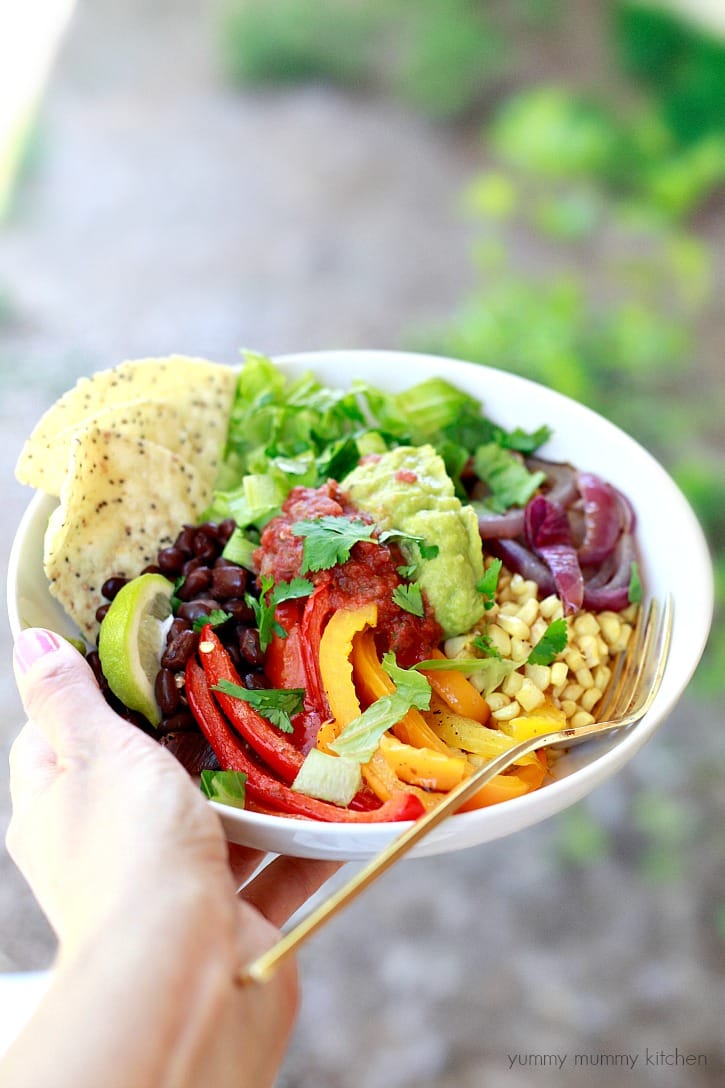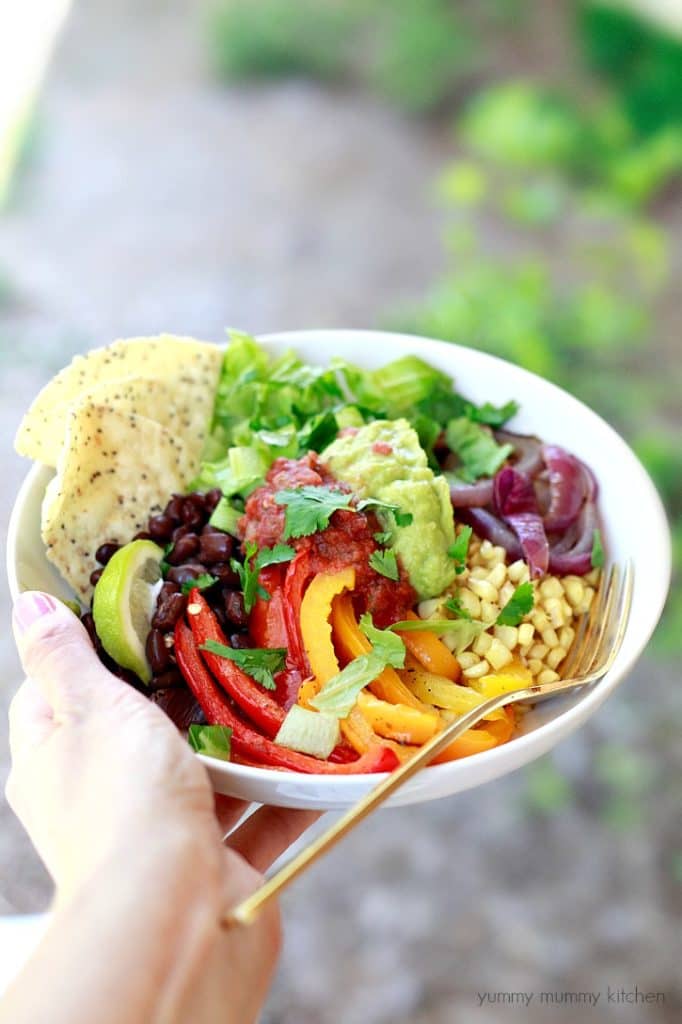 Healthy eating has never been easier! This vegetarian burrito bowl with sheet pan fajita veggies by Marina from Yummy Mummy Kitchen is packed with nutrients and protein! Just perfect if you love Mexican food!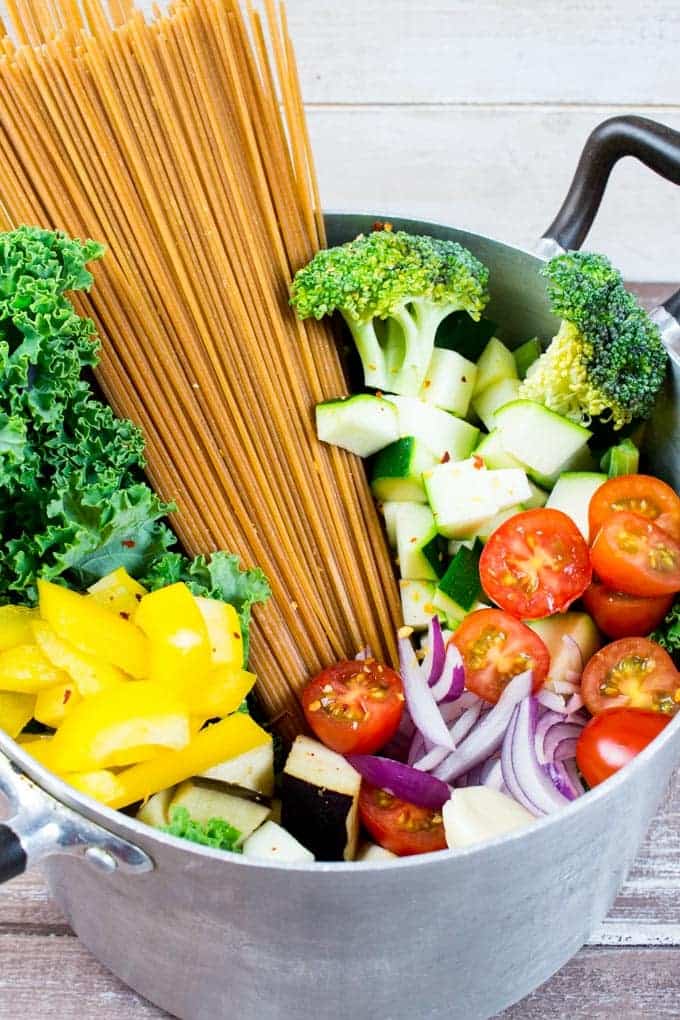 This vegan one pot spaghetti with vegetables is just perfect for lazy days! You cook everything in one pot, including the uncooked pasta.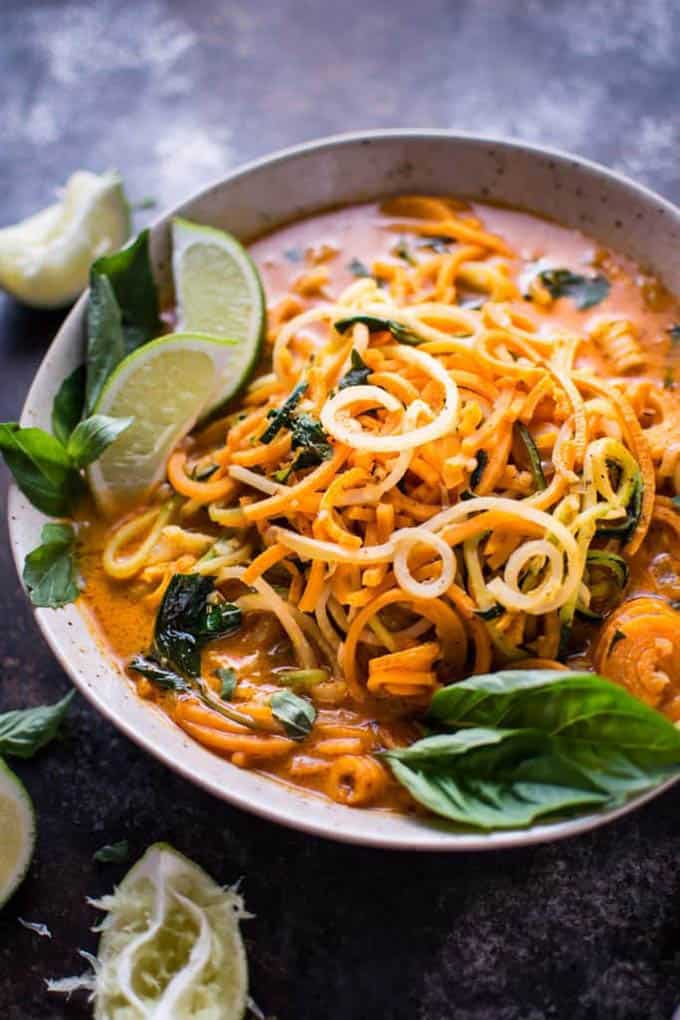 If you like Thai food, you should try this vegan Thai lemongrass coconut soup by Natasha from Salt & Lavender. For a light and fresh version, Natasha used spiralized sweet potato, zucchini, and celery root vegetable "noodles" instead of regular noodles.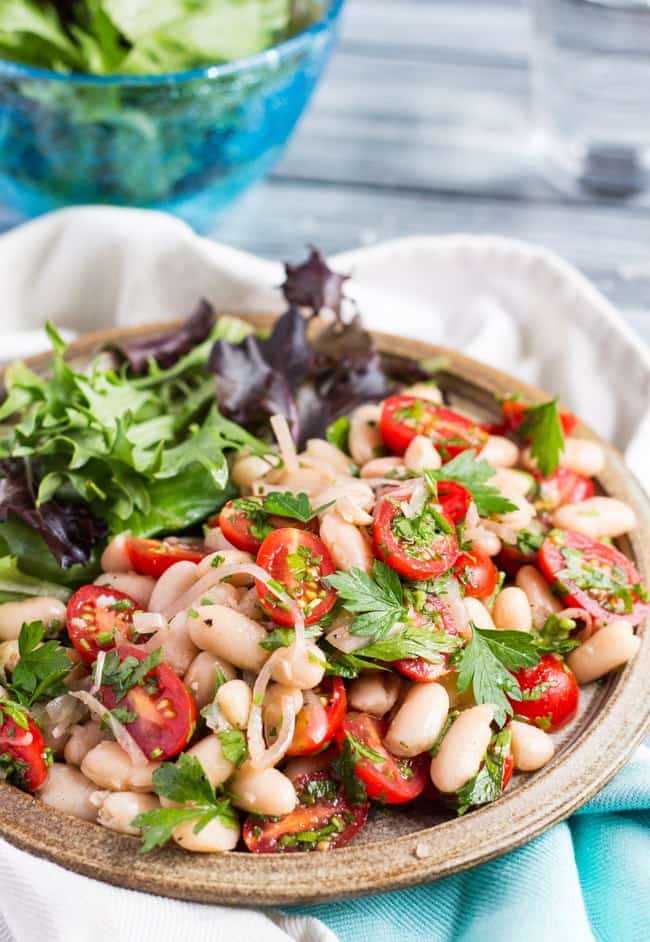 This tomato and white bean salad by Tania from The Cook's Pyjamas makes a great dinner for hot summer days. Enjoy it with crusty bread! This recipe is also perfect to use up tomatoes from your garden.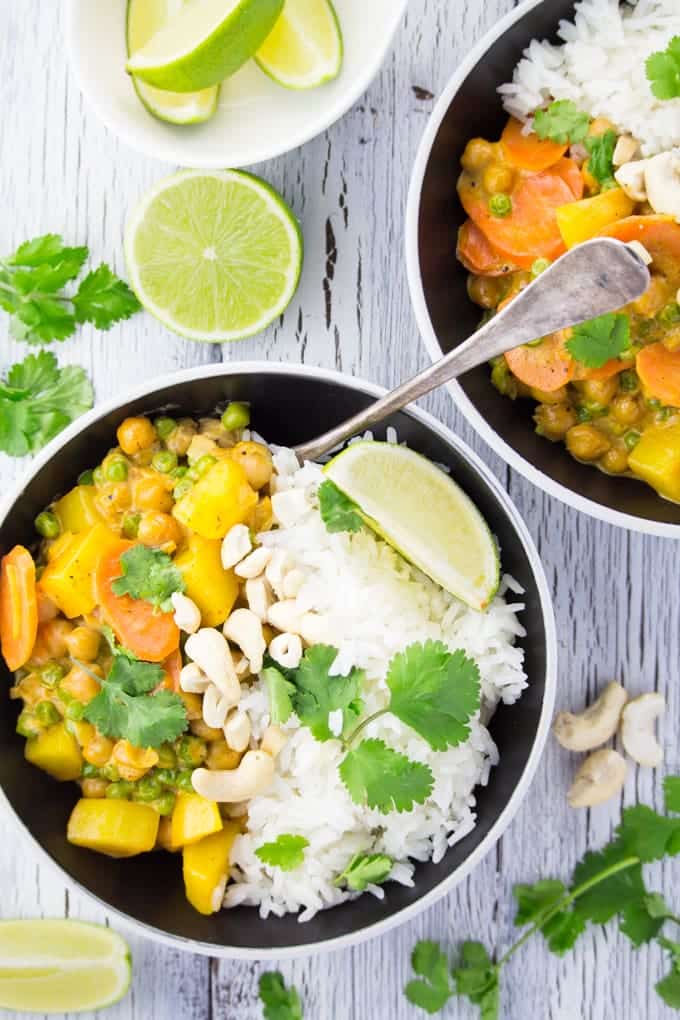 This easy vegan chickpea curry with potatoes, peas, and carrots is perfect for a quick vegan dinner! It's super comforting and packed with proteins and nutrients. It's one of my all-time favorites and we make it all the time!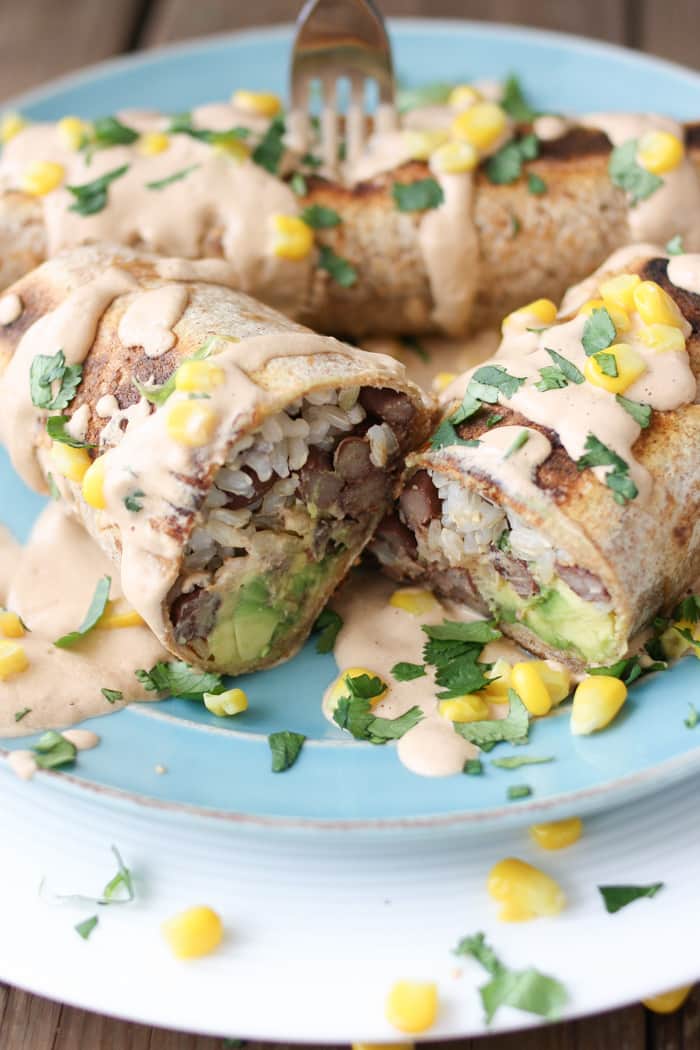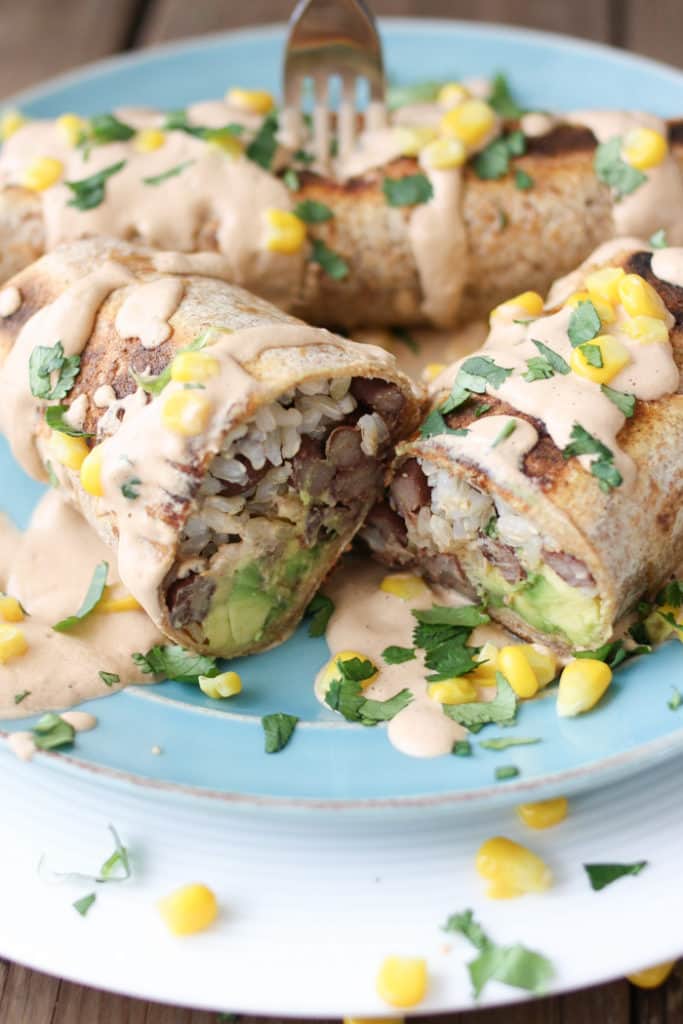 These grilled burritos with black beans, rice, and salsa cream by Sophia from Veggies Don't Bite are super easy to make and packed with flavor. They might look a bit fancy, but they come together in just minutes!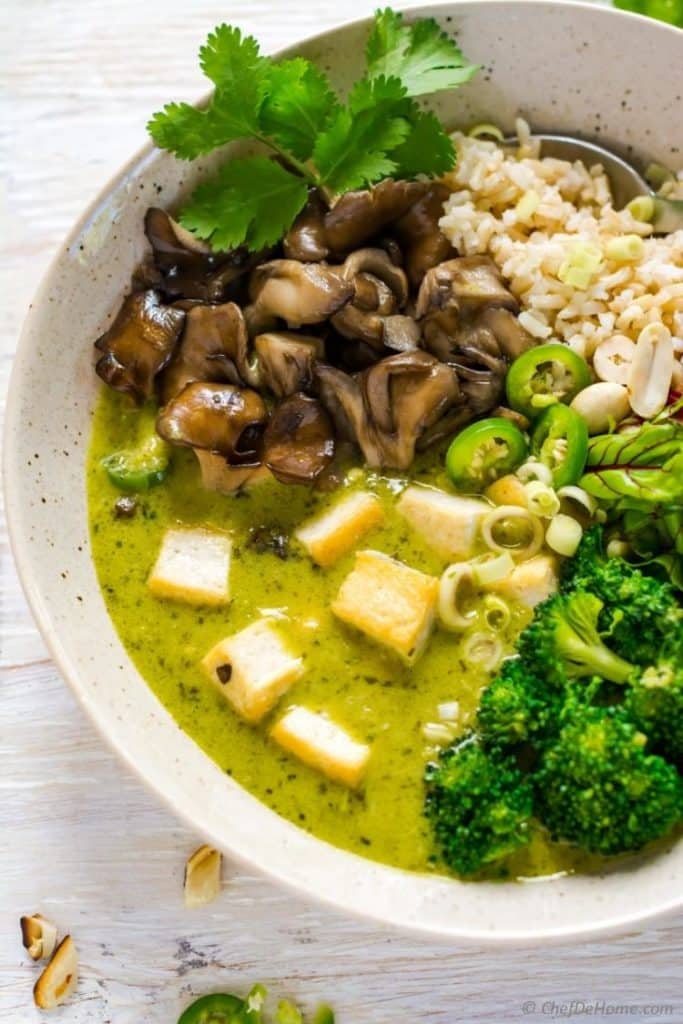 This Thai green curry by Savita from Chef de Home is packed with flavor and nutrients and comes together in only 20 minutes. Savita used homemade Thai green curry paste, maitake mushrooms, broccoli and crispy tofu for this healthy and comforting dish.
These vegan meatballs are the perfect comfort food. They're really easy to make, so delicious, and incredibly healthy! Serve them with spaghetti for a quick and easy dinner. I promise you that you will LOVE them. They're one of my all-time favorite recipes!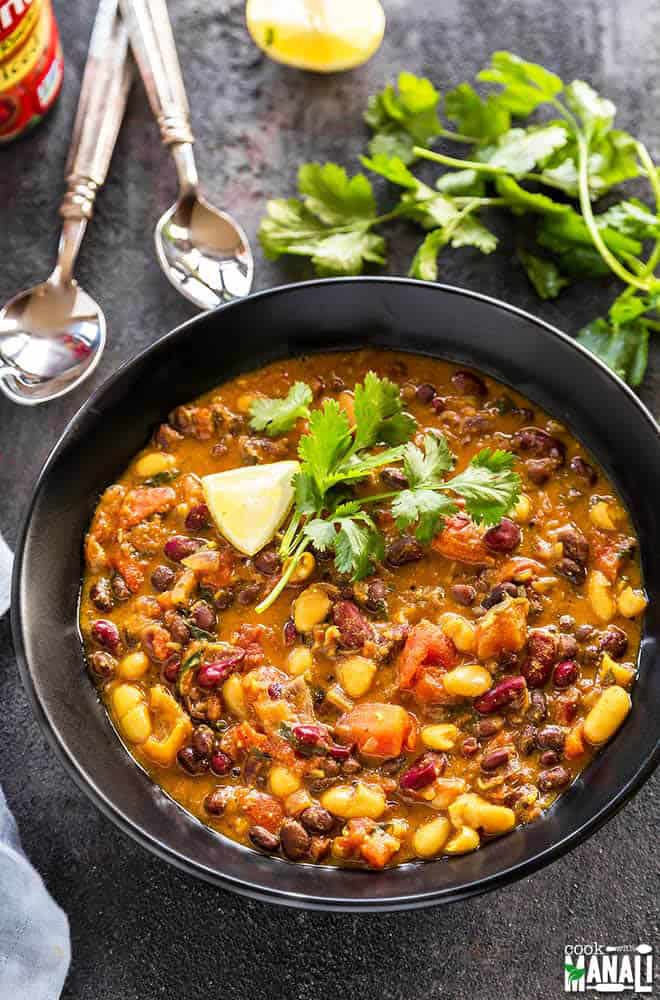 If you like legumes, this easy three been curry by Manali from Cook with Manali is the perfect recipe for you! It makes such a great vegan dinner recipe. It's gluten-free and very good for you. The beans got so many nutrients! Plus, it's pretty filling!

Don't you just love the color of this simple beet and coconut pasta by Evi from Green Evi? This healthy vegan meal comes together in only 20 minutes! Evi topped it off with roasted pine nits and fresh mint. So many delicious flavors going on here!
I love hummus and I love pizza. So I thought why not just make hummus pizza?! Instead of tomato sauce, I spread hummus on the pizza dough. I also added spinach, cherry tomatoes, mushrooms, artichokes, olives, and red onion.
This pizza soon became one of our favorite vegan dinner recipes!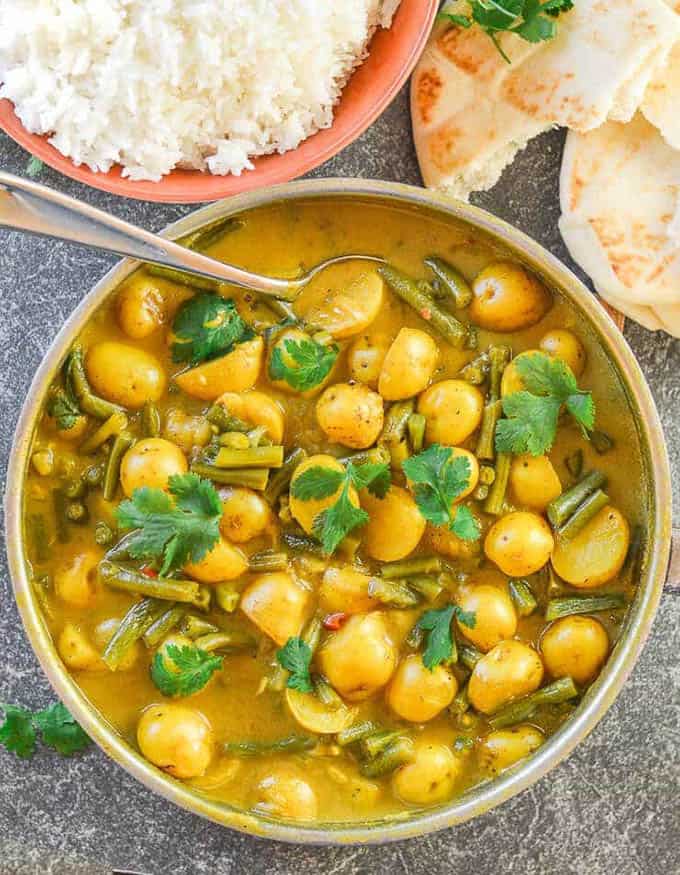 This green bean potato curry by Melanie from A Virtual Vegan couldn't be easier. It's super budget-friendly and you need only eight ingredients. And most of all it doesn't require any fancy or hard to find spices. It can also be made in the Instant Pot.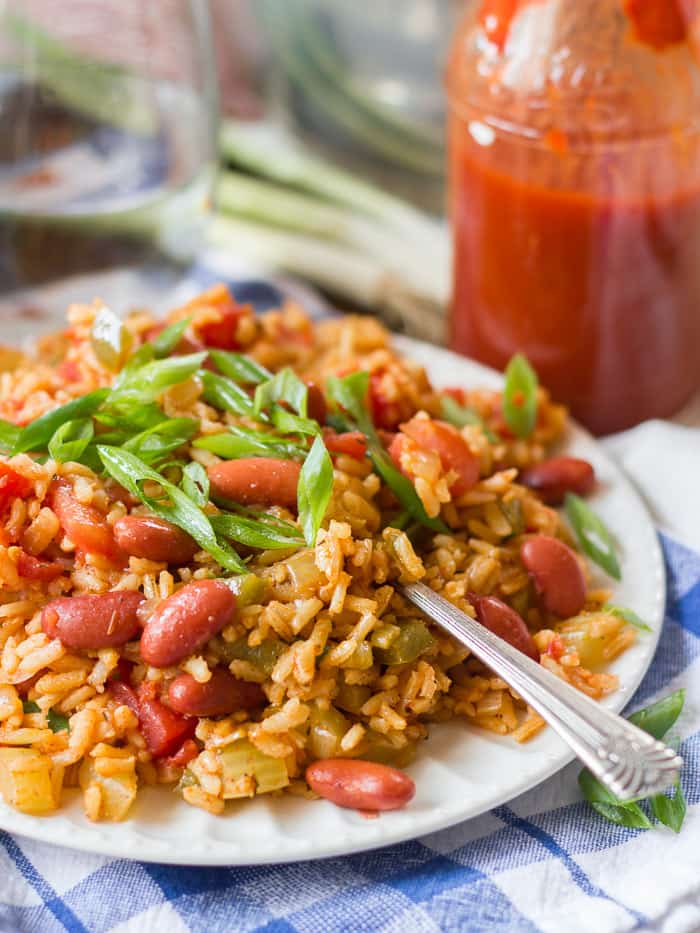 This easy vegan jambalaya by Alissa from Connoisseurus Veg is made of a mixture of brown rice, red beans, and bell peppers. It makes a great and filling vegan dinner recipe! If you want you can also let it simmer away in the slow cooker for even more flavor!

Bianca from Elephantastic Vegan made this vegan asparagus pasta for a romantic date night. But it will also make a great vegan weeknight dinner! You don't have to spend all evening in the kitchen to enjoy this comforting meal. Top if off with some homemade cashew Parmesan for even more flavor!
Who could say no to this vegan Tikka Masala by Alisa from Go Dairy Free?! It looks super creamy and sooo comforting. Garnish it with fresh cilantro and serve it with dairy-free Indian Naan bread or heated rice for an easy dinner!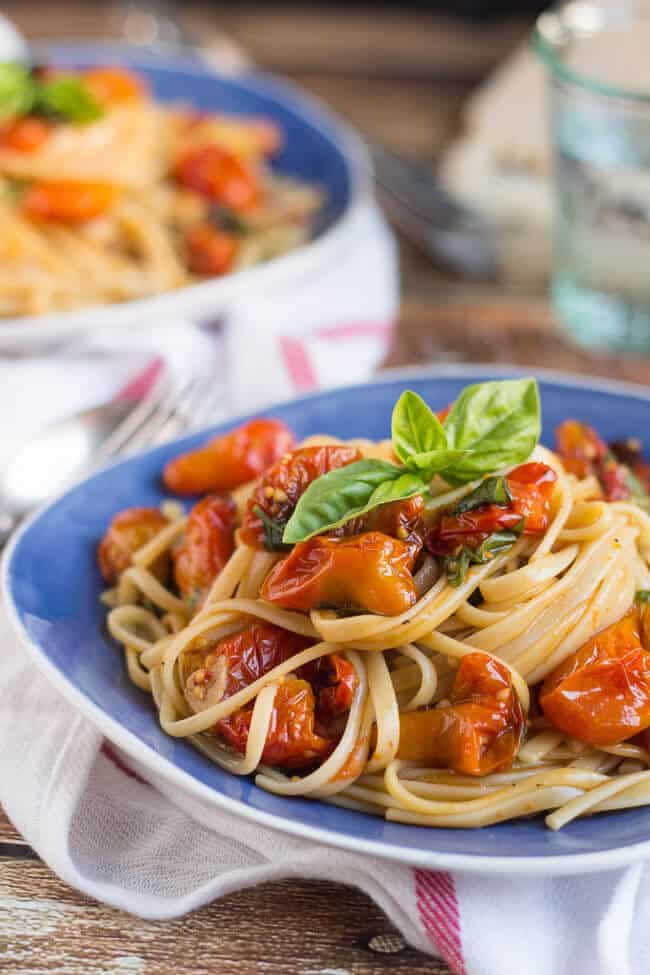 This is what I call a real tomato sauce! Doesn't this roasted cherry tomato sauce by Tania from The Cook's Pyjamas look scrumptious? All in all, this recipe comes together in under 30 minutes!

Can you believe that this mushroom and kale pesto penne by Jasmin from The Happiness Kitchen comes together in only 15 minutes? Feel free to add in extra protein like smoked tofu to make this recipe even more nutritious.
Are you a fan of Mexican food? Then you should try this easy Mexican brown rice bake by Gin from Eat Healthy Eat Happy. It's packed with flavor and nutrients.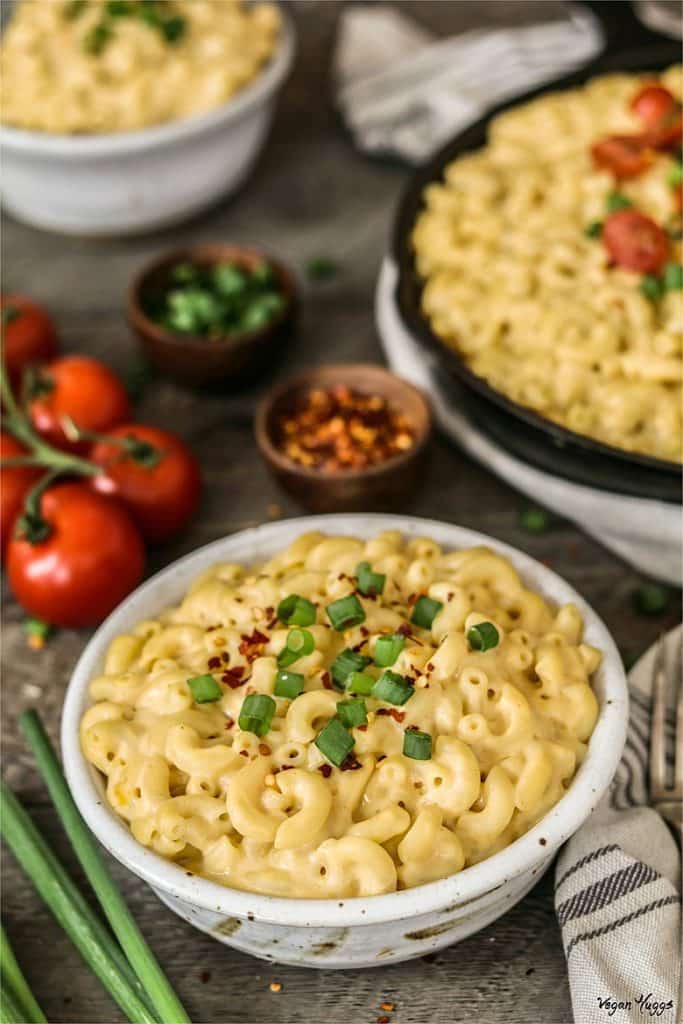 Of course we need a vegan mac and cheese recipe in a roundup on easy vegan dinner recipes! This vegan mac and cheese by Melissa from Vegan Huggs looks so incredibly creamy. It's the perfect comfort food!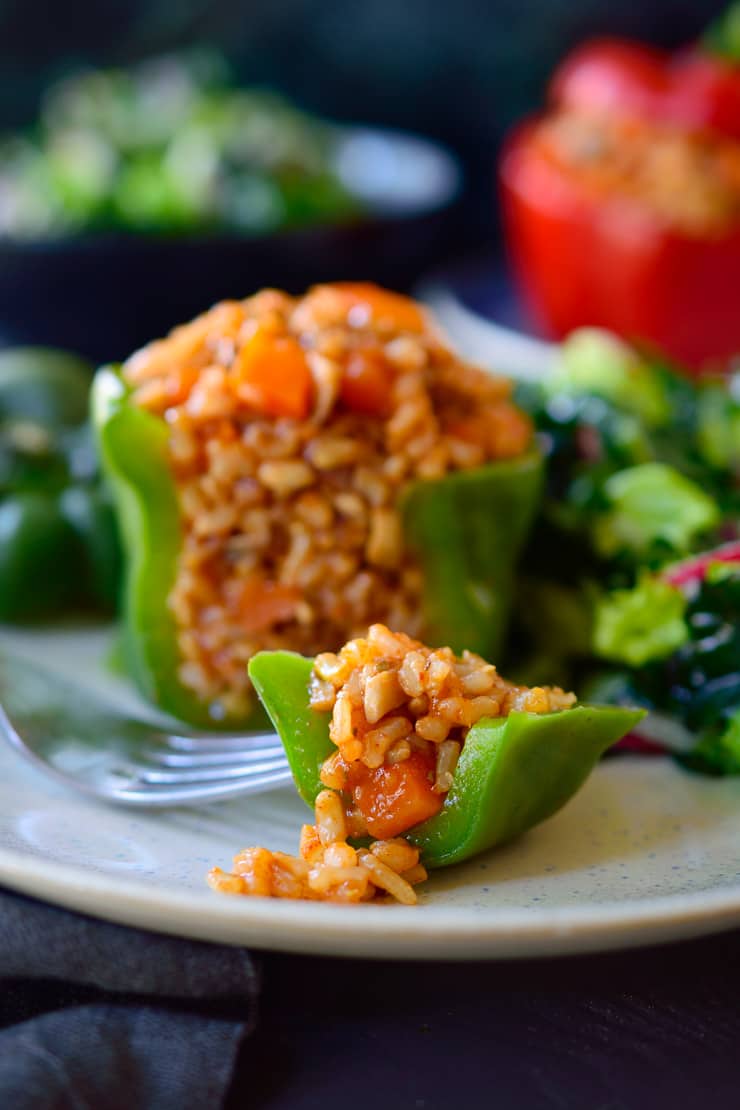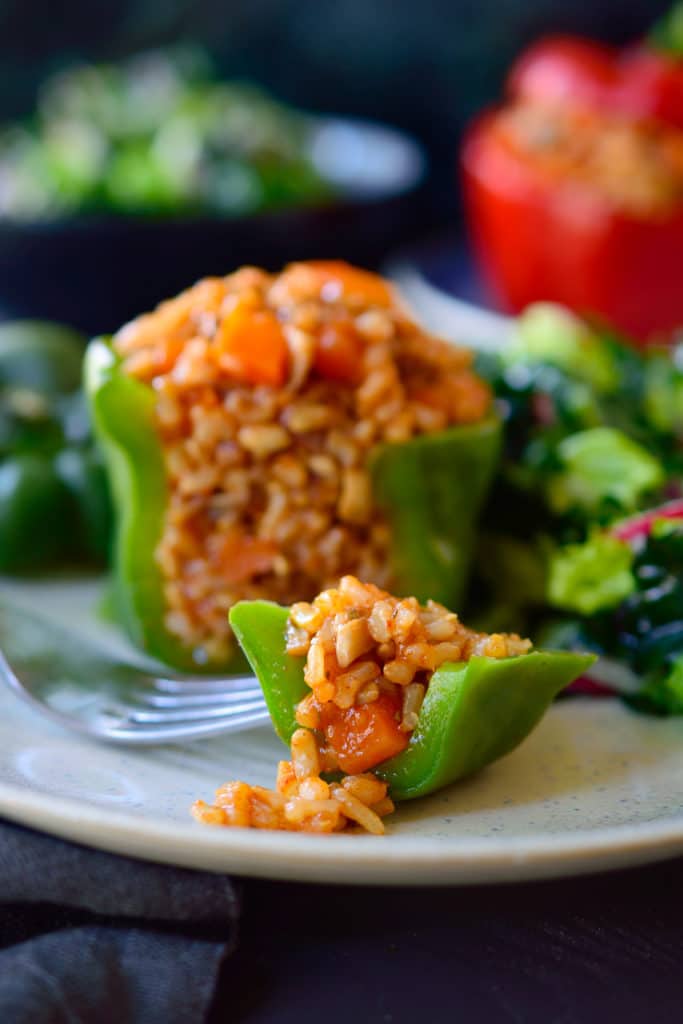 I love vegan stuffed peppers! These stuffed peppers by Melissa from The Stingy Vegan can be made ahead for a quick dinner with minimal prep. They're also extremely budget-friendly!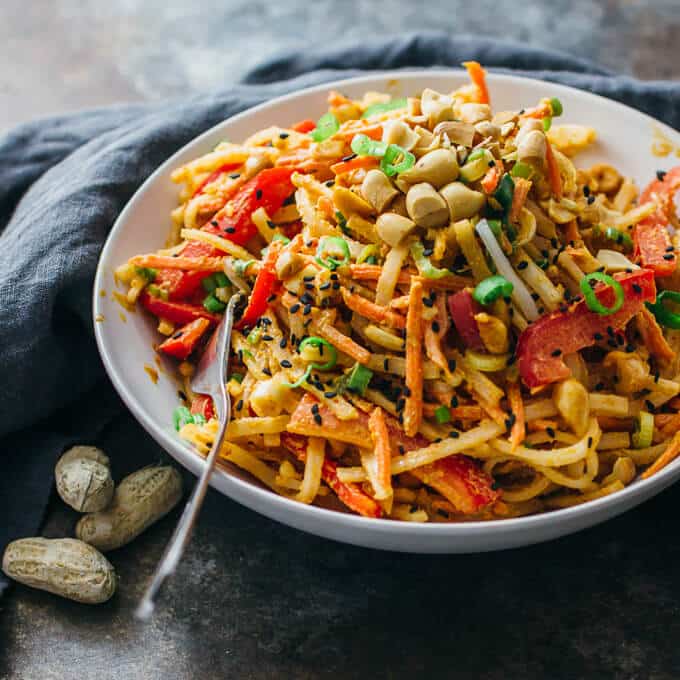 This cold peanut noodle salad by Julia from Savory Tooth makes a great and easy dinner recipe for hot summer days. It's a combination of noodles, vegetables, and a spicy peanut dressing. It's topped off with sesame seeds.
This spinach coconut zucchini soup by Lucy from Supergolden Bakes is the perfect meal for cold fall or winter days. Top it off with garlic croutons and fresh herbs!

This vegetarian Mexican rice by Manali from Cook with Manali makes a great vegan side dish! It can even be served as a main dish with tacos or burritos.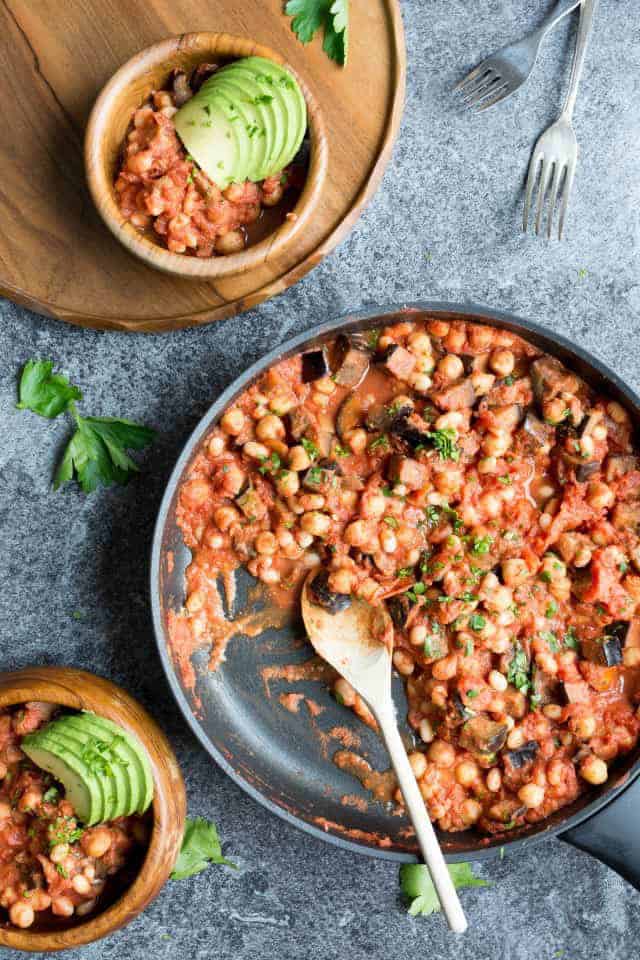 Can you believe that this creamy vegan bean casserole by Lauren from Lauren Caris Cooks is ready in only 10 minutes? Plus it's packed with flavor and nutrients. Vegan dinner can't get much easier!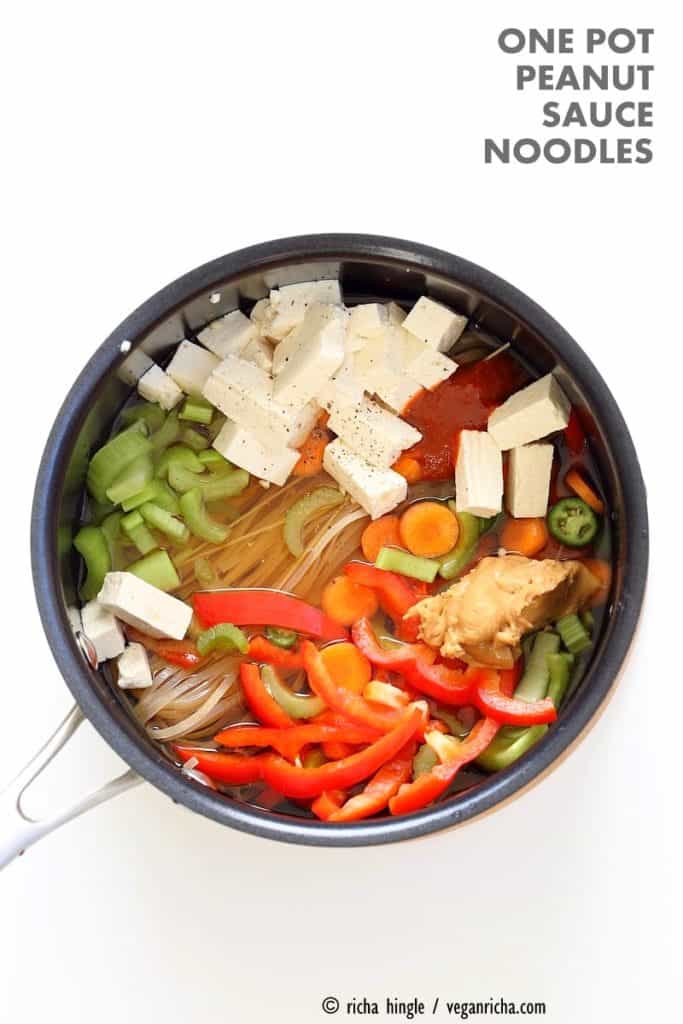 These one pot peanut sauce noodles by Richa from Vegan Richa are ready in only 20 minutes. Perfect when you're craving comfort food!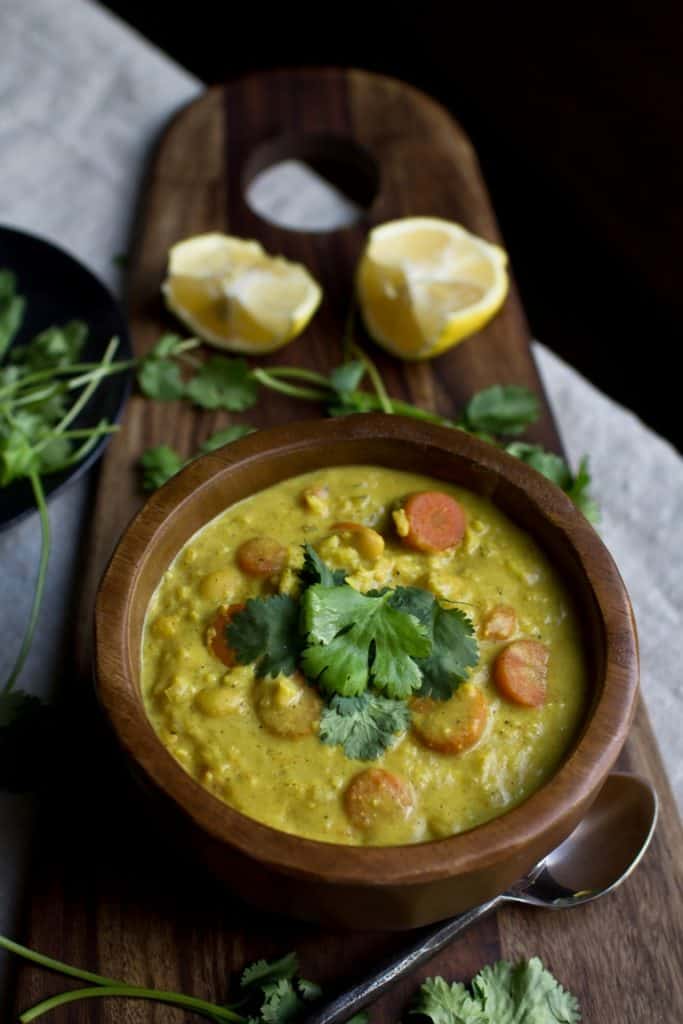 This easy one pot creamy curry rice soup by Brandi from The Vegan 8 is super hearty and filling! And it's made with healthy ingredients, which makes it perfect for a healthy vegan dinner for the whole family. Brandi says it's even better the next day!
Cauliflower is such a versatile vegetable! I love the look of this roasted caulilflower in a sticky sweet orange sauce by Jenn from Veggie Inspired. It's ready in less than 30 minutes!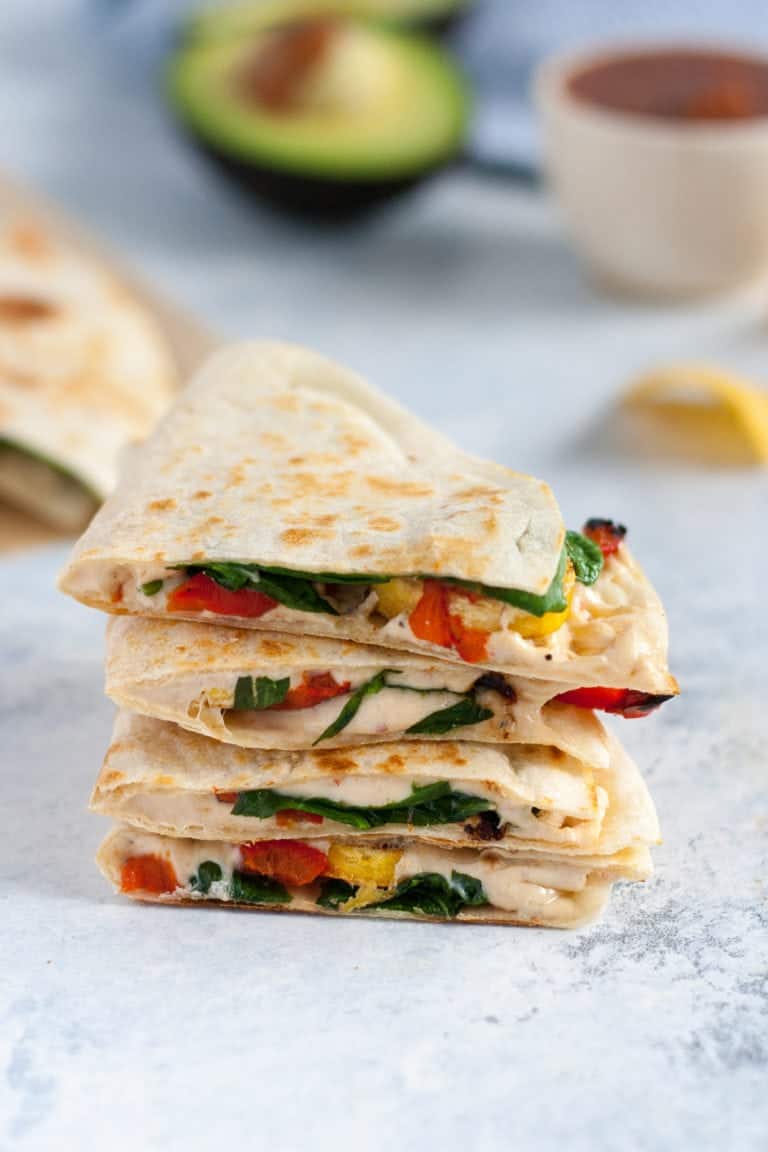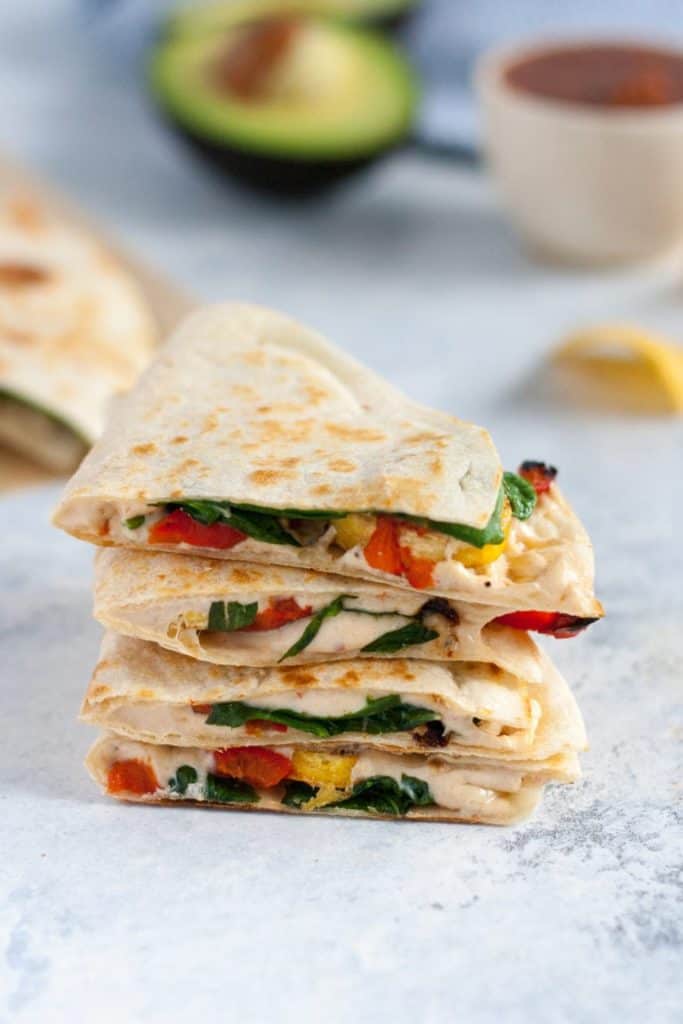 You don't need cheese to enjoy delicious quesadillas. These plantain roasted red pepper quesadillas by Katie and Kate from Well Vegan are the perfect proof!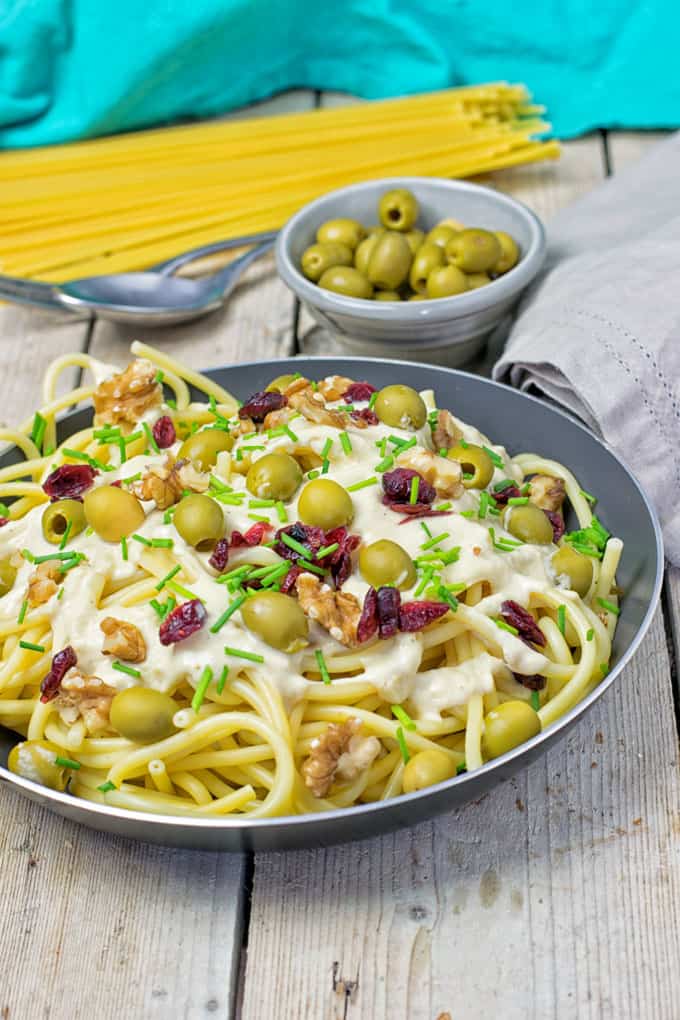 This Mediterranean vegan pasta by Florian from Contentedness Cooking comes together in only 10 minutes. All you need is five ingredients. I mean I just had to include this recipe in my roundup of vegan dinner recipes, right? Dinner can't get much easier!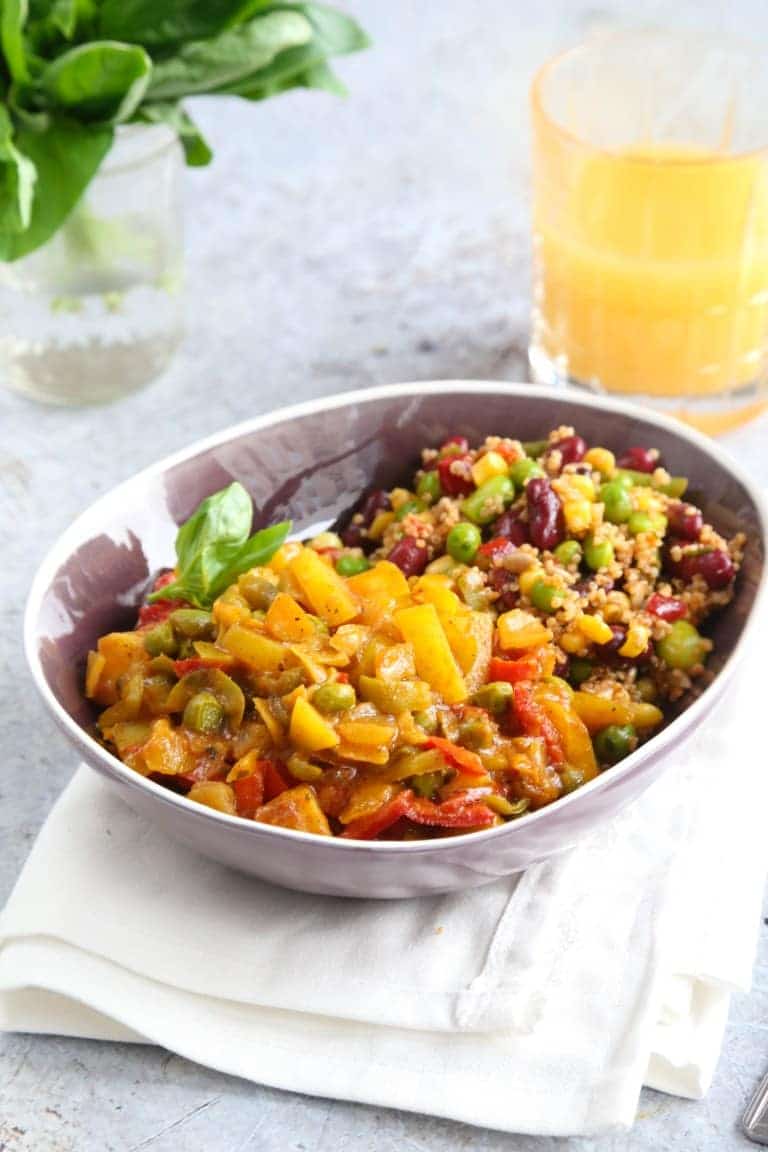 This vegan superfood bowl by Diana and Natalia from Little Sunny Kitchen is made with zesty bean quinoa, onions, potatoes, bell peppers, and peas. It's super easy and extremely flavorful!
I LOVE TO HEAR FROM YOU GUYS!
I hope you like this roundup of easy vegan dinner recipes as much as I do. Don't forget to pin or share this post to always have these easy vegan dinner recipes ready!
If you give any of these vegan dinner recipes a try, I'd love to know what you think about it. Just leave me a comment below. Your comments really make my day!
You like my recipes and roundups and want to see more? Then follow me on Facebook, Instagram, or Pinterest! 
Sina – xx