If you're looking for healthy and simple dinner recipes, you will love these 40 easy lentil recipes! Lentils are super versatile, packed with protein and nutrients, and extremely delicious.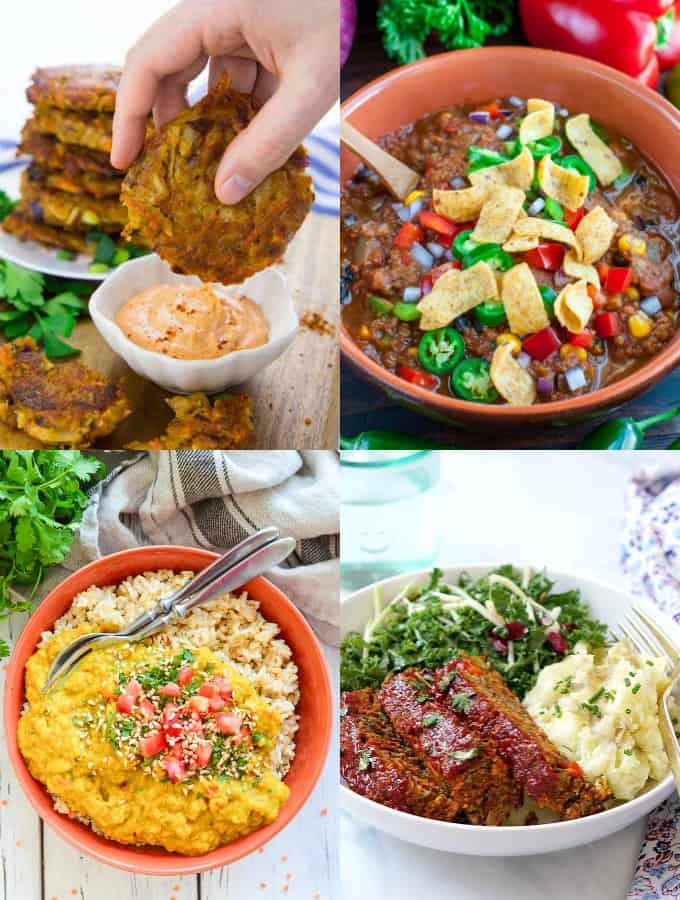 I'm a huge fan of lentils. Red lentils, green lentils, and brown lentils – I love them all! I've some delicious vegan lentil recipes on the blog like my lentil loaf or red lentil fritters. Since I wanted to provide you with even more easy lentil recipes, I teamed up with some fellow food bloggers. And the outcome is this stunning list of lentil recipes!
I just wanna try all of them at once!
We've got you covered with so many lentil recipes that are perfect for dinner. We've got:
lentil soup recipes (instant pot and stovetop)
chilis and stews with lentils
tacos with lentils
lentil patties and fritters
lentil burgers
shepherd's pie filled with lentils
dal
vegan meatballs made of lentils
creamy curries with lentils
and some delicious lentil salads
All of the lentil recipes are vegan, easy to make, and super delicious!
Some Interesting Facts about Lentils
Are lentils gluten-free?
Yes, like beans and peas lentils are naturally gluten-free. So you won't even find a "may contain" statement on dried or canned lentils. In most cases the risk of contamination is very low.
In fact, lentils are very good for people with celiac disease as they are very nutritious. However, be careful when you buy processed lentil products like canned lentil soup as for some people even the tiniest bit of gluten can cause problems. The seasoning might contain gluten. So just keep an eye out for any traces and check the labels.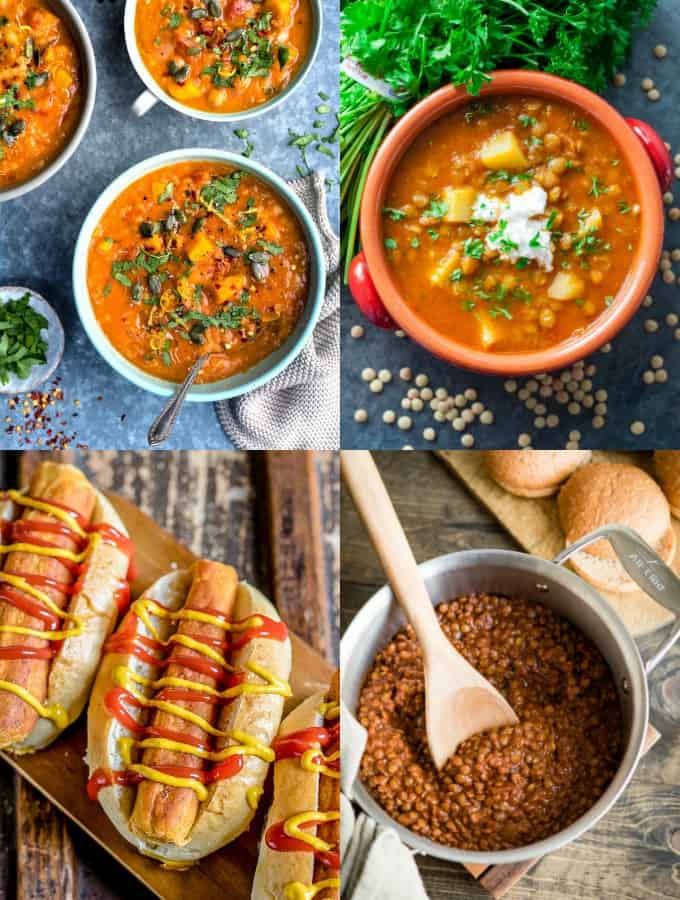 Are lentils carbs?
Yes, lentils are carbs. They provide you with healthy, complex carbohydrates. Half a cup of cooked lentils has about 20 grams of slowly-digested carbs. However, this amount of lentils also contains 8 grams of fiber, which helps stabilize your blood sugars. Besides, it also helps your digestive system. So adding lentils to your diet is a very good idea!
If you're on a strict low-carb diet, you have to go easy on lentils and beans. However, you can still profit from small amounts of these delicious legumes. You just have to reduce the serving size to keep your level of carb intake low.
But always keep in mind that lentils are healthy carbs and provide you with tons of nutrients. Cookies, ice cream, and cake on the other hand contain lots of carbs as well but little to zero nutritional value.
Are lentils good for you?
Yes, lentils are very good for you. They're incredibly healthy!
Lentils are high in fibre and complex carbohydrates
They are low in fat and calories.
Lentils are a great source of protein for vegans and vegetarians.
They contain tons of vitamins and minerals (for example iron, folate, zinc, and vitamin B1)
Lentils are naturally gluten-free, which makes them a great staple for people with celiac disease.
Besides, they have a low glycemic index, so they're also great for a diabetic diet
Aaaaand lentils are super delicious and versatile!
So eat more lentils everyone!
Are lentils protein?
Yes, lentils are a great source of protein. One cup of lentils contains about 18 grams of protein.
However, lentils are considered an incomplete protein. This means they don't have all nine essential amino acids. Eating them together with rice ensures that you have a complete protein. It doesn't even necessarily have to be the same meal.
Are lentils legumes?
Yes, lentils are legumes.
Other legumes are:
How are lentils grown?
Lentils are a cool-seasoned legume.  Lentil seeds grow in pods, usually with two seeds in each pod. The seeds of lentils germinate in ten days. Then you have to wait 80 to 110 days to harvest them.
Now that we have all the important facts about lentils covered, let's move on to the delicious part of this roundup. The lentil recipes!!
As always, click on the title underneath each photo for the recipe.
40 Easy Lentil Recipes
1.  Vegetable Potato Fritters with Red Lentils
2. Vegan Lentil Chili by Jenn from Peas and Crayons
3. Pressure Cooker Sweet Potato Chickpea Red Lentil Soup by Lucy from Super Golden Bakes
4. Vegan Tacos with Lentil Walnut Meat
5. Vegan Lentil Loaf by Marina from Yummy Mummy Kitchen
6. Turkish Lentil Bulgur Wheat Patties by Amy from The Cook Report
7. Vegan Lentil Burger with Basil Mayonnaise
8. Vegan Lentil Shepherd's Pie by Jess from Choosing Chia
9. Creamy Red Lentil Dahl by Melanie from A Virtual Vegan
11. Lentil Meatballs by Michelle from Healthier Steps
12. Lentil Chickpea Yellow Curry by Florian from Contentedness Cooking
13. Vegan Taco Salad with Lentil Walnut Meat
14. Hearty Vegan Mushroom, Ale & Lentil Pie by Kate from The Veg Space
15.  Lentil Salad with Spinach and Pomegranate
16.  Carrot Lentil Hot Dogs by Kate from Veggie Desserts
17.  Lentil Stew with Mushrooms and Spinach by Carolyn from Umami Girl
18.  Spaghetti with Lentil Bolognese
19. Vegan Lentil Burger by Florian from Contentedness Cooking
20.  Madras Lentil Soup by Jenn from Peas and Crayons
21.  Vegan Wellington with Mushrooms, Lentils, and Veggies by Richa from Vegan Richa 
22. Vegan Red Lentil Soup with Coconut Milk
23. Roasted Cauliflower Salad with Lentils by Jenn from Veggie Inspired
24.  Keema Lentils by Melanie from A Virtual Vegan
25.  Sweet Potato Peanut Stew with Red Lentils by Caitlin from From My Bowl
26. Lentil Sloppy Joes by Kiersten and Stephanie from Hello Veggie
27. Jamaican Lentil Patties by Michelle from Healthier Steps
28. Little Lentil Loaf with Mushrooms and Sage by Amber from Quite Good Food
29. Baked Red Lentil Quinoa Fritters by Jenn from Veggie Inspired
30. Spanish Style Vegan Lentil Stew by Melissa from The Stingy Vegan
31. Red Lentil Dhal by Food or Mood
32.  No Meat Balls in Tomato Sauce by Jana from The Vegan Monster
33.  Quinoa Lentil Salad with Tomatoes by Michelle from The Last Food Blog
34.  Vegan Lentil Bals with Sweet and Sour Sauce by Ginny from Vegan in the Freezer
35.  Southwestern Lentil Brown Rice Salad by Erin from Platings and Pairings
36. Fall Harvest Kale Salad by Charity from Vintage Kitty
37. Lentil Tacos by Bintu from Recipes from A Pantry
38. Marinated Mushroom Bowls by Alisa from Go Dairy-Free
39. Vegan Lentil Meatballs by Marina from Yummy Mummy Kitchen
Greek Lentil Soup Fakes by Sophia from Veggies Don't Bite