I absolutely LOVE Mexican food, so I took my tacos with lentil walnut meat to the next level and made a vegan taco salad! We expected it to be good but it was actually AMAZING!! And the best thing is that I made waaay too much, so I could take it to work the next day. Flo and I are both pretty good eaters, but the lentil walnut meat is super filling, so we just couldn't eat it all! But I absolutely love having leftovers, so that wasn't a problem at all. Especially when it's this healthy and delicious!!
Plus, this vegan taco salad is packed with tons of nutrients!!
Lentils are an excellent source of cholesterol-lowering fiber, folate, magnesium, and iron. They're actually real superstars! I usually use red lentils to make soups, spreads, and curry but for this recipe I used brown lentils instead.
And it's even healthier when you pair them with walnuts. They contain plant-based omega-3 fat acid, which is good for your heart as well as a lot of rare and helpful antioxidants. Besides, eating healthful amounts of nuts can help you maintain your ideal weight. And they're even said to reduce the chance of cancer and diabetes. So it's pretty safe to say that this lentil walnut meat is a lot healthier than ground meat.
We enjoyed the lentil walnut meat with some lettuce, corn, black beans, green onions, fresh cilantro, and some homemade salsa and vegan sour cream. Oh, and of course we also added some nachos, so I guess it's basically a nacho salad.
The recipe for the vegan sour cream couldn't be easier. You only need four ingredients (not including salt and pepper): cashews, water, one clove of garlic, and lemon juice. Just combine all ingredients in a blender and process until smooth. It's best to soak the cashews for at least 30 minutes. If your food processor got problems processing the cashews just add a splash of water.
The vegan sour cream is not only super delicious with this vegan taco salad, but it's also great with potato wedges or baked potatoes!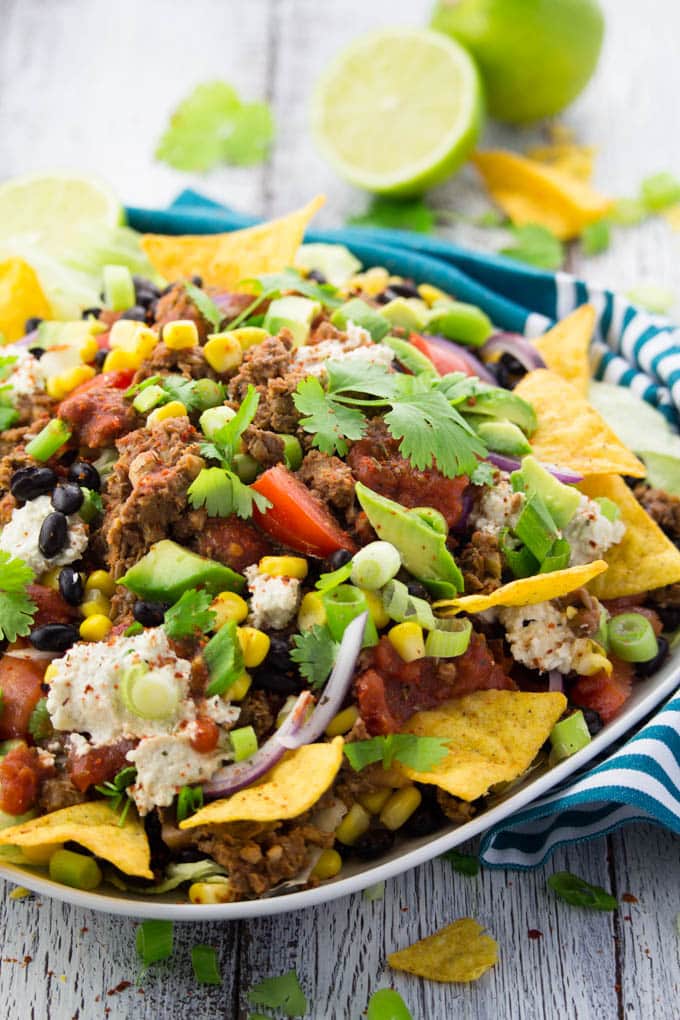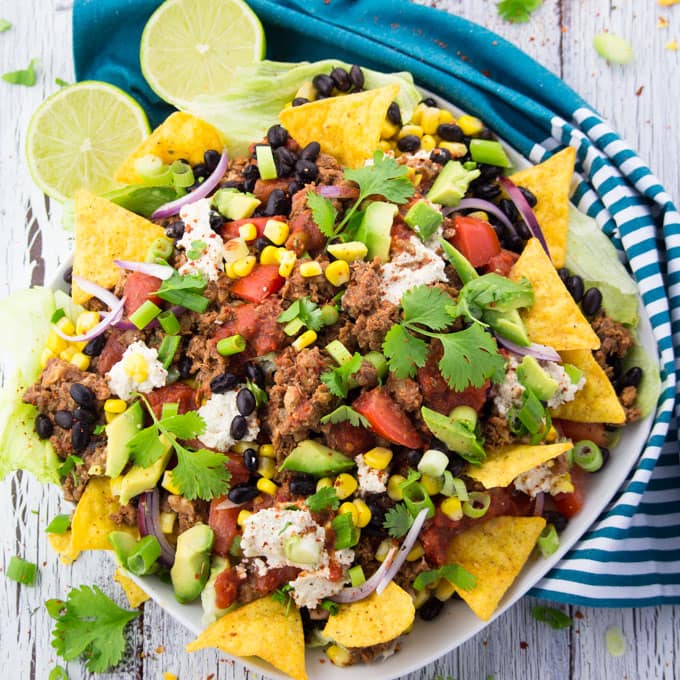 I hope you like this healthy vegan taco salad as much as we do!
Have a great week! xx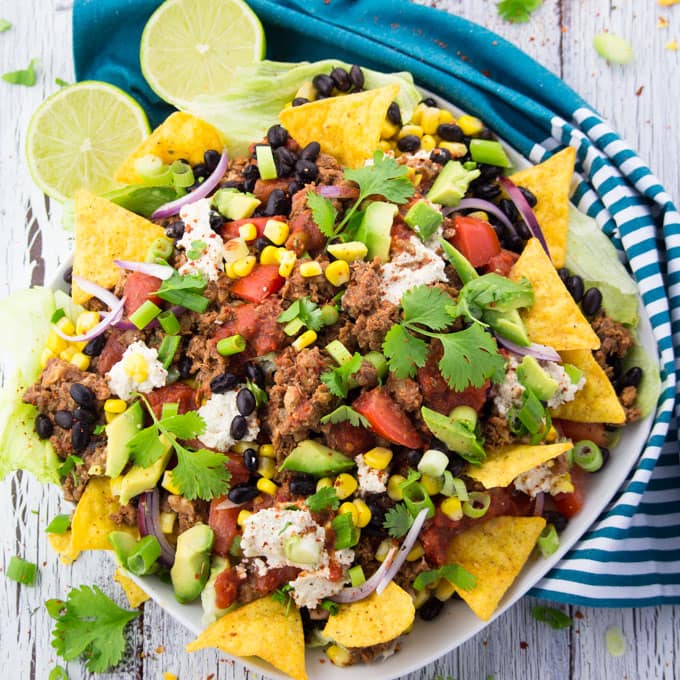 Vegan Taco Salad with Lentil Walnut Meat
I can guarantee you nobody will miss the meat in this vegan taco salad with lentil walnut meat, black beans, and avocado! It's super delicious and healthy!
Print
Pin
Rate
Ingredients
For the lentil walnut meat:
1

cup

walnuts

1

cup

brown lentils

1

tablespoon

olive oil

1/2

onion

1

tablespoon

tomato paste

1/2

cup

diced tomatoes

1

teaspoon

cumin

1

teaspoon

paprika powder

2

teaspoons

oregano
For the cashew sour cream:
1

cup

cashews, soaked for 30 minutes

1/4

cup

lemon juice

1

clove of garlic
For the salad:
1

cup

corn

1

cup

black beans

lettuce, roughly chopped

2

green onions, cut into rings

1/2

red onion, cut into half rings

1

cup

nachos

1

avocado, cut into slices

1/2

cup

fresh cilantro

1

tomato

3/4

cup

tomato salsa
Instructions
Cook the lentils according to the instructions. Drain and set aside. In a medium pan, roast the walnuts without oil for about 2 minutes or until they're lightly golden. Put the walnuts and the cooked lentils in a food processor and process until chopped. Make sure to leave some texture!

In a medium pan, heat the olive oil over medium heat and sautée the onions for about 3 minutes. Then add the lentil walnut mixture and stir in the tomato paste. Cook for 2 minutes. Add the diced tomatoes and the spices (paprika powder, cumin, oregano, salt, and pepper).

Make the sour cream: Drain the cashews and put all ingredients in a food processor and process until smooth. Season with salt and pepper.

In a large bowl, combine the lettuce, the corn, the tomato, the avocado, the salsa, and the black beans. Serve with the lentil walnut meat, cashew sour cream, and the nachos on top and sprinkle with green onions, red onions, and fresh cilantro.
Rate the recipe!
If you like this recipe, please leave a good rating! This will help other readers.