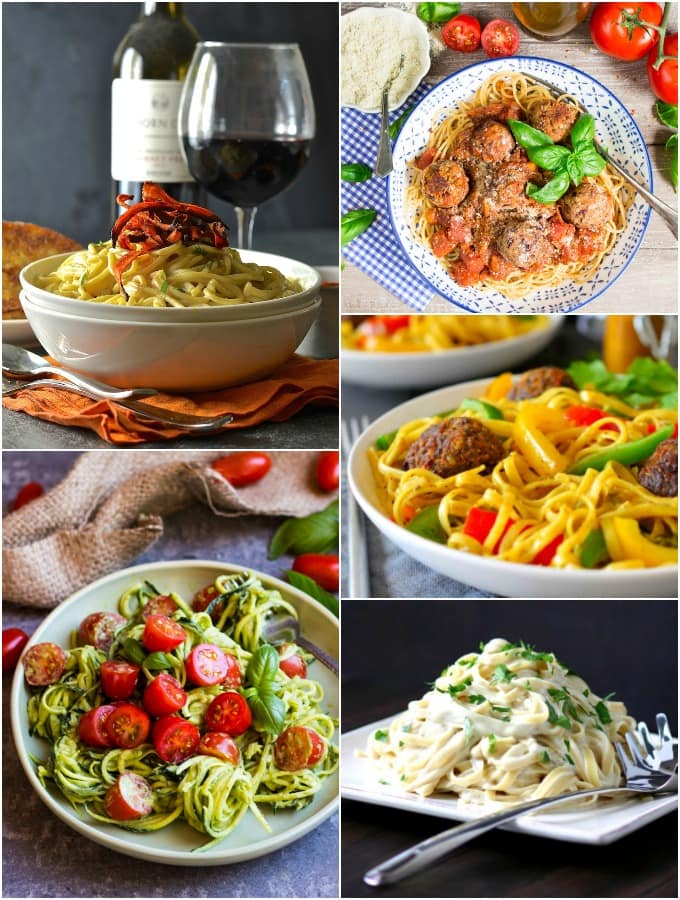 Pasta has always been the perfect comfort food for me. And the fact that I became vegan about 5 years ago didn't change that! You don't need meat, dairy, eggs, or fish to enjoy delicious pasta dishes. These 30 delicious vegan pasta recipes are the perfect proof! As every month, I teamed up with some fellow bloggers to provide you with a great roundup of vegan meals. I got a vegan burger roundup, a muffin roundup, a soup roundup,an ice cream roundup, and lots of seasonal roundups (Christmas, Thanksgiving, Halloween, Valentine's Day, and Easter). But a roundup with vegan pasta recipes was still missing from my collection. So here it is!
We got some delicious vegan pasta recipes for every taste:
Spaghetti with vegan meat balls
Vegan meat sauces
Pasta with vegan pumpkin sauce
Cheesy and creamy vegan sauces
Mediterranean Pasta with Veggies
Asian Noodles
Vegan one pot pasta
…and sooo much more!!
So let's get started…
30 Delicious Vegan Pasta Recipes
Spaghetti with Vegan Meat Balls (Bean Balls)
Vegan Pumpkin Pasta by Melissa from Cilantro and Citronella
Chickpeas in Spicy Smoked Tomato Sauce by Sophia by Veggies Don't Bite
Rasta Pasta Recipe by Melissa from Cilantro and Citronella
10 Minute Mediterranen Pasta by Florian by Contentedness Cooking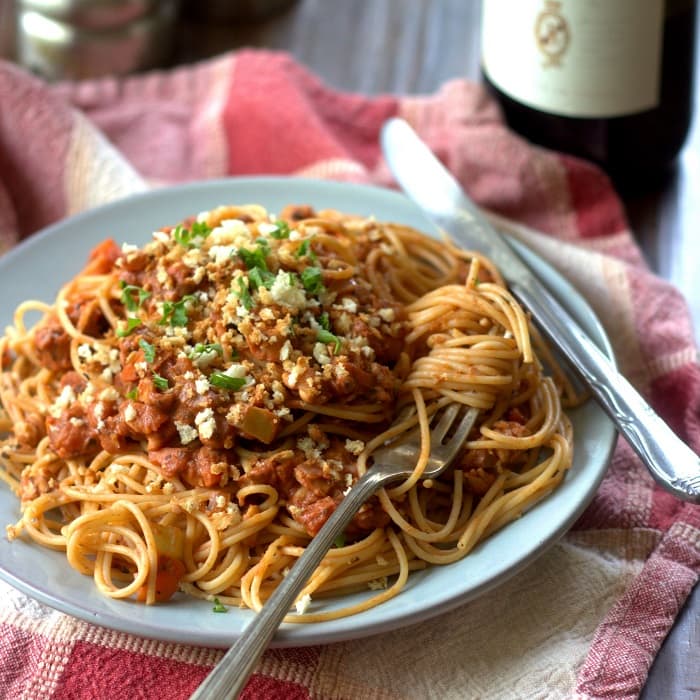 Spaghetti with Tempeh Vegan Ragu with Toasted Panko by Alissa from Connoisseurus Veg
Creamy Vegan White Wine Sauce with Peppers Pasta by Brandi from The Vegan 8
Fresh Herb Gemelli Pasta by Linda from Veganosity
Basil Alfredo Zoodles by Anthea from Rainbow Nourishments
Chilled Peanut Noodle Salad with Crispy Tofu by Erica from Erica Julson
Smoky Cajun Black Eyed Peas Pasta by Jenn from Veggie Inspired
Vegan One Pot Spaghetti with Vegetables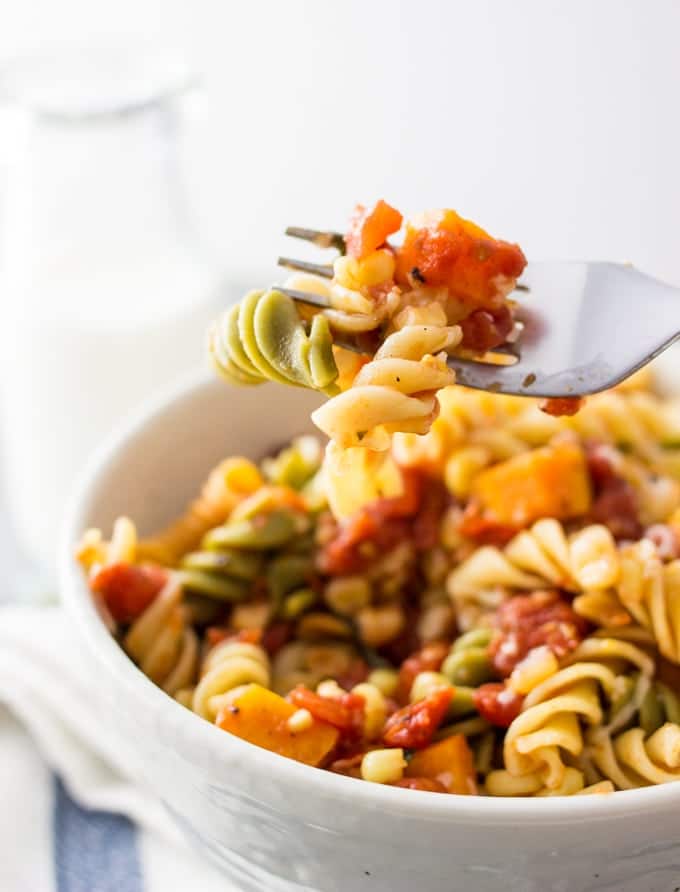 Habanero Sweet Potato Pasta by Julia from Savory Tooth
Mexican Pasta Bake by Florian by Contentedness Cooking
Vegan Chicken Alfredo with Broccoli
Vegan Carbonara by Melanie from A Virtual Vegan
Lemon Garlic Pasta with Roasted Tomatoes by Molly from Apollo and Luna
Pumpkin and Kale stuffed Shells by Jenn from Veggie Inspired
Garlicky Butter Noodles with Red Wine Mushrooms by Cadry from Cadry's Kitchen
Fruity Purple Spaghetti Bolognese by Bianca from Elephantastic Vegan
Vegan Fettuccine Alfredo by Omar Lands and Flavors
Spinach & Caramelised Onion Pasta by Evi from Green Evi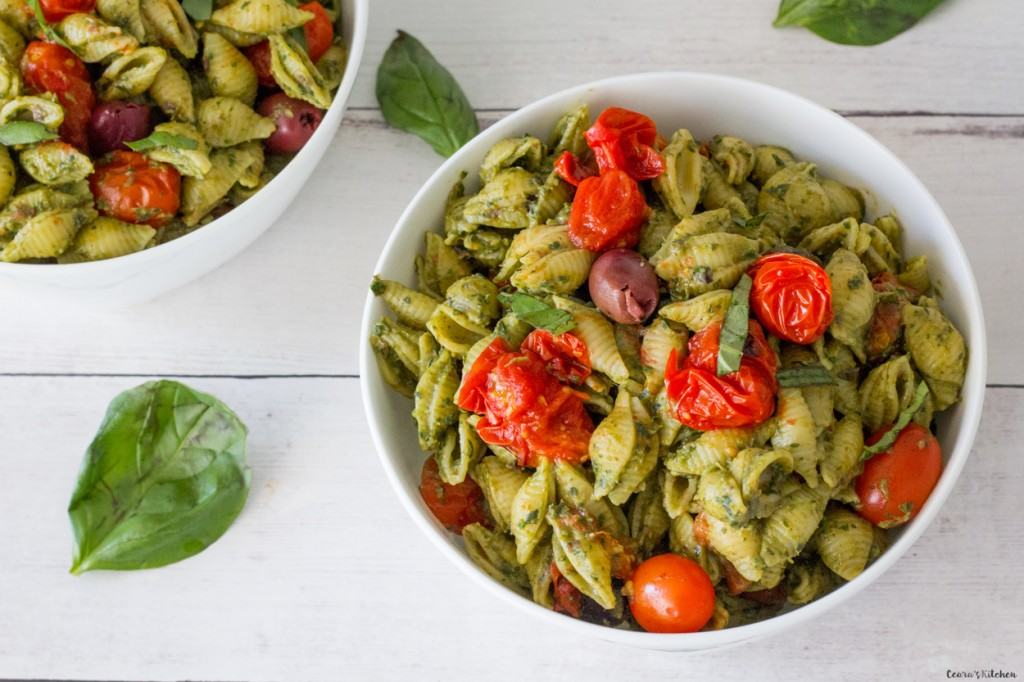 Vegan Avocado Pesto Pasta by Ceara from Ceara's Kitchen
Lemon Basil Pasta with Walnut Parmesan by Gin from Eat Healthy Eat Happy
Vegan Veggie Meat Sauce by Sophia from Veggie's Don't Bite
Peach Pecan Pasta by Gunjan from kiipfit
Creamy Sun Dried Tomato Miso and Basil Pesto Pasta with Roasted Mushrooms by Anjali from Vegetarian Gastronomy