These 21 vegan cookies make the perfect snack! Making vegan cookies is so much easier than you might think! They're all super delicious, easy to make, and perfectly sweet. Besides, many of the vegan cookie recipes in this post are also gluten-free!

This roundup of vegan cookies is perfect for all cookie monsters! Whether you're looking for breakfast cookies or sweet afternoon treats, we've got some great recipes for you!
I've got some delicious vegan cookies on the blog and I absolutely LOVE making cookies. But I wanted to provide you with even more delicious vegan cookie recipes. So I teamed up with some fellow food bloggers. So many delicious vegan cookies in just one place!
We've got a cookie for every taste. Here are some examples:
vegan chocolate chip cookies
pumpkin cookies
vegan peanut butter cookies
ginger cookies
Italian pignoli cookies
vegan raisin cookies
chunky monkey cookies
and sooo many more!
As always, just click on the heading above each photo to see the recipe. 
If you're looking for cookies for the holiday season, check out my roundup of 25 amazing vegan Christmas cookies.
Vegan Cookies – FAQs:
1. How Can You Replace Eggs and Milk in Vegan Cookies?
It's really easy to replace eggs and milk in vegan cookies.
Instead of cow's milk you can use a plant-based milk alternative such as almond milk or soy milk. You can find them in basically every supermarket these days.
Replacing eggs is a bit more difficult, but it's still very easy.
Instead of eggs you could use:
bananans
applesauce
flaxseeds or chia seeds
store-bought vegan egg replacers
or even aquafaba (the liquid from canned chickpeas)
All of these egg replacements work similar to eggs in baked goods. Bananas for example add moisture while flaxseeds work really well for binding. Check out this helpful article on vegan egg replacement for even more information.
2. Can You Freeze Vegan Cookies?
Yes, freezing vegan cookies works really well. However, you should pay attention not to make some common mistakes when freezing cookies.
Baked Cookies will keep in the freezer for about a month. It's important to let the cookies cool down completely before freezing them.
Besides, it's best to freeze them individually on a baking sheet first and then transfer them to a freezer bag after. Otherwise they might stick together. This is especially the case with peanut butter cookies and other sticky kinds of cookies.
When defrosting baked cookies, make sure to take them out of the freezer bag or container, so they don't become soggy because of condensation.
However, you could also freeze cookie dough. It will last in the freezer up to 3 months. When freezing cookie dough, shape the dough into balls. Just like you normally would when you're making cookies.
Freeze them on a baking sheet for about an hour and then transfer them to freezer bags. Remember to write the date and the name of the cookies on the outside of your freezer bag. Maybe it's also a good idea to add the baking instructions on the outside of the freezer bag.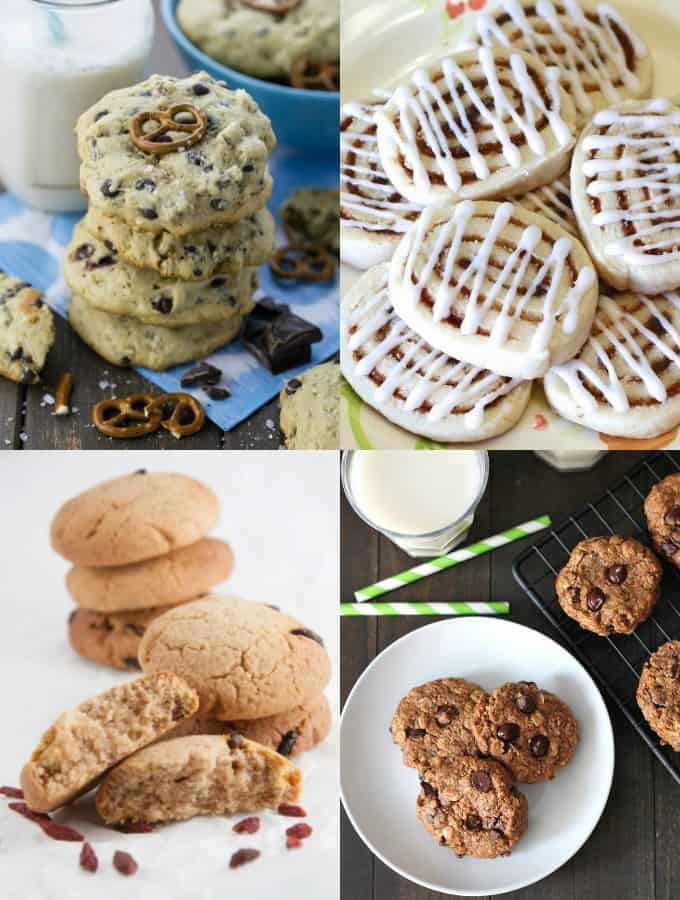 3. Can You Make Vegan Cookies without Sugar?
Yes, making vegan cookies without sugar is possible. If you're looking for healthy cookies, this is definitely the right place!
A great way to make sugar-free cookies is by using bananas or dates as a sweetener. My chocolate banana cookies are a great example. I used two mashed bananas to sweeten them, which worked really well. They make a great and healthy snack.
So let's get started with all the delicious cookies!!
Vegan Cookies – 20 Delicious Vegan Cookie Recipes
These vegan pumpkin cookies with huge chocolate chunks are the perfect treat for cold fall days! They're super easy to make and they're so incredibly delicious! But attention: These vegan pumpkin cookies are super addictive! Haha! They're usually gone SO fast in our house!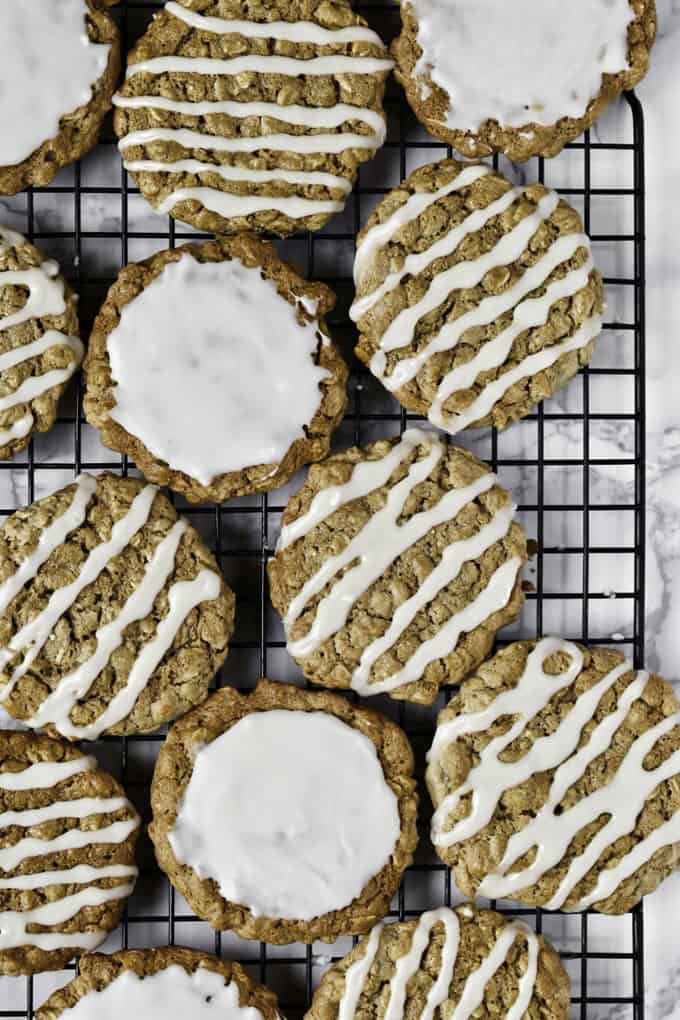 You need only 8 ingredients for these vegan old-fashioned iced oatmeal cookies by Brandi from The Vegan 8. They're made with oats, cashew butter, and maple syrup. And the best thing is that they're gluten-free and oil-free as well!
These peanut butter cookies by Alexandra from Occasionally Eggs are made with coconut flour and maple syrup. They taste just like standard peanut butter cookies while being much healthier! And the best thing is that they're super easy to make!
These chocolate peanut butter no bake cookies are perfect when you feel like having a little treat and don't have enough time for real baking! 10 minutes is all you need!
These oatmeal chocolate chip cookie dough balls by Sophia from Veggies Don't Bite are the perfect sweet treat or snack! They're backed on the outside, while they have a soft cookie dough center. Yummy!
Don't these vegan chocolate chip salted caramel cookies by Tasmin from Cupful of Cake look super decadent? They come together in just 25 minutes. They're best eaten fresh out the oven when the chocolate is still warm and melty!
Matt and Steph from Pasta-Based veganized a traditional Italian pignoli cookie recipe from Steph's grandma to make these delicious vegan cookies. They're made with almond paste and studded with mild pine nuts.
These vegan chocolate chip pretzel cookies are just irresistible!! I think it's the combination of salty and sweet that always gets me…They're ready in just 25 minutes!
This whoopie pie ginger cookies by Florian from Contentedness Cooking are super rich and indulgent! They're filled with a dairy-free cream filling based on coconut milk. The recipe is vegan, gluten-free, and pretty easy to make! Almost hard to believe that they're entirely vegan!
These soft-baked peanut butter oatmeal chocolate chip cookies by Gwen from Delightful Adventures call for just a few simple ingredients. And only 10 minutes baking time. And the best thing is that they're vegan and gluten-free!
These alfajores are definitely a cookie dream come true! Audrey from Unconventional Baker filled her alfajores with gooey vegan caramel and she dusted them with powdered white sugar. BIG yum! Could you say no to this melt-in-your-mouth, soft, gluten-free cookie sandwich?
12. Chocolate Banana Cookies
These chocolate banana cookies are incredibly easy and sooo delicious! You need only four ingredients to make them and they're completely sugar-free. One of my favorite snacks!
These vegan ginger goji cookies by Bianca from Elephantastic Vegan make a great Christmas treat. They're super easy to make and so delicious! So they're just perfect for afternoon tea.
Maybe you are looking for vegan Christmas cookies? Then these chocolate dipped ginger cookies by Linda and Alex from Veganosity are perfect for you! They're easy to make and so warm and savory.
Don't these gluten-free cinnamon roll sugar cookies by Alisa from Go Dairy Free look amazing? They're a real crowd-pleaser and they're very easy to make! And they're super delicious!
16. Gluten-Free Maple Almond Cookies
These gluten-free maple almond cookies by Heidi from The Simple Green are made with oats, almond flour, and maple syrup. And don't forget to sprinkle some maple almonds on top!
These chocolate peppermint crinkle cookies by Rebecca from Strength and Sunshine are gluten-free and vegan. And they make such a great treat for the holiday season!
While traditional chunky monkey cookies are loaded with sugar, this version by Bianca from Elephantastic Vegan is not only vegan, but also oil-free and sugar-free. And they're super fudgy and perfectly sweet!
These oatmeal raisin chocolate chip cookies by Melissa from Vegan Huggs are tender and chewy.  Besides, they're super chocolatey and deliciously sweet. So they make such a great snack!

These vegan snickerdoodles by Melanie from A Virtual Vegan require just a few simple ingredients and no oil. Besides, they came together in under 25 minutes. And they're so puffy, buttery, and cinnamony!
 These vegan orange cinnamon cookies have been one of my favorites for years!  They're extremely easy to make, packed with flavor and nutrients, and sooo delicious! And they're perfect for the holiday season!
I LOVE TO HEAR FROM YOU GUYS!
I hope you enjoyed these vegan cookie recipes as much as I do! Don't forget to pin or share this post so you have these vegan cookies ready when you need them!
If you give any of these recipes a try, I'd love to know what you think about it. Just leave me a comment below. Your comments really make my day!
You like my recipes and roundups and want to see more? Then follow me on Facebook, Instagram, or Pinterest! 
Sina – xx