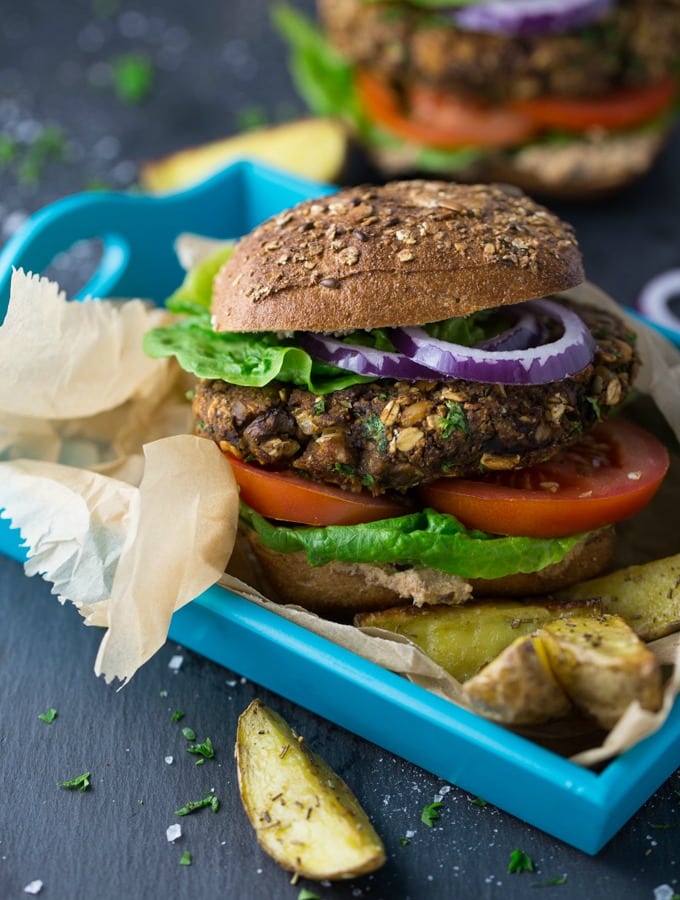 If you've been following my blog for a while, you probably know that I'm a huge burger fan! Although the words "healthy" and "burger" are seldom used in the same sentence, they don't necessarily have to be contrary. Veggie burgers can actually be super healthy! My new favorite veggie burger is this vegan mushroom burger with chickpeas, oats, and lots of fresh parsley. It's super delicious, incredibly healthy, and just perfect for fall and winter!
When making vegan burgers, you often got the problem that the burgers are really delicious but don't hold together very well. Or they're sticking together, but the texture just doesn't seem right. Either it's too soft or too crumbly. I've tried tons of vegan burger recipes over the last couple of years and I think veggie patties with chickpeas are by far the best. They're really firm and have a great texture. I'd say together with lentil burgers chickpea burgers are my absolute favorite! Check out my lentil burger with basil mayonnaise if you like to give it a try.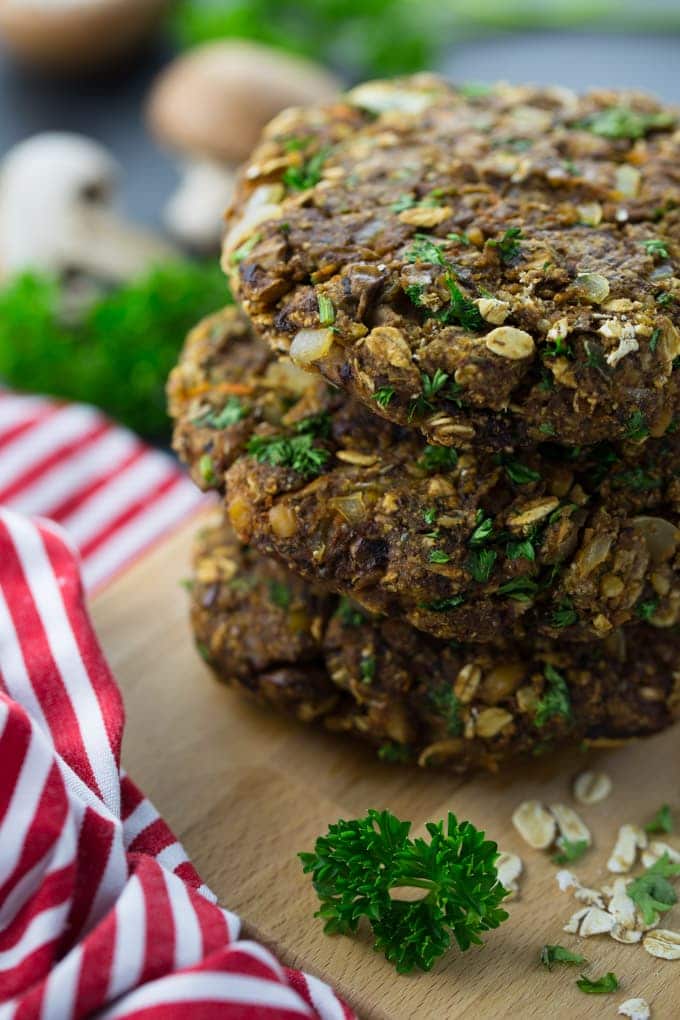 The combination of rolled oats and ground flaxseeds also works really well for vegan burgers. For this vegan mushroom burger, I used cooked chickpeas, flaxseeds, rolled oats, whole wheat breadcrumbs, and a grated carrot. And of course mushrooms!! To make these veggie burgers even firmer, I ground half of the rolled oats into a powder. Or you could also call it oat flour. Either way it really helps with the texture of these veggie burgers. Just use your blender or food processor and pulse the oats for a couple of seconds.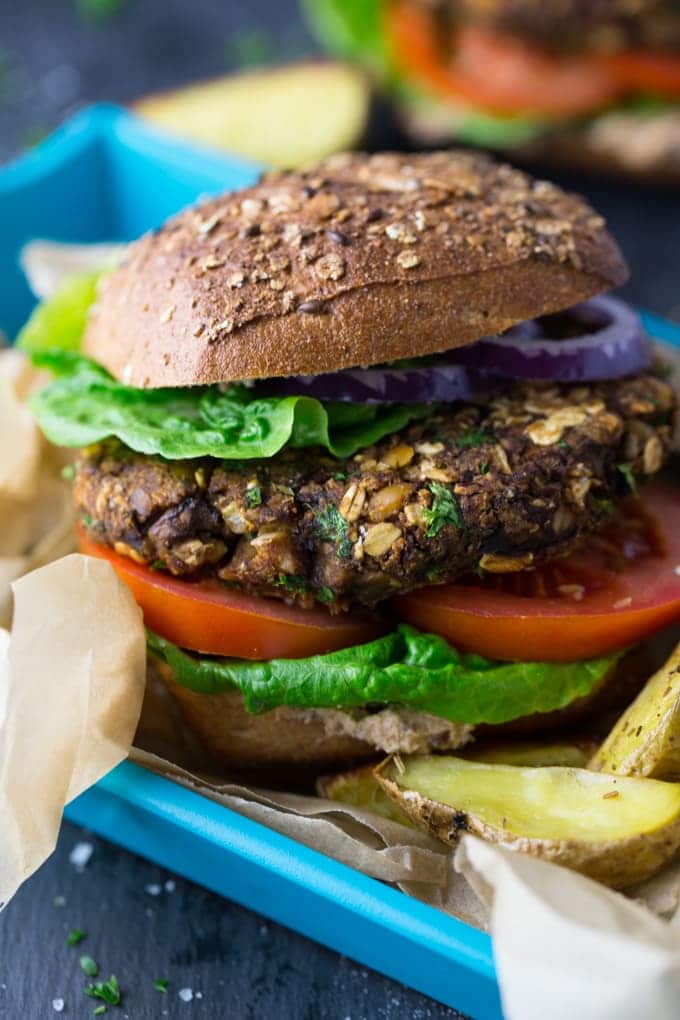 We usually have pan-fried burgers, but lately I've started to make them in the oven. This also works really well for these vegan mushrooms burgers. They got really crispy and you can save lots of oil and unnecessary calories this way. Plus, it's actually much easier to just put them in the oven and wait till they're ready to eat, right? I baked them for 30 minutes and flipped them over after the first 15 minutes. So it's all pretty easy.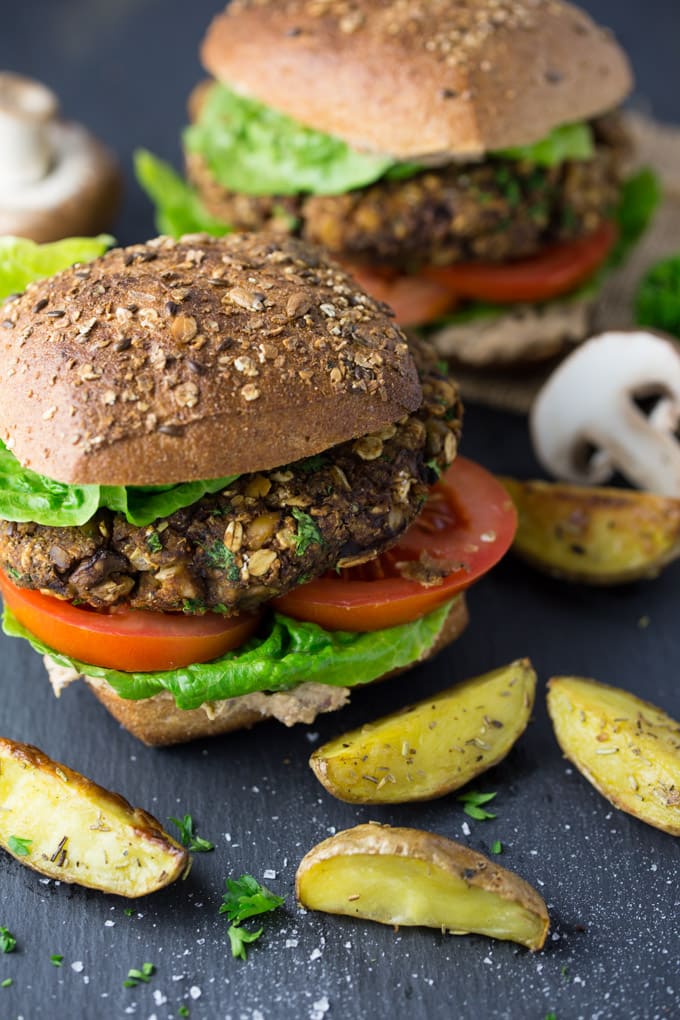 I served these vegan mushroom burgers on whole wheat buns with lettuce, tomatoes, red onions, and a sunflower tomato spread. The spread was store-bought, so I don't have an exact recipe for it. But if you can't find anything similar, the burgers will also be great with ketchup and mustard or any other burger sauce.
I hope you like this vegan mushroom burger as much as we do around here. Have a great weekend! Sina – xx
Vegan Mushroom Burger
This vegan mushroom burger is made with chickpeas, oats, and chopped mushrooms. It's super delicious, incredibly healthy, and easy to make!
Ingredients
For the burger patties:
3

tablespoons

ground flaxseeds

5

tablespoons

water

1 1/2

cups

canned chickpeas, drained

1

onion, chopped

1

clove of garlic, minced

1/2

cup

whole wheat bread crumbs

1/2

cup

rolled oats, ground to oat flour

6

mushrooms, cut into small pieces

1

cup

fresh parsley, chopped

1

teaspoon

soy sauce

1

tablespoon

paprika powder

1

tablespoon

oregano

1

tablespoon

basil

1/2

cup

rolled oats

salt, to taste

black pepper, to taste

red pepper flakes, to taste
For the burger:
4

whole wheat buns

2

tomatoes

1

red onion, cut into rings

4

tablespoons

sunflower tomato spread

You can also use ketchup, mustard, or any other burger sauce instead.

lettuce
Instructions
Combine the ground flax seeds with the water and put aside to soak. In a large bowl, mash the chickpeas with a fork, leaving some chickpeas intact for texture.

Put 1/2 cup of rolled oats into a blender or food processor and ground into a fine powder of flour by pulsing several times.

In a small pan, heat some oil and sauté the onions and the garlic for about 3 minutes. Together with the remaining ingredients, add them to the chickpeas and mix well. Form four large burger patties (or 6 smaller ones).

Line a baking tray with parchment paper and put the burger patties on top. Bake for 30 minutes at 350 °F. Flip them after the first 15 minutes.

Cut the whole wheat buns in halves and cover both halves with the sunflower tomato spread. Alternatively you can of course also use ketchup, mustard, or any other burger sauce. Serve the mushrooms burgers with tomatoes, lettuce, and red onions.
Recipe Notes
*Makes four large burger patties or six smaller ones.
Nutrition Facts
Vegan Mushroom Burger
Amount Per Serving
Calories 304
Calories from Fat 45
% Daily Value*
Total Fat 5g 8%
Sodium 649mg 27%
Potassium 519mg 15%
Total Carbohydrates 55g 18%
Protein 12g 24%
* Percent Daily Values are based on a 2000 calorie diet.