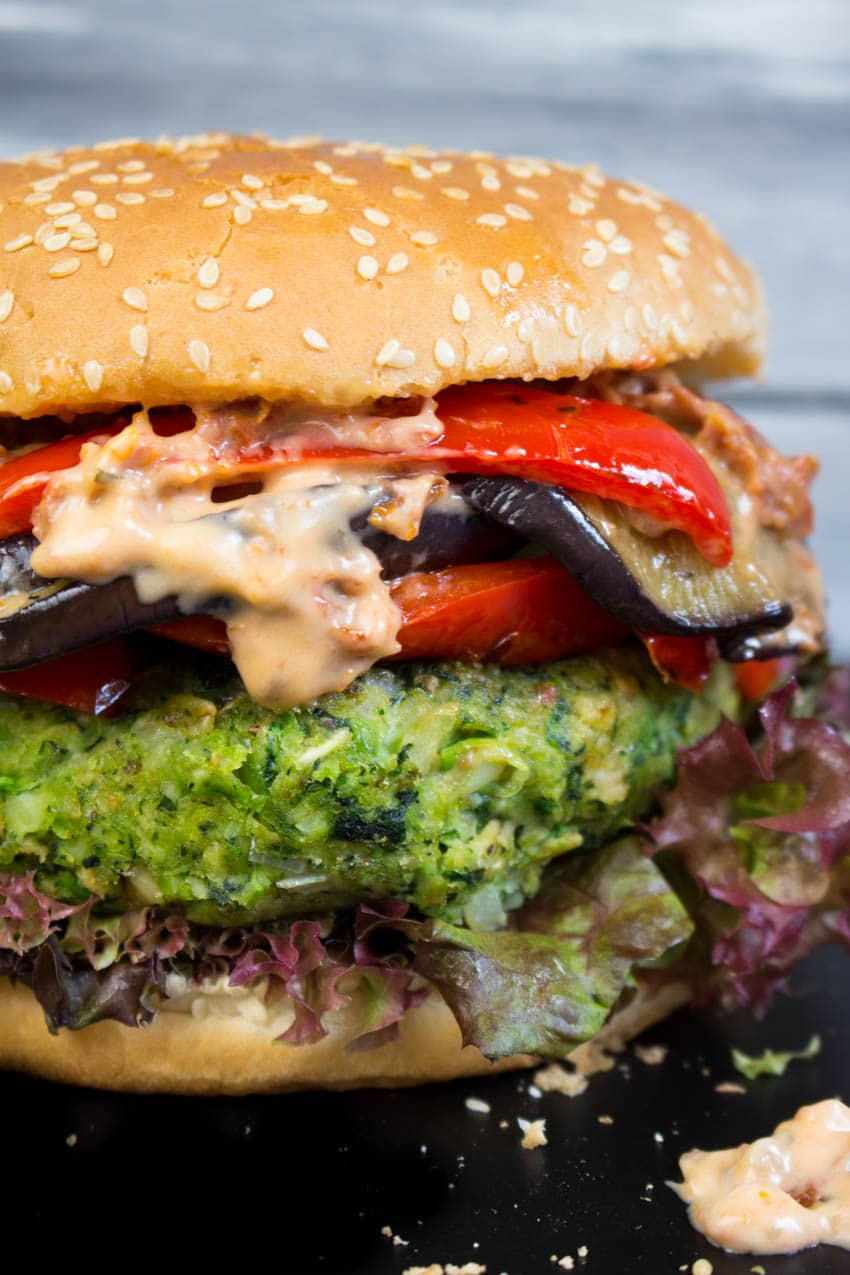 You don't feel like eating your veggies today? No problem, just eat this green monster veggie burger with grilled eggplant, red bell pepper, and vegan sun-dried tomato mayonnaise instead. It's not only super delicious but also packed with tons of vitamins and minerals. Who knew that a burger could be this healthy?! I've wanted to make a green veggie burger patty for such a long time, but my list of delicious vegan things to make gets longer and longer every day, so it took me quite a while to finally make such a green burger. I probably could live off this list for years to come. Haha! Hard to believe that a lot of people still think vegan food is all boring and plain.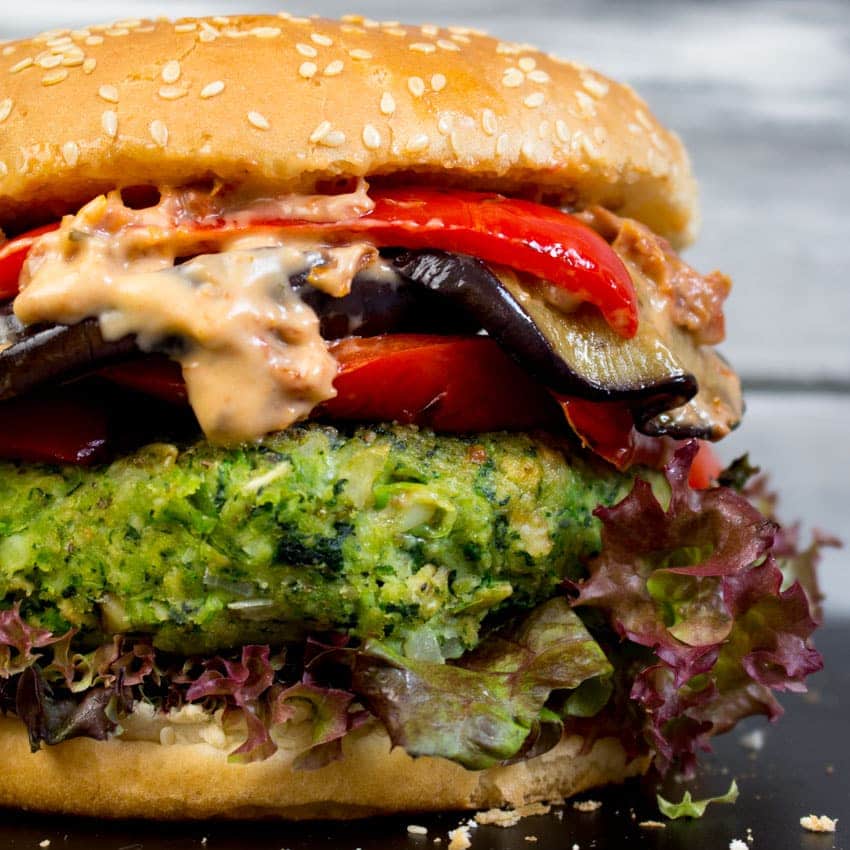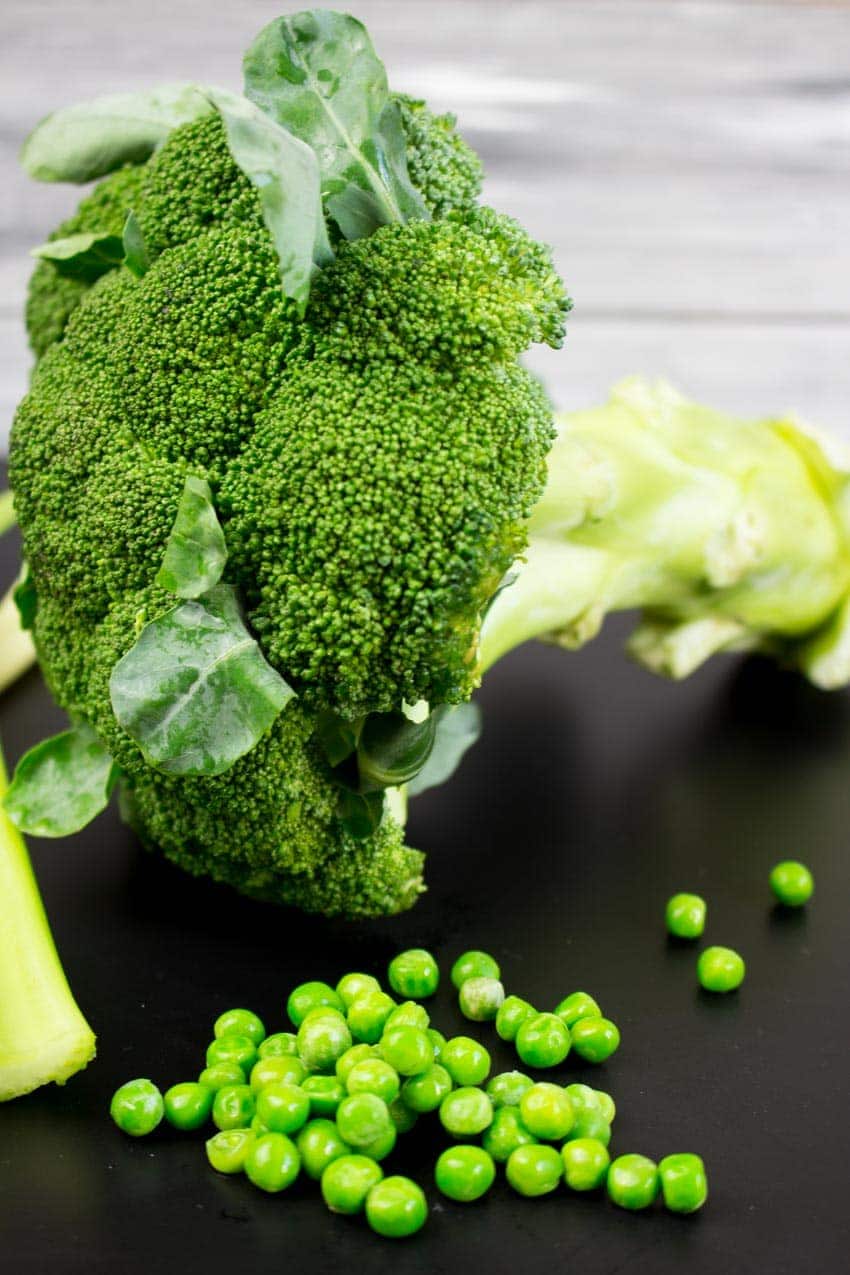 But back to the green monster veggie burger. The veggie patty is made of broccoli, peas, kale, and celery. I cooked all veggies in the same pot and then transferred them to my food processor once they were cooked. Make sure to leave some texture, so turn your blender to the lowest level possible and check the mixture after a couple of seconds. I used an Omniblend and it takes only about 30 seconds until it's all mushy, so pay attention when using a heavy duty blender.
Once the veggies were blended, I added the dry ingredients. To make the veggies stick together to form patties, I used rolled oats and bread crumbs. I also chopped a small onion and sautéed it together with two cloves of garlic. I know that sounds like a lot of garlic, but you really won't taste it. To give the vegan burger patties an extra boost of nutrients, especially omega-3 fatty acids, I stirred in some chopped walnuts. They are also great to give the burger some more texture.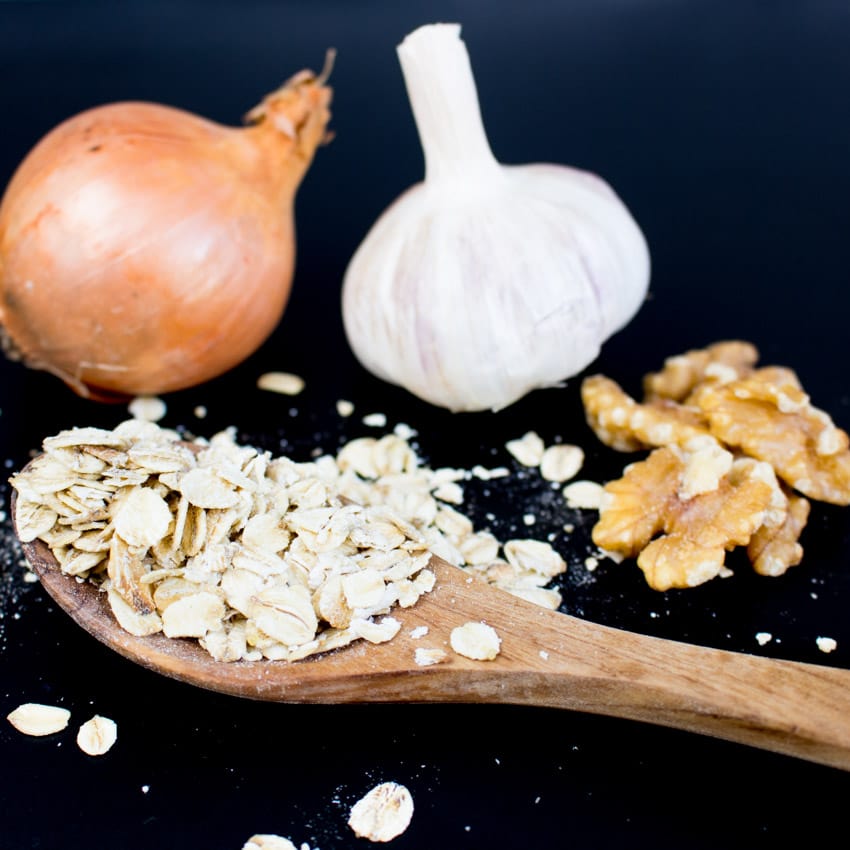 I seasoned the green monster veggie burger with an Italian seasoning mix (oregano, basil, rosemary, thyme, sage, and parsley), mustard, soy sauce, salt, and pepper. If you want the vegan kale burgers to be soy-free, just leave out the soy sauce and use some more Italian herbs and mustard instead.
For the topping, I used grilled eggplant and red bell pepper as well as homemade vegan sun-dried tomatoes mayonnaise. I'm sure this burger is also great to trick kids into eating their green vegetables. Apart from the color, they would probably never guess what's hidden in this veggie burger. There sure is a good reason for calling it green monster veggie burger. ;-)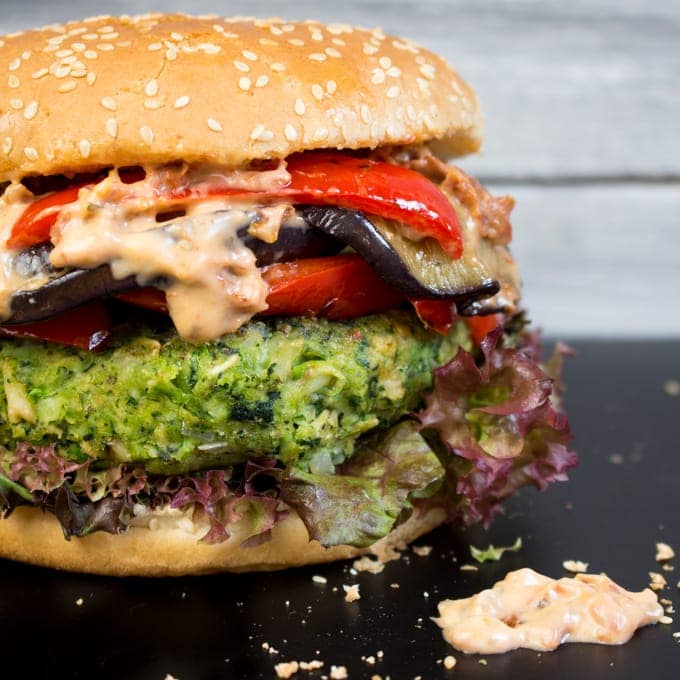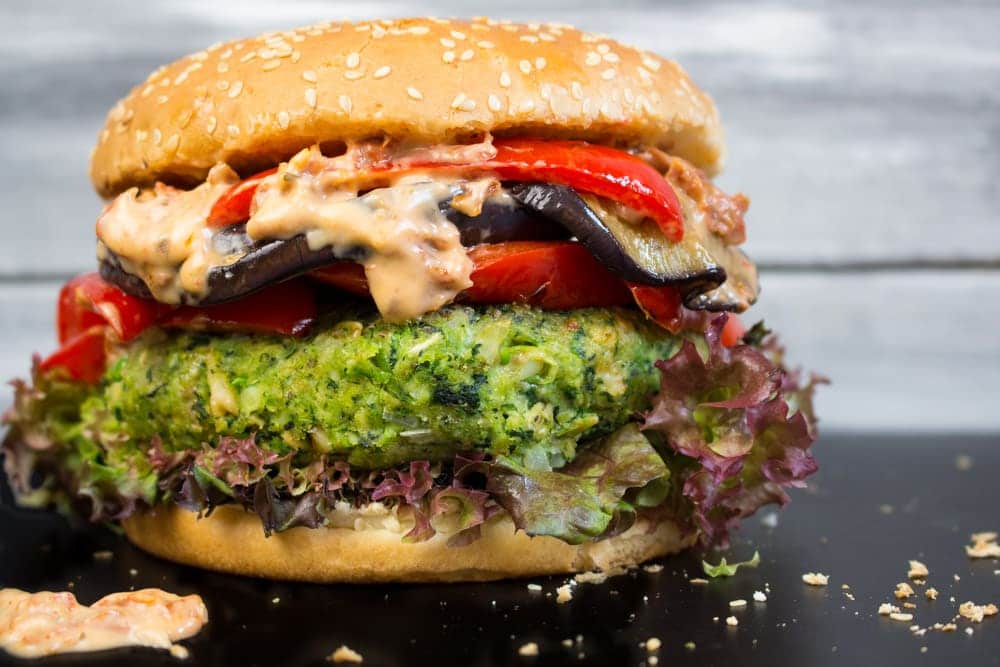 I hope you like the recipe for this vegan burger. Have a great start into the week! As always, I love hearing from you guys! :-)

| | |
| --- | --- |
| | |
Bring a medium pot of water to boil. First put in the kale, after two minutes add the frozen peas and cook for seven minutes. Two minutes before time is up add the broccoli florets. Drain and set aside to cool off a bit before you transfer it to a food processor.

In the meantime, heat some olive oil in a small pan and sauté the onion for 2-3 minutes. Then add the minced garlic and cook for another minute.

Place the cooked vegetables together with the chopped celery into a food processor and process for a couple of seconds. Make sure to leave some texture. Place in a medium bowl and stir in the oats, breadcrumbs, walnuts, and sautéed onion and garlic. Season with the Italian spice mix, soy sauce, mustard, salt, and black pepper.

Form four burger patties and set aside.

Then make the sun-dried tomato mayonnaise: Cut the sun-dried tomatoes into small pieces and stir in the vegan mayonnaise.

Cut the eggplant and red bell pepper into thin slices. Heat some olive oil in a griddle pan and roast them gently for 3-4 minutes until they are lightly brown.

In a large pan, heat some oil and cook the green monster veggie patties for 2-3 minutes on each side. Serve them on a burger bun with lettuce, the grilled veggies, and the sun-dried tomato mayonnaise.