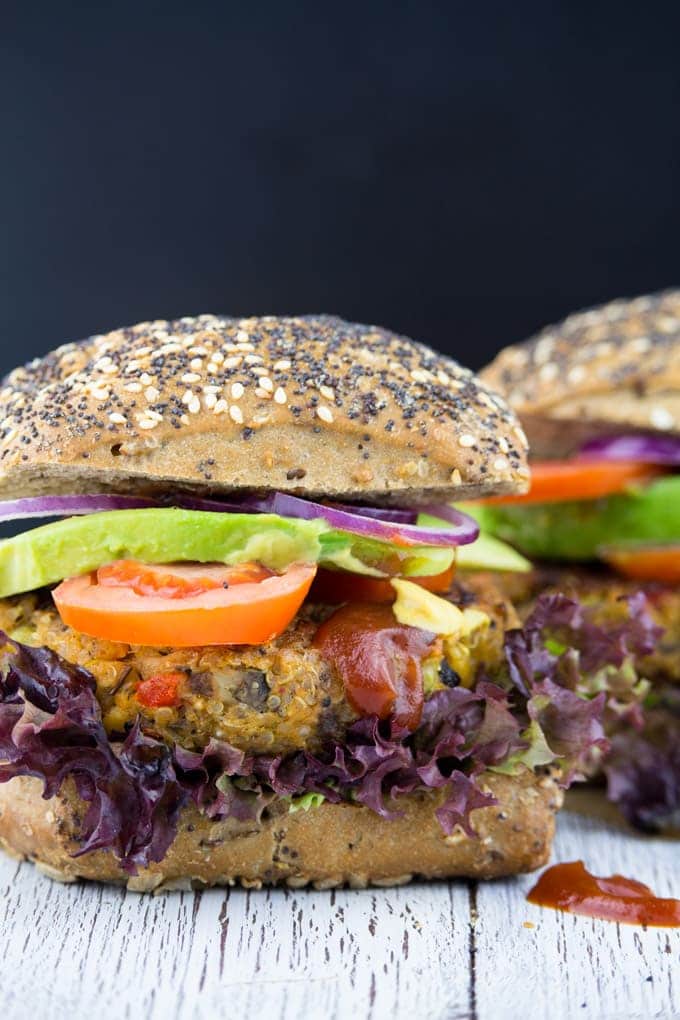 If you've been following my blog for a while, you probably know that I absolutely LOVE healthy fast food. This means vegan burgers & co that are made with fresh and healthy ingredients instead of meat, white flour, lots of flavor enhancers, and a couple of pathetic-looking cucumbers and half-faded lettuce. The burgers we have are usually packed with tons of nutrients, veggies, and lots of spices like this vegan chickpea quinoa power burger.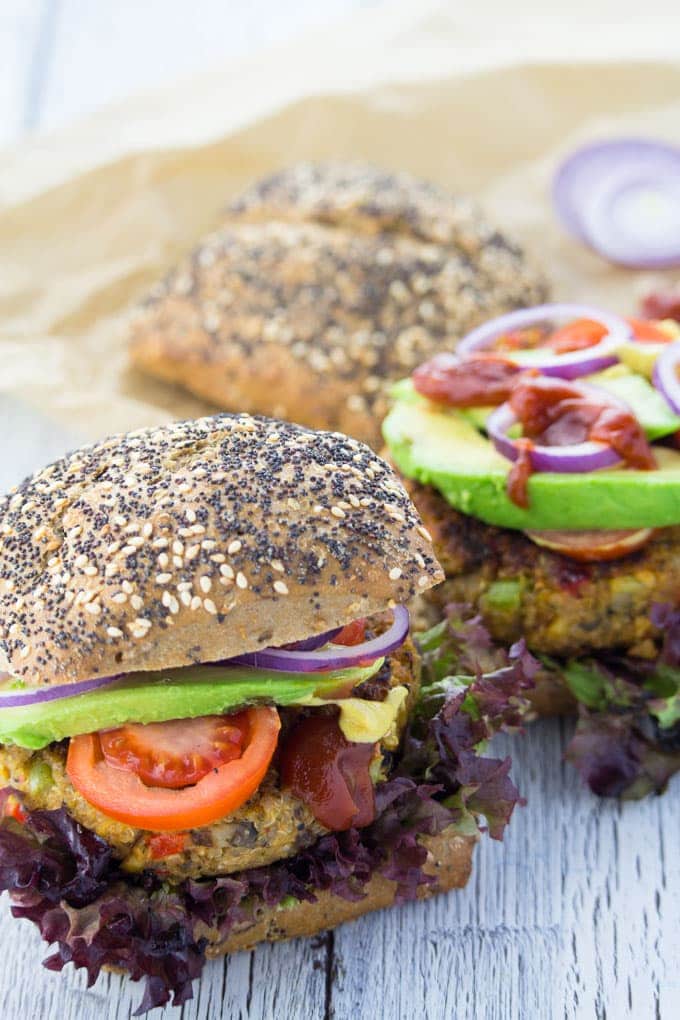 It really deserves its name as a "power burger". Besides quinoa and chickpeas it contains lots of fresh vegetables like mushrooms, red bell pepper, celery, and carrots. I also used garlic, a red onion, lots of spices, mustard, and liquid smoke, which is, however, optional but really gives the veggie burgers a great smoky taste. Quinoa is super healthy and we have it at least once or twice a week. It's packed with protein, fiber, vitamins, and minerals. It contains 50% more iron than wheat and is also rich in calcium. Besides its protein is high in essential amino acids, so it really is the perfect garnish or even the main part of a meal like in these vegan quinoa burgers.
Plus, quinoa is gluten-free and easy to digest. So what is there not to love about quinoa, right?! We topped the chickpea quinoa power burger off with some tomato and avocado slices, lettuce, BBQ sauce, and some mustard. To make them stick together, I used two teaspoons of carob gum powder. If you can't find it, guar gum works as well. You can also leave it out and the burgers will still be great, just a bit softer.
If you're looking for more ideas on how to use quinoa, check out these 40 vegetarian quinoa recipes by Kiersten from Oh My Veggies. I also love using quinoa for salads and bowls.
This chickpea quinoa burger is one of our favorite burgers right now! I think we had it like three times over the last two weeks. And of these two weeks we were on a trip to Amsterdam for 5 days during which we didn't cook much, so you clearly see how much we like it. Haha!
We also had some great vegan food on our trip to the Netherlands. It's super easy to find vegan food there. I had some people asking me on Instagram how I knew where to look for vegan restaurants and one girl even said that she had such a hard time in Amsterdam because she didn't find anything vegan. I usually use an app called Happy Cow on all my trips. It's also accessible online without the app and it shows you all vegan, vegetarian, and veggie-friendly restaurants world-wide. It also gives you a map with all the restaurants, just like Google maps, which makes it super easy to use. I travel a lot and I've already used it on several trips to the U.S., Canada, Asia, and Europe and it always works really well.
Amsterdam is really worth a visit not just because of its great vegan places. Its historical canals are sooo beautiful and we were lucky and had lots of sunshine! We visited the Anne Frank house, which was extremely sad and really makes you think about your own life and what real problems are. I've read Anne's diary and one of the many biographies, but I never imagined the place to be this depressing with the black curtains that always had to remain closed and everything being so small for eight people…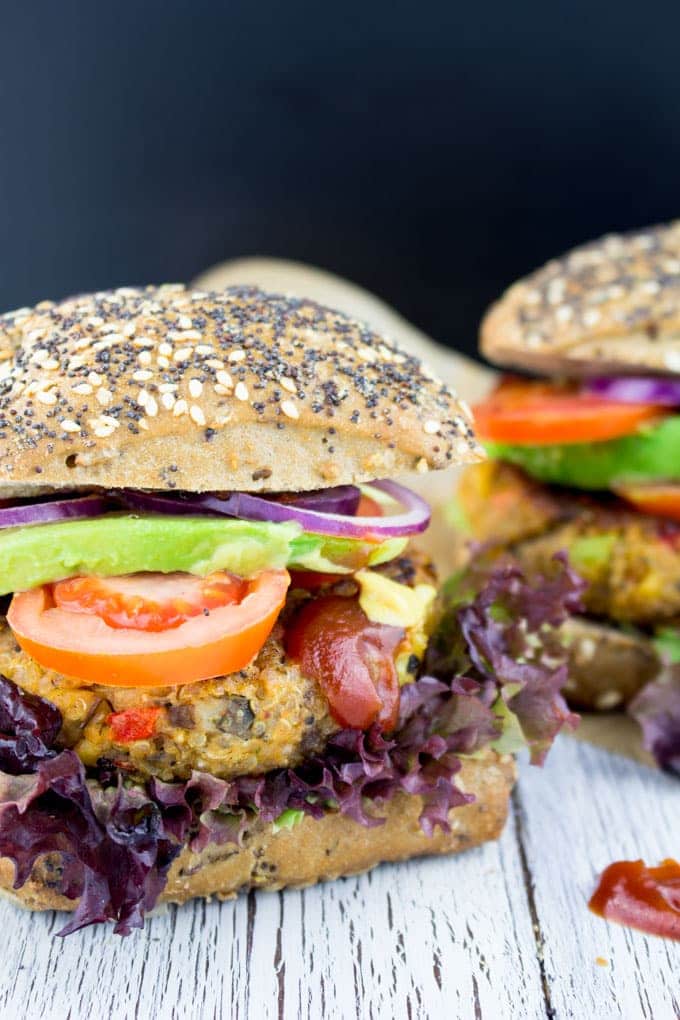 I also really loved the colorful tulips that were just EVERYWHERE all over Amsterdam! Unfortunately the trees just began to turn green again and we were a bit early, but April is the best season to see all these beautiful Dutch tulips.
I hope you like this chickpea quinoa power burger as much as we do! Let me know if you give them a try. :-)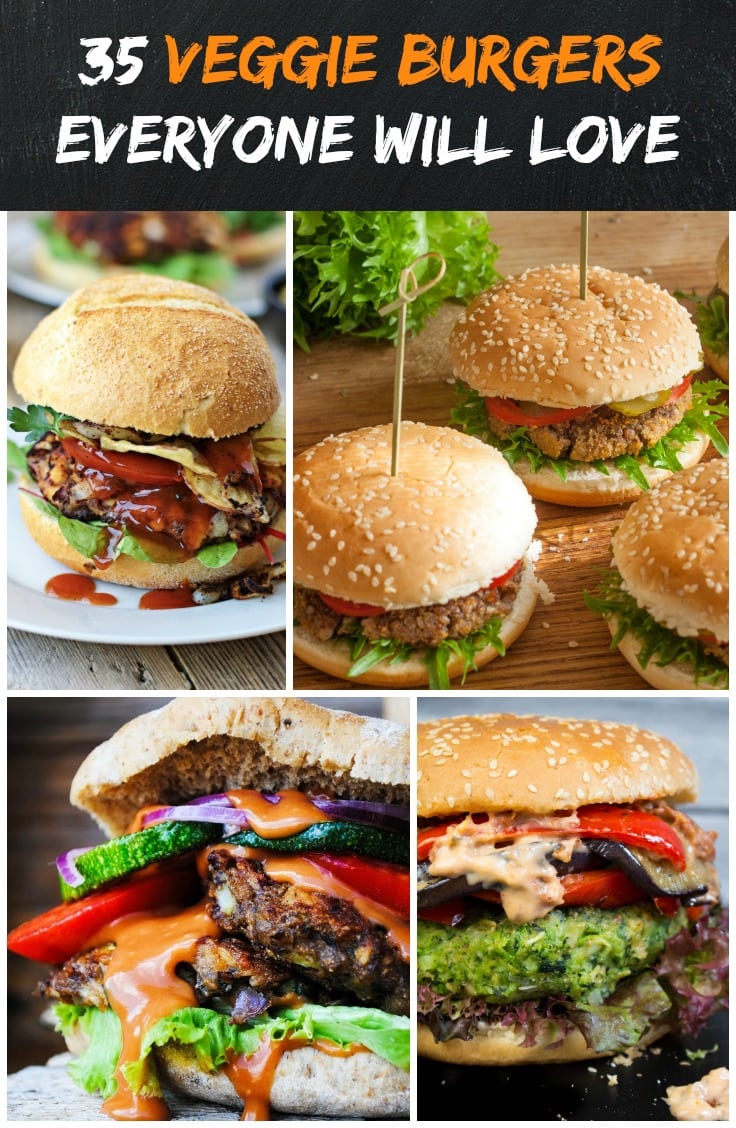 Have a great week, everyone. Talk to you soon! xx
Chickpea Quinoa Power Burger
This chickpea quinoa power burger really deserves its name! It's packed with lots of protein, healthy veggies, and flavor. Vegan fast food at its best!
Print
Pin
Rate
Ingredients
For the chickpea quinoa power patties:
1/2

cup

quinoa

1

can (15 oz)

chickpeas

1

flax egg

(1 1/2 tablespoons ground flax seeds + 3 tablespoons water, soaked for 5 minutes)

2

stalks

celery, cut into small pieces

1/2

red bell pepper, cut into small pieces

5

medium

mushrooms, cut into small pieces

1/2

medium

carrot, cut into small pieces

1

red onion, chopped

2

cloves of garlic, minced

1

teaspoon

oregano

1

teaspoon

basil

1

teaspoon

paprika powder

1/2

teaspoon

thyme

1/2

teaspoon

liquid smoke

1/2

teaspoon

mustard

2

teaspoons

guar gum or carob gum

If you can't find it, you can also leave it out and the burgers will still be great, just a bit softer.

1/2

teaspoon

salt

black pepper, to taste

red pepper flakes, to taste (optional)
For the burgers:
4

whole wheat buns

2

tomatoes, cut into slices

2

avocado, cut into slices

lettuce

BBQ-sauce

mustard
Instructions
Cook the quinoa according to the instructions on the package. Use vegetable broth instead of water. Set aside.

Rinse and drain the chickpeas. Mash with a fork. Leave some of the chickpeas still intact for texture.

In a large pan, heat some oil and sauté the onions for about 2 minutes. Add the garlic and cook for another minute. Then add the red bell pepper, the celery, the mushrooms, and the carrots and cook for about 3-4 minutes.

In a large bowl combine the quinoa, the mashed chickpeas, the flax egg, and the cooked veggies. Add the spices, the mustard, guar gum, salt, pepper, and if using the liquid smoke and red pepper flakes and stir well.

Form 4 patties and heat some oil in a large pan. Cook the patties for about 3 minutes on each side until golden. Serve on whole wheat buns and top them off with tomatoes, avocados, lettuce, BBQ sauce, and mustard.
Rate the recipe!
If you like this recipe, please leave a good rating! This will help other readers.