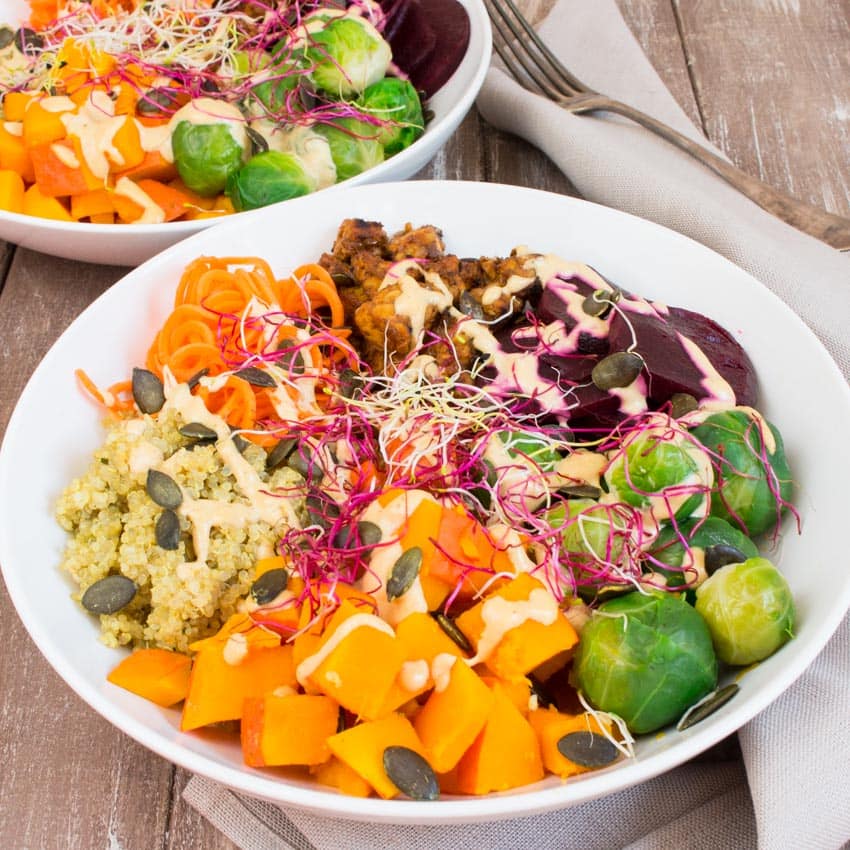 Fall is definitely here. I can't believe it's already getting this cold at night. I think we even have to turn on the heat in the next couple of days. Crazy! How could summer be over this quickly?! I'm more of a spring and summer person and I don't like wearing winter jackets, boots, and hats at all. But well there's no sense in complaining, right? It is what is is. And on the plus side, there's tons of delicious fall recipes like this fall buddha bowl with quinoa, pumpkin, beet, and Brussels sprouts we had the other day. I also added carrots, pumpkin seeds, and crispy BBQ tempeh and it was so incredibly delicious and also pretty colorful!
The fall buddha bowl is packed with protein and vitamins and it's a great flu fighter. For those of you who are wondering "what is a buddha bowl?", the term is not motivated by my religious believes or anything. It's just a huge bowl that is packed with food so its top resembles the laughing buddha's belly. I've seen tons of buddha bowls lately and I just love the idea of putting all these delicious veggies and grains into a big bowl and top it all off with a creamy sauce.
I absolutely loved this easy fall buddha bowl! It's comforting, super healthy, packed with flavor, gluten free, and of course vegan! And it all comes together in about 45 minutes. I used a creamy sauce with cashews, nutritional yeast, and white miso paste, which I could eat on literally everything.  And of course I also had to put in some homemade BBQ tempeh. I also used this recipe for my vegan carbonara with tempeh bacon, which I posted a couple of months ago. All you need for the marinade is a tablespoon of BBQ sauce, soy sauce, some water, paprika powder, half an onion, and salt and pepper. I also added some liquid smoke
, but that's totally optional and it's also great without it. The best thing is that you don't have to let it sit, you just put the marinade right into the pan and then you cook it for about 5-7 minutes until it's all soaked up and the tempeh becomes lightly brown and crispy.
For the carrots, I used this spiral slicer
, which is also great for zoodles. I got it for Christmas two years ago and everybody thought I was kinda crazy, but I love it. It's so easy to make julienne strips of carrots, radishes, cucumbers, and all kinds of other firm vegetables. You can either use them instead of wheat pasta or for salads and garnishes. There's is also a smaller version
 of the spiral slicer I got.
I hope you love this recipes as much as I do. Let me know if you give a try. As always, I love hearing from you guys.
Have a great start into the week!! Talk to you soon! xx
For the fall buddha bowl:
For the creamy cashew sauce:
For the fall buddha bowl:

For the creamy cashew sauce:
Cook the quinoa according to the instructions on the package. Place a large pot of water on the stove, add a pinch of salt, and wait a few minutes for the water to boil. Place the Brussels sprouts in the boiling water and cook them for about 12-15 minutes. Cut the Hokkaido squash into cubes and cook them for 8-10 minutes.

Cut the beetroot into thin slices. Peel the carrots and create julienne strips by using a spiral slicer.

Make the sauce: Place all ingredients into a blender and process until smooth.

Cut the tempeh into small cubes. In a medium pan, heat some olive oil and sauté the onion for about 2-3 minutes until it's translucent. Then add the tempeh, the BBQ sauce, the water, the soy sauce, the paprika powder, salt, pepper, and if using the liquid smoke. Cook for 5-7 minutes until the marinade is all soaked up and the tempeh becomes lightly brown and crispy.

Place the cooked Hokkaido squash, the Brussels sprouts, the carrots, the beet, and the quinoa in a big bowl. In a small pan, heat the cashew sauce for about 2 minutes. If it becomes to thick, add another splash of milk.

Pour the sauce over the buddha bowl and sprinkle with sprouts and pumpkin seeds.