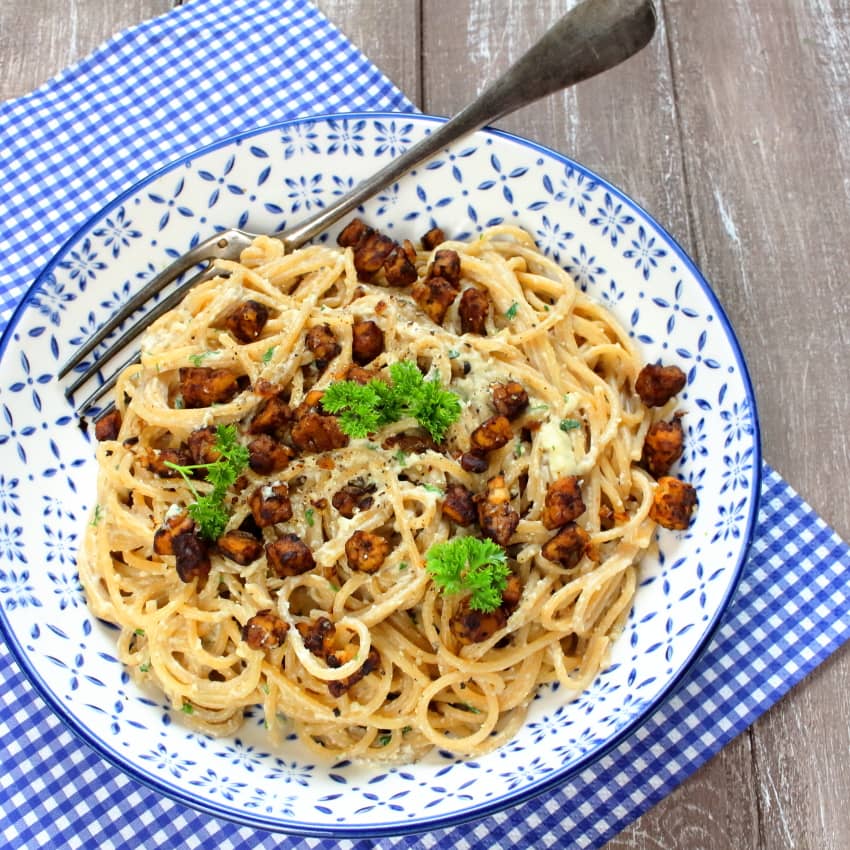 When I was still eating meat, I didn't like bacon at all, but now I just love vegan tempeh carbonara with spaghetti. I already made this hearty Italian pasta dish with smoked tofu instead of tempeh a couple of times. I'm not 100 percent sure what was better (Flo always tells me how bad I am at making up my mind ;-) ), but if I really had to choose I would probably go for tempeh. For those of you who have never heard of tempeh, it's originally from Indonesia and is made of soybeans. Unlike tofu, the soybeans, are however, not processed, which gives it a higher content of vitamins and protein. I especially like its firm texture and the fact that it freezes really well. I usually stock up with tempeh every time I go to our local health food store or Asian grocery store and put it in the freezer, so it's available whenever I need it. Tempeh bacon is also great on salads!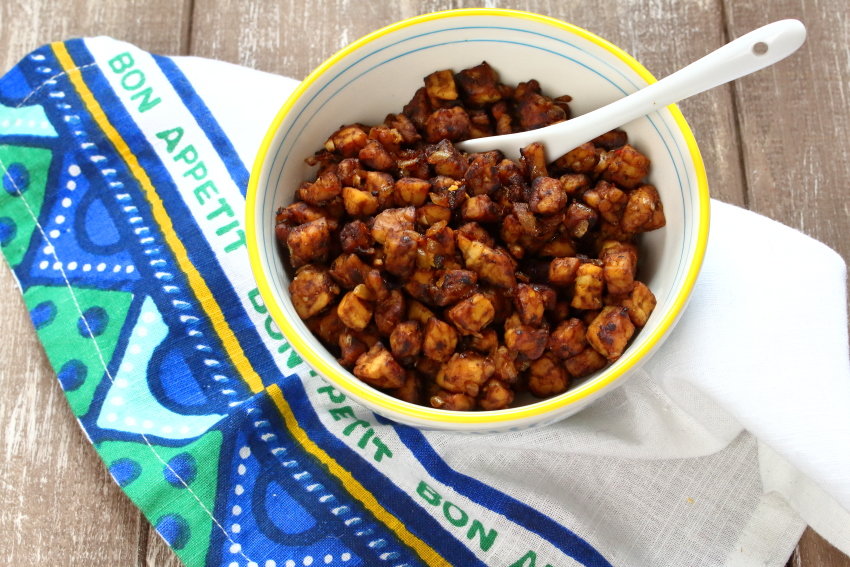 Vegan carbonara sauce was actually one of the first dishes I tried when I decided to stick to a vegan diet. At this time, I still used soy cuisine for the sauce. Now, I usually rely on cashews and plant-based milk to make creamy sauces. Nutritional yeast and miso paste gives the vegan carbonara sauce its typical cheesy flavor. If you like you can also add peas, broccoli, or mushrooms to your sauce. The vegan tempeh carbonara sauce goes well with a green side salad.
| | |
| --- | --- |
| | |
Cook the spaghetti according to the instructions on the package.

Cut the tempeh into little cubes. In a medium pan, heat the olive oil over medium heat. Stir-fry the tempeh for about two minutes. Then add the chopped onions. Cook for another two minutes. Add the BBQ and soy sauce as well as the spices and cook for about 5 minutes until the tempeh is brown and crispy.

Place the cashews, the plant-based milk, the miso paste, the nutritional yeast, the garlic, salt, and pepper in a food processor and process until smooth.

Pour into a large pan and cook for about 2-3 minutes. If the sauce gets to thick add a splash of milk. Stir in the spaghetti, the tempeh bacon, and the parsley and season with salt and black pepper.