If you're looking for delicious vegan mushroom recipes, this is the right place for you. We've got you covered with 12 comforting and satisfying recipes for the whole family!

I absolutely love recipes with mushrooms, especially in the colder months! So I teamed up with some fellow food bloggers to provide you with delicious vegan mushroom recipes that are ready in no time!
All of these recipes are 100 percent vegan, satisfying, and so delicious. So let's get started with the yumminess!
As always, click on the heading above each photo to see the recipe.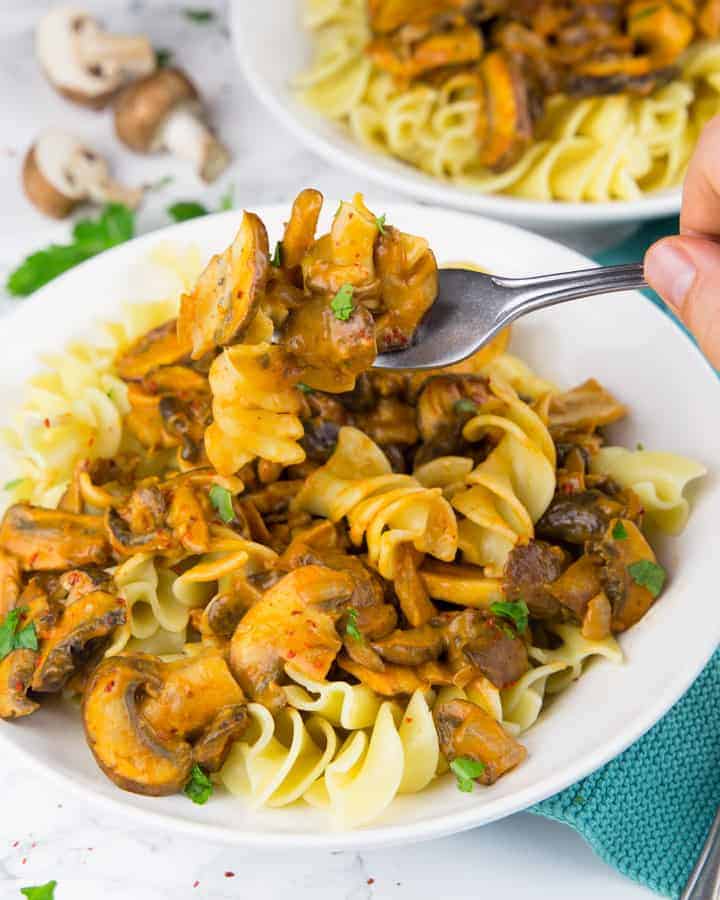 This vegan mushroom stroganoff is super easy, decadent, incredibly creamy, and so easy to make! It makes such a great weeknight dinner, but it's also perfect for a nice Sunday family dinner. And it's ready in just 20 minutes!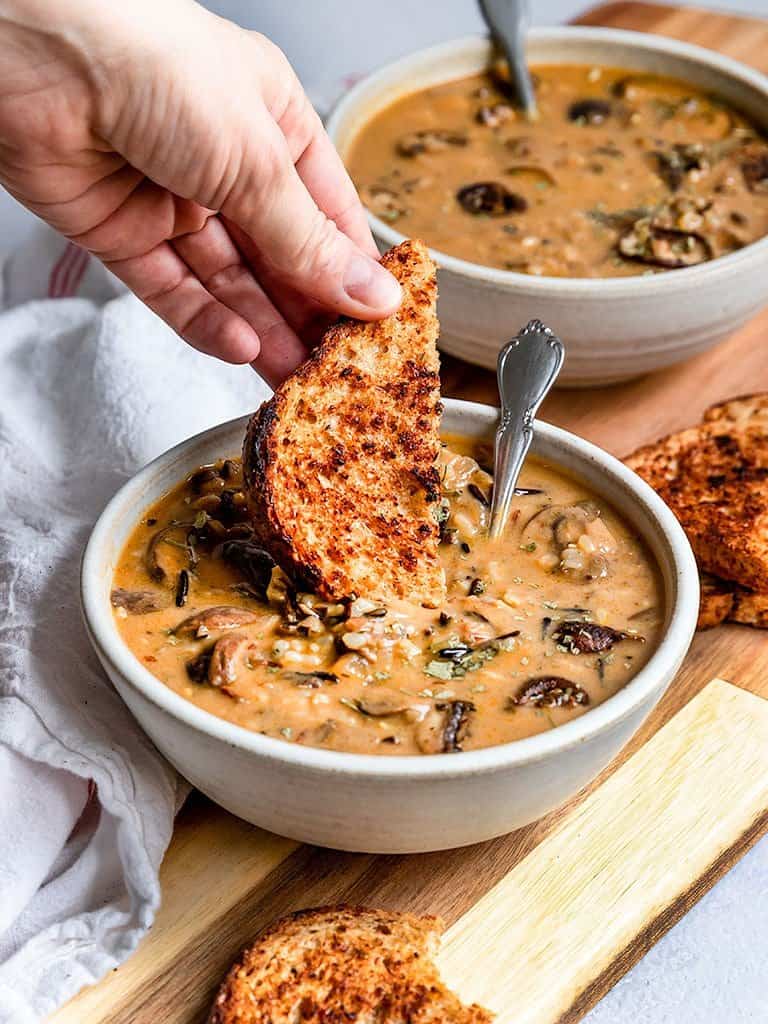 This Vegan Mushroom Wild Rice Soup by Megan from Short Girl Tall Order is seriously so creamy that you would never guess it is completely dairy-free & made with no cream!
If you are on the hunt for a delicious vegan soup recipe that is actually filling, this hearty & gluten-free mushroom wild rice soup that can be made in one pot is here for you.
Are you looking for dinner ideas for the whole family? Then try this vegan risotto with mushrooms! It's super creamy, decadent, packed with flavor, and so easy to make!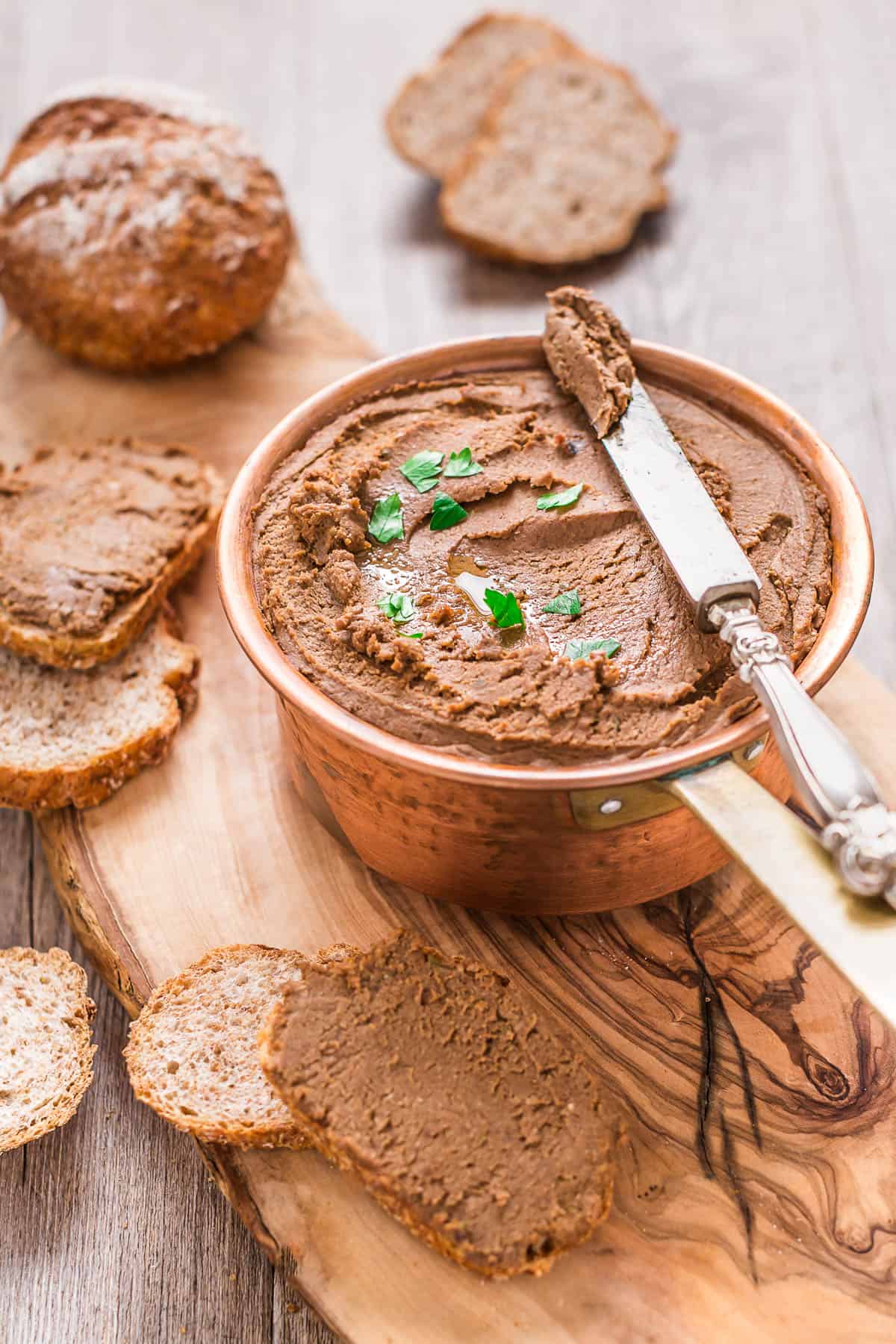 This simple tasty and healthy mushroom walnut lentil paté by Fran from Beauty Food Blog is a gluten-free vegan alternative to the classic recipe, rich in protein and healthy ingredients! Enjoy it as a savoury snack, crunchy vegetable, crackers, wraps or in your favourite sandwich
If you're looking for an easy appetizer or side dish, then try these balsamic mushrooms! They're packed with flavor and they're super easy to make. You need only four ingredients to make them and the recipe couldn't be any simpler.
These Portobello Mushroom Fajitas by Sarah from A Saucy Kitchen make for a fast, easy and healthy dinner that's packed full of filling veggies and good-for-you ingredients! Simply mix and combine all in one tray and bake for about 30 minutes until tender.
This vegan mushroom bourguignon is the perfect veggie alternative to the traditional French stew that is made with beef. If you like mushrooms, you will LOVE this hearty mushroom sauce with fettuccine! It's perfect for the Holidays – quick, delicious, and the red wine makes it super decadent!
Doesn't this vegan goulash by Chloe from Forkful of Plants look super comforting? It's rich, smokey, and it's a great one pot recipe for busy days!
If you used to love bacon and are looking for a vegan alternative, you will LOVE this vegan bacon with mushrooms. It's ready in just 15 minutes and it's so much healthier than real bacon. The savory flavor will make you go back for seconds and thirds!
Instant Pot Mushroom Rice by Uma from Simple Sumptuous Cooking is one recipe that is as easy to prepare as it sounds. With all the right spices in hand, you're done with the cooking part in less than 30 minutes.
This mushroom burger is super delicious, easy to make, and very healthy. And the best thing is that it holds together really well and it's super firm! It's a real crowd-pleaser!
This vegan mushroom wellington by Vegan on Board makes an impressive and delicious centerpiece to any festive meal. It's got a flavorsome mushroom and nut filling, whole roasted portobellos, cranberry sauce and is covered by beautifully braided puff pastry.
I Love To Hear From You!
I hope you enjoy these vegan mushroom recipes as much as I do! Don't forget to pin or share this post so you have these vegan salad recipes ready when you need them!
If you give any of these recipes a try, I'd love to know what you think about it. Just leave me a comment below. Your comments really make my day!
You like my recipes and roundups and want to see more? Then follow me on Facebook, Instagram, or Pinterest!
Sina