Vegan carrot zucchini muffins?! A couple of years ago, I probably would have shaken my head in utter disbelief. Vegetables and sweet muffins definitely didn't go together for me, but now I know they actually do!! These muffins are are great way to smuggle some veggies into your diet.
Yesterday I made these super delicious vegan carrot zucchini muffins that were moist, sweet, and healthy at the same time. They're perfect for a quick snack on the go or also for breakfast. Plus they are so easy to make: You only need one bowl and a grater, no mixer, no whisk, no whatsoever. It definitely couldn't be easier! To give the muffins even more flavor and texture, I added one grated apple, rolled oats, whole wheat flour, chopped walnuts, and lots of cinnamon.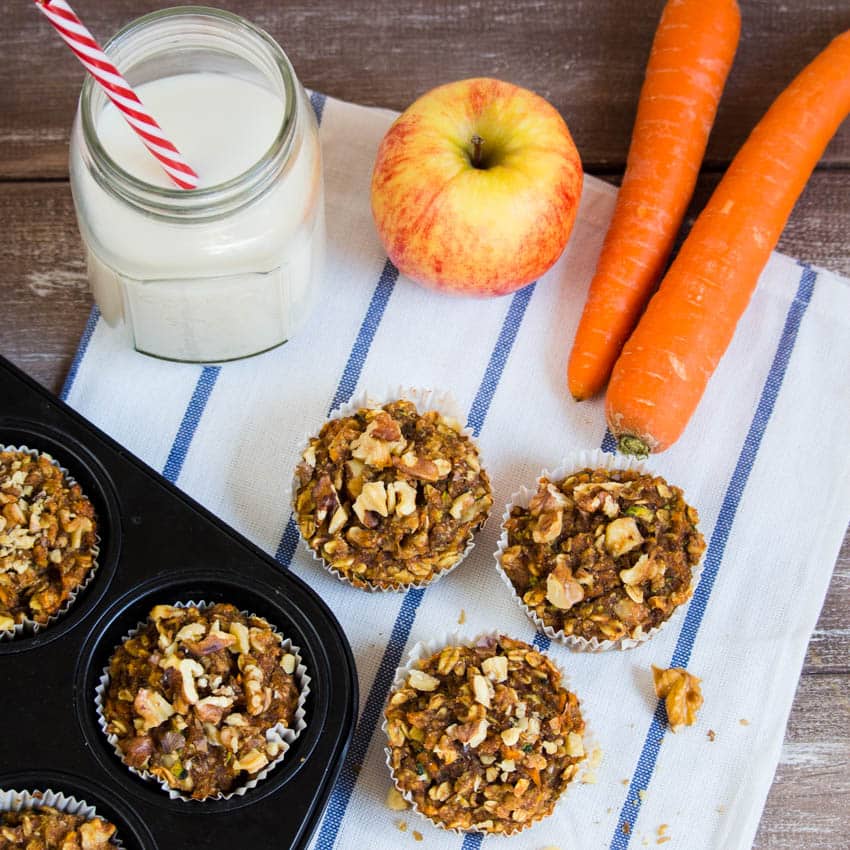 I used brown sugar to sweeten the muffins, but you can also use agave or any other kind of sweetener you like. Maybe it would also work to use dates as a natural sweetener, but I haven't tried that yet.  They are also great to make picky eaters eat some veggies. Just don't tell them what you used to make the muffins and they will probably never know. ;-)
These muffins are also a great way to include nuts in your diet. Proteins, vitamins, antioxidants, and omega 3-fatty acids – just name it, nuts got it all!! Most days I try to eat about a handful of nuts and seeds. Sometimes together with granola, in my smoothie, or as nut butter. So I guess what is there not to love about these wholesome, sweat, and hearty vegan carrot zucchini muffins? ;-)
I hope you guys all have a great start into the week! I always love to hear from you! So if you make these vegan carrot zucchini muffins leave a comment or tag your picture with @_veganheaven_ on Instagram. :-)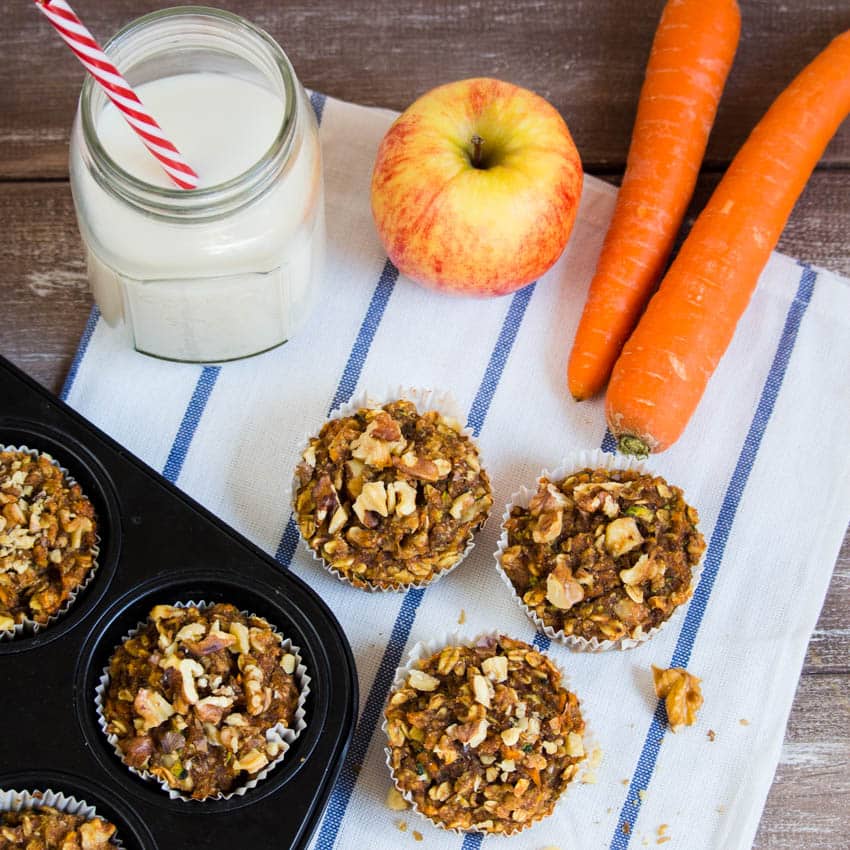 Vegan Carrot Zucchini Muffins
Vegan Carrot Zucchini Muffins - These are seriously one of the best muffins I've ever had! Sweet, healthy, moist, and hearty at the same time!!
Ingredients
2

medium

carrot, grated

(one heaping cup)

1

apple, grated

1

small

zucchini, grated

squeeze out the water

1

cup

whole wheat flour

1

cup

rolled oats

1.5

teaspoon

baking powder

1/2

cup

brown sugar

1

teaspoon

cinnamon

1

small

banana, mashed

1/4

teaspoon

salt

1/4

cup

canola or olive oil

1/2

cup

almond or oat milk

3/4

cup

walnuts, roughly chopped
Instructions
In a medium bowl, combine all dry ingredients.

Add the grated carrots, the apple, the zucchini, and the mashed banana. Stir in the almond or oat milk,the oil and about half of the chopped walnuts . Mix until well combined.

Place baking cups in a muffin pan and divide the mixture evenly. Sprinkle with the rest of the walnuts. Bake for about 30 minutes at 356 °F (180°C). Let cool down in the muffin tin for at least half an hour.
Nutrition Facts
Vegan Carrot Zucchini Muffins
Amount Per Serving
Calories 207
Calories from Fat 99
% Daily Value*
Total Fat 11g 17%
Sodium 61mg 3%
Potassium 225mg 6%
Total Carbohydrates 27g 9%
Protein 4g 8%
* Percent Daily Values are based on a 2000 calorie diet.