Zucchini muffins?! I know this sounds kinda crazy, but it's suuuuper delicious!!
I must admit that I was pretty skeptical when I first tried baking with zucchini a couple of months ago. But when my carrot zucchini muffins turned out to be so moist and yummy, I just had to make another batch, this time with chocolate. So I ended up with these peanut butter chocolate zucchini muffins. Actually they're not only chocolate muffins, but double choc!! I used both cocoa powder and chocolate drops.
This really is like chocolate heaven!! All vegan of course!
They're super moist, chocolatey, sweet, and also a bit crunchy!
To even add some more of this vegan deliciousness, I topped them off with some peanut butter (who can say no to a peanut butter swirl, right?) and some chopped peanuts. Flo always loves when I'm baking (he'd probably love me even more if I changed my blog to a baking blog. Haha! No, just kidding), and I kinda had to hide these muffins from him or he would have eaten them all at once. He can really get a bit crazy about sweets. But well, who am I to deny a grown man his peanut butter muffins, right? ;-)
And I must admit it also feels pretty great that he loves all the stuff I make.
I can still remember when we moved in together almost six years ago (wow time seriously flies!!) and we both couldn't cook at all! I mean we were proud when we managed to make pasta with tomato sauce. No, I'm exaggerating, but you get the idea. ;-)
And now I have a food blog and cooking has become one of my greatest passions! I haven't had any real hobbies besides traveling and reading for years. Sounds pretty boring, right? But I just wasn't passionate about sports or music as a kid.
I took dancing classes for a while and I played the flute, but I wasn't overly crazy about dancing. And I actually hated my flute, so I was so glad when my mom allowed me to quit the classes.
A couple of years ago, we watched a family video of me playing the flute when I was about seven or eight years and oh my gosh, I seriously got no words. It was hilarious!! Everybody was clapping and telling me how great I was, but actually it was reeeally bad.  Haha!
So I'm so glad that I finally found something, which I'm really passionate about!
I just love coming up with new vegan recipes, cooking them, and then taking pictures!
I seriously could do this all day! And of course I also love eating all these delicious vegan things I made. I never imagined that vegan food can be this delicious and creative!
But back to the vegan chocolate muffins. They're really easy to make and only take about 25 minutes. To sweeten them, I used coconut sugar, but you can also sub it with brown sugar if you want. And of course you can also replace the almond milk with any other plant-based milk.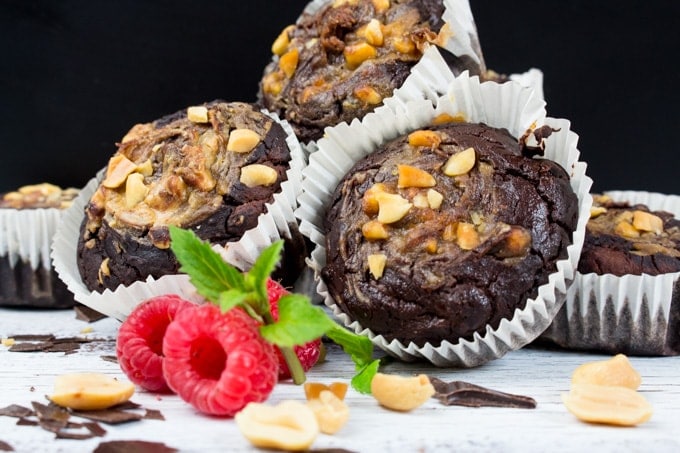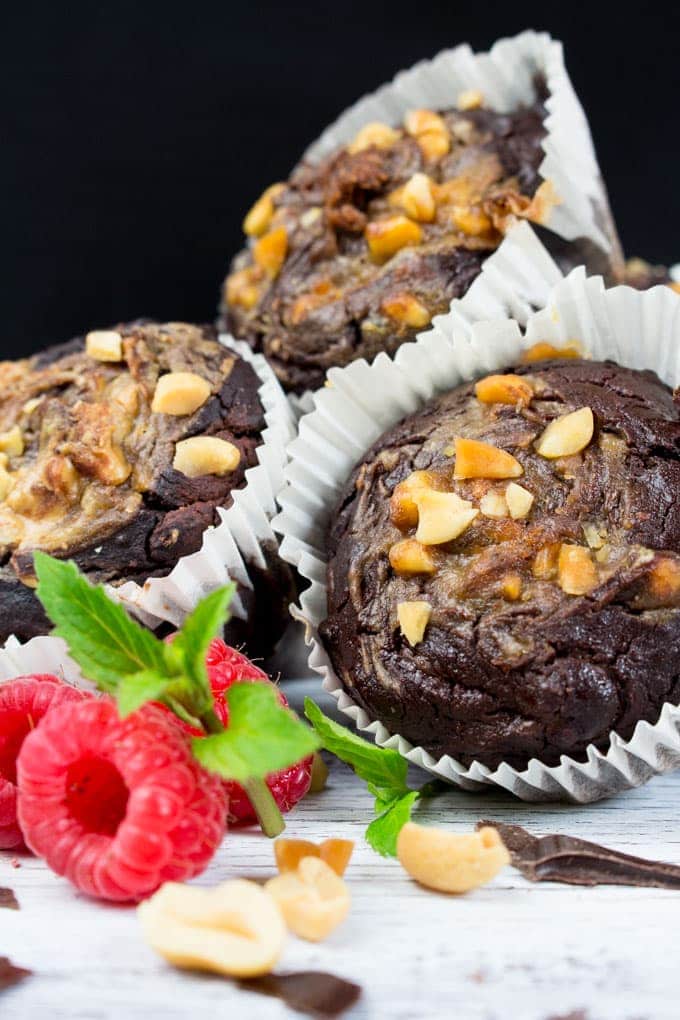 If you give these a try let me know! :-) Hope you're all having a great week! xx
Ingredients
1

tablespoon

ground flax seeds

2

tablespoons

water

1

cup

whole wheat flour

1/2

cup

coconut sugar or brown sugar

1/2

cup

cocoa powder

2

teaspoons

baking powder

3/4

cup

almond milk

2

tablespoons

coconut oil, melted

3/4

cup

grated zucchini

1/2

cup

vegan chocolate chips

3

tablespoons

peanut butter

1/4

cup

peanuts, roughly chopped
Instructions
Combine the ground flax seeds with water. Stir well and let it sit for about 3-5 minutes.

Meanwhile, combine the rest of the ingredients (except for the peanut butter and the peanuts) in a medium bowl. Stir gently with a wooden spoon until well combined.

Place baking cups in a muffin pan and divide the mixture evenly. Stir in some peanut butter and top each muffin with some peanuts.

Bake for about 15 minutes at 360°F (180°C). Let cool down in the muffin tin for at least half an hour.
Rate the recipe!
If you like this recipe, please leave a good rating! This will help other readers.