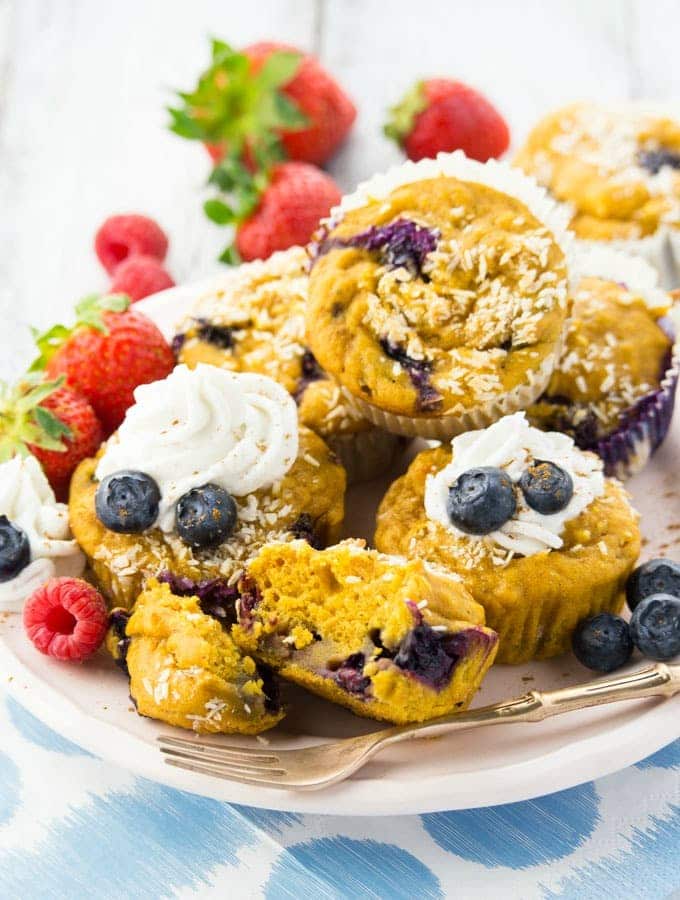 I got some recipes that I make over and over again and just don't get tired of them. This recipe for sweet potato muffins with blueberries is definitely one of them! They're super healthy, sweet, extremely moist,  incredibly easy to make, and of course vegan!
If you've been following my blog for a while now, you probably know that I love baking with kinda "crazy" ingredients. Black bean brownies? Oh, yes totally! Kidney bean chocolate hazelnut donuts? Count me in! Zucchini peanut butter chocolate muffins? Absolutely! So why not use sweet potatoes for baking?!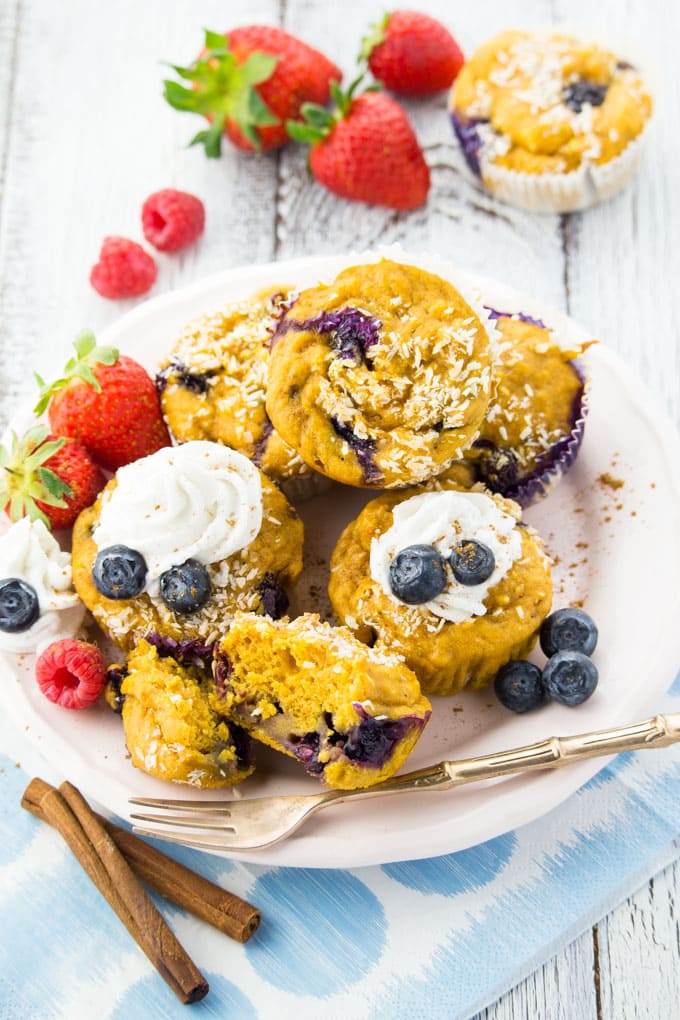 I first made these years ago and over time I gradually changed the recipe until I was totally happy with it. The best thing is that you don't need any weird ingredients to make these sweet potato muffins. You probably got everything you need in your pantry anyways. All you need is about two sweet potatoes, flour (I used spelt flour, but any other flour is fine as well), cinnamon, baking powder, vanilla, sugar (most of the time, I stick with brown sugar, coconut sugar, or maple syrup), plant-based milk, and a little oil. I usually use almond milk for baking, but once in a while I also choose oat or soy milk and it works just as great.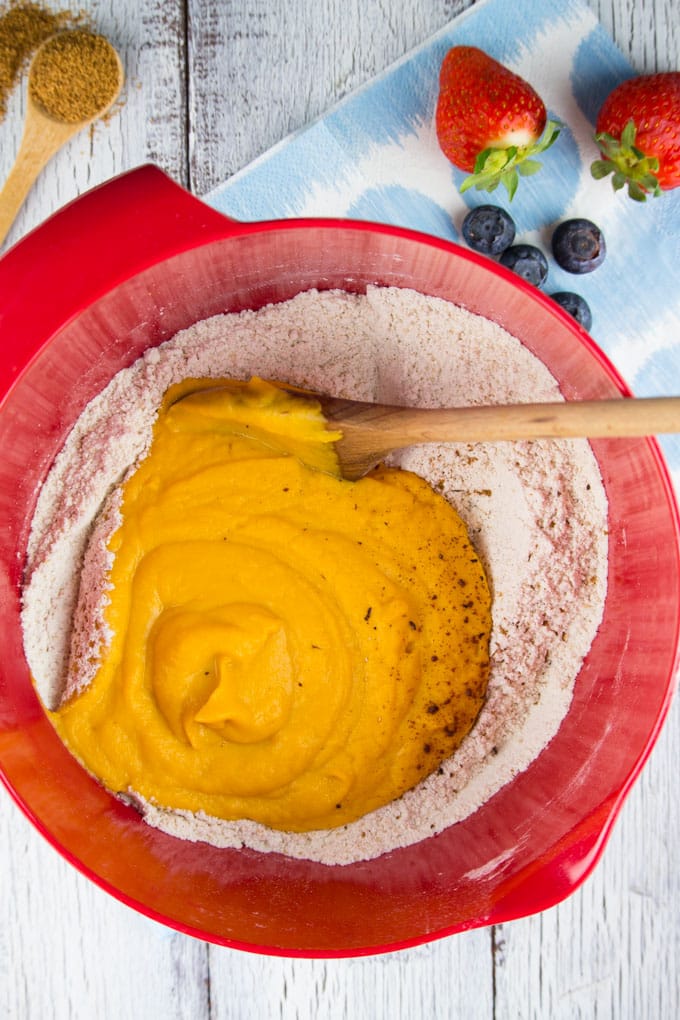 This time I added blueberries, but the sweet muffins are also great with cherries or raspberries. I've already made them for several birthday parties and they were always a huge hit. Unfortunately muffins and other sweets are just always gone waaaay too fast! Or maybe it's just us going totally crazy over these little treats. We had two left-over muffins on Sunday night and when we went to bed that night we actually talked about how awesome it is to have these muffins waiting for us for breakfast. Haha! Yes, I guess we really like food, right?! Oh, how I wish I had these every morning! I mean eating muffins for breakfast still feels a bit weird sometimes, but when they're this healthy it's totally okay! I still can't believe that I used to hate baking. So much has changed in the last couple of years…
Sooo…Back to the recipe: To make these sweet potato muffins you first need to cut the peeled sweet potatoes into small pieces and cook them until they're fork tender. This will take about 10 minutes. Combine the flour with the vanilla, cinnamon, sugar, and the baking powder in a medium bowl and blend the cooked sweet potato together with the milk in a food processor. Add it to the flour mixture and stir in the blueberries. Bake for about 25-30 minutes and you're good to go!
We enjoyed these little beauties with some coconut whipped cream on top, but they're also great just by themselves! To make the coconut whipped cream, just place a can of full-fat coconut milk in the fridge for a couple of hours until it's really thick or even hard. Then just beat it with a mixer until it becomes creamy and fluffy. I didn't add any kind of sweeteners this time as I really like the coconut flavor by itself, but of course you can also add a little bit of powdered sugar or agave if you want. If you're looking for a detailed tutorial on how to make coconut whipped cream, check out this post by the Minimalist Baker.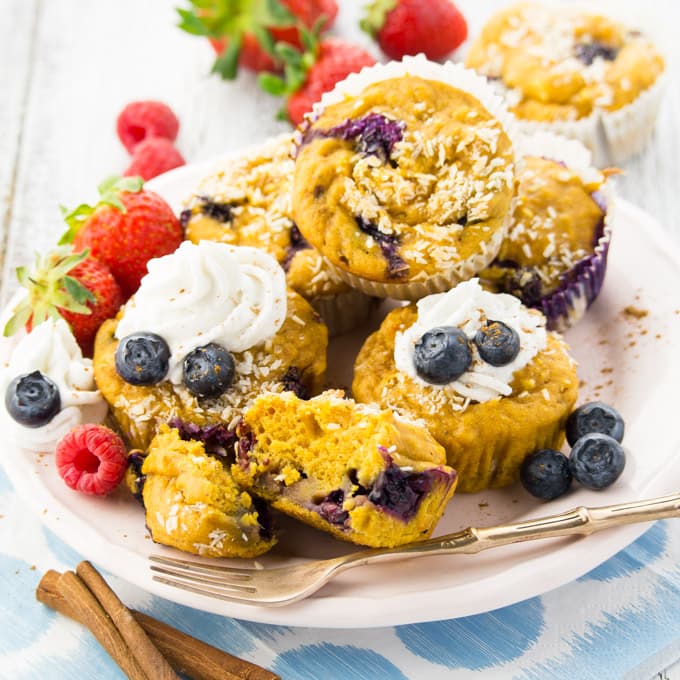 I hope you guys enjoy this recipe for sweet potato muffins with blueberries! If you give it a try, please let me know how you liked the muffins.
Have a great week! xx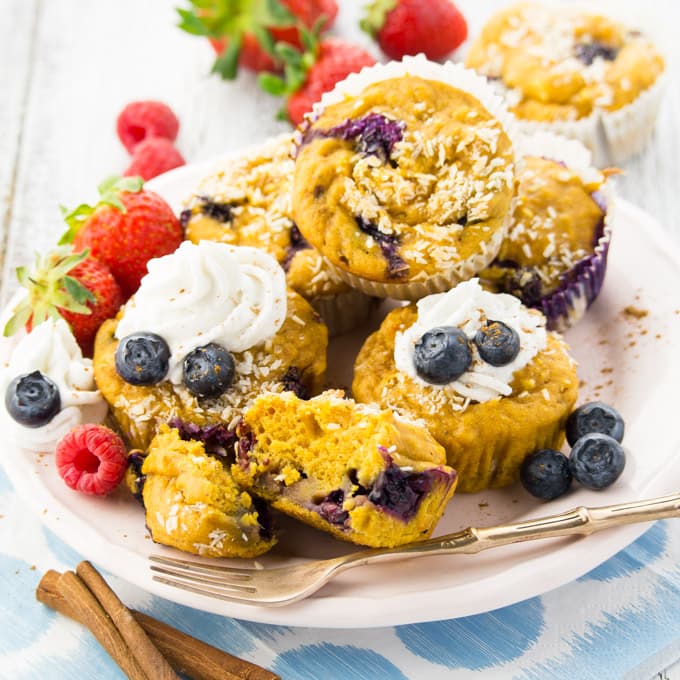 Sweet Potato Muffins with Blueberries
These sweet potato muffins with blueberries are super healthy, sweet, extremely moist, incredibly easy to make, and of course vegan!
Print
Pin
Rate
Ingredients
For the sweet potato muffins:
2 1/2

heaped cups

sweet potatoes, peeled and cut into small pieces

3/4

cup

almond milk or other plant-based milk

1 1/2

cups

spelt flour

(whole wheat flour is fine as well)

3

teaspoons

baking powder

1

teaspoon

ground cinnamon

1/2

teaspoon

ground vanilla

1/2

cup

brown sugar or coconut sugar

1

pinch

salt

1/2

cup

blueberries
Serve with:
fresh blueberries

fresh strawberries

homemade coconut whipped cream
Instructions
In a medium pot, bring some water to a boil and cook the sweet potatoes until they're fork tender. This will take about 10 minutes.

Drain and place them together with the almond milk into a food processor and blend until smooth.

In a medium bowl, combine the flour, the sugar, the baking powder, the vanilla, the cinnamon, and the salt and add the sweet potato mixture. Stir with a wooden spoon until combined.

Add the blueberries and use a spatula or spoon to gently fold the blueberries into the sweet potato muffin batter. Bake at 350 °F for about 25-30 minutes depending on your oven.

Let them cool down for about half an hour and serve them with homemade coconut whipped cream (instructions in the text above) and fresh berries. Enjoy!
Rate the recipe!
If you like this recipe, please leave a good rating! This will help other readers.