The recipe for these eggless blueberry muffins couldn't be easier. They're ready in only 25 minutes and all you need for the preparation is one bowl! And they're so delicious and of course vegan. The perfect little treat! Simple and DELICIOUS!!
I LOVE making muffins because it's just so easy! I mean I love baking in general, but my favorites are definitely muffins. I've always had a weakness for moist and perfectly sweet muffins. And this didn't change when I became vegan…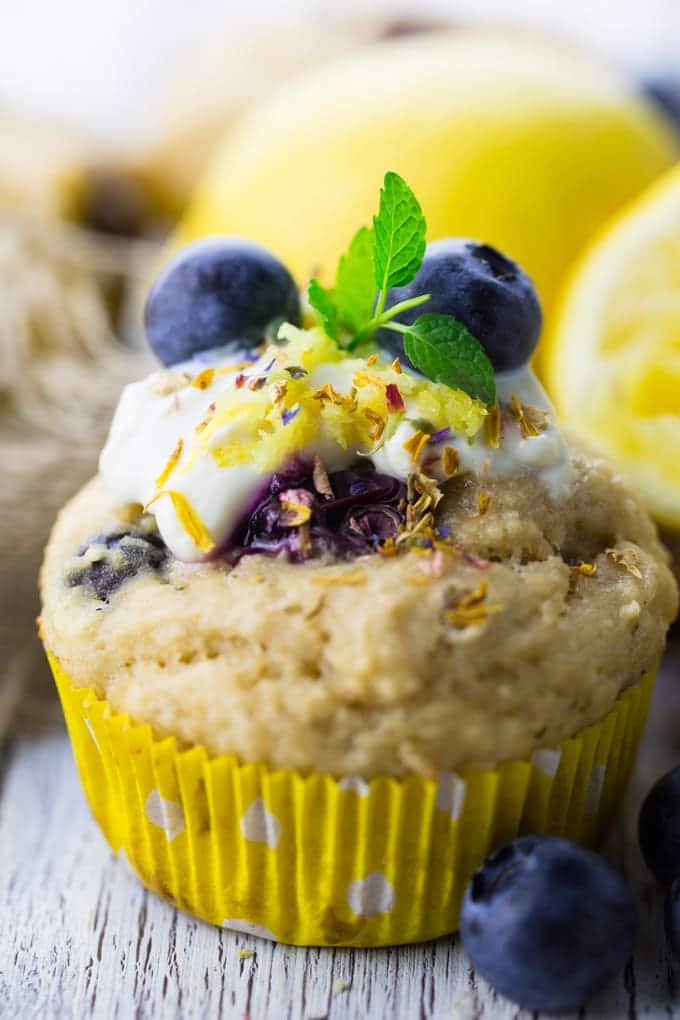 How to Make Vegan Muffins – Eggless Blueberry Muffins
Making vegan muffins really isn't more complicated than making regular muffins with eggs. Instead of eggs you can just use flaxseeds, mashed bananas, or apple sauce. They're all a great, easy, and very cheap egg replacer. My favorite are vegan muffins with banana. SO easy! You can even veganize old muffin recipes this way. Replacing milk is even easier than replacing eggs. Just use plant-based milk alternatives instead such as almond milk, soy milk, or oat milk. I posted a little guide to vegan baking a couple of weeks ago and Peta also has some great tips.
For the eggless blueberry muffins I used a mixture of all-purpose flour and almond flour. I love vegan muffins with almond flour because the almond flour makes them extra moist. If you can't get hold of almond flour or if you're allergic to almonds, you can of course just use regular flour instead.  No problem at all! The other "secret ingredient" to make these vegan blueberry muffins extra moist is yogurt. I used vanilla-flavored soy yogurt, but plain yogurt is also fine. I used to make blueberry yogurt muffins before I became vegan and this was the first time I made them with plant-based yogurt. And they turned out so good! We enjoyed them with some vegan yogurt and lemon zest on top. Yummy!
If you're looking for more vegan recipes for muffins, you might also like a roundup of 25 delicious vegan muffins I posted last year. Let me know if you give these eggless blueberry muffins a try. I hope you like them as much as we do!
Have a great and sunny week!
Sina – xx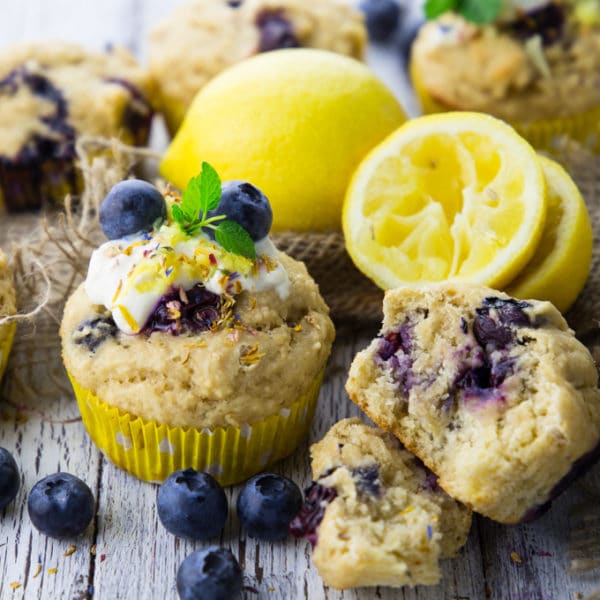 For the eggless blueberry muffins (vegan):
For the topping (optional):
In a medium bowl, combine all ingredients except the blueberries. Stir with a wooden spoon until well combined.

Add the blueberries and use a spatula or spoon to gently fold the blueberries into the muffin batter.

Place baking cups in a muffin pan and divide the mixture evenly.

Bake for about 20 minutes at 360°F. Let the muffins cool down for about half an hour.

Top with more soy yogurt, lemon zest, and blueberries if you want or just enjoy them by themselves.