These tahini brownies are my new favorite! They're incredibly fudgy, moist, and SO chocolatey. Plus, as all the recipes on my blog, they're 100 percent vegan and a little bit healthier than most brownie recipes. The tahini doesn't only add a lot of nutrients, it also gives them an awesome texture and taste! Chocolate heaven, here I come!!
Attention: These vegan tahini brownies are also pretty addictive. I mean who could say no to vegan brownies with chocolate chips AND melted chocolate on top? Definitely not me!! Haha! I made these for a little get-together with some friends and they all couldn't believe that they're vegan. They were gone sooo fast!  As always, you can find the full recipe and the ingredient list in a separate recipe box underneath the text section.
I absolutely LOVE vegan baking!! But when I became vegan more than 5 years ago (wow, time really flies!!), I had tons of questions:
What is vegan baking?
Can you bake a cake without eggs and milk?
And are vegan desserts good?!
I could go on with this list for a really long time. I mean everything was so NEW and I couldn't really believe that baking without eggs and milk would actually work. Well, I couldn't have been more wrong! It really does work and it's often even more delicious and also healthier.
Nowadays, I'm usually baking at least one vegan cake, vegan cookies, vegan brownies, or some other sweet vegan treats per week. So vegan baking has become pretty normal for me over the last couple of years. But I still remember how confused and and also overwhelmed I was when I began baking without milk and eggs. So I took some time to think about all the questions I had when I first started with vegan baking and I'd like to answer them for you in this blog post. Of course I can probably not cover all of your questions, so if you got any other questions just leave me a comment and I'll do my  best to help you with it.
A Little Guide To Vegan Baking
So we'll start with the basics:
– What is vegan baking and can you bake a cake without milk and eggs?
Vegan baking means you don't use any eggs or dairy products for your cakes, cookies, and other baked goods. So no milk, cream, or yogurt. But don't worry! There are tons of plant-based milk alternatives and many ways to substitute eggs.  You can even veganize old baking recipes if you just substitute a couple of the ingredients. So yes, you can definitely bake a cake without milk and eggs. No problem at all!
Here are some of my favorite vegan baking recipes:
Vegan Chocolate Hazelnut Donuts (aka Nutella Donuts)
Vegan Lemon Cake (so easy and moist!)
Vegan Cheesecake with Raspberries (without cashews – my favorite for birthdays!)
Sweet Potato Blueberry Muffins (super healthy and easy to make!)
– So what can I use as a substitute for eggs in vegan baking?
You can for example use applesauce, flaxseeds, or mashed bananas instead of eggs. This might sound a bit weird if you're new to vegan baking, but it's amazing how well this works!
These are my favorite vegan substitutes for eggs:
Mashed Banana – I love using mashed bananas for cookies, muffins, and brownies. I usually add about 1/2 cup of mashed bananas. Make sure the banana you use is very ripe!
Flaxseeds – Soaked flaxseeds, also called flax eggs, are probably the vegan egg substitute I use the most. You can use them for all kind of baked good: vegan brownies, cakes, cookies, and even pancakes. How to make a flax egg: Combine one tablespoon of ground flax seed with 3 tablespoons of water. Stir well and let it sit for about 5 minutes to thicken. One flax egg equals one egg. But how do you make flaxseed meal? You could either use a high speed blender, a good food processor, or a flax mill. I usually just use my blender and pulse for about 3-4 times. It's super easy! If you got some leftover flaxseed meal, just store it in an airtight container in the fridge and you can use it for your next flax eggs.
Applesauce – Applesauce is a great egg substitute for vegan muffins! I usually use 1/4 cup of unsweetened apple sauce. Vegan brownies with applesauce are also amazing. It makes them super fudgy! I also used unsweetened apple sauce for my vegan tahini brownies.
Chia Seeds – Chia seeds as an egg substitute work similar to flaxseeds. Use the same ratio as the flaxseed mix.
Pumpkin Puree – I love using pumpkin puree for all fall-inspired recipes with cinnamon and nutmeg. 1/4 cup of pumpkin puree can substitute one egg.
There are also other ways to substitute eggs in vegan baking like store-bought egg replacers, aquafaba, or even silken tofu. Peta has a great article about egg replacements . You might want to check it out if you're looking for more information on how to replace eggs in vegan baking.
How to Make Vegan Brownies: Vegan Tahini Brownies
This was actually the first time I used tahini to make brownies and I was so happy how they turned out! Making vegan brownies is not more complicated than making regular brownies. All you need is one bowl, a baking tray, and of course your oven. No mixer needed!
The tahini adds a lot of richness and it gives them some deeper flavor, which we really loved! And it makes the vegan brownies so fudgy!
I also tried out some new tahini brand, Yuval's Tahina, which was so much better than the tahini I used before. It's made from organic and regional sesame and it's stroneground. This way the nutrients and the flavors remain preserved, which is of course really important. I absolutely loved its texture and I can highly recommend giving this tahini a try to my German and Austrian readers. I talked a bit more about Yuval's Tahina on my German blog, so if you're a tahini fan like me, you might want to check this out.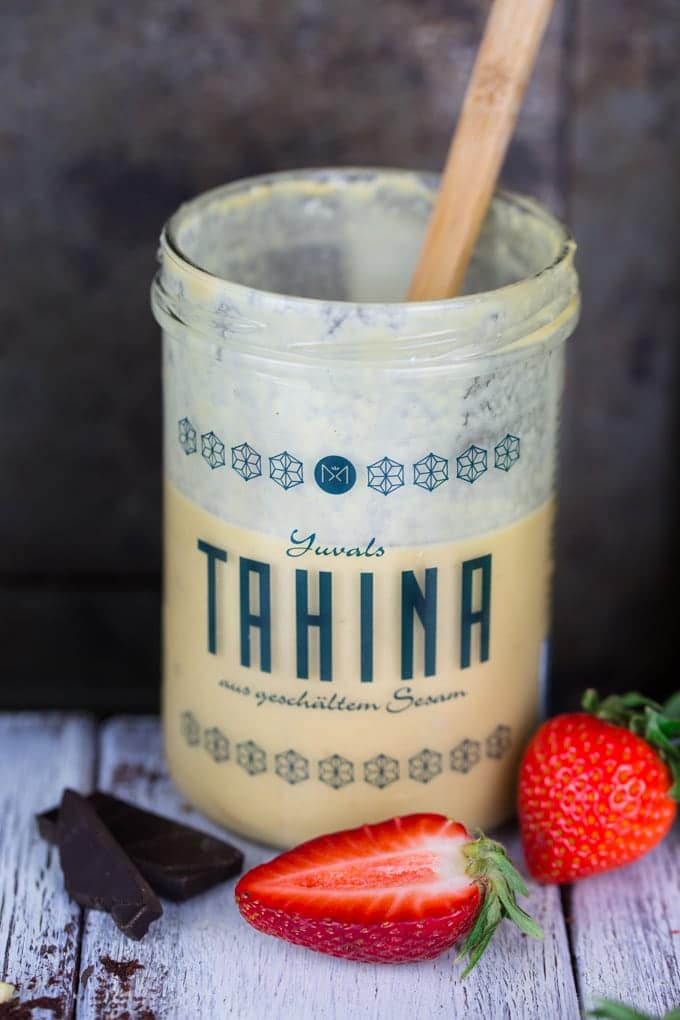 I topped the tahini brownies with some melted chocolate and chopped cashews. Soooo good!!
I hope you like these vegan tahini brownies as much as we do around here! Let me know if you got any more questions concerning vegan baking, egg substitutes, or vegan brownies in general.
Have a great week, everyone!
Sina – xx
Tahini Brownies (Super Fudgy and Chocolatey!)
These tahini brownies are my new favorite! They're incredibly fudgy and SO chocolatey. Plus, as all the recipes on my blog, they're 100 percent vegan and a little bit healthier than most brownie recipes.This recipe makes 12-18 brownies (depending on how big you want them).
Ingredients
For the vegan tahini brownies:
2

cups

all-purpose flour

1

cup

almond milk

1/2

cup

brown sugar

1/2

cup

agave

3/4

cup

cocoa powder

2

teaspoons

baking powder

1

teaspoon

natural vanilla extract

1

flax egg

(1 tablespoon ground flaxseeds + 3 tablespoons of water)

3

tablespoons

unsweetened applesauce

2 1/2

tablespoons

melted coconut oil

1/2

cup

vegan chocolate chips

1/2

cup

tahini
For the topping:
2

tablespoons

tahini

1/4

cup

chopped cashews

1/2

cup

dark chocolate, melted
Instructions
Preheat the oven to 350 °F.

Make the flax egg: Grind one tablespoon of flax seeds in a food processor or use store-bought ground flax seeds. Add 3 tablespoons of water and set aside to thicken for about 5 minutes.

Then make the batter: Combine all ingredients (including the flax egg) in a large bowl and stir with a wooden spoon until well combined. Lightly grease a baking tray (10" x 8") and pour in the batter. Spread evenly.

Put two tablespoons of tahini on top of the brownie batter and swirl with the tip of a butter knife. Sprinkle with the chopped cashews and bake for 25 minutes.

Let the brownies cool down in the baking tray. Melt the chocolate in the microwave or on the stove top. Drizzle on top of the brownies. Cut them into 12-18 pieces, depending on how big you want them. Enjoy!
Nutrition Facts
Tahini Brownies (Super Fudgy and Chocolatey!)
Amount Per Serving
Calories 303
Calories from Fat 126
% Daily Value*
Total Fat 14g 22%
Sodium 37mg 2%
Potassium 188mg 5%
Total Carbohydrates 44g 15%
Protein 7g 14%
* Percent Daily Values are based on a 2000 calorie diet.