Okay, these Oreo peanut butter brownies are not exactly healthy, but they're insanely delicious!!! Besides, they're super chocolatey, fudgy, and rich. Chocolate heaven, here I come!
Plus, they're vegan and pretty easy to make. Oh, and except from the Oreo topping they're even gluten-free. I know they sure don't look like they're gluten-free, but they're made with black beans instead of flour.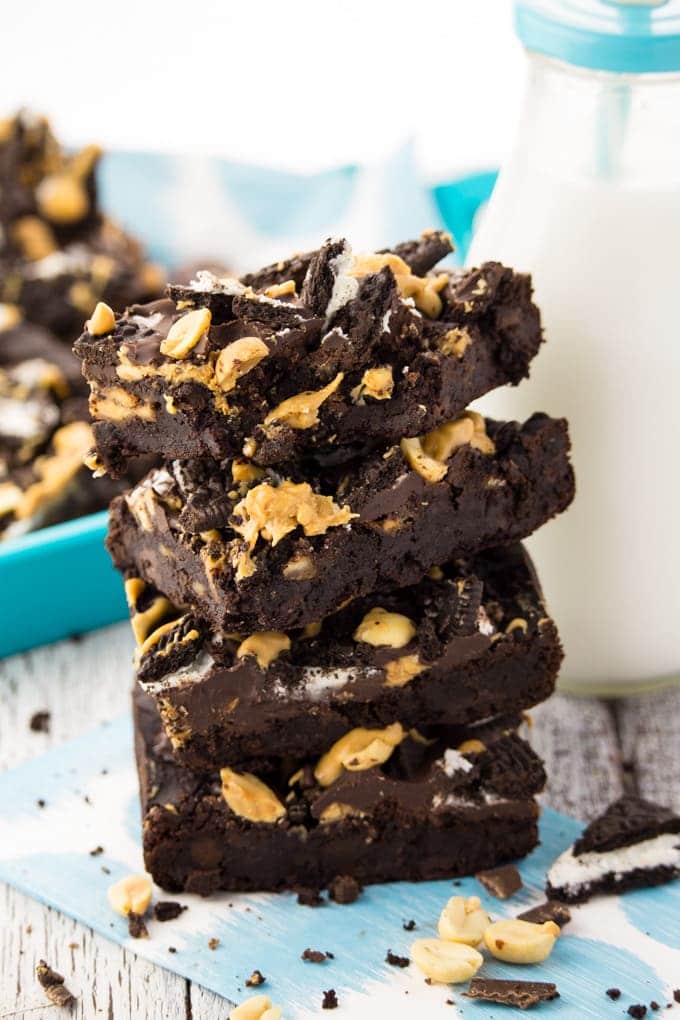 So if you want these Oreo peanut butter brownies to be completely gluten-free and healthier, just leave out the Oreos and only top them with peanut butter, chocolate, and some peanuts.
Baking with beans might sound a bit crazy, but it actually isn't! When I first heard of black bean brownies, I wasn't exactly eager to try them. I just couldn't believe that you could use them to make delicious chocolate brownies. But I was still kinda curious, so one day I thought what the heck why not just give it a try and see how it turns out. And let me tell you, those vegan black bean brownies totally blew my mind!
I posted my recipe for walnut black bean brownies on the blog last summer and the feedback I got was super positive. So I soon tried another bean recipe. That time with kidney beans: my chocolate hazelnut donuts aka. nutella donuts, which actually became one of the most popular recipes on the blog. Both exactly look, smell, and taste like normal brownies and donuts. Isn't this just crazy?!
I already made the black bean brownies with walnuts for several birthday parties and family get togethers and they were always a huge hit. Even my 85-year-old grandma, who's a passionate baker herself, just couldn't believe how yummy they were. She's always amazed when I tell her that I didn't use any eggs and dairy but beans instead of flour?! This sounds downright crazy, but it really does work pretty well!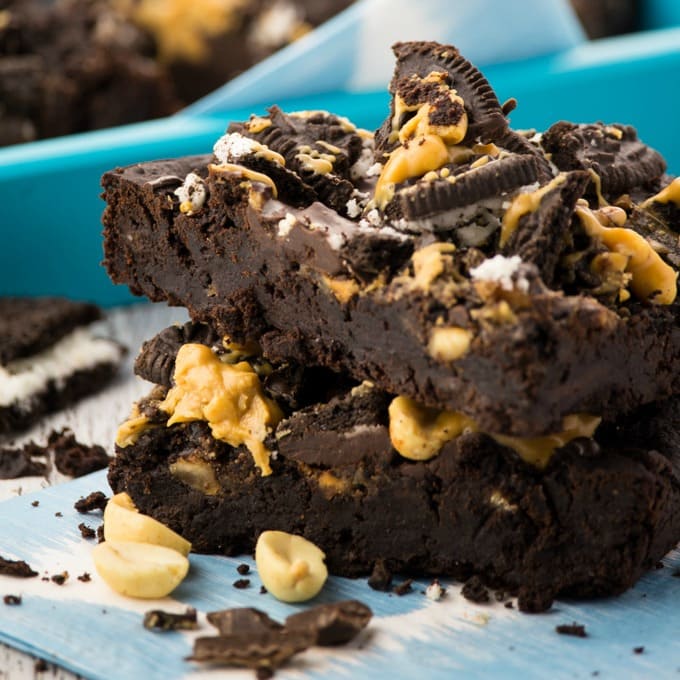 So this time I put my black bean brownie recipe to the next level and used more chocolate, peanut butter, and Oreos. I mean one can never get enough of chocolate and peanut butter, right? Haha!
I hope you like these vegan Oreo peanut butter brownies as much as we do! As always, I love hearing from you in the comment section or on Instagram. It always makes me so happy to see your Vegan Heaven creations on Instagram, so please keep sharing them with me. This really makes my day!
Hope you all have an awesome and sunny week! Sina – xx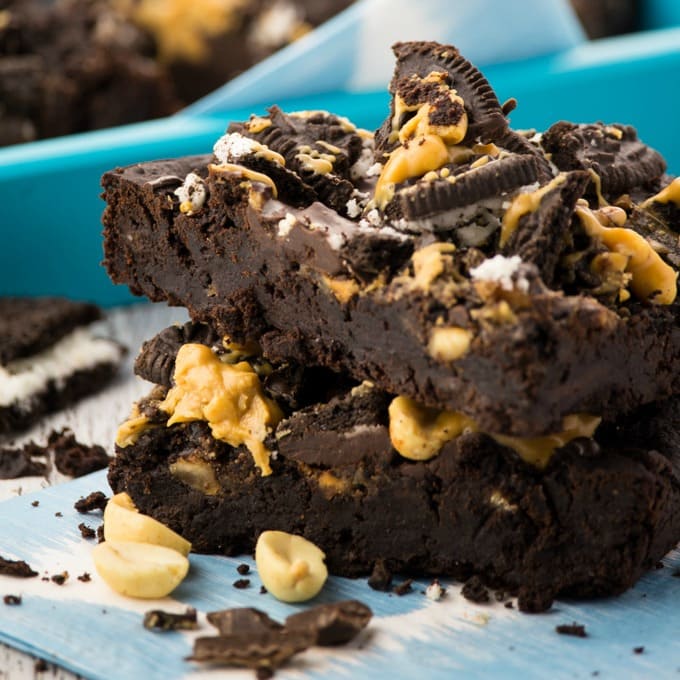 Oreo Peanut Butter Brownies
These vegan oreo peanut butter brownies are insanely delicious! Besides, they're super chocolatey, fudgy, and rich! A real treat!
Print
Pin
Rate
Ingredients
For the vegan black bean brownies:
2

15 oz cans black beans (~3 cups)

4

tablespoons

ground flax seeds

8

tablespoons

water

3

teaspoons

baking powder

1

cup

cocoa powder

1/2

cup

agave

1/4

cup

brown sugar

3

tablespoons

melted coconut oil

2

tablespoons

almond milk

1/2

cup

vegan chocolate chips

1

tablespoon

chunky peanut butter
For the Oreo peanut butter topping:
6

Oreo cookies, crumbled

2

tablespoons

peanut butter, melted

1/4

cup

unsalted peanuts

3.5

oz

dark chocolate
Instructions
Preheat the oven to 350 °F.

Thoroughly rinse and drain the black beans. Grind the flax seeds in a food processor or use store-bought ground flax seeds. Add 8 tablespoons of water and set aside to thicken for about 2 minutes. Then make the batter: Combine all ingredients except the chocolate chips in a food processor and process until smooth.

Lightly grease a baking tray and pour in the batter. Add the chocolate chips to the batter and spread evenly. Stir in one tablespoon of peanut butter with a fork.

Bake for about 40 minutes. Don't worry if the brownies appear to still be a bit soft, they'll get harder once they cool down. Allow the brownies to cool down.

Once the brownies have cooled down, melt the chocolate either in the microwave or over the stove. Melt the peanut butter in a small pot. First put about half of the melted peanut butter on top, then cover them with the melted chocolate and immediately sprinkle with the crumbled Oreos and the peanuts. Add the rest of the peanut butter on top. Let the topping harden for about an hour before you cut the brownies in pieces.
Rate the recipe!
If you like this recipe, please leave a good rating! This will help other readers.