If you're looking for easy vegan meals, this is the right place for you! We've got 20 delicious and healthy vegan dinner recipes for you the whole family will love!
Spending a long time in the kitchen can be nice, especially on the weekend. But on busy weeknights we all need quick and easy recipes that are ready in no time! And of course they should be healthy and delicious at the same time.
To provide you with easy vegan meal ideas, I teamed up with some fellow food bloggers. Just look at all of these recipes! I just wanna try them all at once. Haha!
Here are some delicious and easy vegan meal ideas:
several vegan pasta recipes (for example lemon spaghetti with spinach, creamy roasted red pepper pasta, a vegan "beefy" skillet lasagna, and so much more!)
vegan meatballs (Italian meatballs with spaghetti and Swedish meatballs with gravy)
vegan cauliflower recipes (cauliflower tacos with crispy buffalo cauliflower wings and sticky sesame cauliflower with rice)
easy vegan meals that are ready in just 15 minutes (for example gnocchi in a creamy cashew sauce with spinach and tomatoes and a creamy tomato soup)
vegan Asian-inspired recipes like stir fry vegetables, broccoli tofu stir fry, and sticky sesame chickpeas
vegan one pot meals (for example a creamy vegan one pot pasta with coconut milk and red curry paste and one pan Mexican quinoa)
Are you hungry yet? Then let's get started with these easy vegan meals!
As always, click on the heading above each photo to see the recipe.
20 Vegan Meals That Make The Perfect Weeknight Dinner
This one pan Mexican quinoa with black beans and corn is super easy to make, packed with protein, and so comforting! It's the perfect dinner recipe for busy days! I love eating it with fresh parsley and avocado.
Don't these vegan Swedish meatballs by Karissa from Karissa's Vegan Kitchen look absolutely drool-worthy? And they're gluten-free, oil-free, and nut-free!
These vegan cauliflower tacos with vegan yogurt garlic sauce are the perfect comfort food! They're super crispy, easy to make, and sooo delicious!!
This vegan mushroom bourguignon with potato cauliflower mash is such a great and easy weeknight dinner. It's all cooked in the Instant Pot at the same time with the pot in pot method.
These lemon spaghetti with spinach are the perfect recipe for busy weeknights! It's a one pot meal, super delicious, comforting, and 100 % vegan!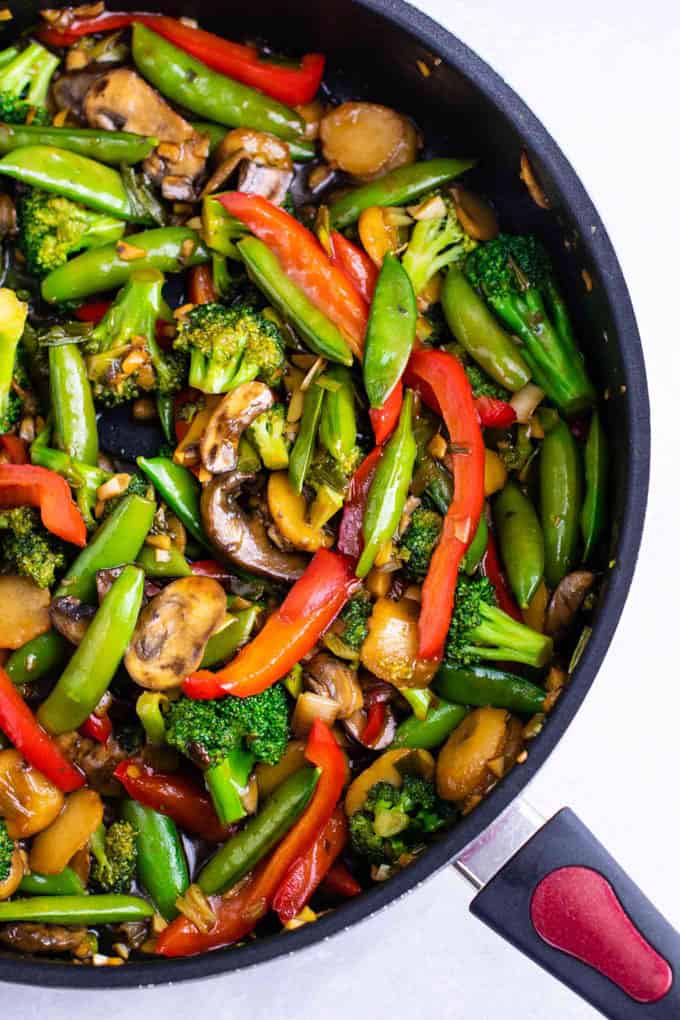 If you're looking for easy vegan meals that are packed with vegetables and flavor, try this rainbow veggie stir fry by Joy from Build your Bites! It's delicious along with brown rice.
These vegan rice paper rolls with mango, mint, and avocado with an easy peanut dipping sauce are just perfect for hot summer days. Or of course all year round!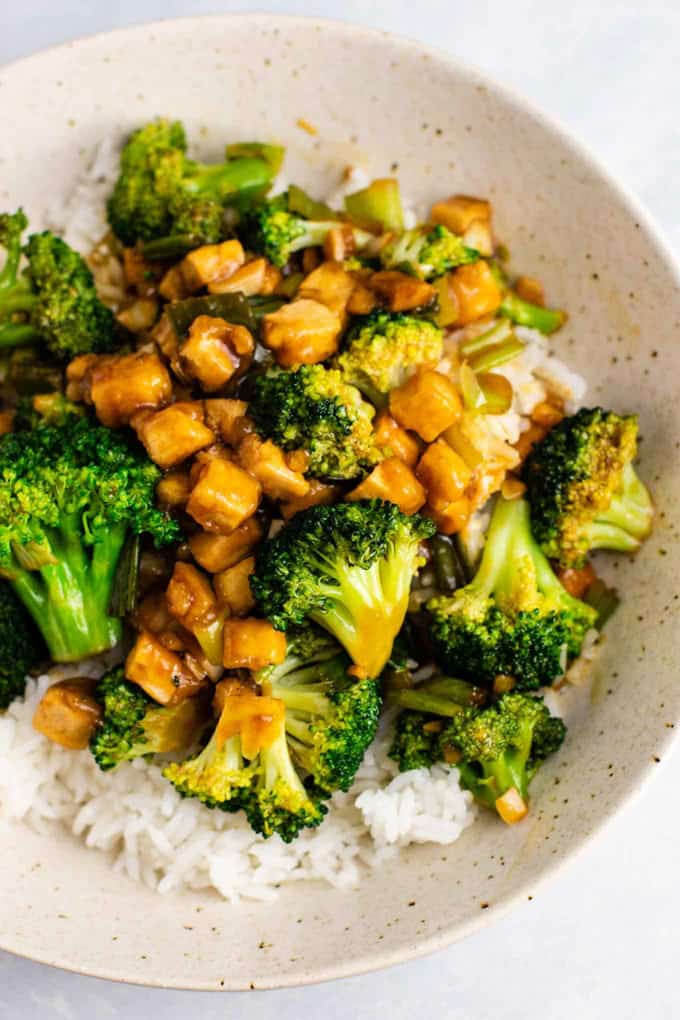 This broccoli tofu stir fry by Joy from Build Your Bites is made in only one pan making it an easy vegan meal for weeknights! Joy used a homemade stir fry sauce, fresh garlic, ginger, and green onions for this dish.
This vegan roasted red pepper pasta is super easy to make and it's SO comforting! The sauce is packed with flavor and it's incredibly creamy. I love serving it with fettuccine and sprinkle it with fresh parsley and red pepper flakes. BIG yum!!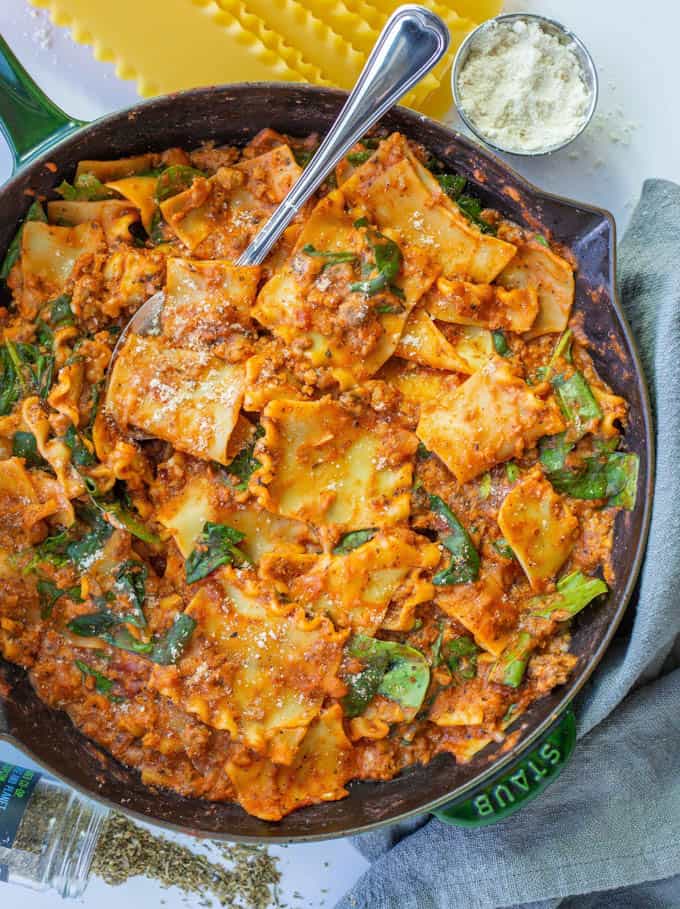 Wow! This vegan "beefy" skillet lasagna by Valerie from Vegan Travel Eats looks so delicious! You get all the deliciousness of a lasagna in a quick and easy pan!
Don't these juicy and tender grilled portobello mushroom steaks by Kate from Veggie Desserts look delicious? They're vegan, gluten-free, smoky, and so easy to make. 15 minutes is all it takes!
These vegan gnocchi with a creamy cashew sauce, spinach, and tomatoes are the perfect vegan meal for weeknights. It's super easy to make and incredibly comforting! And it's ready in only 15 minutes!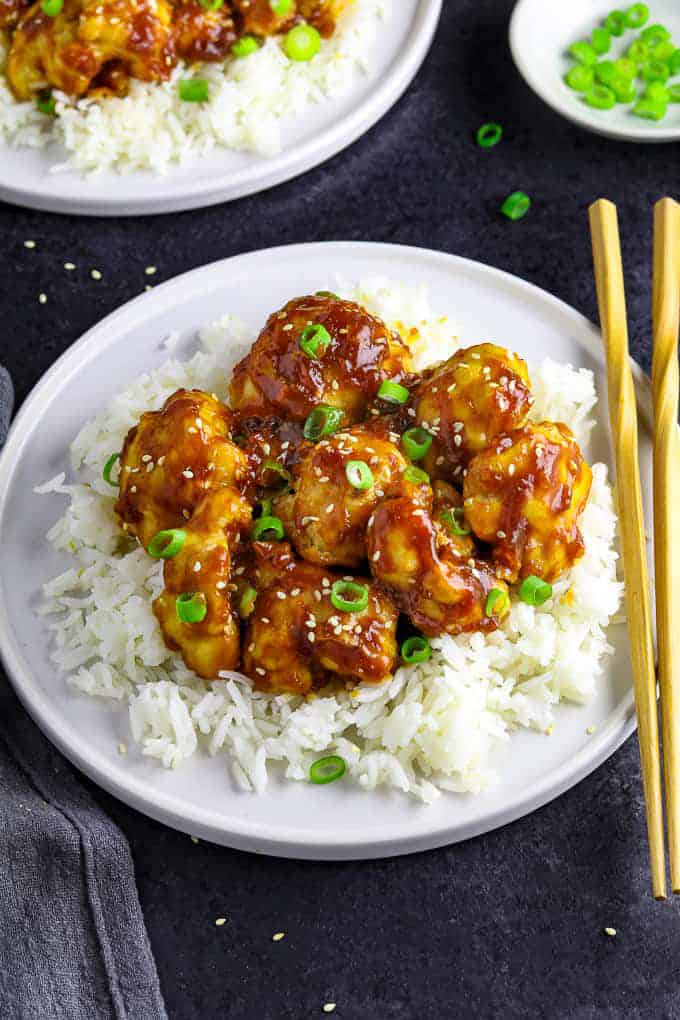 I absolutely love how versatile cauliflower is! This sesame cauliflower with a sticky-sweet sauce by Melissa from Vegan Huggs is so much better than takeout! And it's much lighter and healthier as well.
I absolutely LOVE pasta and I love quick and easy meals! So this Asian style vegan one pot pasta with coconut milk and red curry paste is absolutely perfect. It's one of my favorite vegan meals for weeknight dinners. Easy, healthy, and so incredibly delicious and creamy.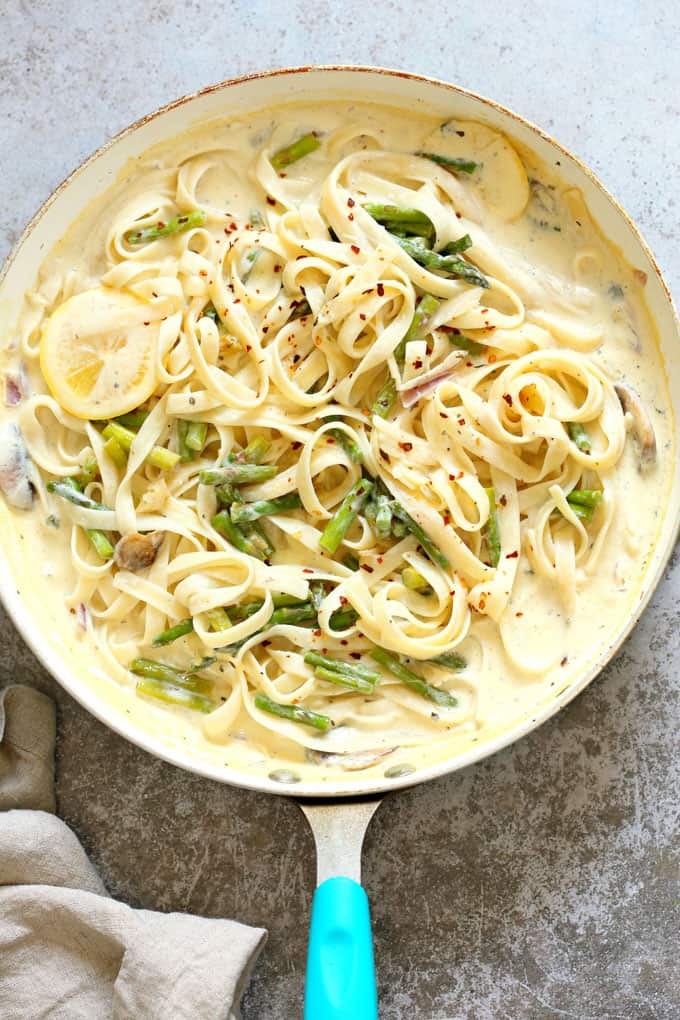 Are you looking for vegan meals for spring? Then try this vegan lemon asparagus pasta by Richa from Vegan Richa. The sauce is made with tofu, which provides this pasta dish with a stunning 17 grams of protein!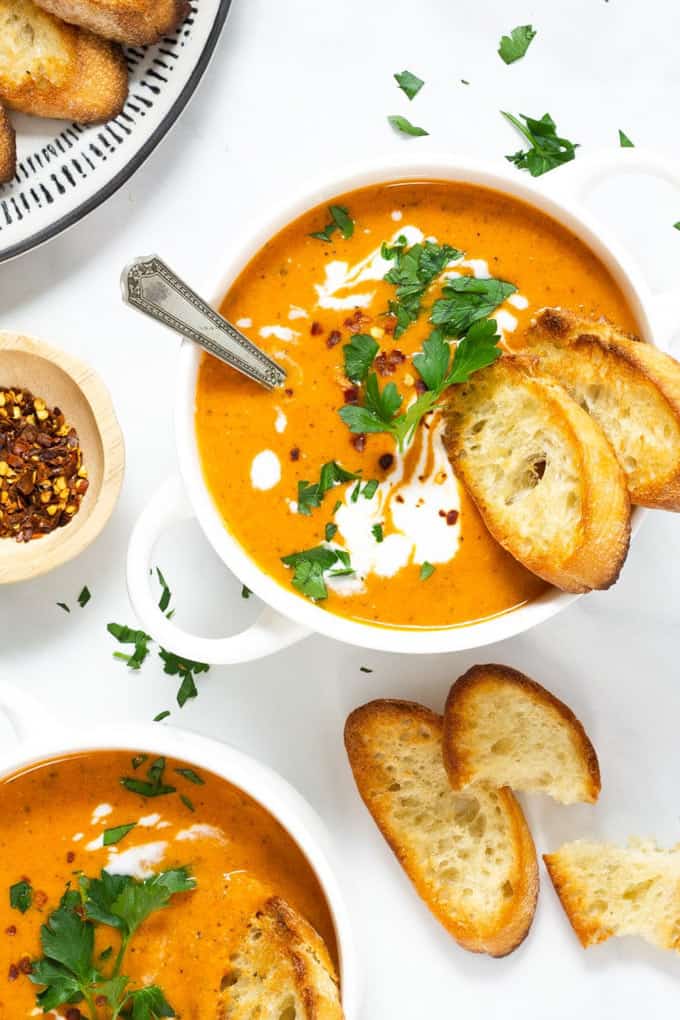 This vegan tomato soup by Kylie from Midwest Foodie is ready in only 25 minutes! And you need only 10 ingredients to make it, so it's another great vegan meal for busy weeknights!
These vegan meatballs are the perfect comfort food. They're really easy to make, so delicious, and incredibly healthy! Serve them with spaghetti for a quick and easy dinner. I promise you that you will LOVE them. They're one of my all-time favorite recipes!
Vegan meals for the whole family can be so easy! These sticky sesame chickpeas by Claire from Eat with Clarity are a perfect example. This dish is very easy to make and it's packed with plant-based protein.
Doesn't this roasted red pepper and sun-dried tomato pasta by Tamsin from Cupful of Kale look super delicious? It's fresh, creamy, and 100 % vegan!
This 15 minute vegan burrito bowl by Bethany From A Simple Palate is another delicious vegan meal with simple pantry ingredients. It's so quick and easy to make and it's super healthy!

I LOVE TO HEAR FROM YOU GUYS!
I hope you enjoy these 20 vegan meals as much as I do! Don't forget to pin or share this post so you have these easy vegan meals ready when you need them!
If you give any of these vegan meals a try, I'd love to know what you think about it. For more vegan meal ideas, check out these 35 easy vegan dinner recipes and these 20 delicious veg recipes!
You like my recipes and roundups and want to see more? Then follow me on Facebook, Instagram, or Pinterest!
Sina