Are you looking for veg recipes for dinner? Then look no further! We've got you covered with 20 delicious, healthy, and simple recipes that are perfect for the whole family. All of the recipes are vegan and many are gluten-free as well.

Making vegan recipes is so much easier than many people think! My blog is all about easy vegan dinner recipes the whole family loves. This is another great collection of simple vegan recipes that will even convince meat-eaters! Vegetables are the star in these recipes!
We've got:
summer rolls with mango, mint, cucumber and peanut dipping sauce
vegan tacos with pinto beans, tomatoes, and avocado
a few vegan Mexican recipes (Mexican quinoa, portobello fajitas, and a vegan tortilla bake)
vegetable lo mein
vegan jambalaya with beans
delicious vegan pasta recipes ( creamy sun-dried tomato pasta with spinach, roasted red pepper pasta, vegan butternut mac and cheese)
vegan potato gratin
chickpea salad with broccoli
and much more!
Let's get started with all the delicious veg recipes!
As always, click on the heading above each photo to see the recipe.
20 Simple and Delicious Veg Recipes
These vegan summer rolls with mango, mint, and avocado are perfect if you're looking for a light and healthy dinner. I love serving them with a peanut dipping sauce. Sooo good! They're perfect for hot summer days, but I actually love eating them the whole year round.
Don't these chipotle pinto bean tacos by Scotty from Plant-Based Scotty look super delicious? They're very easy to make and they're packed with protein. Don't forget to top them off with some guacamole!

This one pan Mexican quinoa with black beans and corn is super easy to make, packed with protein, and so comforting! It's the perfect dinner recipe for busy days! I love eating it with fresh parsley and avocado.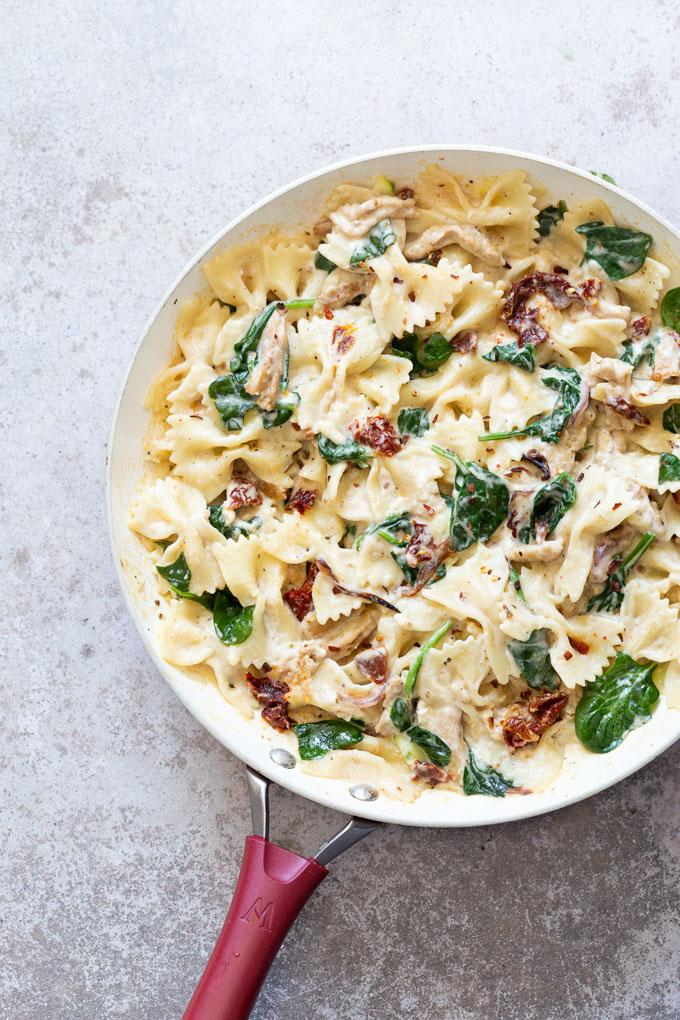 This creamy sun-dried tomato pasta with garlic soy curls by Richa from Vegan Richa is the perfect comfort food. And thanks to the soy curls it has 20 grams of protein! Richa also included gluten-free and nut-free options.
These potato fritters with red lentils are super easy to make and so delicious! They're best with spicy sriracha mayonnaise. The recipe for these fritters is of course 100 % vegan!
Yummy! These crispy baked tofu nuggets by Kellie from Food To Glow look so delicious. They're super versatile. You can put them on a sandwich or use them as a salad topping. Kellie served them with an easy maple-mustard sauce for the photo above. 
This vegan roasted red pepper pasta is super easy to make and it's SO comforting! The sauce is packed with flavor and it's incredibly creamy. I love serving it with fettuccine and sprinkle it with fresh parsley and red pepper flakes. BIG yum!!
If you're looking for a healthy vegan lunch or dinner, you should try this vegan chickpea salad by Deryn from Running on Real Food. It's made with broccoli, red pepper, zucchini, red onion, almonds and lemon tahini sauce. So it's packed with healthy and nutritious ingredients!
This easy vegan chickpea curry with potatoes, peas, and carrots is perfect for quick weeknight dinners! It's delicious, comforting, and packed with protein and nutrients. And it's ready in only 30 minutes!
This vegan stew with beans and sweet potato by Amy from The Cook Report is perfect for a cold day. It's warming and full of nourishing ingredients like quinoa, beans, and sweet potato. 
This vegan pad Thai by Nora from Nora Cooks is better than take-out! It consists of rice noodles, tofu, veggies, peanuts and a simple sauce. It's ready in just 30 minutes! 
This vegan jambalaya with beans and vegetables is the ultimate comfort food from the South! It's super easy to make, so delicious, and packed with nutrients!
Are you looking for healthy vegan comfort food? Then you should try this lentil chickpea curry by Florian from Contentedness Cooking! It's packed with protein thanks to the lentils and the chickpeas and you need just six ingredients to make it. And it's gluten-free too! 
Doesn't this butternut squash mac and cheese by Jenn from Veggie Inspired look super delicious? It's made from whole food plant-based ingredients and is very healthy. And it was even featured on a TV show!
This vegetable lo mein by Michelle from Healthier Steps makes a great dinner for the whole family! It's easy to prepare and gluten-free if you're using gluten-free ramen noodles. 
If you're looking for a quick and healthy vegan pasta dish, you should try this mushroom bolognese by Bianca from Elephantastic Vegan. Bianca used red lentil pasta to make the meal gluten-free and to add even more protein. But of course you can use any kind of pasta you want. Don't forget to top it with cashew parmesan, oregano, and basil.
Surprise your family with this vegan cheesy Mexican tortilla bake by Brandi from The Vegan 8! It's the perfect vegan comfort food, but at the same time it's also healthy, gluten-free, and oil-free.
Potatoes are always a great idea! And this creamy vegan potatoes au gratin by Michelle from Healthier Steps looks absolutely delicious. Michelle combined potatoes with caramelized onions and fennel in a vegan herb sauce for this dish. 
Do you have some leftover vodka from a cocktail party? Then you should try this dairy-free vodka sauce by Alisa from Go Dairy Free. It's super easy to make and it's incredibly creamy!
These vegan portobello fajitas by Melissa from Vegan Huggs are ready in just 30 minutes. They're super smoky and spicy! They make a great vegan dinner for the whole family!
I LOVE TO HEAR FROM YOU GUYS!
I hope you enjoy these 20 veg recipes as much as I do! Don't forget to pin or share this post so you have these vegan dinner ideas ready when you need them! 
If you give any of these recipes a try, I'd love to know what you think about it. Just leave me a comment below. Your comments really make my day!
You like my recipes and roundups and want to see more? Then follow me on Facebook, Instagram, or Pinterest! 
Sina