Are you looking for healthy vegan recipes? Then look no further! We've got you covered with 30 delicious and healthy vegan dinner recipes for the whole family. All recipes are made with healthy plant-based ingredients and many of them are naturally gluten-free.

Start the year off right with these healthy vegan dinner recipes! After the holidays, many of us just feel like eating healthier. So I've teamed up with some fellow food bloggers to provide you with a stunning list of healthy recipes. Healthy eating has never been so easy!
Whether you are looking for easy vegan simple recipes for healthy eating or just a few ideas to sneak in some more veggies for your kids once in a while, this is the right place for you!
We've got so many delicious and healthy vegan recipes for you. Here are some examples. We've got:
healthy vegan pasta recipes (for example spaghetti with meatballs, pumpkin pasta, or pasta with broccoli pesto)
easy rice dishes (black beans and lime and teriyaki Instant Pot rice)
filling and comforting soups (for example stuffed pepper soup, vegan corn chowder, or vegan broccoli cheese soup)
healthy quinoa recipes (how do one pan Mexican quinoa or a sweet potato quinoa bowl sound?)
easy salad recipes that are perfect for lunch (for example an avocado black bean salad or a chickpea quinoa salad with spinach)
healthy bowls (marinated mushroom bowl and Cajun sweet potato rice bowl)
healthy kid-friendly recipes (for example veggie tater tots, pinto bean tacos, and vegetable potato fritters)
As always, click on the title above each photo to see the recipe of each of these healthy vegan meals.
30 Healthy Vegan Recipes That Make The Perfect Vegan Dinner or Lunch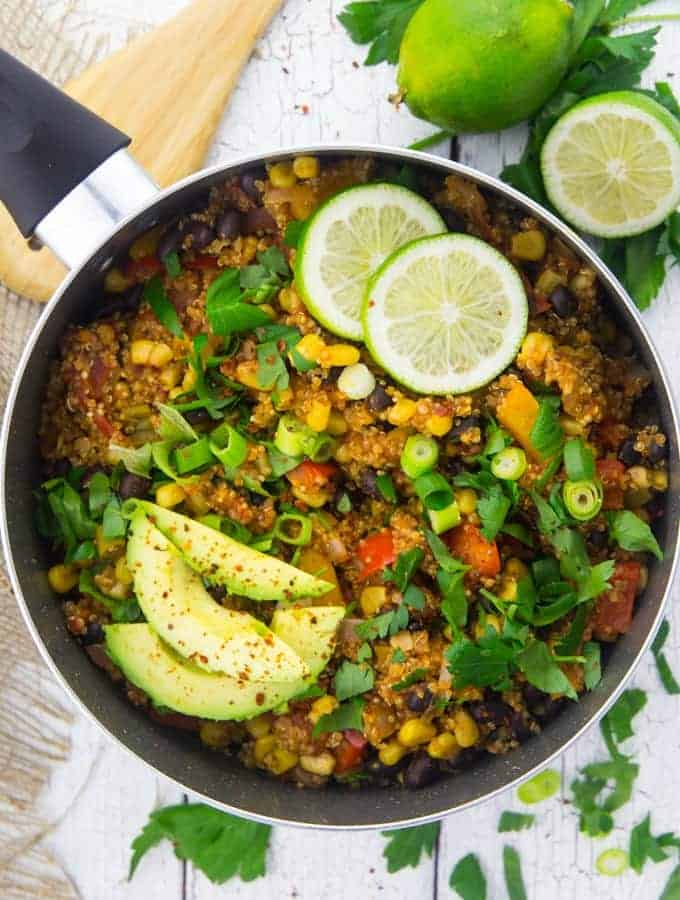 This one pan Mexican quinoa with black beans and corn is super easy to make, packed with protein, and so comforting! It's the perfect dinner recipe for busy days! I love eating it with fresh parsley and avocado.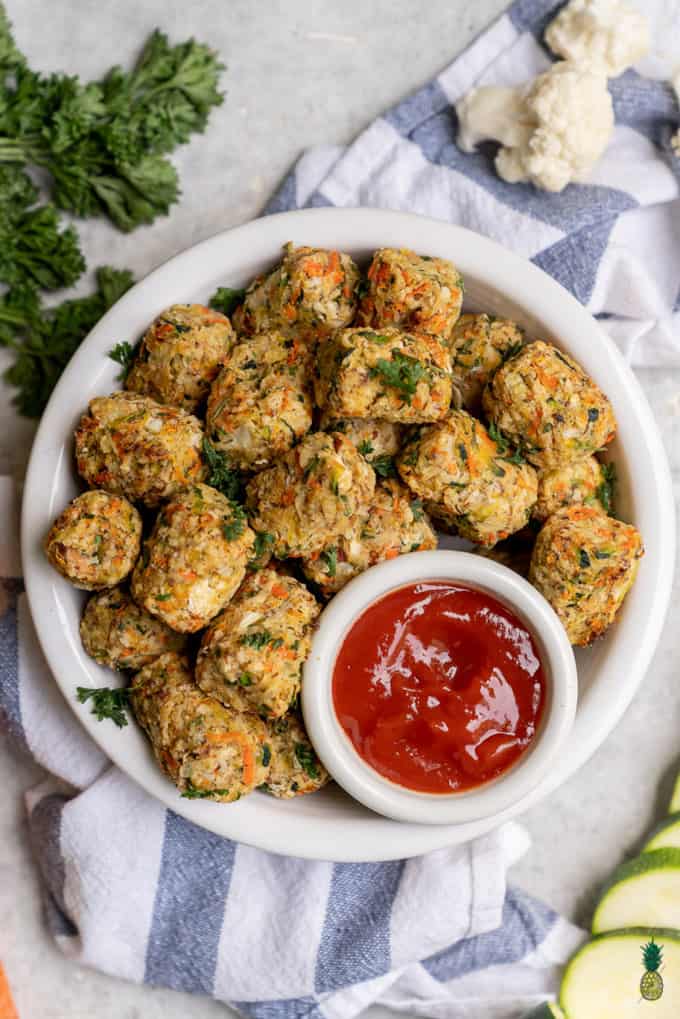 These vegan tater tots by Jasmine from Sweet Simple Vegan are loaded with vegetables! They're loaded with zucchini, cauliflower, and carrots. The perfect recipe for kids that aren't the biggest fan of vegetables!
This cauliflower Bolognese sauce is not only super easy to make but it's also incredibly healthy! Instead of ground meat, the recipe calls for cauliflower. Yes! Cauliflower! It's such an incredible vegetable! As all my recipes, the cauliflower Bolognese is 100 % vegan. Besides, it's also gluten-free and low in calories.
This 30 minute black beans and lime rice by Marlena from Where You Get Your Protein makes a great lunch or dinner. Marlena added fresh lime juice and perfectly seasoned black beans to the rice. And don't forget to add some fresh cilantro and diced avocado.
You will love these vegan rice paper rolls with mango, mint, and avocado with an easy peanut dipping sauce! They make such and healthy and light dinner. I especially love eating them on hot summer days. But they're great the whole year round!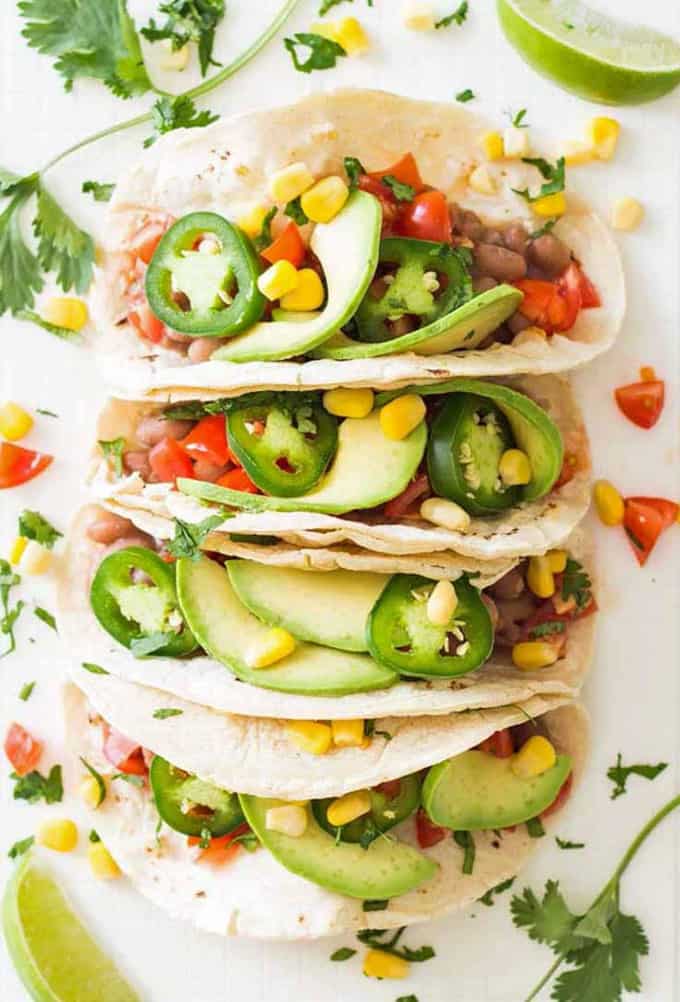 These vegan pinto bean tacos by Christel from Diabetes Strong are super easy to make. They're ready in less than 20 minutes and you need only eight ingredients ton make them.
These potato fritters with red lentils are super easy to make and so delicious! They're best with spicy sriracha mayonnaise. The recipe for these fritters is of course 100 % vegan!
This cauliflower tikka masala by Anjali from Vegetarian Gastronomy is the perfect comfort food! But at the same time it's vegan, rich, creamy, and healthy! Anjali used whole and clean ingredients for this flavorful recipe.
These healthy pumpkin pasta with spinach and mushrooms by Elena from Happy Kitchen Rocks make a great dinner for the whole family. The whole dish takes 30 minutes to make. If you use ready-made pumpkin puree, you could even make it in 15 minutes!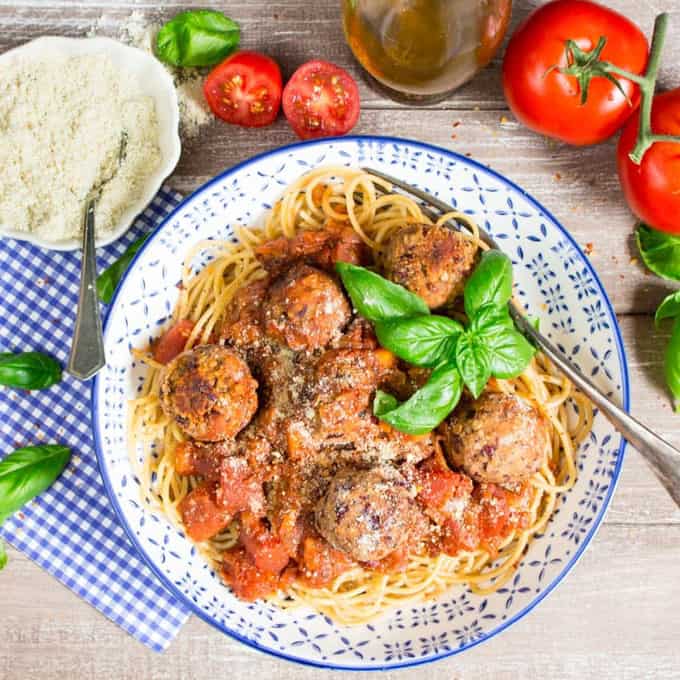 These vegan meatballs are the perfect comfort food. They're really easy to make, so delicious, and incredibly healthy! Serve them with spaghetti for a quick and easy dinner. I promise you that you will LOVE them. They're one of my all-time favorite recipes!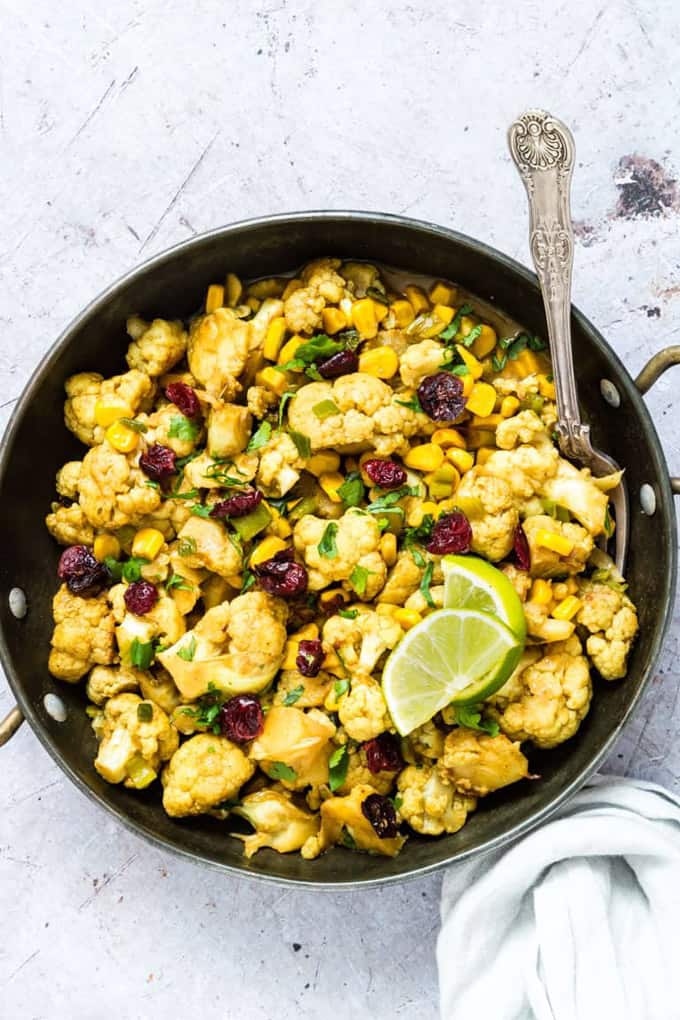 This one pan cauliflower curry by Bintu from Recipes From a Pantry makes a quick and healthy weeknight dinner. It's vegan, gluten-free, and packed with flavor! As Bintu used a mixture of coconut milk and vegetable stock, the curry is much lighter and has less calories than most curries.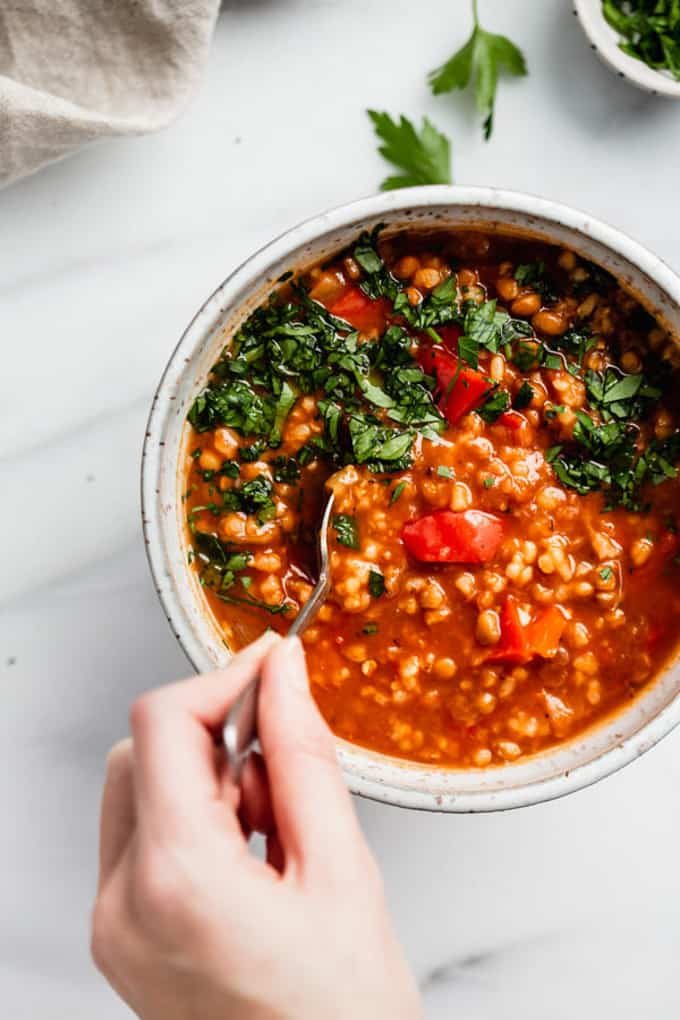 If you're looking for a warming and comforting soup, you should try this vegan stuffed pepper soup by Jess from Choosing Chia. Jess used simple ingredients for this soup and it's very easy to prepare. Besides, it's loaded with filling protein and whole-grains.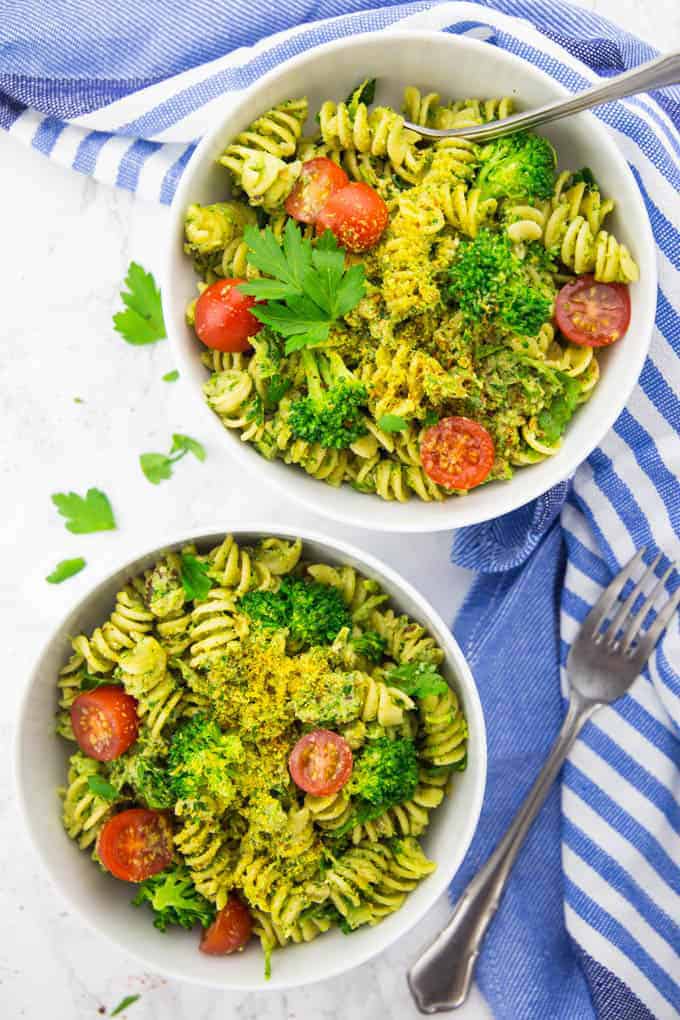 This broccoli pesto with pasta and cherry tomatoes is one of my favorite weeknight meals! It's super easy to make, incredibly delicious, and packed with nutrients. Perfect for pasta lovers!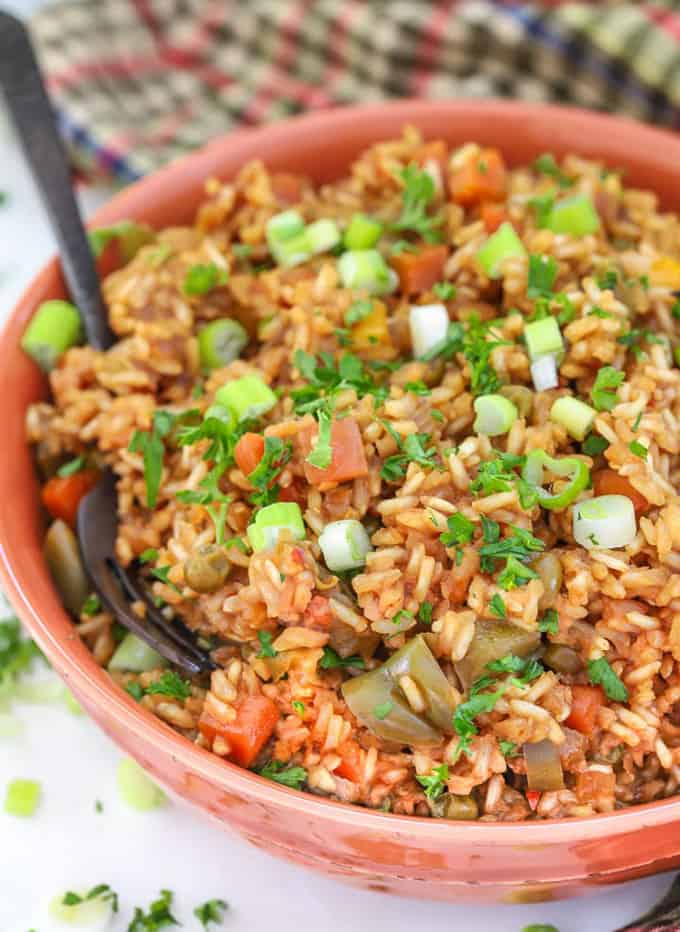 The recipe for this teriyaki Instant Pot rice by Melanie from A Virtual Vegan couldn't be much easier. And it's really healthy at the same time. Melanie also included stovetop instructions for those of you who don't have an Instant Pot.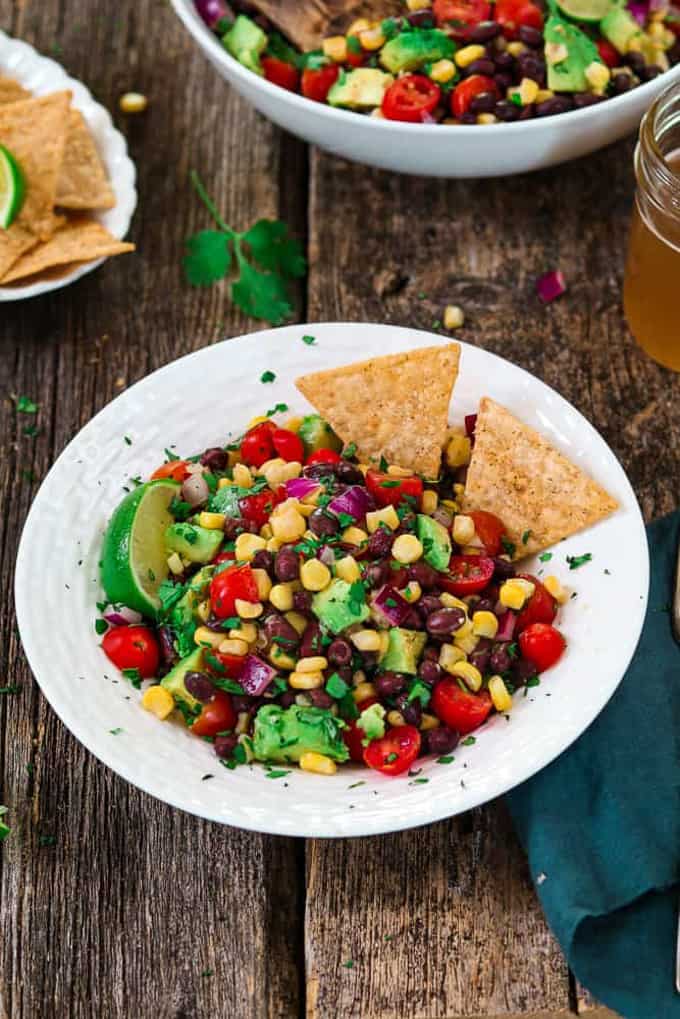 If you're looking for an easy, fresh, and colorful salad, what about this avocado black bean corn salad by Melissa from Vegan Huggs? The recipe couldn't be easier: just chop the veggies and toss them with a zesty cilantro lime dressing.
This vegan corn chowder with potatoes is super creamy and so comforting! It's the perfect soup for spring and summer! Besides, it makes such a great and healthy vegan dinner! And it's very budget-friendly!
This curried sweet potato lentil salad by Richa from Vegan Richa makes a great lunch. It's a great combination of Indian spices, roasted sweet potato, lentils, and lime juice. The recipe is nut-free and Richa also included instructions to make it oil-free.
This vegan broccoli cheese soup by Nora from Nora Cooks is the perfect comfort food! It's super and creamy. And it's ready in just 30 minutes.
This quinoa soup with kale, potatoes, and carrots has been one of my favorite soups for a really long time. It's super easy to make, packed with nutrients, and so yummy! Besides, it's of course vegan and also gluten-free!
These marinated mushrooms bowls by Alisa from Go Dairy Free make a super healthy lunch or dinner. They're very rich in plant-based protein from the lentils and wild rice. If you want you could also make this dish ahead.
Are you looking for a comforting vegan dinner recipe? Then you should try this red lentil dahl by Kate from Veggie Desserts. It's ready in just 30 minutes and it's full of flavor!
This vegetable harvest bowl by Scott from Plant-Based Scotty is packed with healthy ingredients! It's a great combination of sweet potatoes, chickpeas, pomegranate seeds, and broccoli. And don't forget to top the bowl with creamy cashew cheese sauce!
Yes, tacos can actually be healthy! These cauliflower mushroom walnut tacos by Shane from Shane & Simple are ready in just 20 minutes! They're low-fat and very easy to make.
This Instant Pot vegetable soup by Marlena from Where You Get Your Protein makes an easy and healthy weeknight dinner. Marlena used simple ingredients to make this soup a great and easy vegan dinner recipe.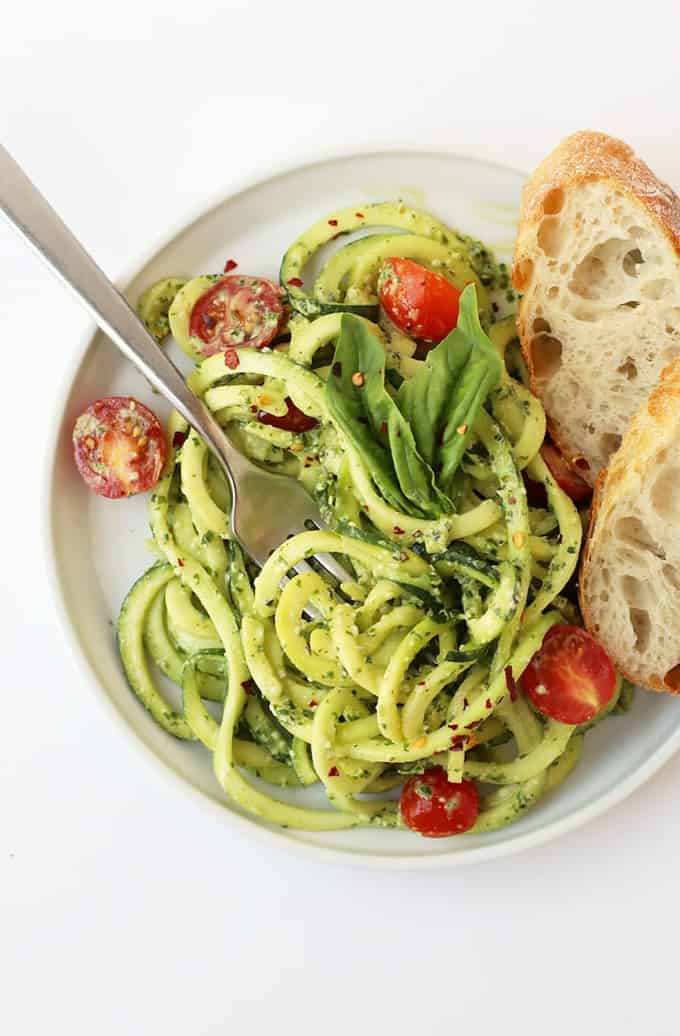 Have you ever tried zucchini noodles or zoodles? They are a delicious and healthy alternative to regular pasta. And don't these zucchini noodles with pesto by Sarah from My Darling Vegan look super delicious? This quick meal is ready in just 10 minutes and it makes a great dish for hot summer days.
This sweet potato quinoa bowl by Jenn from Veggie Inspired is incredibly healthy. It's packed with roasted vegetables, healthy plant-based protein, and lots of flavor. Besides, it comes with a delicious cashew curry sauce.
This vegan beef stew by Linda from Veganosity is much healthier but just as delicious as meat-based stew. Portobello mushrooms provide the meaty texture for this stew.
Are you looking for a delicious lunch to bring to work? Then this chickpea quinoa salad with spinach by Marina from Yummy Mummy Kitchen is perfect for you! It's a great combination of spinach, chickpeas, cucumber, quinoa, and pomegranate seeds. And if you want you could also add avocado on top for even more nutrients. Healthy vegan recipes can be so easy!
Don't these black bean rice burgers with rainbow toppings by Alexandra from Occasionally Eggs look super delicious? Alexandra topped them with winter vegetables such as pickled onions and shredded root vegetables.
This Cajun sweet potato rice bowl by Florian from Contentedness Cooking is vegan, gluten-free, and very easy to make. And it's super healthy and packed with flavor!
I LOVE TO HEAR FROM YOU GUYS!
I hope you enjoy these healthy vegan recipes as much as I do! Don't forget to pin or share this post so you have these recipes ready when you need them!
If you give any of these vegan dinner recipes a try, I'd love to know what you think about it. Just leave me a comment below. Your comments really make my day!
Are you looking for even more vegan recipes? Then check out these 10 vegan recipes for beginners!
You like my recipes and roundups and want to see more? Then follow me on Facebook, Instagram, or Pinterest!
Sina