Are you new to the vegan lifestyle and are you looking for vegan recipes for beginners? Then this is the right place for you! We've got you covered with easy vegan recipes for the whole family.
Transitioning to a vegan lifestyle can be a bit intimidating at first. I still vividly remember when I became vegan back in 2013. So many new ingredients and a new way of cooking!
I've got a whole category for you on the blog that talks about going vegan. You will find interesting facts about veganism, easy vegan recipes to start your vegan journey, and all you need to know about how to go vegan. So check it out!
In this post, I've covered you with 10 easy vegan recipes for beginners that everyone can make.
For those of you who miss meat, try my vegan meatballs and my vegan cauliflower wings. And I've also included a recipe for vegan cream cheese that tastes so much like regular cream cheese. And of course vegan cookies and vegan pasta recipes.
So let's get started!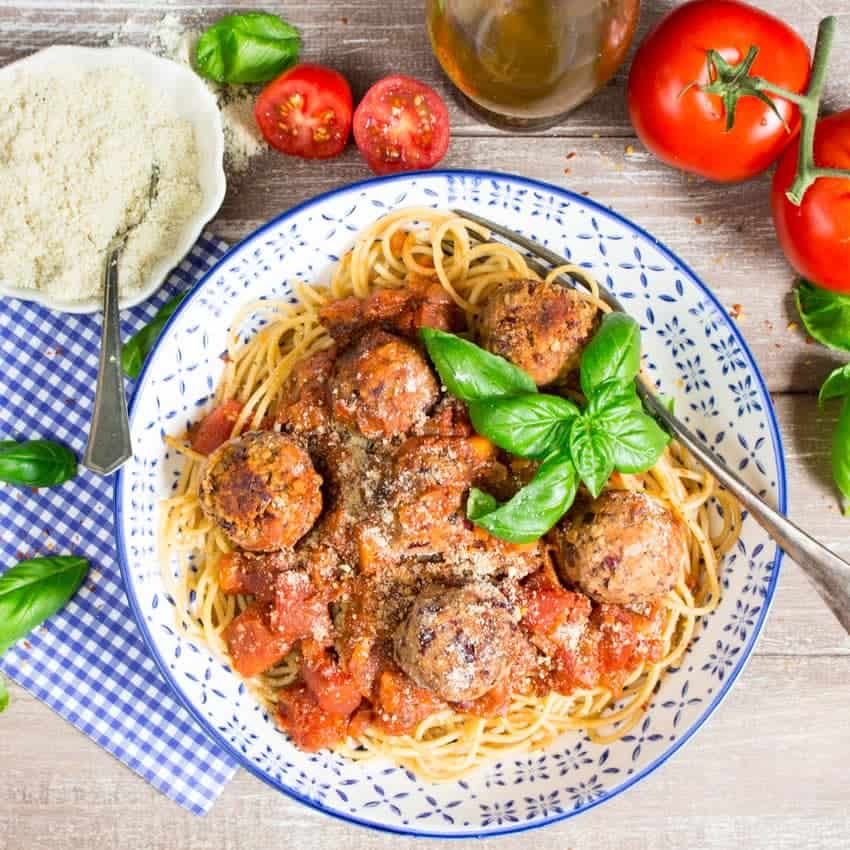 These vegan meatballs are the perfect comfort food. They're really easy to make, so delicious, and incredibly healthy! Serve them with spaghetti for a quick and easy dinner.
This one pan Mexican quinoa with black beans and corn is super easy to make, packed with protein, and so comforting! It's the perfect dinner recipe for busy days! I love eating it with fresh parsley and avocado.
These lemon spaghetti with spinach are the perfect recipe for busy weeknights! It's a one pot meal, super delicious, comforting, and 100 % vegan! And it's so creamy and has a deep lemon flavor.
This vegan cream cheese is incredibly creamy, garlicky, and super delicious spread on a fresh bagel or toast. And it's ready in just 5 minutes!
These vegan peanut butter cookies with chocolate chips are easy to make, full of peanut butter flavor, and sooo delicious! And they're ready in just 15 minutes! We can't get enough of them!
This vegan jambalaya with beans and vegetables is the ultimate comfort food from the South! It's super easy to make, so delicious, and packed with nutrients!
These vegan cauliflower hot wings with vegan aioli are the perfect comfort food! They're so tangy, spicy, and incredibly comforting. And they're also a lot healthier than chicken wings!
This vegan chickpea salad with kidney beans, tomatoes, and cucumber is one of my favorite salads! It's the perfect addition to BBQs and potlucks, it's super healthy, and very easy to make. 10 minutes is all it takes!
These vegan gnocchi with a creamy cashew sauce, spinach, and tomatoes are the perfect weeknight meal. It's super easy to make and incredibly comforting! And it's ready in only 15 minutes!
This Southwestern pasta salad with avocado, black beans, and lime dressing is one of my new favorites. It's not only super easy to make, but also healthy. It's a great addition to any BBQs and potlucks!
I Love to Hear From You!
I hope you like these vegan recipes for beginners as much as we do around here.
If you give any of these recipes a try, I'd love to know what you think about it. Just leave me a comment and a star rating below. Your comments really make my day!
You like my recipes and want to see more? Then follow me on Facebook, Instagram, or Pinterest!
Sina