Are you looking for vegan Easter recipes? Then look no further! We've got you covered with 12 delicious vegan Easter recipes that are perfect for an Easter brunch!

I'm so happy it's finally getting warm and nice outside! Spring is definitely my favorite season of the year! Can you believe that it's less than three weeks to go until Easter?
So it's definitely time to think about some delicious Easter recipes to surprise your loved ones.
Most of the recipes in this year's Easter roundup are sweet and perfect for an Easter breakfast or brunch. But I've also included a few savory ones like vegan asparagus mini quiche or vegan "egg" breakfast cups.
If you're looking for even more vegan Easter recipes, check out an Easter roundup I posted on the blog four years ago.
As always, click on the heading above each photo to see the actual recipe.
So let's get right to it! Happy Easter, everyone!
12 Delicious Vegan Easter Recipes
These carrot cake energy balls are the perfect little treat for Spring! They're vegan, super healthy, sweet, cinnamony, and packed with nutrients. And most of all they're free of sugar and artificial sweeteners.
I just want to grab one of these vegan carrot cake sticky buns by Megan from Short Girl Tall Order from the screen! They look so fluffy and gooey! And I love that Megan topped them with pecans. Yummy!
If you grew up with Cadbury Creme Eggs and you're now looking for a vegan version, try these vegan creme eggs by Melanie from A Virtual Vegan! You will love these homemade vegan chocolate eggs with a creamy fondant filling and yellow "yolk". All vegan of course!
This vegan carrot cake with coconut cream is one of my favorite vegan cakes! It's super moist, very easy to make, and just perfect for spring!
Of course we also need some vegan hot cross buns for this Easter roundup. Don't these hot cross buns by Hannah from Domestic Gothess look amazing? They make an awesome breakfast or afternoon treat!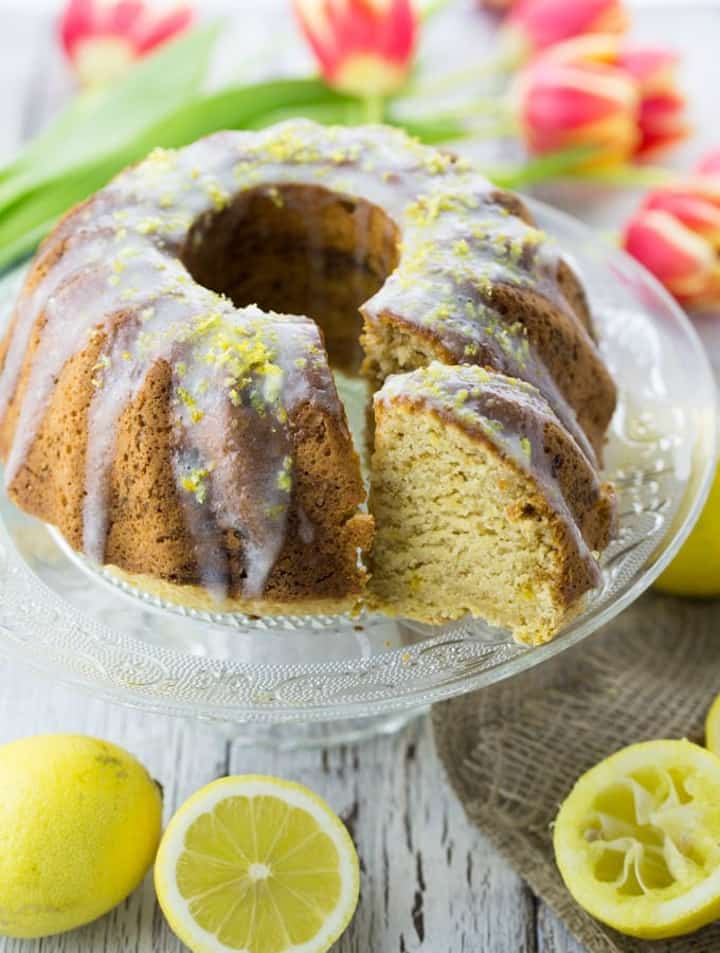 This vegan lemon cake is absolutely perfect for spring and summer! It's super fluffy, moist, and it has a deep lemon flavor. And it's so easy to make!
If you're looking for finger food ideas for your Easter brunch, try these apricot pudding cupcakes by Jasmin from Ve Eat Cook Bake! They're so easy to make. And who could say no to puff pastry filled with vanilla pudding and apricot halves?
If you're looking for festive vegan spring recipes, this vegan quiche with asparagus and tomatoes is perfect for you. It's a great recipe for Easter! Besides, the vegan quiche recipe is super versatile and you can use many other vegetables if asparagus aren't in season.
Doesn't this vegan carrot cake with a cashew cream cheese frosting by Jenn from Veggie Inspired look amazing? It will be perfect for your Easter menu!
These vegan earl grey cupcakes with blueberry lemon frosting by Megan from Short Girl Tall Order just call spring! And wouldn't they just look super good at an Easter buffet?
Another great and easy recipe with puff pastry! These vegan egg breakfast cups by Bear Plate are filled with sautéed onions, belle peppers, tofu and yellow cherry tomatoes. Don't they look perfect for your Easter breakfast?
These gluten-free and vegan lemon cookies by Rhian from Rhian's Recipes make a great little afternoon treat for Easter. They're chewy, fluffy, and they're covered in creamy lemon frosting!
I LOVE TO HEAR FROM YOU GUYS!
I hope you enjoy these vegan Easter recipes as much as we do! Don't forget to pin or share this post so you have these recipes ready when you need them!
If you give any of these recipes a try, I'd love to know what you think about it. Just leave me a comment below. Your comments really make my day!
You like my recipes and roundups and want to see more? Then follow me on Facebook, Instagram, or Pinterest!
Sina