Spring is finally here and how can we welcome it better than with a lemon cake? Well, with a vegan lemon cake I guess. It's hard to believe that I used to absolutely hate lemon cake. I still don't like the combination of lemons or oranges with chocolate, but I now absolutely LOVE lemon cake!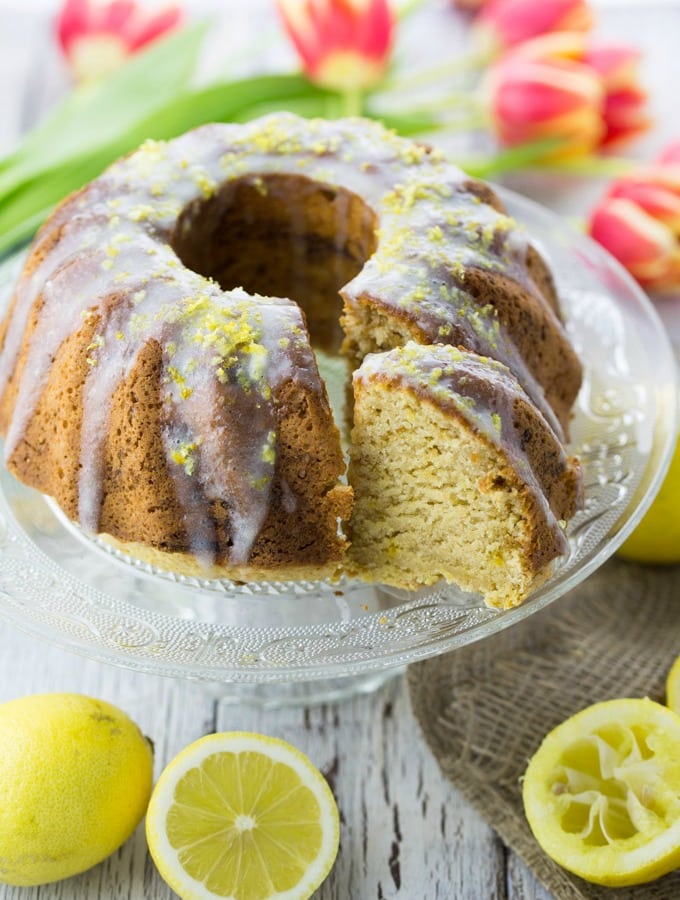 Especially if it's so fluffy and moist like this vegan lemon cake. The "secret ingredient" is vegan soy yogurt. It makes it extra moist! I recommend using lemon-flavored soy yogurt, but if you can't get hold of it you could also use plain soy yogurt. The vegan lemon cake is even better the next day! So don't eat it all at once. I know that's always hard with a cake being around, but in this case it's really worth it…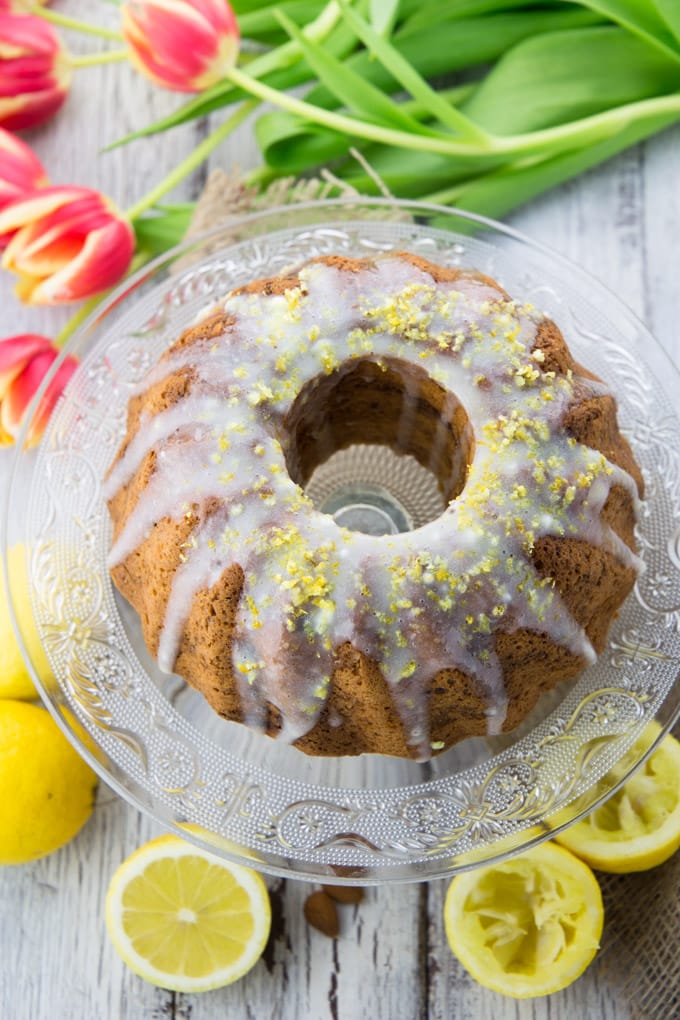 So what do you need for this vegan lemon cake? The recipe is actually pretty easy and the ingredient list is not too long. You probably already got most of the ingredients in your pantry. You need all-purpose flour, brown sugar, vegan margarine, apple cider vinegar, a little bit of oil, baking powder, baking soda, lemon zest, and lemon juice. To make the lemon cake even moister, I added a little bit of almond flour. I used the almond flour from Ölmühle Solling this time, which is a German online store that sells healthy foods like oils, nut flours, and spreads.
I actually told you about one of their products a couple of weeks ago. Namely the ras el hanout coconut oil I used for the Moroccan chickpea and sweet potato stew. Since then I've tried a couple more of their products and I used their almond flour for the vegan lemon cake. I've experimented a bit with the almond flour and I ended up replacing about 1/5 of the all-purpose flour with the almond flour.
A lot of people use almond flour for low carb or gluten-free baking. However, obviously you then replace all of the regular flour with the almond flour. In my case I just used it to add a little bit more moisture to the vegan bundt cake, which worked pretty well. I also like adding some almond flour to my cereal once in a while. It adds a really nice flavor, especially in the combination with fresh fruits and almond milk.
I hope you guys like this vegan lemon cake as much as we do around here!
Have a great and sunny week, everyone!
Sina – xx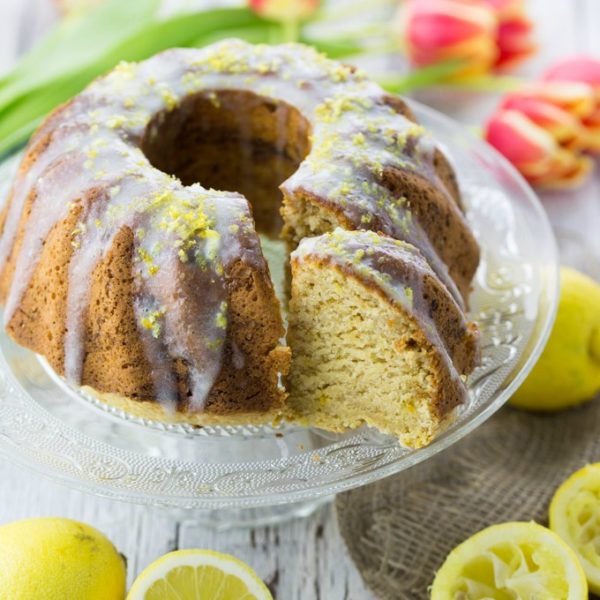 For the vegan lemon cake:
| | |
| --- | --- |
| For the vegan lemon cake: | |
Preheat the oven to 350 °F.

Grease the bundt pan with vegan margarine and lightly dust with flour. Melt the margarine in a small pot.

In a large mixing bowl, combine all ingredients and stir with a wooden spoon. Pour the dough into the bundt pan and bake for about 40 minutes. Use a toothpick to check if the cake is ready. Leave in the pan for 10 minutes. Then transfer it to a wire rack to cool completely.

Meanwhile make the glaze: Combine the powdered sugar, the lemon juice, and the water and stir well. Once the cake has cooled, pour the glaze over the cake and sprinkle with the remaining lemon zest. Enjoy!
Nutrition Facts
Vegan Lemon Cake with Yogurt
Amount Per Serving
Calories 281
Calories from Fat 99
% Daily Value*
Total Fat 11g 17%
Sodium 160mg 7%
Potassium 134mg 4%
Total Carbohydrates 44g 15%
Protein 4g 8%
* Percent Daily Values are based on a 2000 calorie diet.