This vegan no bake kiwi cheesecake is the perfect summer cake! It doesn't contain any refined sugars and it's super easy to make. Plus, it's awesome for hot summer days when you feel like eating cake but don't want to create additional heat by turning on the oven. And doesn't it look just gorgeous with the fresh kiwis on top?
I must admit that I was bit skeptical when I tried my first no bake cake a couple of years ago. It was a cashew strawberry cheesecake bake then. Or to be exact mini strawberry cheesecakes. And they turned out so delicious! I couldn't believe how creamy cashews could be. Ever since then, I love baking and cooking with cashews. They not only make the best vegan cheese sauce, but they're also amazing for raw vegan baking. And especially in the summer it's so nice to be able to give your oven a little break and still be able to enjoy delicious cake. I mean our apartment can get super hot in the summer, so I don't want to make it any worse…
I've tried so many different no bake cakes in the last couple of years. I usually use berries, mostly strawberries or raspberries. Or sometimes I make a more tropical version with mango and passion fruit. But this time I decided to make a kiwi cheesecake with fresh mint. It turned out sooo refreshing! I brought it to a little garden party with some friends and it was gone so fast!
No Bake Kiwi Cheesecake – What You'll Need:
Instead of butter, eggs, and milk this vegan kiwi cheesecake mostly consists of nuts, dates, and fresh kiwi fruits, which makes it pretty healthy. You only need very few ingredients to make this kiwi cheesecake:
almonds
dates
cashews
thick coconut milk
rice syrup or agave
fresh lime juice
kiwis
fresh mint leaves
and maybe blueberries and raspberries for garnishing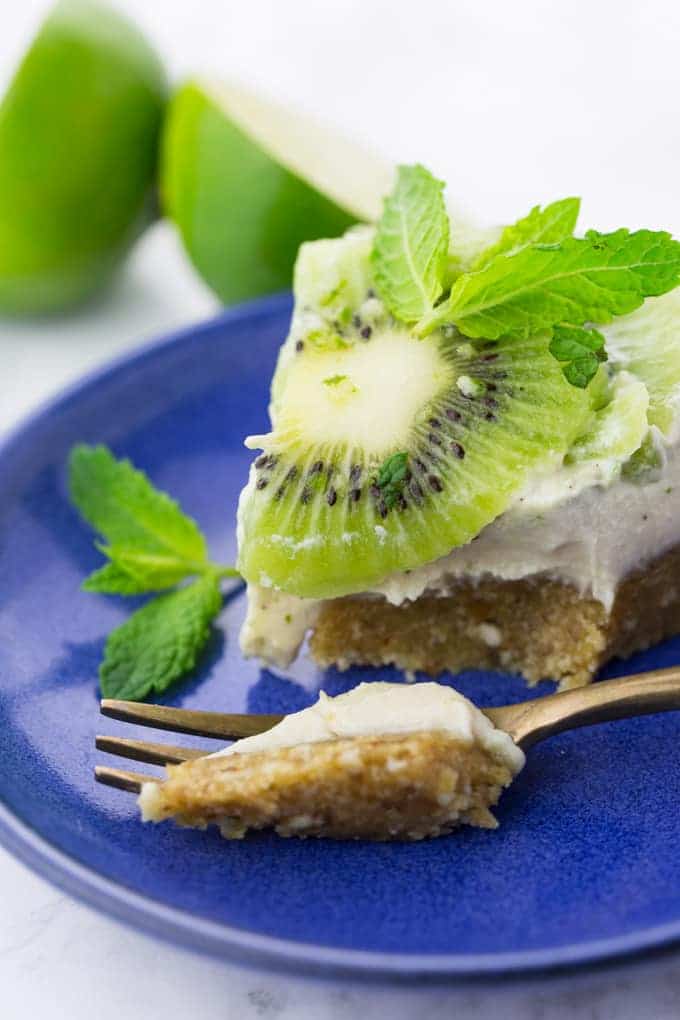 As always, you can find the full recipe in a separate recipe box underneath the text section. It's important that you have a good blender for this kiwi cheesecake. The cashews should be processed into a really smooth mixture. I made two layers: One just consisted of blended cashews, coconut milk, rice syrup, and lime juice. For the second, thinner layer I added one kiwi and about 10 fresh mint leaves to the cashew mixture, which gave it a light green color. This layer makes the kiwi cheesecake so refreshing! I topped it with green kiwis and SunGold kiwis, which I absolutely love. They're a lot milder than regular green kiwis.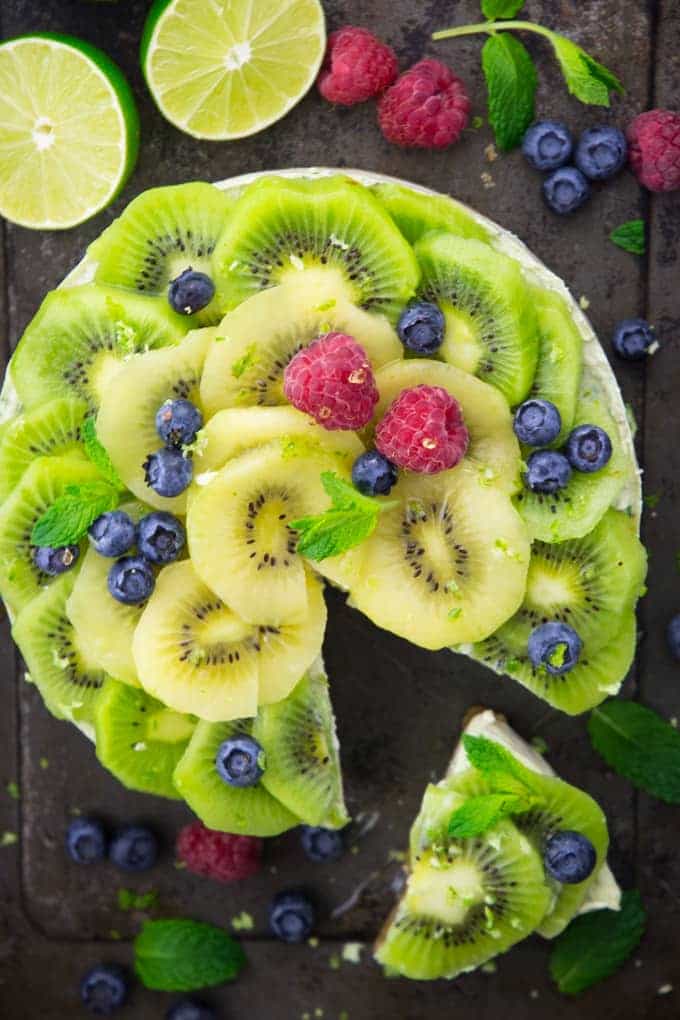 Let me know if you give this vegan kiwi cheesecake a try. As always, I love hearing from you guys on the blog, Facebook, and Instagram!
Have a great week, everyone!
Sina – xx
No Bake Kiwi Cheesecake (Vegan)
This vegan no bake cake with kiwis is one of my favorite vegan cakes! It doesn't contain any refined sugars and it's super easy to make. Plus, this kiwi cake is awesome for hot summer days when you feel like eating cake but don't want to create additional heat by turning on the oven. This recipe requires a 7-inch spring form pan. (This equals a 18 cm spring form).
Print
Pin
Rate
Servings:
6
pieces of cake
Ingredients
For the cheesecake layer:
2

cups

cashews

soaked overnight or at least for 4-6 hours

3/4

cup

thick coconut milk (full fat)

2

tablespoons

fresh lime juice

2

tablespoons

rice syrup or agave

10

fresh mint leaves

1

green kiwi
For the topping:
1

green kiwi

2

SunGold kiwis

fresh mint

blueberries (optional)

raspberries (optional)
Instructions
Place the almonds into a food processor and blend until they're nicely crushed. Then add the date and blend again until a sticky mixture forms.

Press int the base of a spring form pan (7 inch) and put it in the freezer.

Then make the cheesecake layer: Drain the cashews and put them together with the coconut milk, the lime juice, and the agave in a food processor and blend until it becomes creamy and smooth.

Pour 3/4 of the cashew mixture evenly on the base layer and put it back in the freezer. Leave the rest in the blender and add one kiwi and about 10 leaves of fresh mint. Blend again until you get a light green and smooth mixture. Evenly pour on the first cheesecake layer and pt it back in the freezer for 2-3 hours.

After the time in the freezer, top the cheesecake with the kiwis and garnish with blueberries, raspberries, and fresh mint leaves. If you want you can also add a few drizzles of agave or rice syrup on top. The cake is best when you allow it to warm up for about 20-30 minutes before serving. Enjoy!
Rate the recipe!
If you like this recipe, please leave a good rating! This will help other readers.