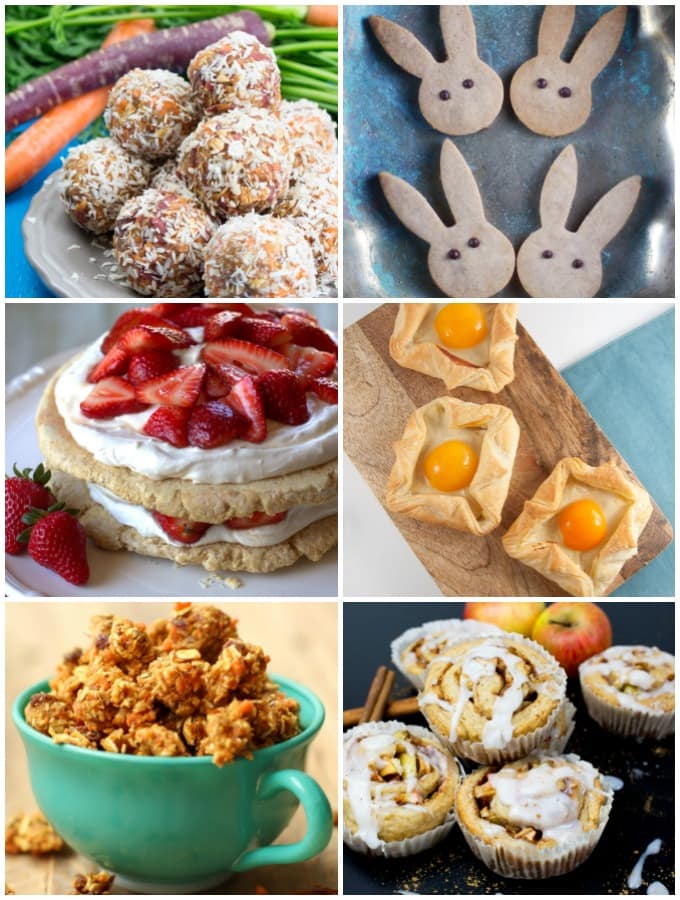 I seriously can't wait for spring! It's my favorite season of the year and I just love when the trees turn green again and flowers starts to blossom. I know there are people who actually like winter but I'm definitely not one of them! Can you believe it's almost Easter?! I somehow thought it was in April and was pretty surprised when I found out it's this early. But maybe I'm not the only being late, so I put together this last-minute roundup of 15 delicious vegan Easter recipes for you.
As always, I talked to some of my favorite fellow vegan bloggers and I've got you covered with vegan Easter desserts, snacks, breakfast, and a couple of entrees.
Vegan Easter Recipes
Vegan Easter Desserts
Vegan Blueberry Coconut Panna Cotta by  Vegan Heaven 
Before I became vegan, panna cotta with strawberry sauce was one of my favorite desserts (right after crème brûlée and tiramisu I think), but cream and gelatin isn't exactly vegan, right? Well, we're lucky: it's just as easy to whip up a vegan version! And it's actually just as delicious – if not even better! You can make it the night before, so it's ready for Easter Sunday.
Fruity Egg Baskets by Bianca from Elephantastic Vegan
Hold on a moment! This is a vegan roundup, why are there eggs? Don't worry, I know these look extremely real but all you need is apricots, puff pastry, and vanilla-flavored soy yogurt! This recipe really couldn't be any easier and they're just perfect for Easter brunch or dessert.
Raw Chocolate Easter Egg Nests by Aimee from Wallflower Girl's Plant-Based Kitchen
I can't get over how cute these are!! They are a slightly healthier twist on the classic and are raw, vegan and gluten-free. The other difference is the mini eggs are made from raw marzipan instead of chocolate. They're ready in just 20 minutes!
Berry and Coconut Cream Cake by Florian from Contentedness Cooking
This vegan cake uses coconut yogurt together with coconut cream to make the base of the cream-like topping. A lot of fresh berries (strawberries, blackberries, blueberries, and raspberries) go on top. Oh, and don't forget to sprinkle it with melted vegan white chocolate and coconut flakes. Yummy!
Vegan Mini Strawberry Cheesecakes by Vegan Heaven
These mini cheesecakes are not only super delicious but also prepared in less than 15 minutes. You don't even have to bother with heating the oven, whisking ingredients, or greasing a baking dish. All you need for these is a good food processor, almonds, dates, strawberries, and cashews.

Maple Ginger Strawberry Shortcake by Alissa from Connoisseurus Veg
This decadent vegan strawberry shortcake is made with a double layer of rich vegan shortbread, stacked with coconut whipped cream and maple ginger marinated strawberries.
Vegan Easter Breakfast and Brunch
Carrot Cake Rawnola by Natalie from Feasting on Fruit
Sweet cakey crumbles to snack or sprinkle or devour in any which way you like. Toss them on top of a bowl of something creamy (yogurt, ice cream, pudding) and it's like carrot cake turned inside out–frosting on the bottom, cake on top.
Vegan Cinnamon Rolls with Apples by Vegan Heaven
These vegan cinnamon rolls with spelt flour are perfect for Easter breakfast or brunch. I just love baking with cinnamon and these are my absolute favorites. Quick and easy!
Whole Wheat Cranberry Orange Bread by Emilie from Emilie Eats
Emilie used  fresh cranberries instead of dried for this breakfast bread. It's super easy to make with just a few simple ingredients that you probably already have: white whole wheat flour, coconut sugar, cranberries, orange juice, coconut oil, applesauce, and almond milk.
Vegan Easter Snacks
Cinnamon Bunny Cookies by Audrey from Unconventional Baker
These cinnamon bunny cookies are gluten-free, vegan, and refined sugar-free. These little bunnies will make your snacking so much more fun and I'm sure they will win little hearts all over.
Carrot No Bake Energy Balls by Vegan Heaven
What is better for Easter than carrot cake?! To make these little carrot energy balls, you only need 5 main ingredients: Carrots (I used both orange and purple ones, but of course one color is good enough), almonds, dates, coconut flakes, and rolled oats.  I also added one teaspoon of cinnamon and half a teaspoon of vanilla extract. They're vegan, super healthy, sweet, cinnamony, and packed with nutrients. And most of all they're free of sugar and artificial sweeteners.
Roasted Carrot White Bean Spread by Jenn from Veggie Inspired Journey 
This easy carrot spread is super delicious with crunchy whole wheat crackers and crispy cucumbers. It's also great on a sandwich, in a wrap, or as a dip for pita chips of raw veggies. Just perfect for Easter snacking!
Vegan Easter Entrees
Saffron Sweet Potato Savoy Cabbage Bisque from Sylwia from Vibrant Food Stories
This saffron, sweet potato and savoy cabbage is packed with flavor. I absolutely love its bright yellow color!
Creamy Chickpea Avocado Salad by Ceara from Ceara's Kitchen
This creamy chickpea avocado salad is protein-packed and loaded with crunchy and crispy summer veggies. It makes the perfect complete protein and veggie packed lunch or side for Easter! It's ready in just 20 minutes.
Vegan Basil "Ricotta" Pinwheels by Vegan Heaven
I guess it's save to say that these vegan basil ricotta pinwheels are a real crowd pleaser, not only among vegans but also meat-eaters.  As they can be prepared in advance, they're perfect for parties or family get-togethers and also make for an easy and healthy lunch.
I hope you like this roundup of 15 delicious vegan Easter recipes. They're also great for spring in general!
Have a great week, everyone!! xx