It's asparagus season! Finally! It's one of my favorite veggies and it always has been. I just love eating it with pasta or potatoes, but once in a while it's also great to get a bit more creative. Last weekend, we had these vegan quiche with asparagus and tomatoes and they were so good!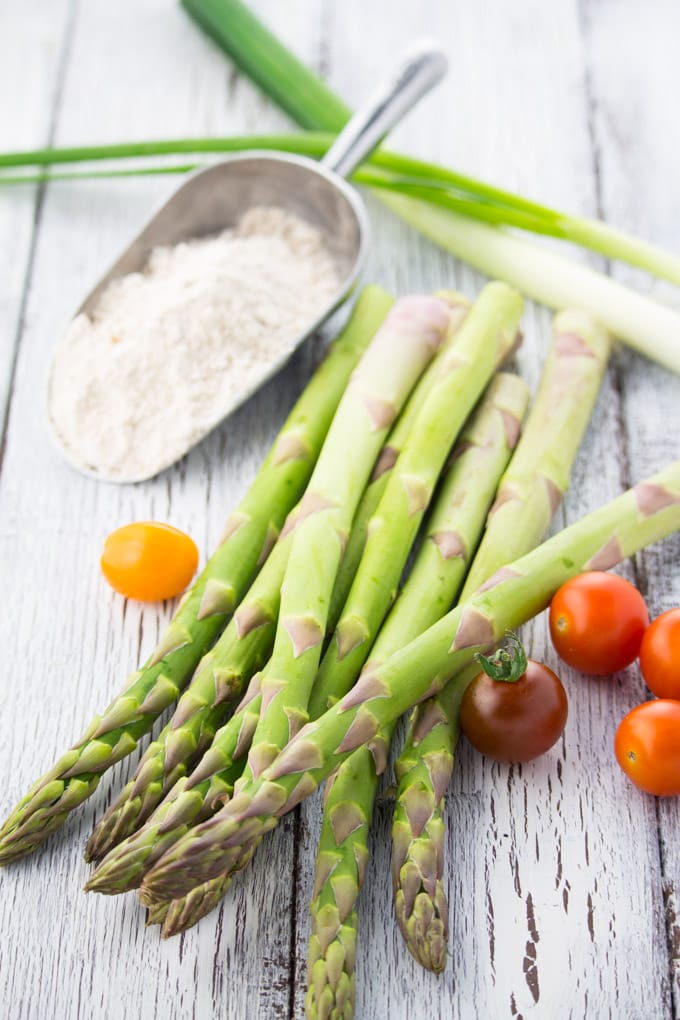 Winter was just waaaay too long this year and I'm really looking forward to all these delicious and fresh spring recipes. I've already made vegan quiche or actually tofu quiche a couple of times. I can't really remember how original quiche taste like or when I had it for the last time, but the vegan mini quiches we made were really yummy and also pretty easy! If you happen to like quiche in general, you should really give this vegan version a try! :-)
We ate them along with a green side salad, but they are also great as a hearty snack or breakfast. For the filling, I used green asparagus, sun-dried tomatoes, green onions, and half a cherry tomato on top. I also tried them with leek and tomatoes and spinach and mushroom some time ago. You can just use this recipe and use any other veggies if you like. It's also great with smoked tofu.
Instead of eggs, I used silken tofu, which I seasoned with herbs de Provence (thyme, oregano, rosemary, and basil), salt, and pepper. To give it its typical color and taste, I stirred in some turmeric and kala namak, which is also known as black salt. If you haven't tried it yet you should really give it a try. It mimics the taste of eggs and is also great in scrambled tofu or vegan egg salads. It really tastes and even smells like egg!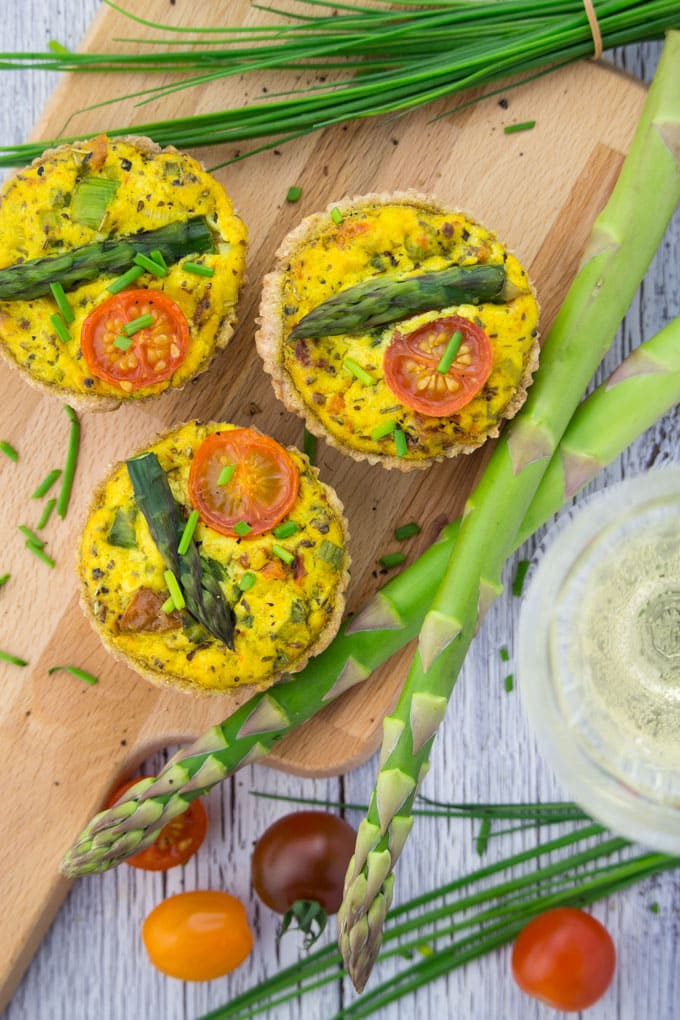 For the dough, I used whole wheat flour, but it should work with regular flour as well. If you prefer to have one big quiche instead of several mini quiches, you can also pour the mixture in a regular quiche pan. If you do so, don't forget to grease the pan before you press in the dough.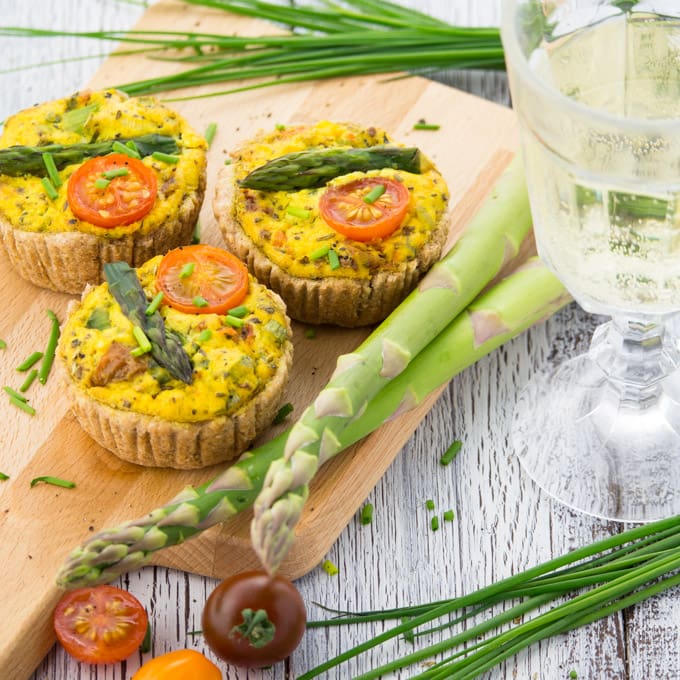 I hope you all had a great Easter weekend and you like these vegan quiche with asparagus and tomatoes. As always, I love hearing from you guys!
Talk to you soon! xx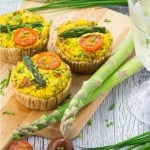 Vegan Quiche with Asparagus and Tomatoes
Vegan quiche with asparagus and tomatoes - great with salad or as a hearty snack. If you like quiche in general you should really try this vegan version!
Total Time
2
hours
5
minutes
Ingredients
For the dough:
2

cups

whole wheat flour

1/3

cup

water

3/4

cup

plant-based margarine

1/2

teaspoon

salt
For the filling:
14

oz

silken tofu

2

tablespoons

olive oil

1

tablespoon

starch

1

teaspoon

turmeric

1 1/2

tablespoons

herbs de Provence (thyme, oregano, rosemary, and basil)

1

pinch

kala namak

(optional but recommended)

1

tablespoon

olive oil

about 7

oz

green asparagus

2

green onions, cut into rings

about 10

sun dried tomatoes in oil

6

cherry tomatoes, cut into halves
Instructions
Make the dough: Combine all ingredients in a bowl and knead into a smooth dough. Form a small ball and let it rest in the fridge for about 30 minutes.

Meanwhile, cut the green onions into rings. In a medium pan, heat some oil and add the green onions. Stir gently for about 2 minutes. Set aside. Cut the asparagus into small pieces and cook in salt water for about 3 minutes.

In a medium bowl, combine the silken tofu, the oil, the starch, the turmeric, the herbs de Provence and – if using – kala namak. Whisk until smooth. Chop the sun-dried tomatoes. Add them together with the green onions and the cooked asparagus (save the asparagus ends for the top) to the tofu-mixture and stir well.

Divide the dough into twelve portions and place twelve baking cups into a muffin tray. Evenly press the dough balls into the bottom and all the way up the sides of the muffin cups. Fill with the tofu-mixture, top with half a cherry tomato and an asparagus end and bake for 30-35 minutes at 350 °F (180°C). Serve together with a green salad or as a snack.