Start your day off right with one or a few of these 20 vegan breakfast recipes! They're all extremely delicious, easy to make, and just perfect for a relaxed breakfast on the weekend! Or actually any day of the week!

I'm not the biggest breakfast person during the week, but I absolutely LOVE to have a long and relaxed breakfast on the weekend! To provide you with the best vegan breakfast recipes, I teamed up with some fellow food bloggers! You will love these 20 vegan breakfast ideas! 
Are you more of a sweet or savory breakfast person? Doesn't matter! We've got something for every taste and every occasion. Whether it's a Sunday breakfast with the family, a brunch with friends, or a holiday breakfast.
We've got:
 the classics like tofu scramble or vegan bacon made of mushrooms
vegan banana bread pancakes with chocolate chunks, blueberry pancakes, and vegan crepes (what would a Sunday morning be without pancakes?!)
vegan breakfast burritos filled with tofu scramble and sausages or Mexican style with avocado cumin cream. And we've even got a recipe for vegan breakfast tacos!
vegan French toast and waffles 
if you used to like eggs, you should try the vegan omelette with asparagus or the vegan quiche
vegan maple sausages for those of you who want a really savory breakfast
a breakfast bowl with oats, fruits, nut butter, and quinoa if you're looking for a light and healthy easy vegan breakfast
So let's get started with the yumminess!
As always, click on the heading above each photo to see the recipe. 
20 Drool-Worthy Vegan Breakfast Recipes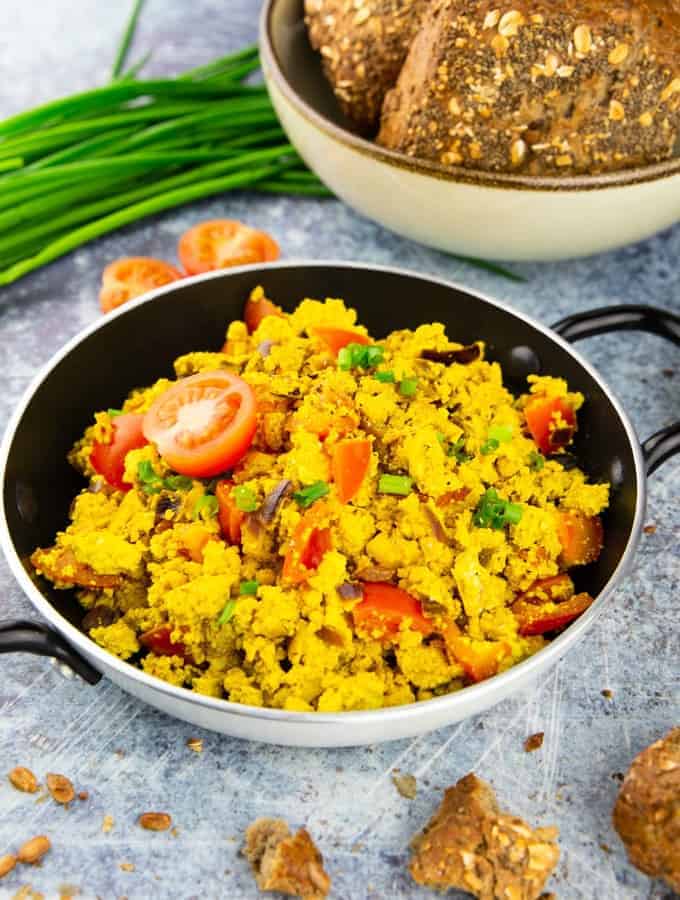 This vegan tofu scramble with tomatoes and chives makes the perfect breakfast for the weekend! It's super delicious, easy to make, and it makes a great vegan alternative to scrambled eggs. And it's pretty healthy too!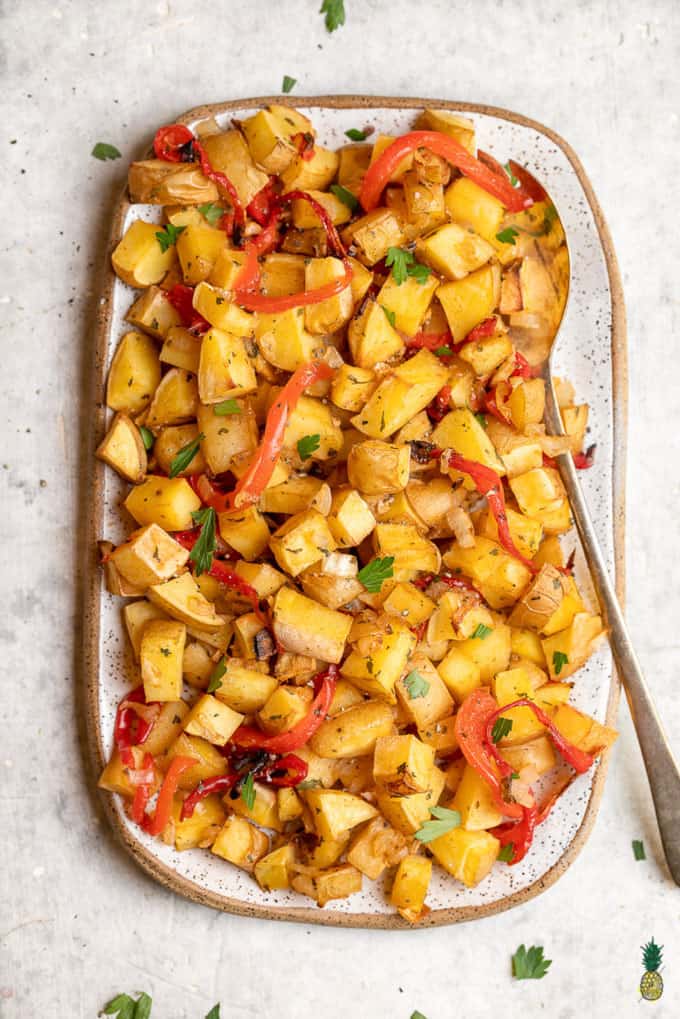 These crispy oven roasted breakfast potatoes by Jasmine and Chris from Sweet Simple Vegan are the perfect addition to tofu scramble. And the best thing is that they're oil-free and ready in just 30 minutes!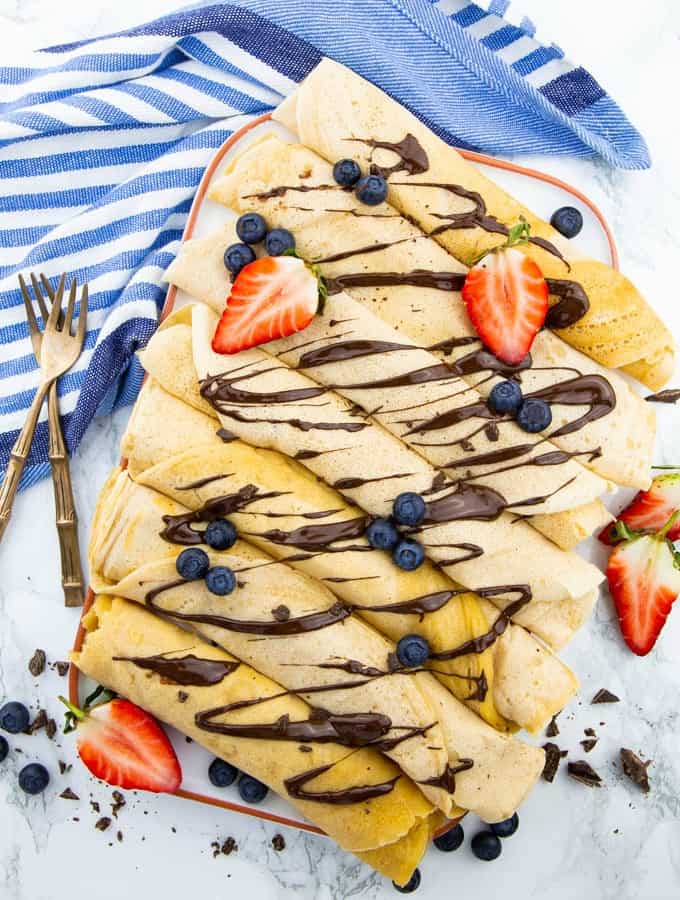 Vegan crepes are not only super delicious but also really easy to make. And completely without eggs or milk. You can enjoy my vegan crepes with a sweet as well as with a savory filling. So yummy!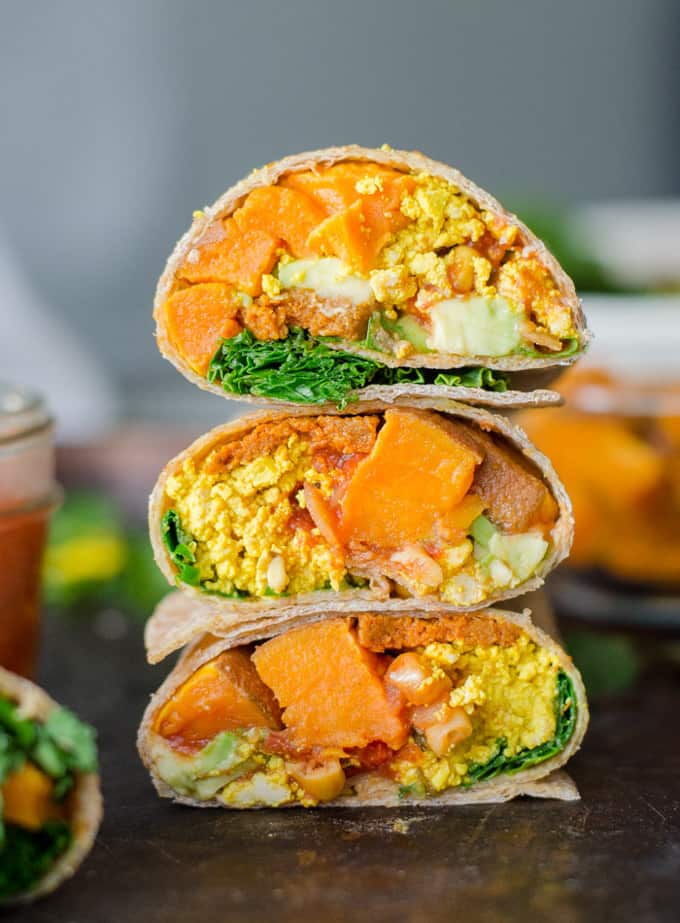 Don't these vegan breakfast burritos by Deryn from Running On Real Food look delicious? They're filled with sweet potato, tofu scramble, kale, vegan sausage, and avocado. If you want to make the recipe easier, just throw everything in a bowl.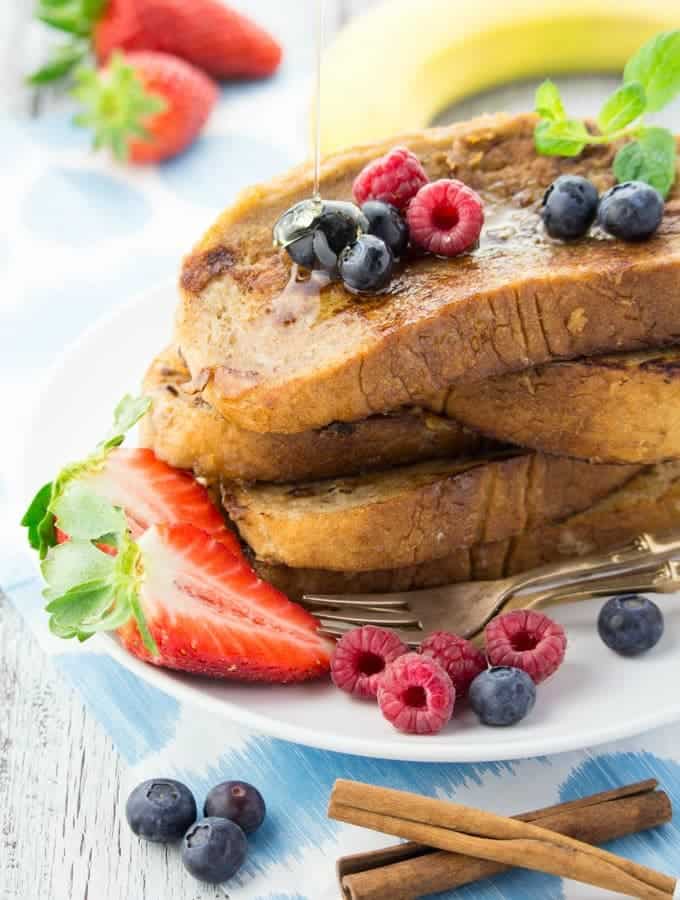 This vegan French toast with banana makes such a delicious and easy breakfast for the weekend! It's moist, sweet, filling, and ready in only 5 minutes!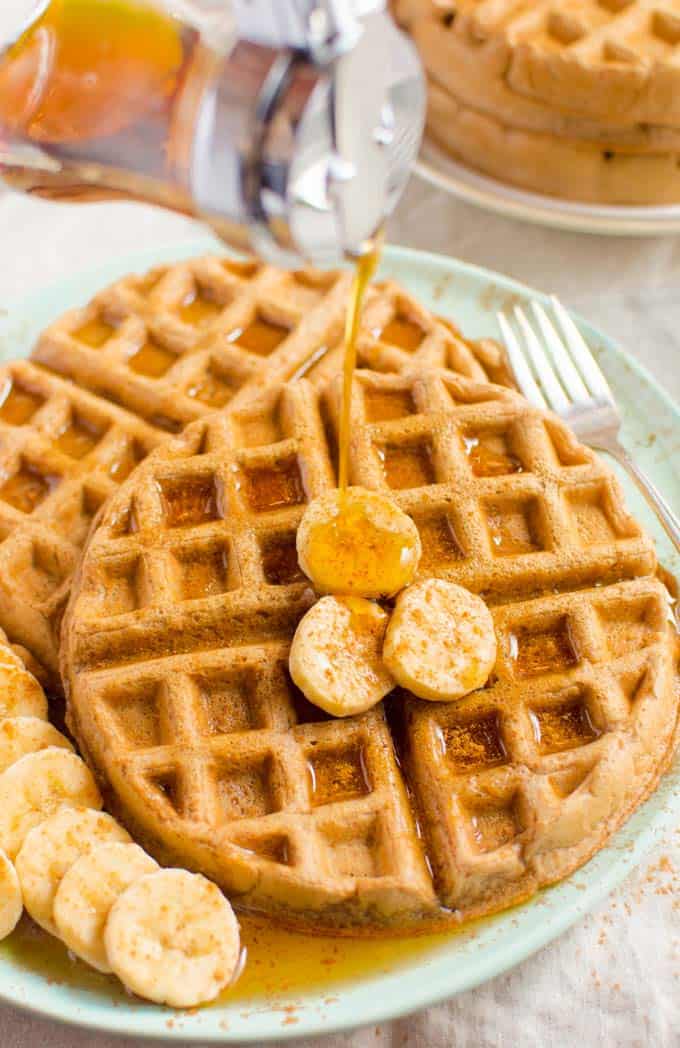 And of course we need waffles for a vegan breakfast! These vegan waffles with cinnamon by Marlena from Where You Get Your Protein are super easy to make. You need only six ingredients to make them and they're completely egg and dairy-free.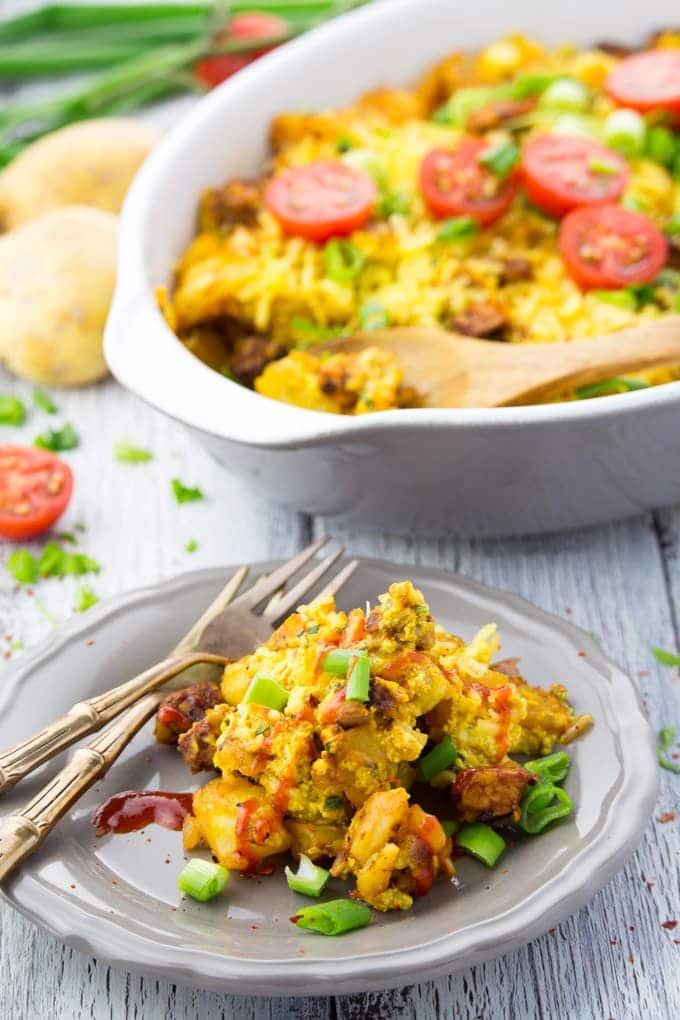 This vegan breakfast casserole with BBQ tempeh "bacon" and potatoes is perfect for a hearty breakfast or even brunch. It's so delicious and super easy to make! Top it off with green onions and a bit of sriracha for even more flavor!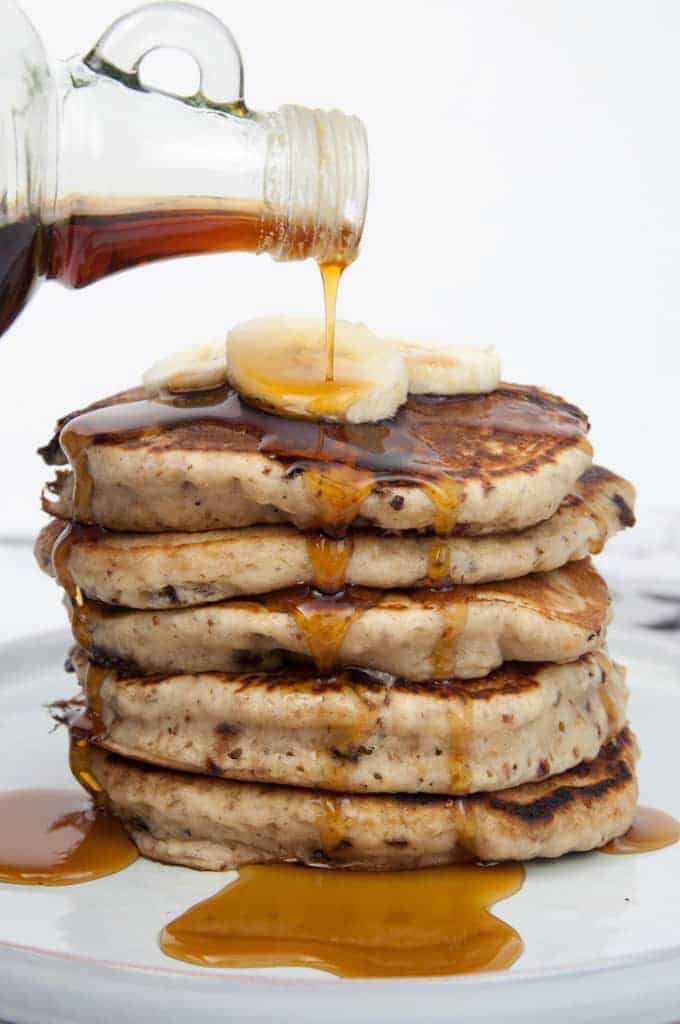 You can't decide between banana bread and pancakes? Then just try these vegan banana bread pancakes with chocolate chunks by Bianca from Elephantastic Vegan! Don't they look amazing?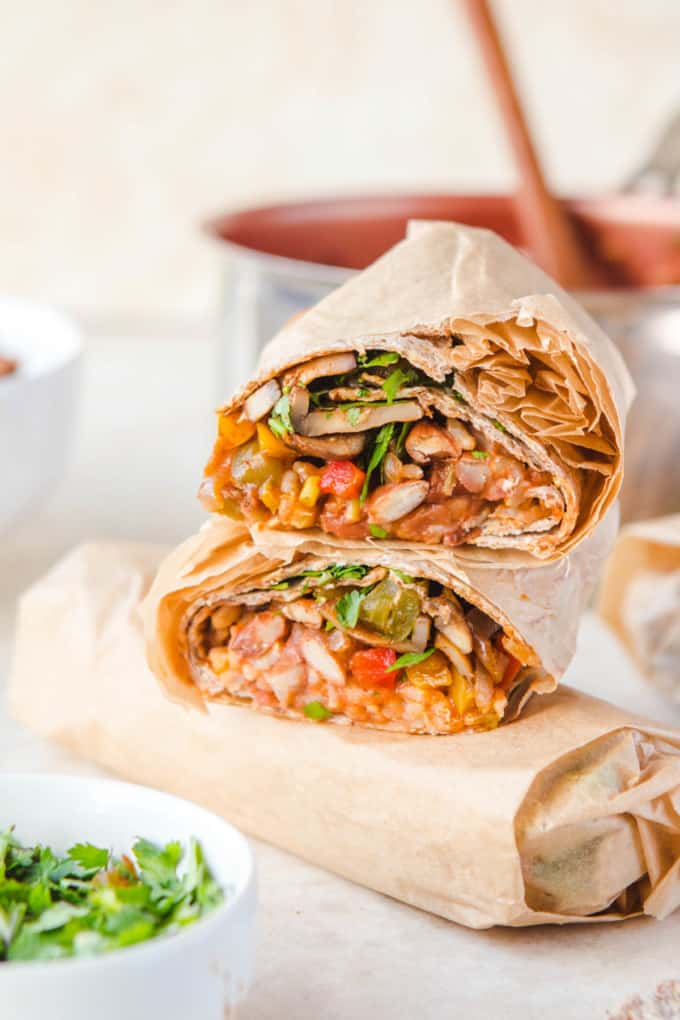 Could you say no to these freezer-friendly vegan breakfast burritos by Jasmine and Chris from Sweet Simple Vegan?  They're filled with tofu scramble, roasted potatoes, steamed kale, beans, veggies, and vegan cheese. BIG yum!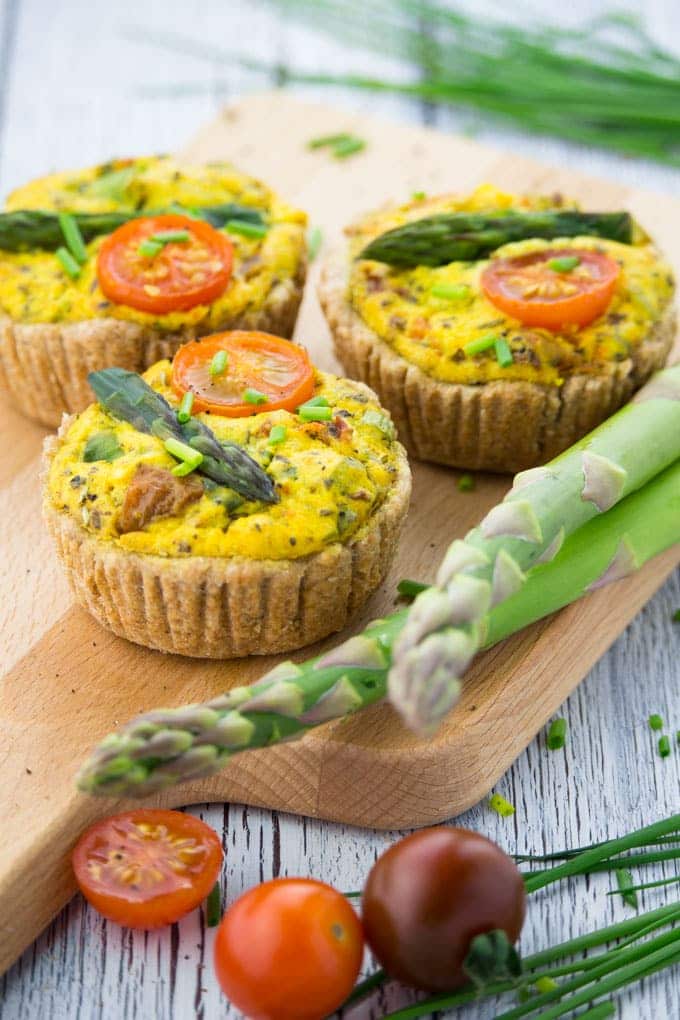 This vegan quiche with tomatoes and green asparagus is perfect for brunch! I've already made it for an Easter brunch and it was a huge hit. You could either make a large quiche or mini quiches.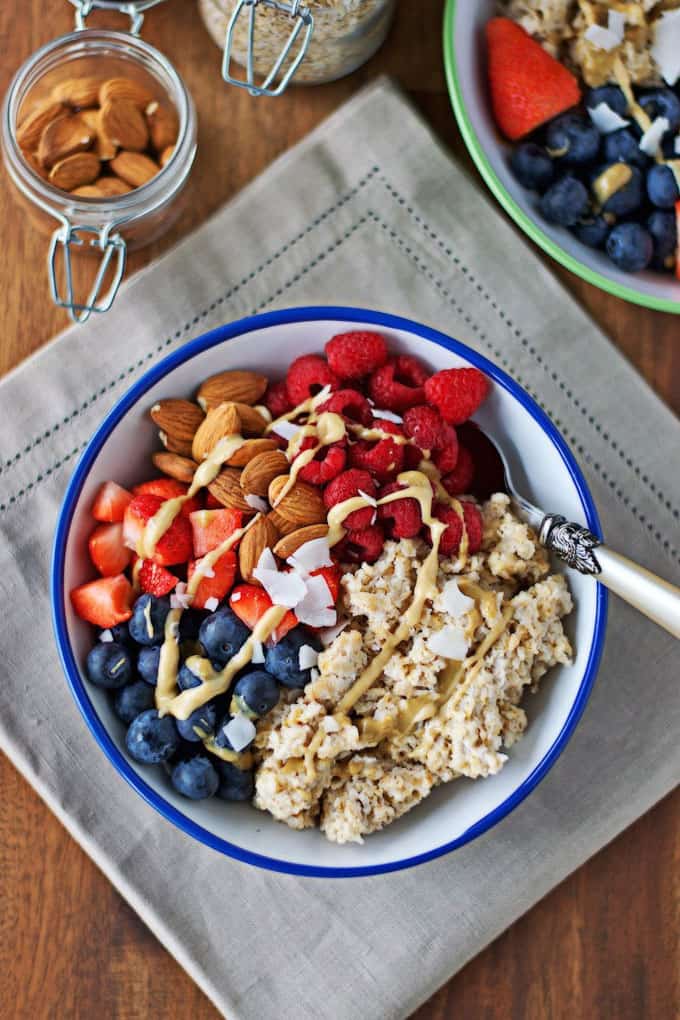 If you're looking for a healthy vegan breakfast, you should try this breakfast bowl by Florian from Contentedness Cooking. It's packed with fruits, nuts, and oats. You could also replace the oats with quinoa if you like. And don't forget to top the bowl off with some nut butter. 
If you used to love bacon and are looking for a vegan alternative, you will LOVE this vegan bacon with mushrooms. It's ready in just 15 minutes and it's so much healthier than real bacon. The savory flavor will make you go back for seconds and thirds!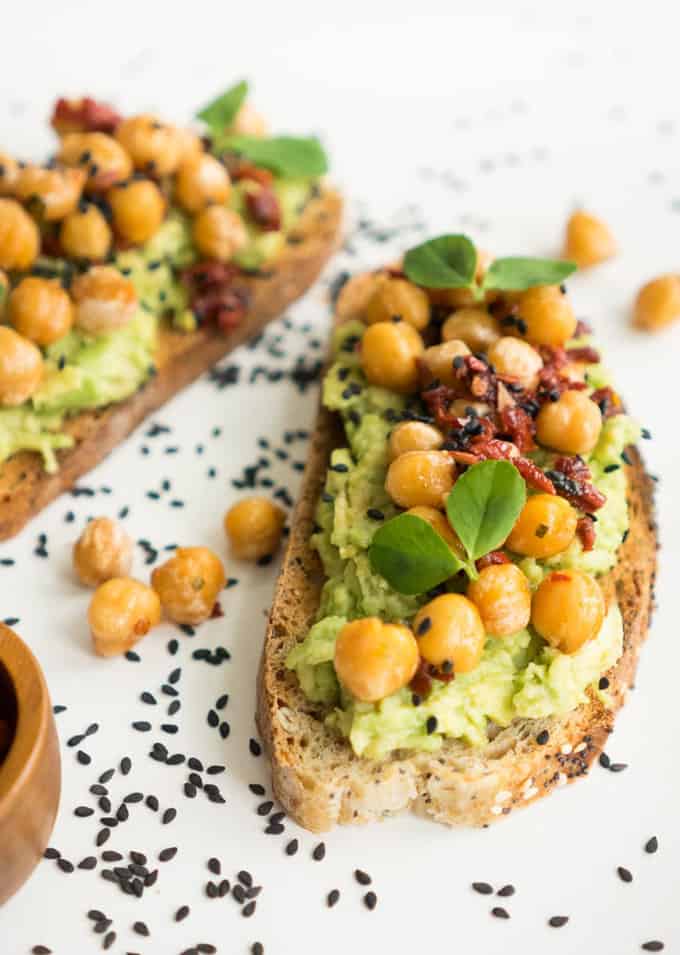 I absolutely LOVE avocado toast! It's super simple, healthy, and pretty filling. Doesn't this vegan avocado toast with chickpeas and sesame seeds by Gathering Dreams look super delicious?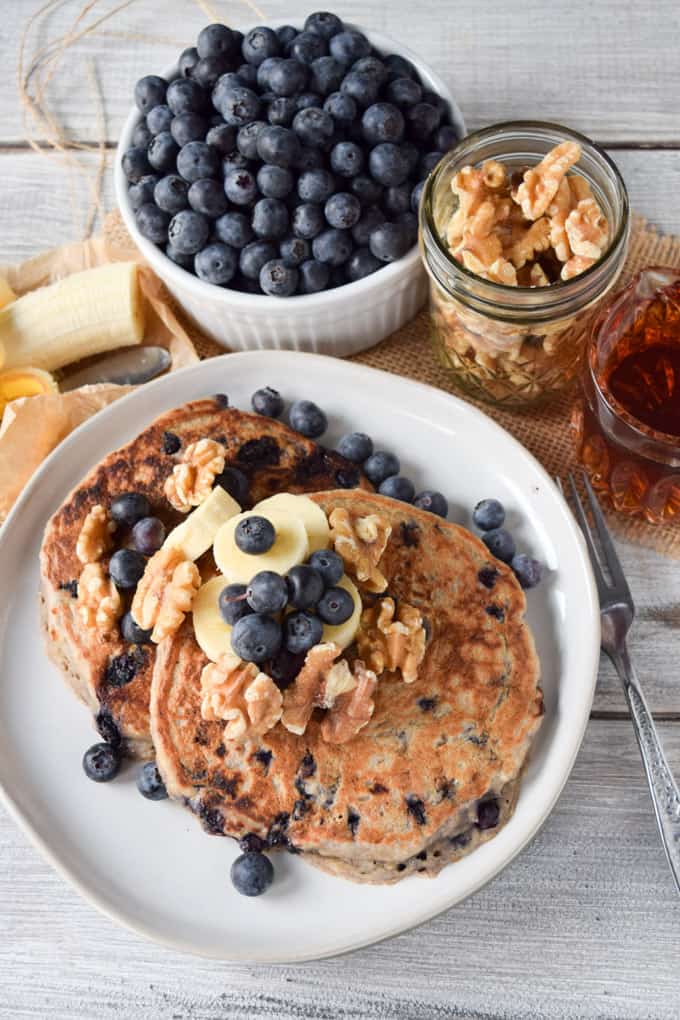 What would a Sunday morning be without pancakes? These vegan blueberry banana pancakes by Shane from Shane and Simple are super easy to make. Besides, they're oil-free, low-fat, and of course completely plant-based.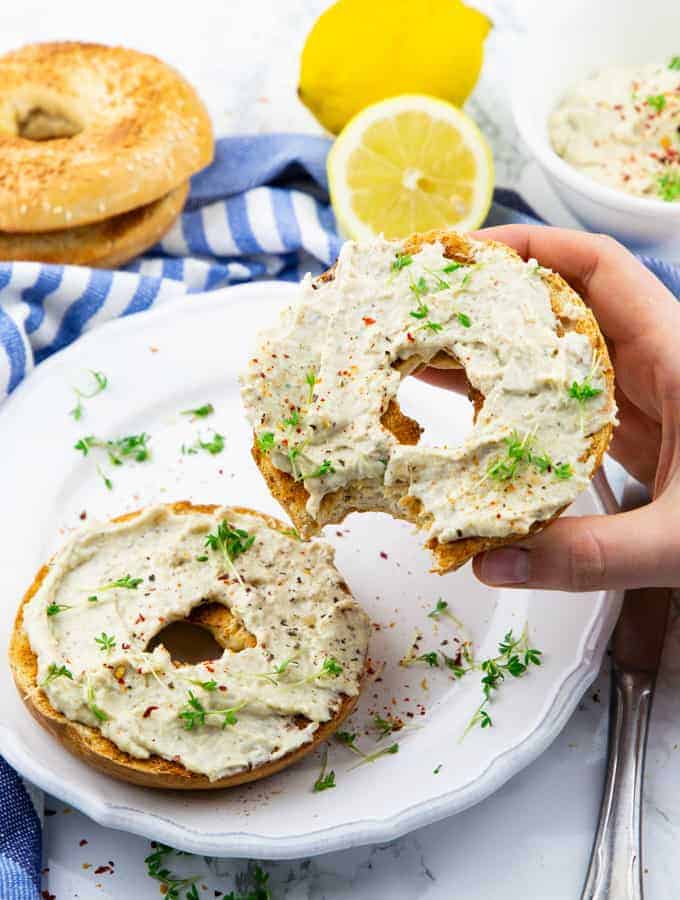 This vegan cream cheese with cashews is one of my favorite vegan cheese recipes. It's super easy to make, incredibly creamy, and so garlicky. Kiss your dairy products goodbye and say hello to this delicious vegan cream cheese cheese alternative with garlic and fresh herbs!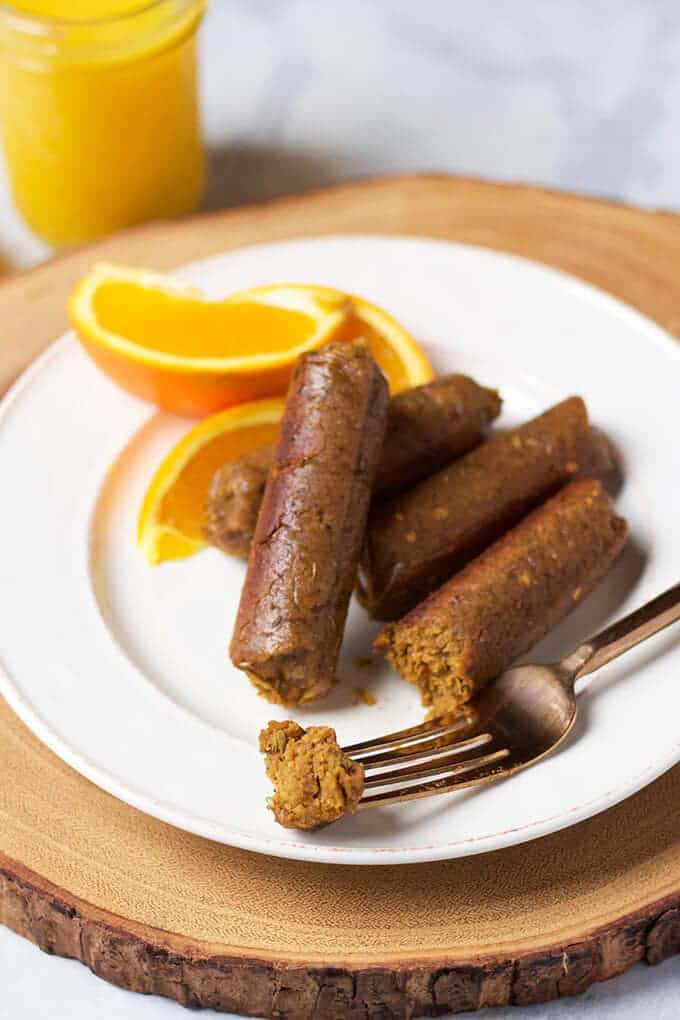 If you're looking for a savory vegan breakfast, you should try these vegan maple breakfast sausages by Karissa from Karrisa's Vegan Kitchen. They're a little sweet, while being a little spicy at the same time. And of course they're super delicious!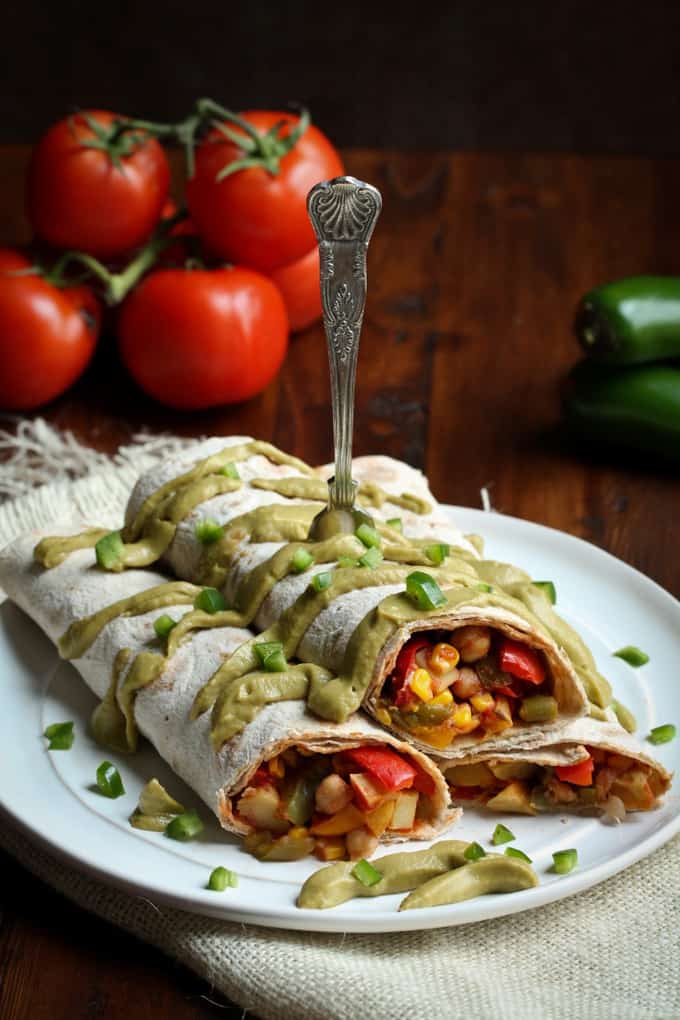 And we have another great recipe for vegan breakfast burritos. Brandi from The Vegan 8 made a Mexican version that is loaded with spices. They're healthy, protein-packed, and oil-free. And don't forget to top them off with some avocado cumin cream.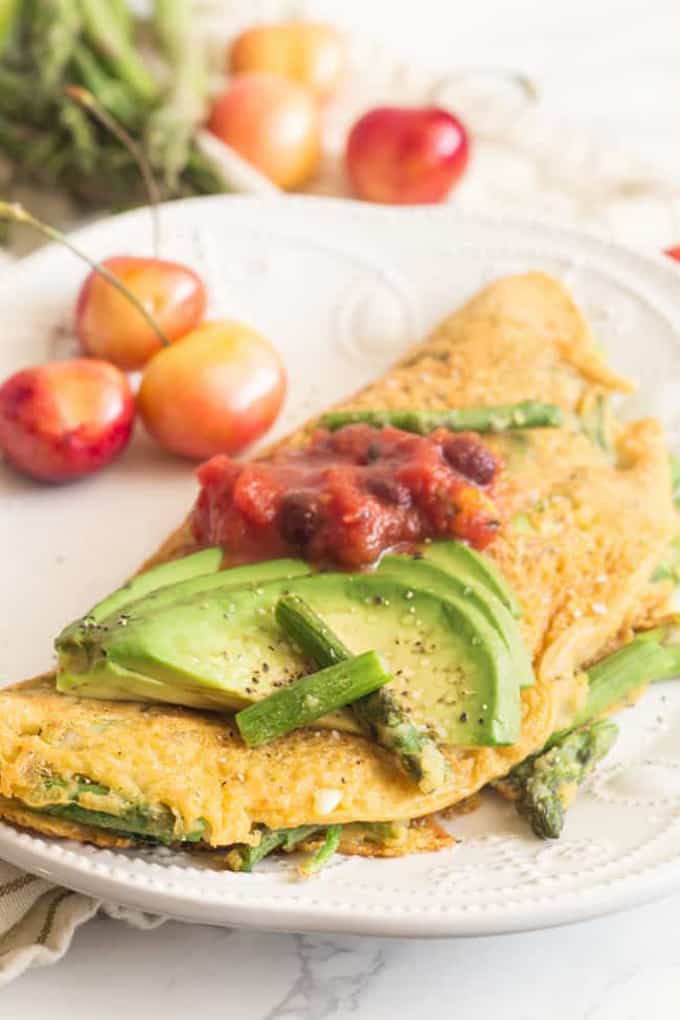 Yes, you can make omelette without eggs. This vegan omelette with asparagus by Holly from Happy Food Healthy Life is the perfect proof! You can easily customize it and add other veggies if you like. I think spinach and mushrooms would be awesome too!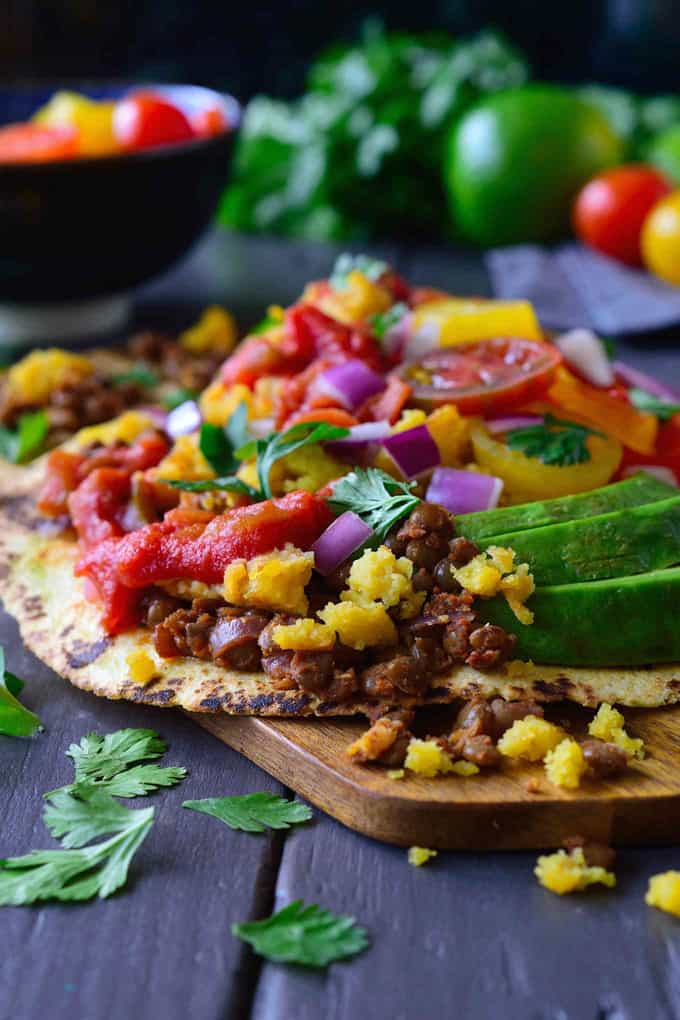 Yes, it's true! Breakfast tacos are really a thing! This vegan breakfast taco by Melissa form The Stingy Vegan is filled with vegan egg and chorizo. And if you think having tacos for breakfast is weird, why not try them for lunch or dinner?
20. Vegan Savory Pancakes with Cheddar and Green Onions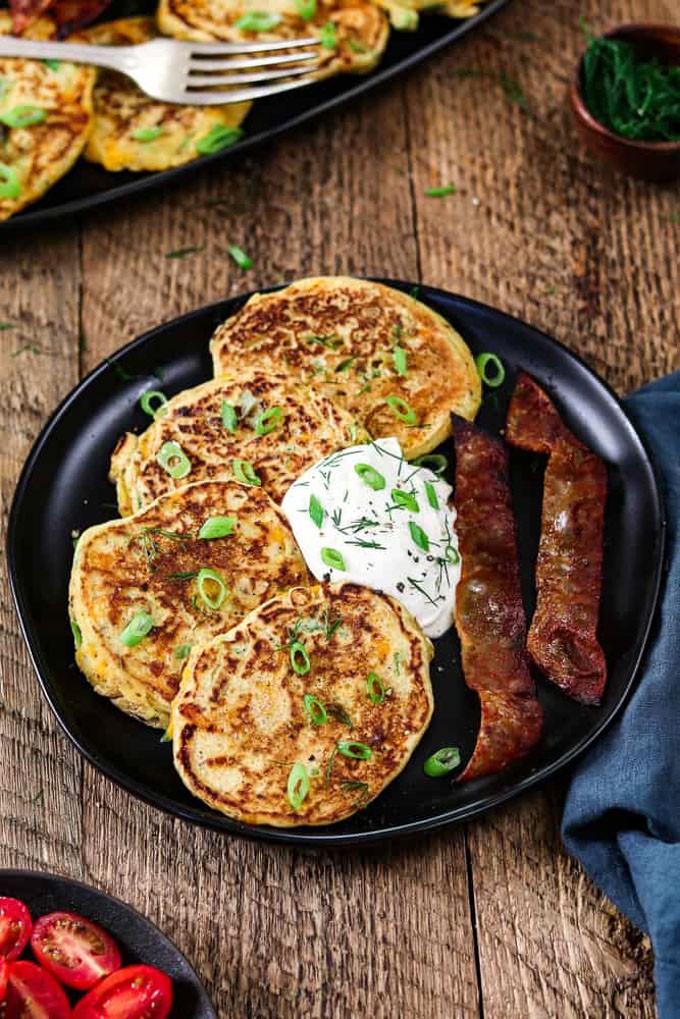 We've already got some delicious sweet vegan pancakes, but what about savory pancakes? These vegan pancakes with cheddar and green onions by Melissa from Vegan Huggs are super satisfying and packed with flavor! Serve them with vegan sour cream and vegan bacon for a delicious savory breakfast!
I LOVE TO HEAR FROM YOU GUYS!
I hope you enjoy these vegan breakfast recipes as much as I do! Don't forget to pin or share this post so you have these vegan breakfast ideas ready when you need them! 
If you give any of these recipes a try, I'd love to know what you think about it. Just leave me a comment below. Your comments really make my day!
You like my recipes and roundups and want to see more? Then follow me on Facebook, Instagram, or Pinterest! 
Sina