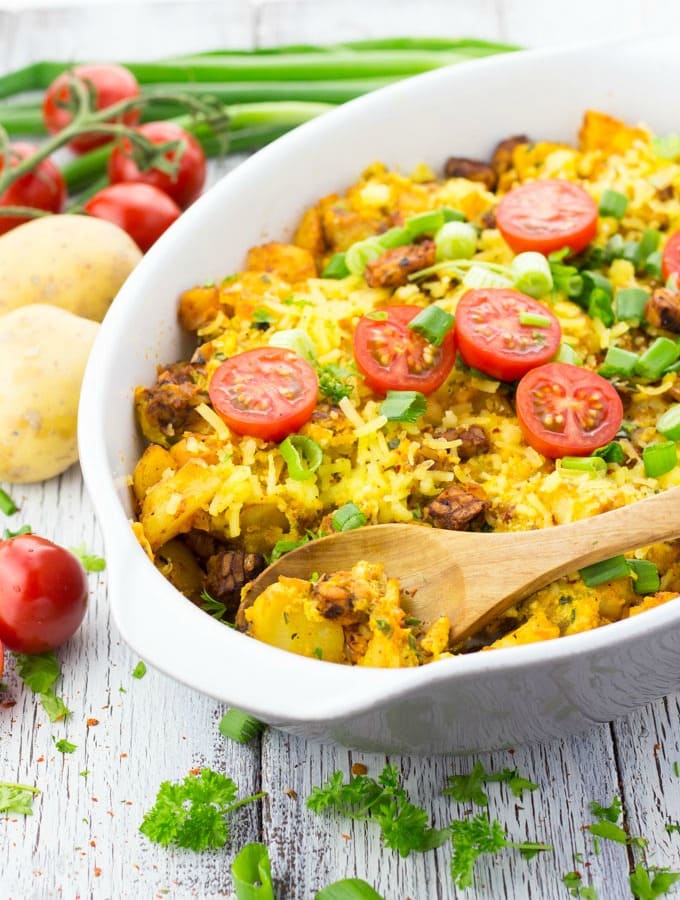 I must admit I'm actually not a big breakfast person. Usually I'm totally happy with my daily green smoothie (with loooots of spinach or kale). But once in a while I feel like having a hearty breakfast or even brunch. Last Sunday, we had this vegetarian breakfast casserole with potatoes, BBQ tempeh, and vegan cheese and boy, was it good!! I made it for a family brunch and everybody was totally surprised that it was vegan!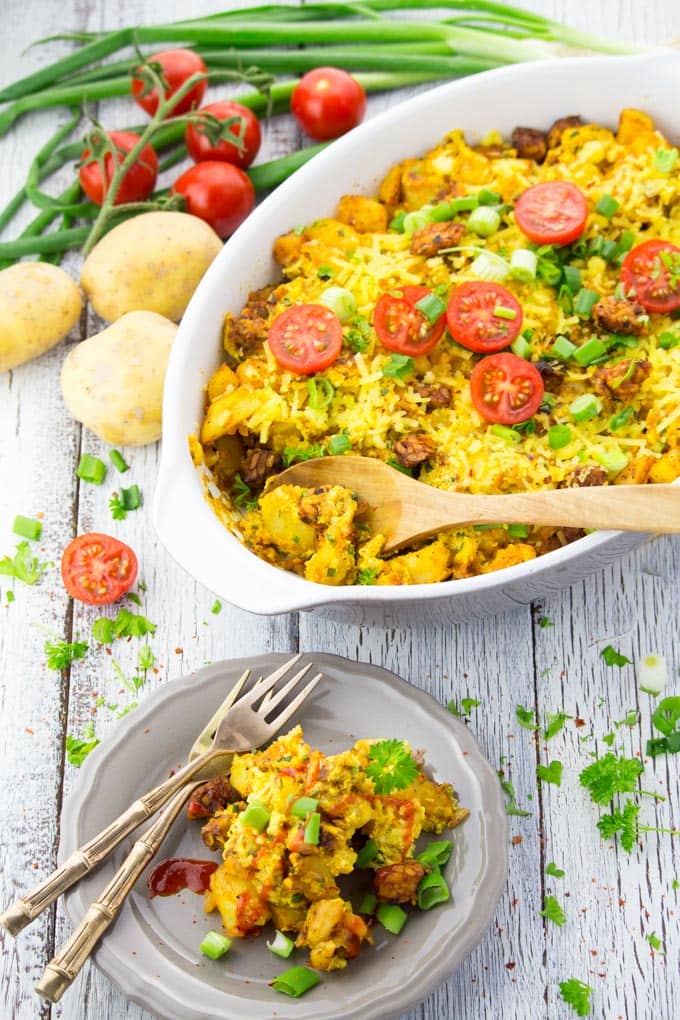 I remember I once had a vegetarian breakfast casserole with hash browns and wanted to make something similar for the brunch we had last weekend. The casserole I remember was loaded with cheese and eggs, so it wasn't exactly vegan. But no problem, we vegans are creative, right? So of course I had to try to veganize it. Instead of the eggs, I used a mixture of silken tofu, turmeric, paprika powder, and chives. I also stirred and some vegan cheese and added a pinch of kala namak, which gives it its egg-like taste.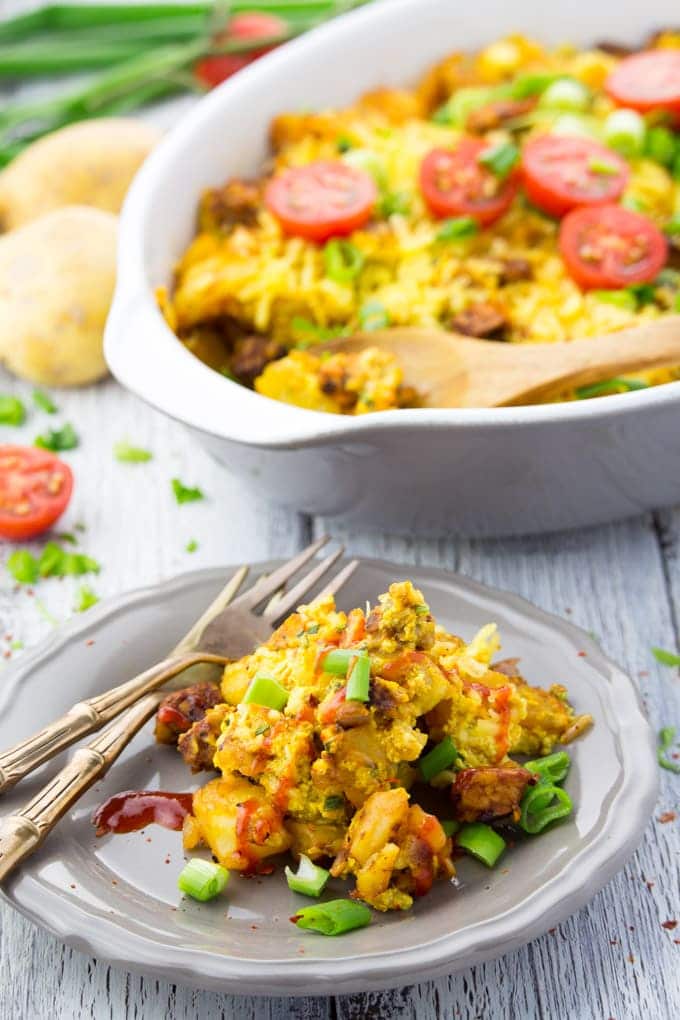 If you haven't heard of kala namak yet, you should really check it out. It's a type of rock salt that is typically used in South Asia. Some people call it Himalayan Black Salt and it smells and tastes very much like eggs. I also added it to the vegan asparagus quiche I made a couple of weeks ago and it's also great with avocado. If you're looking for even more recipes that use kala namak, check out this article that features tons of delicious vegan egg recipes.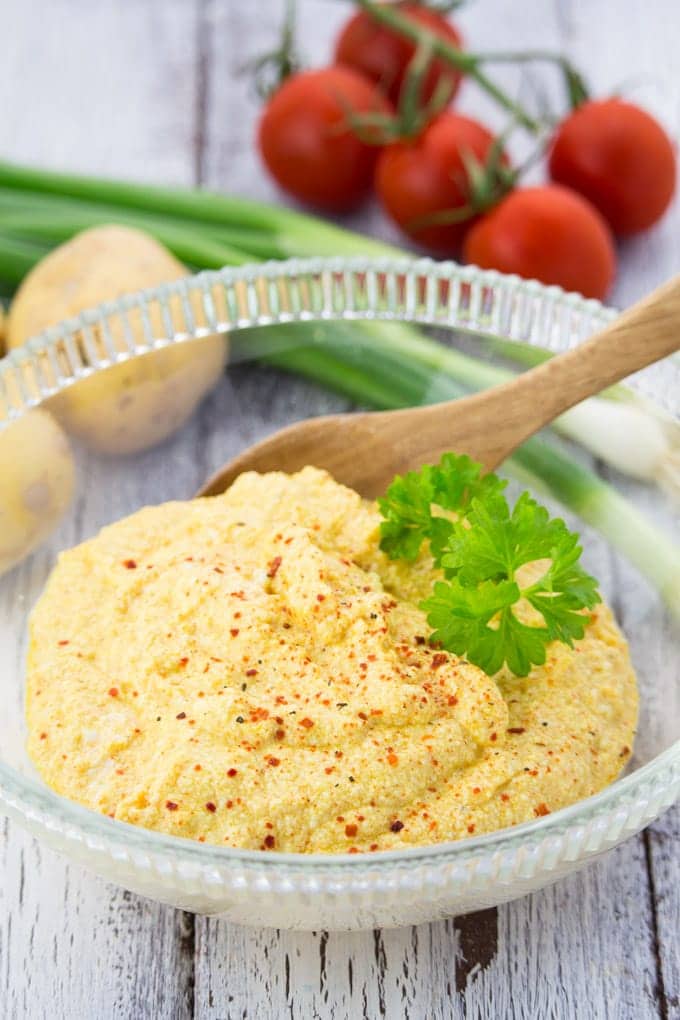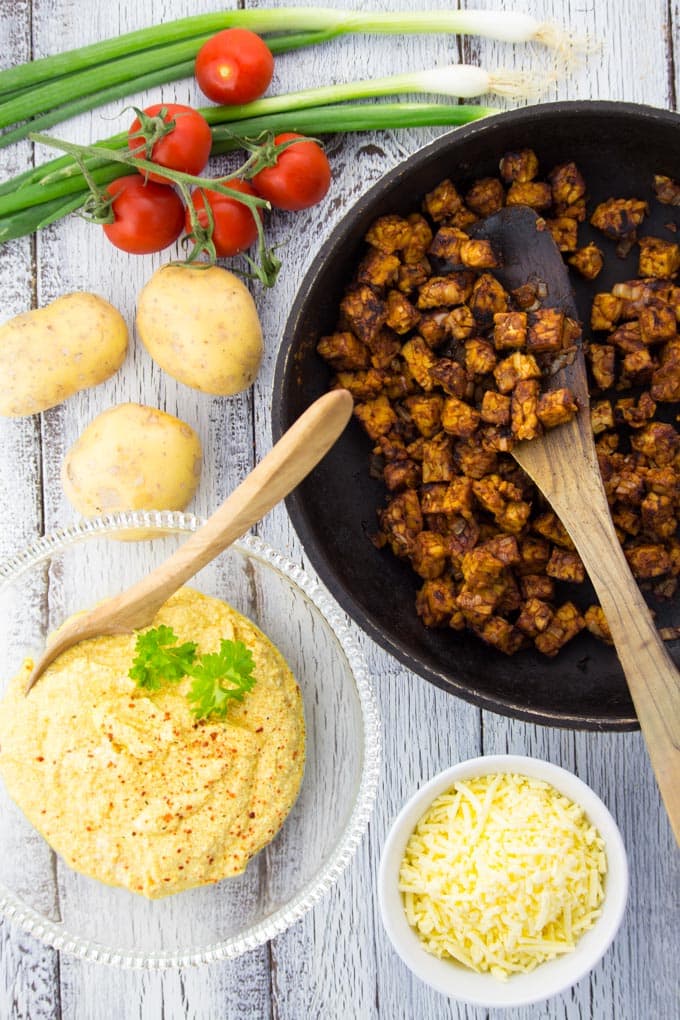 For me, the best part of this vegan breakfast casserole is the BBQ tempeh. We make it quite often as a topping for salads or pasta and it's super easy to make! When I first tried tempeh some years ago, I didn't really like it and I thought it was kinda boring and tasteless. But when you season it right and cook it until it's really crispy it's soooo good!! I like it even better than tofu and I really LOVE tofu, so that's actually more than a compliment! I also used this kind of tempeh bacon for my spaghetti carbonara, which has been really popular on the blog.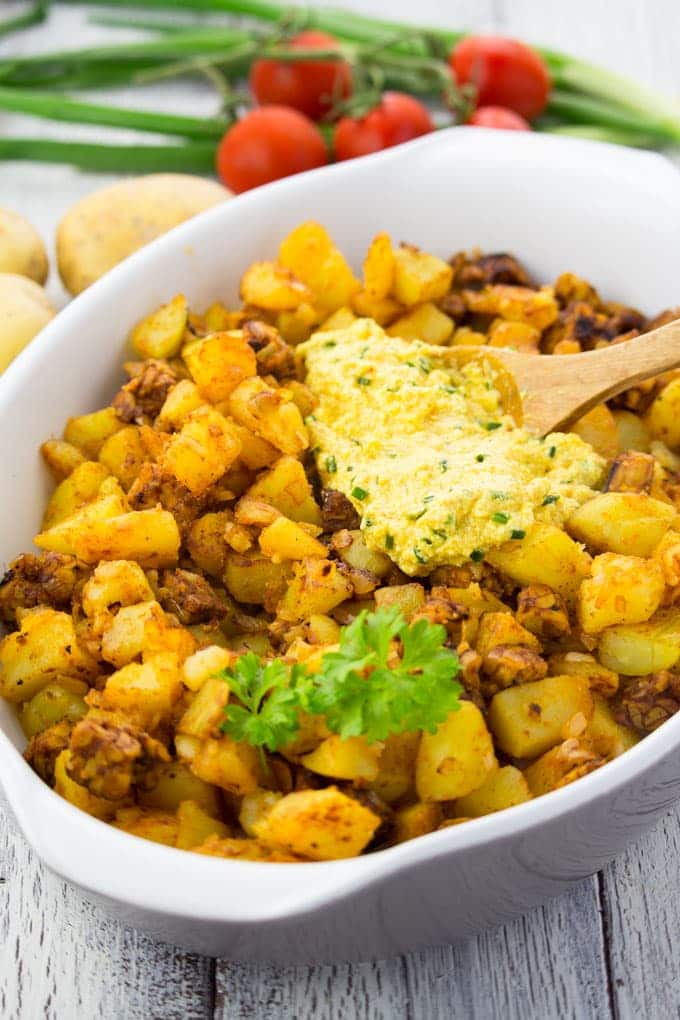 Unlike most of my other recipes, this vegetarian breakfast casserole takes a bit longer to make, but it's so worth the time! And it's actually really easy to make, it just takes a bit longer because you have some waiting time while it's in the oven.
I first boiled the potatoes and cut them into small cubes and seasoned them with some onions, paprika powder, and salt and pepper. Make sure to cook them until they are really crispy and lightly brown.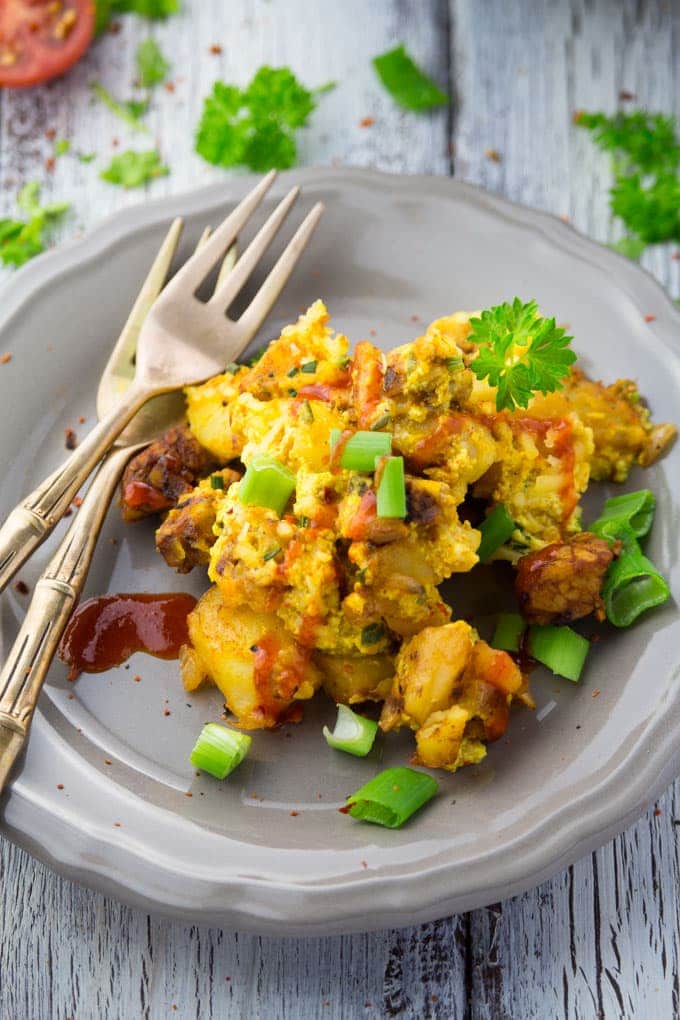 If you want it to be a lot faster, you could also use store-bought southern style hash browns instead of the potatoes. Then stir in the vegan egg-cheese mixture, sprinkle it with some more vegan cheese and bake for about 15-20 minutes. I served it with some fresh cherry tomatoes, green onions, and parsley to give it some more color.  Everybody at our brunch really loved it! We topped it off with some sriracha sauce.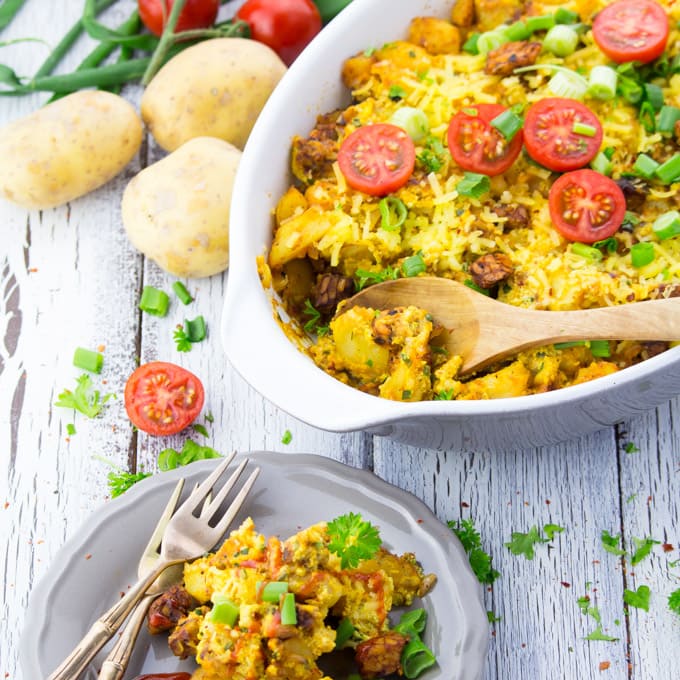 This vegetarian breakfast casserole also makes a great dinner. Just enjoy it with some green salad and you got a delicious and healthy meal!
I hope you like it as much as we do around here! Let me know if you give it a try. As always, I love hearing from you guys!! xx
Passive Time

15-20

minutes
Passive Time

15-20

minutes
Boil the unpeeled potatoes for about 15-20 minutes or until they're tender. Peel and cut them into cubes.

While the potatoes are boiling, make the BBQ tempeh "bacon": Cut the tempeh into small cubes. Heat some more oil in the pan you used for the potatoes and cook the remaining onions for about a minute. Add the tempeh and stir in the BBQ sauce, the paprika powder, the soy sauce, and if using the liquid smoke. Season with salt and pepper and cook for about 5 minutes. Set aside.

Heat some oil in a large pan and cook about half of the chopped onions for about 2 minutes or until translucent. Add the potatoes and season with paprika powder, salt, and pepper. Cook for about 5 minutes or until crispy and lightly brown. Set aside. If you want the recipe to be a bit quicker, you can also use store-bought southern style hash browns.

In a medium bowl, combine the silken tofu, the oil, the starch, the turmeric, the paprika powder and the kala namak. Whisk until smooth. Stir in the vegan cheese and the chives.

Fill the potatoes and the BBQ tempeh into a casserole dish and stir in the vegan egg-cheese mixture. Sprinkle with some more vegan cheese and bake for 15-20 minutes at 350 °F.

Serve with fresh chives, parsley, and cherry tomatoes.
Nutrition Facts
Vegetarian Breakfast Casserole
Amount Per Serving
Calories 212
Calories from Fat 63
% Daily Value*
Total Fat 7g 11%
Sodium 249mg 10%
Potassium 601mg 17%
Total Carbohydrates 28g 9%
Protein 11g 22%
* Percent Daily Values are based on a 2000 calorie diet.