It has been so hot in the last couple of days and summer has definitely arrived! I just posted a roundup of healthy and light vegan summer recipes two weeks ago. But now I thought we'd also need some more vegan summer desserts. So I decided to put together another roundup for you guys, which is all about easy and delicious vegan summer desserts. Big YUM!!
It includes some vegan cake recipes, like lemon cake and chocolate cake with fresh berries, and also some vegan ice cream recipes and of course some popsicles. My favorite is vegan Oreo ice cream, but I also can't get enough of my healthy green smoothie popsicles. And then I got some more decadent desserts that are perfect for any kind of summer party or birthday party. You could, for example, surprise your guests with vegan strawberry tiramisu or blueberry panna cotta. How does that sound?
So let's get the drooling started…
Click on the heading above each picture to see the recipe.
10 Amazing Vegan Summer Desserts
This decadent and extremely yummy vegan Oreo ice cream is perfect to celebrate the beginning of summer! It's one of my favorite ice cream recipes! And the best thing is it's insanely easy to make.
This vegan cheesecake with raspberries is my all-time favorite cake. The recipe couldn't be easier and it's so incredibly delicious. No dairy needed! Instead of cashews I used vanilla-flavored soy yogurt for this cheesecake, which works pretty well!
#3 Vegan Strawberry Tiramisu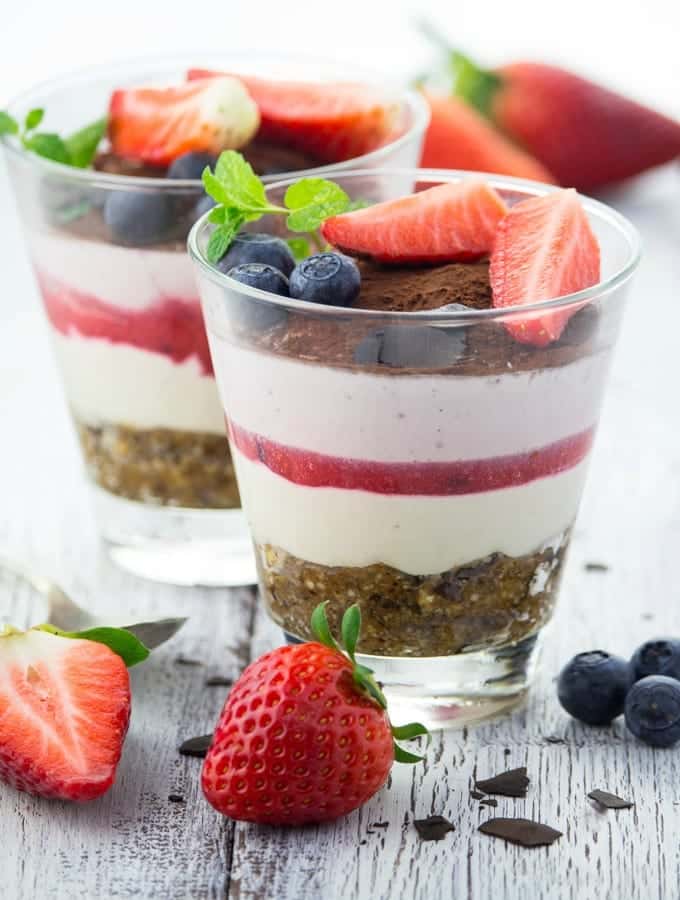 You won't believe this vegan strawberry tiramisu is totally sugar-free, made with healthy ingredients, and packed with nutrients. Plus it's completely raw, gluten-free, and insanely delicious and creamy. Perfect for summer!
This vegan chocolate cake with extra chocolate frosting is THE BOMB!! The best thing is you don't need any fancy ingredients.
This vegan blueberry coconut panna cotta is just as amazing as the original – if not even better! The secret ingredient is agar instead of gelatin.
This vegan lemon cake is one of my favorite cakes for spring and summer. It's super delicious, fluffy, and moist!
Healthy popsicles are the best refreshment on hot summer days! And in contrast to store-bought popsicles, these homemade popsicles are completely sugar-free and contain lots of vitamins and nutrients. And the best thing is you need only 10 minutes to make them!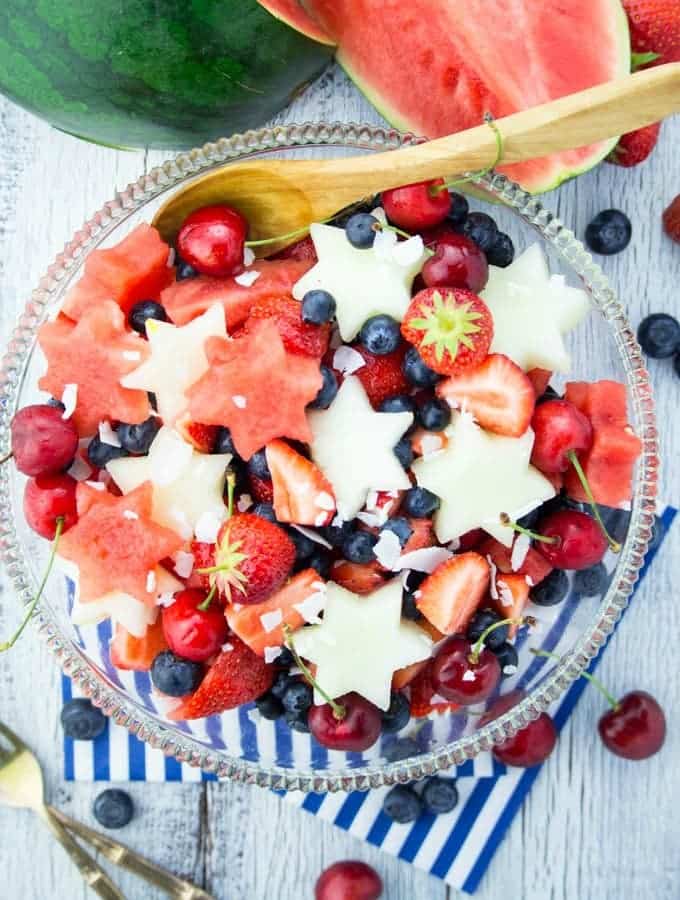 This 4th of July fruit salad with watermelon, honeydew, cherries, and blueberries is not only patriotic but also easy to make, healthy, and so delicious!
This 2 ingredient blueberry ice cream with coconut chips and granola is the perfect treat for summer days! It's ready in 5 minutes and it's super healthy!
These vegan tropical green smoothie popsicles are the perfect treat for hot summer days – They are sweet, healthy, and packed with nutrients. Even kids love them!
I hope you like these vegan summer desserts as much as I do! Also check out these 25 vegan summer recipes!
Sina