I'm so glad summer is finally here! We had more than 85 degrees in the last couple of days, so I took some time to put together a roundup of my favorite healthy summer recipes.
It includes some light summer meals like vegan summer rolls with peanut dipping sauce, pasta salad, vegan rice dishes, and of course also some vegan ice creams and popsicles. All of these recipes are perfect for hot summer days!
So let's get started… Click on the recipe title beneath each picture to see the full recipe.
10 Amazing Healthy Summer Recipes – Vegan & Super Easy!
Vegan Summer Rolls with Mango and Mint
What would a collection of healthy summer recipes be without vegan SUMMER rolls?! These rice paper rolls with mango, mint, carrot, lettuce, and smoked tofu are the perfect refreshing light dinner for hot days.
This vegan pineapple-fried rice reminds me so much of our last trip to Thailand, where it's always summer. So I just HAD to include this pineapple rice to my collection of vegan and healthy summer recipes!
This recipe was the most popular recipe on my blog last summer, so here it is again… Easy & healthy banana ice cream meets Oreos and peanuts!
This vegan paella tastes so much like a vacation to Spain! And Spain means holiday, and holiday means summer…
Healthy Popsicles with Kiwi & Pineapple
What would summer be without popsicles? And they don't have to be loaded with sugar! These green popsicles are 100% sugar-free and they're packed with vitamins and nutrients!
I love pizza and I love hummus, so I thought why not just combine the two and make hummus pizza? And boy, was it good!!
This Italian veggie pasta with zucchini, olives, capers, and loooots of basil is so good! Perfect for summer days.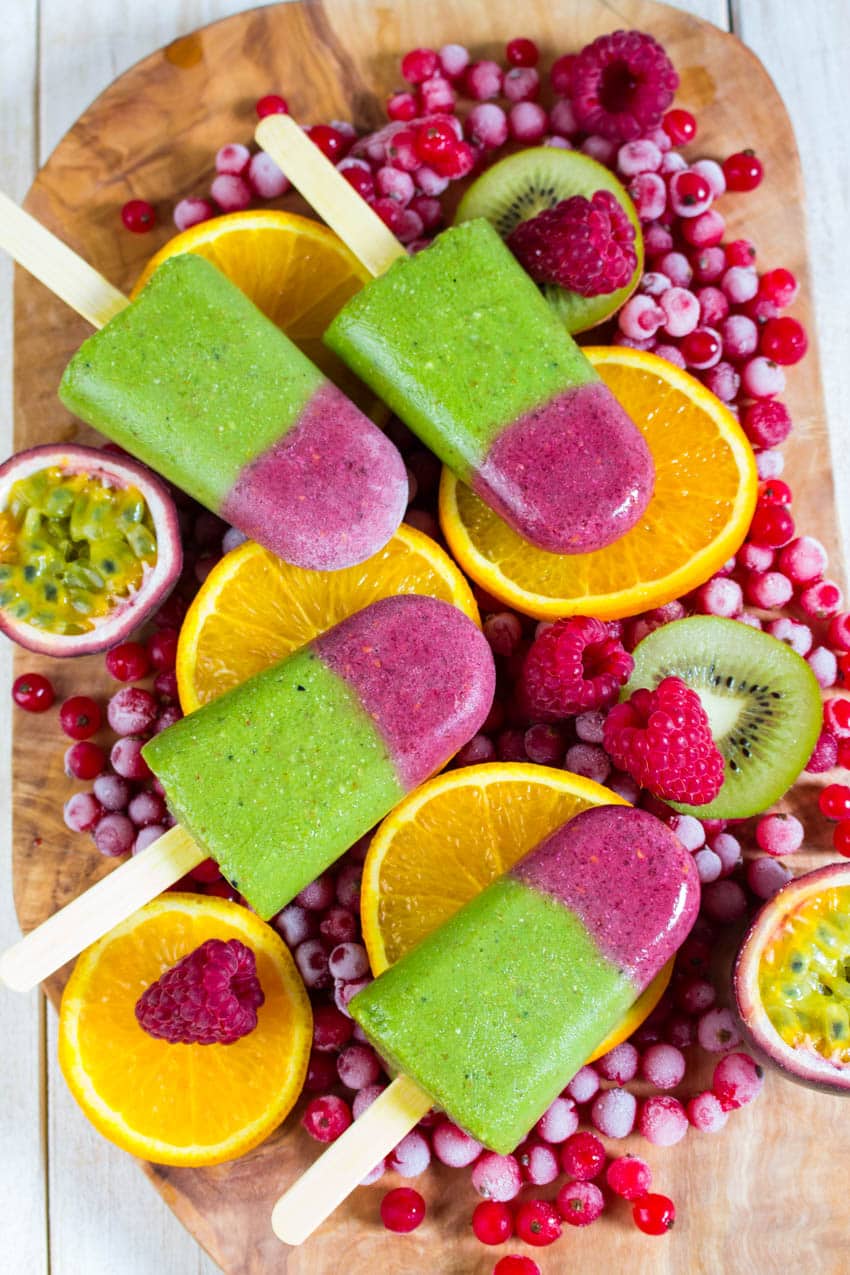 And we need more healthy popsicles… Don't these green smoothie popsicles look super cute?!
Vegan Southwestern Pasta Salad
Summer means grilling and BBQs and you definitely have to bring something along to these summer parties. So what about this vegan Tex-Mex pasta salad?
These vegan blueberry muffins with yogurt and lemon are the perfect snack! Easy to make and so delicious!
I hope you like this collection of delicious vegan and healthy summer recipes!
Have a great weekend, everyone!
Sina – xx