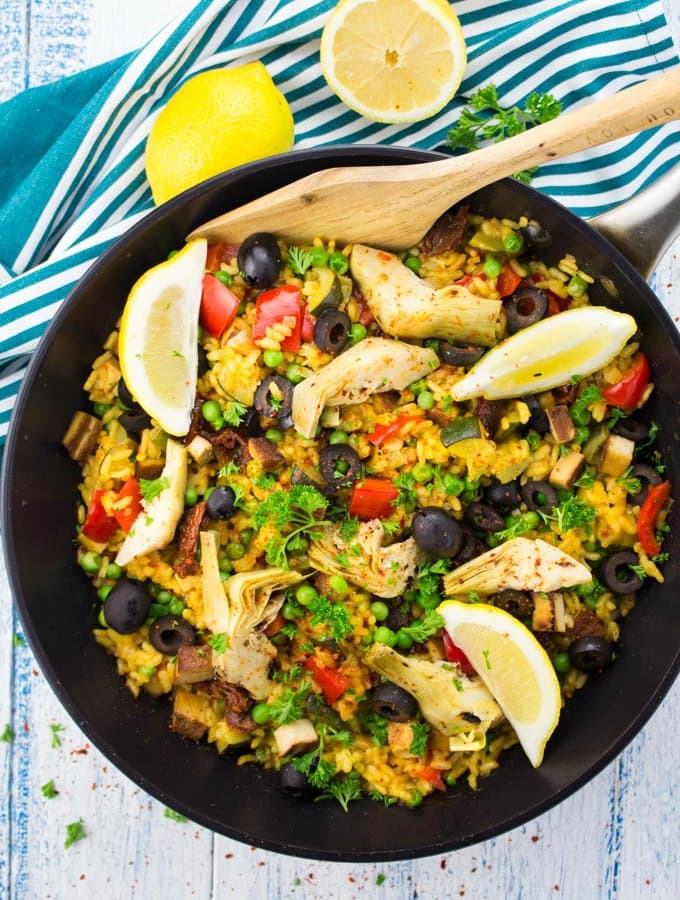 You definitely don't need chicken or seafood to enjoy paella. This vegan paella with red bell pepper, artichokes, smoked tofu, zucchini, and olives is so delicious that we even made it twice last week!! It's actually even healthier and lighter than traditional paella. And it's packed with flavor and tastes so much like a vacation to Spain!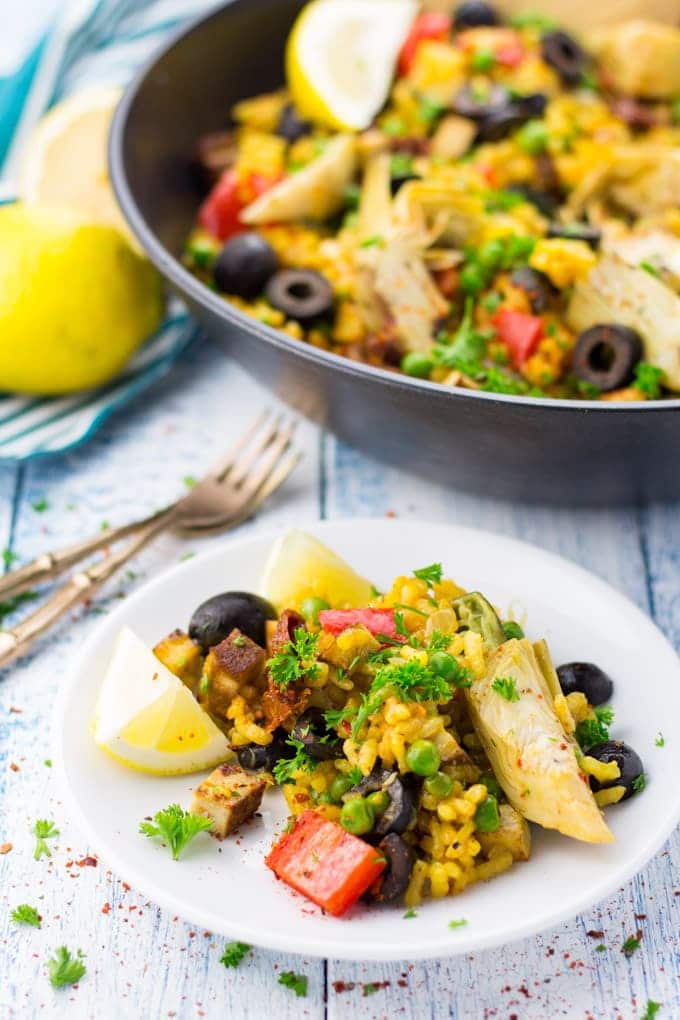 It was actually my brother who made me craving veggie paella. He's totally in love with his new Weber grill and makes literally anything on the grill these days. I mean who needs a kitchen when you got a grill, right?! Haha! So when I went to visit my parents for the weekend, of course we needed to test some vegan recipes on it.
They bought a cookbook with tons of vegetarian and vegan grilling recipes and we decided to make sun-dried tomato pizza and vegan paella with currants on the grill. I know it sounds kind of weird to make that on a grill, but we got this big grilling pan, which we actually haven't tried before. And it worked out so great and we had this huge vegan feast in our garden. For dessert, we just put some bananas and pineapple on the grill and enjoyed them with vanilla ice cream and sorbet. So incredibly simple and yummy! I'm so happy that they're always curious to try new vegan recipes whenever I visit them!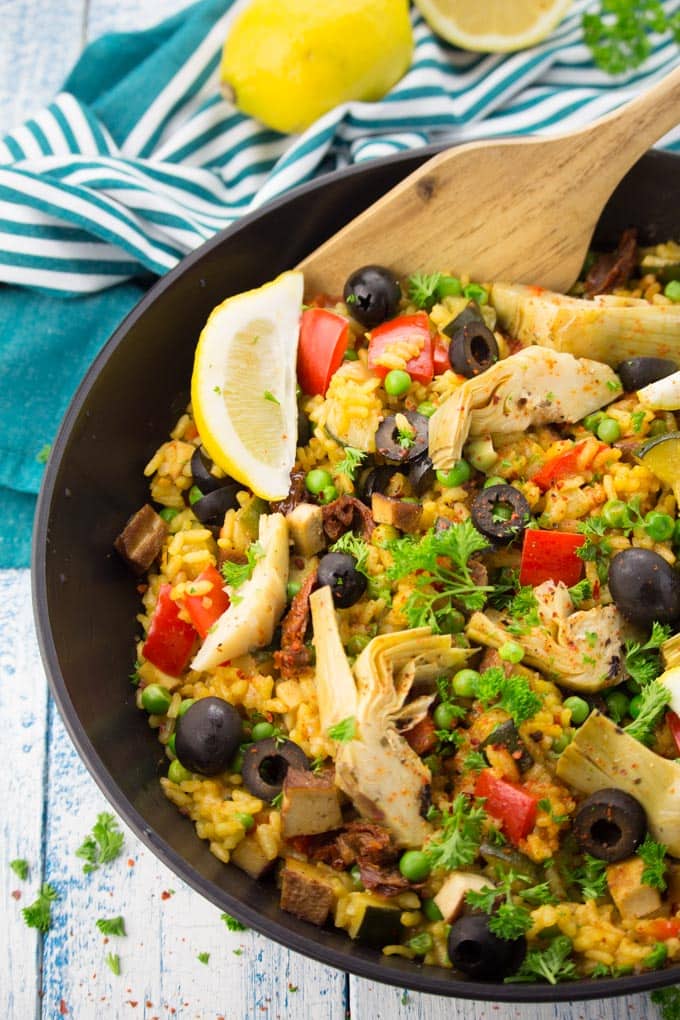 So when I got home after this weekend, I just knew that I had to make a vegan paella for the blog. I got some paella rice and saffron and experimented with different veggies. This version with artichokes, dried tomatoes, olives, and smoked tofu is by far my favorite! It's the perfect summer dinner.
I used white wine in the recipe, so if you're making this vegan paella for kids just sub the wine with some more vegetable broth. Also adjust the amount of red pepper flakes. Oh, how I wish I had a plate of this vegetarian paella right now! It's dinner time soon and I'm getting so hungry while writing this post. It can be hard to be a food blogger and see all this delicious stuff all the time… Haha!
So I hope you like this veggie paella as much as we do around here! As always, I love hearing from you guys!
Talk to you soon! – Sina, xx
| | |
| --- | --- |
| | |
Heat some oil in a large pan and fry the smoked tofu cubes over medium heat until brown and crispy on all sides. Put aside.

Heat some more oil in the same pan and sauté the onion and the garlic for about 2-3 minutes. Then add the red bell pepper and the zucchini and cook for another 3 minutes. Stir in the rice and cook about 2-3 more minutes.

Deglaze with white wine. Season with salt, pepper, and paprika powder. Dissolve the saffron in 2 tablespoons of warm water and add to the pealla.

Add the vegetable broth (I recommend starting with 3 cups) and cook for about 15-20 minutes or until the rice is tender and has absorbed all the liquid. If necessary add more vegetable broth.

Once the rice is tender, stir in the cooked peas, the sun-dried tomatoes, the olives, the smoked tofu, and the artichokes. Cook for about 2 minutes or until heated through. Sprinkle with fresh parsley and serve with lemon slices.