This vegan Mexican rice casserole with tacos is pure comfort food! And it's so easy to make and pretty healthy as well! Perfect for "Taco Tuesday" or basically any day of the week!
I absolutely LOVE Mexican food! If you're following my blog for a while, you probably know about my slight addiction to Mexican food. But I mean who could say no to burritos, tacos, and Mexican spiced rice with beans?! Definitely not me! And the best thing is that rice and beans is such a healthy combination. Rice and beans together form a complete protein, which is perfect for vegetarians and vegans. Plus, it's inexpensive and very easy to make. You can either just eat it by itself or stuff in a burrito. Or make a vegan Mexican rice casserole with it. Haha!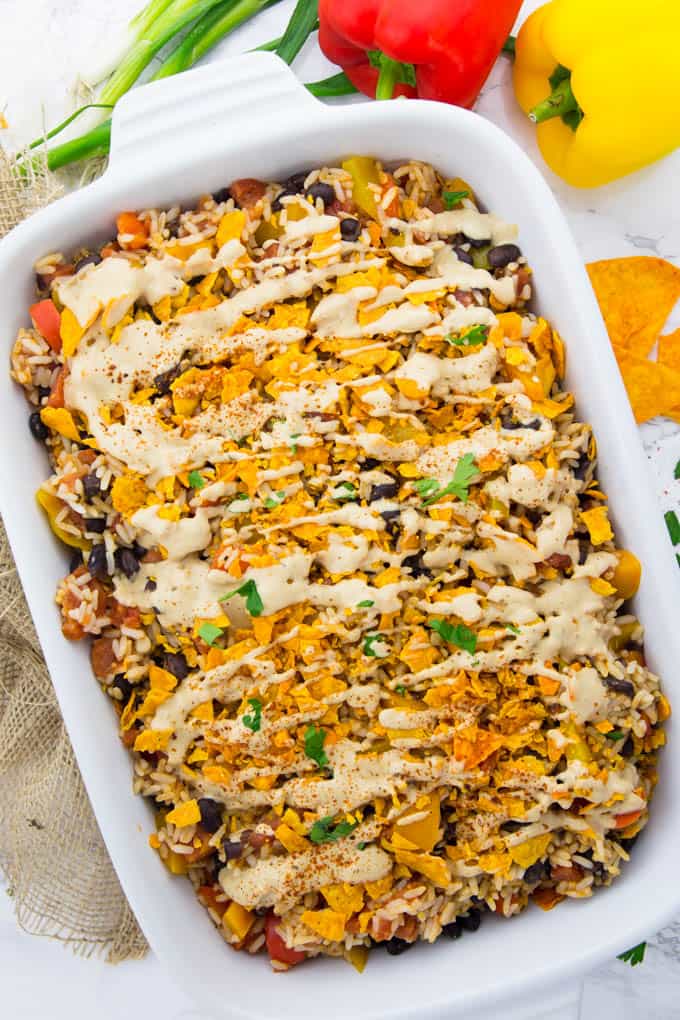 What You Need for This Vegan Mexican Rice Casserole
The recipe for this vegan Mexican rice casserole is actually pretty easy. It's gonna be even faster and easier if you use cooked rice from the previous day. When life gets busy, I usually just cook a big batch of rice and quinoa and then use it in the next couple of days for different recipes.
cooked rice (I used parboiled rice)
one red, yellow, and orange bell pepper
one can black beans
three cloves of garlic
tomato paste
cumin
paprika powder
canned diced tomatoes
tortilla chips
cashew butter
red pepper flakes
green onions
fresh parsley or cilantro
one avocado
As always, you can find the full ingredient list and detailed recipe instructions at the end of the post.
For extra crunch, I added a layer of crumbled tortilla chips on the rice. So it's kinda like a vegan burrito bowl, just as a casserole. Instead of cheese, I used cashew butter, which I mixed with water to make it become thinner. This way you can spread it over the vegan Mexican rice casserole just like cheese sauce. I usually add some more paprika powder and sometimes even some red pepper flakes to the cashew butter.
Once the rice casserole comes out of the oven, you can sprinkle it with chopped parsley or cilantro, green onions, and avocado chunks. Soooo yummy!
I hope you like this recipe as much as I do!

For the Mexican rice casserole:
| | |
| --- | --- |
| For the Mexican rice casserole: | |
Preheat the oven to 350 °F.

Cook the rice according to the instructions on the package. I usually cook the rice the night before to save time. Cut the bell peppers into bite-sized chunks.

Heat some oil in a large pan and sauté the bell peppers for about 3 minutes. Then add the garlic and cook it for another minute. Add the rice, the tomato paste, and the spices. Cook for 2 minutes, then add the black beans and the canned tomatoes. Cook for 2 minutes. Season with salt, pepper, and red pepper flakes.

Fill into a casserole dish. Crumble the nacho chips with your hands and sprinkle them on top of the rice. Then make the cheese sauce: Combine the cashew butter with the water and whisk until well combined. Season with red pepper flakes. Pour the cheese sauce over the casserole and bake it for 10 minutes.

Once the rice casserole comes out of the oven, sprinkle it with cilantro or parsley, green onions and serve it with avocado. I love to drizzle some fresh lime juice on top. Enjoy!